Practical Life lessons from the Trolls World Tour Characters (+ Fun Crafts and Treats)
This post contains editorial samples and/or affiliate links to products I recommend. While this adds no additional cost to you, I will earn a small commission on any sales made.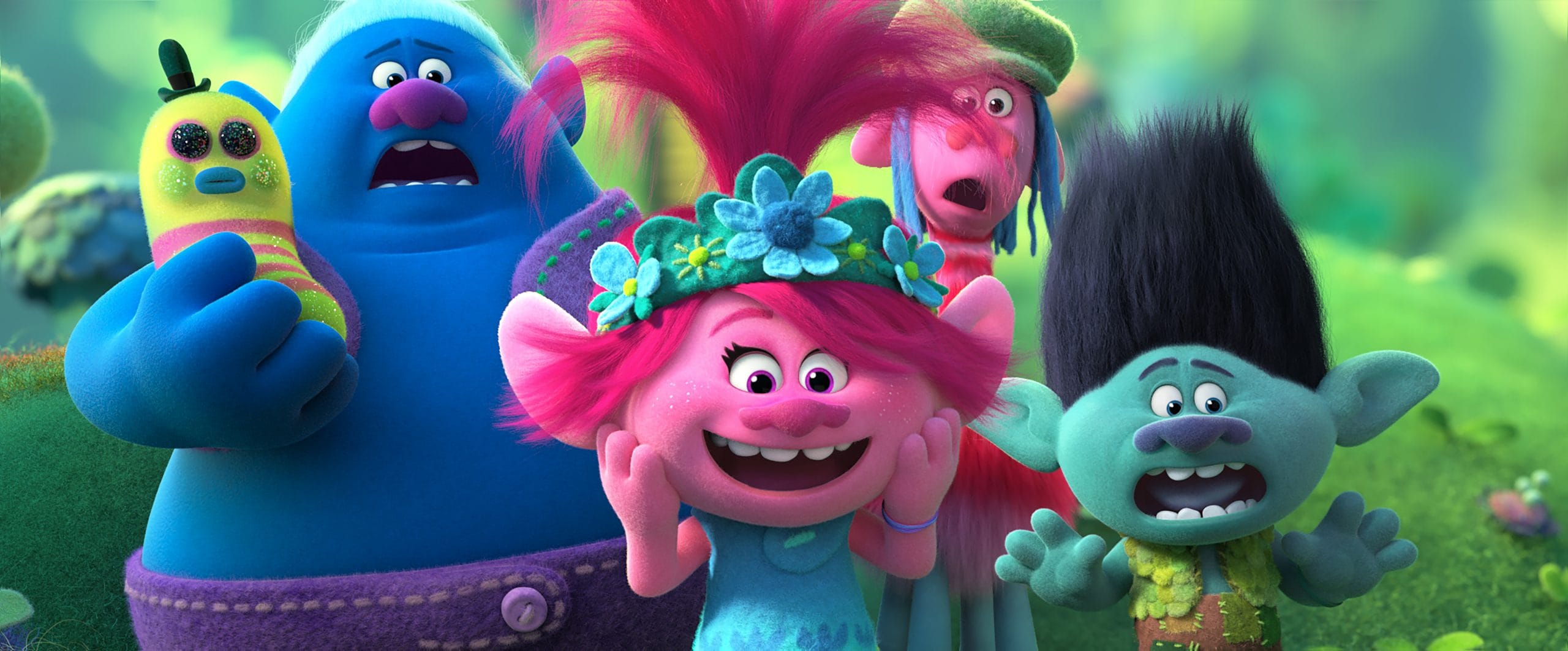 If you're wondering whether or not you want to own Poppy's latest musical dance extravaganza on DVD and Blu-Ray, just reading a few wise words from the Trolls World Tour Characters will be enough to inspire you to grab a copy.
This feature has been sponsored by Universal Pictures Home Entertainment. All opinions are my own.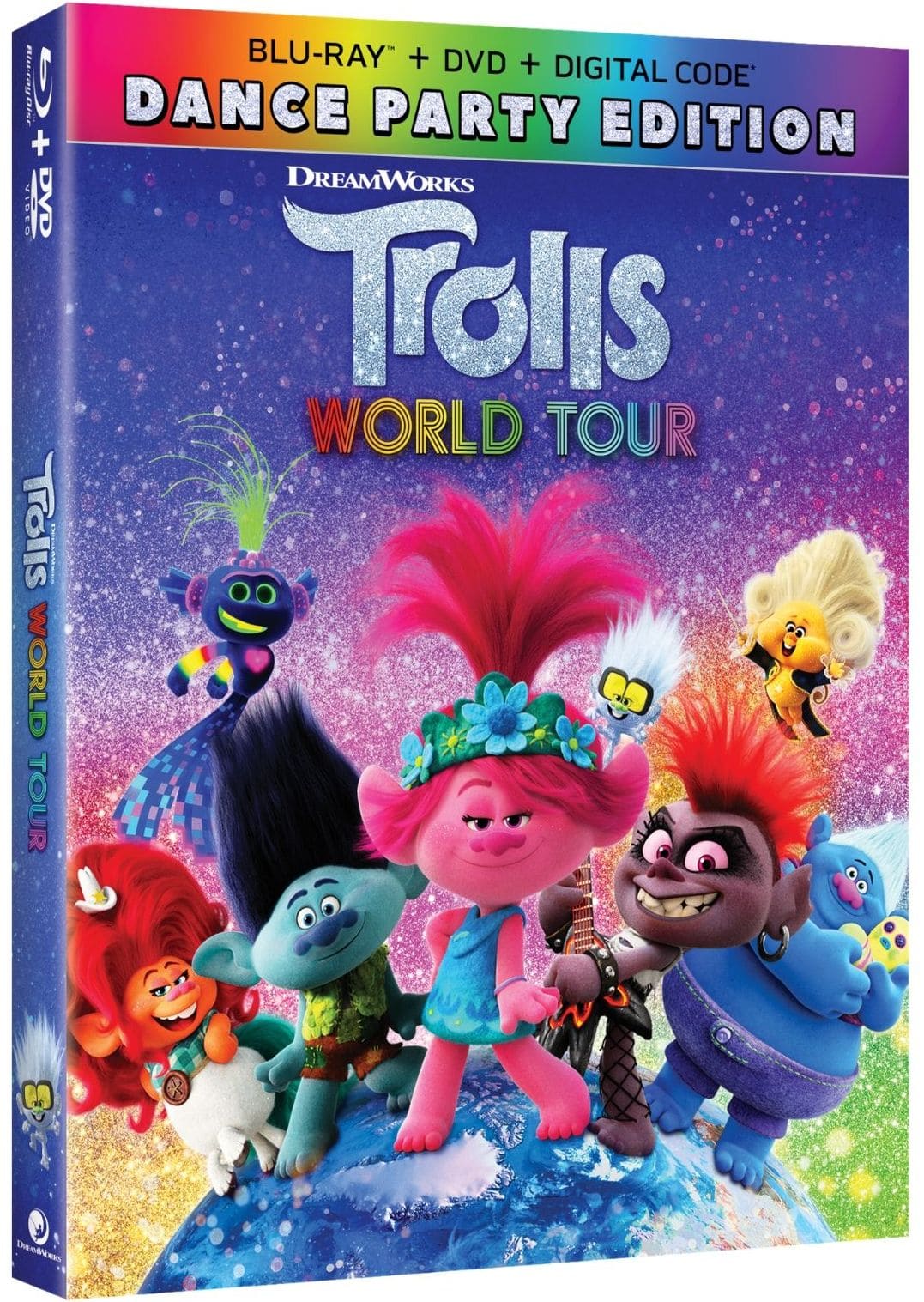 Queen Poppy (Anna Kendrick), Branch (Justin Timberlake), and the rest of your favorite Trolls are back for another musical adventure that's bigger—and louder—than ever before! In TROLLS WORLD TOUR, Poppy and Branch discover that their kingdom is only one of six musical realms—Funk, Country, Techno, Classical, Pop, and Rock—that were once united in perfect harmony. When the power-hungry ruler of the Rocker Trolls threatens to silence all other music so her tribe can reign supreme, Poppy and Branch must embark on an epic quest to unite the realms of Trollskind, before the songs in their hearts are lost forever!
It's a Dance Party with Poppy and the Gang!
Your teen may groan when you invite them to watch the Trolls World Tour on DVD, or Blu-Ray, with their younger sibling(s), but don't cave in. Encourage them to join the family for a fun evening filled with music, laughs, and great takeaway lessons.
Yes, opt for the Dance Party Edition over the Theatrical, to pack the hour and a half in with lots of interactive fun. You and the littles may enjoy the loud sing-alongs, dancing, high-fives, and hugs, more than your older kids, but that small smile sneaking in on their faces will be testament that they're enjoying the interactive element to the movie just as much.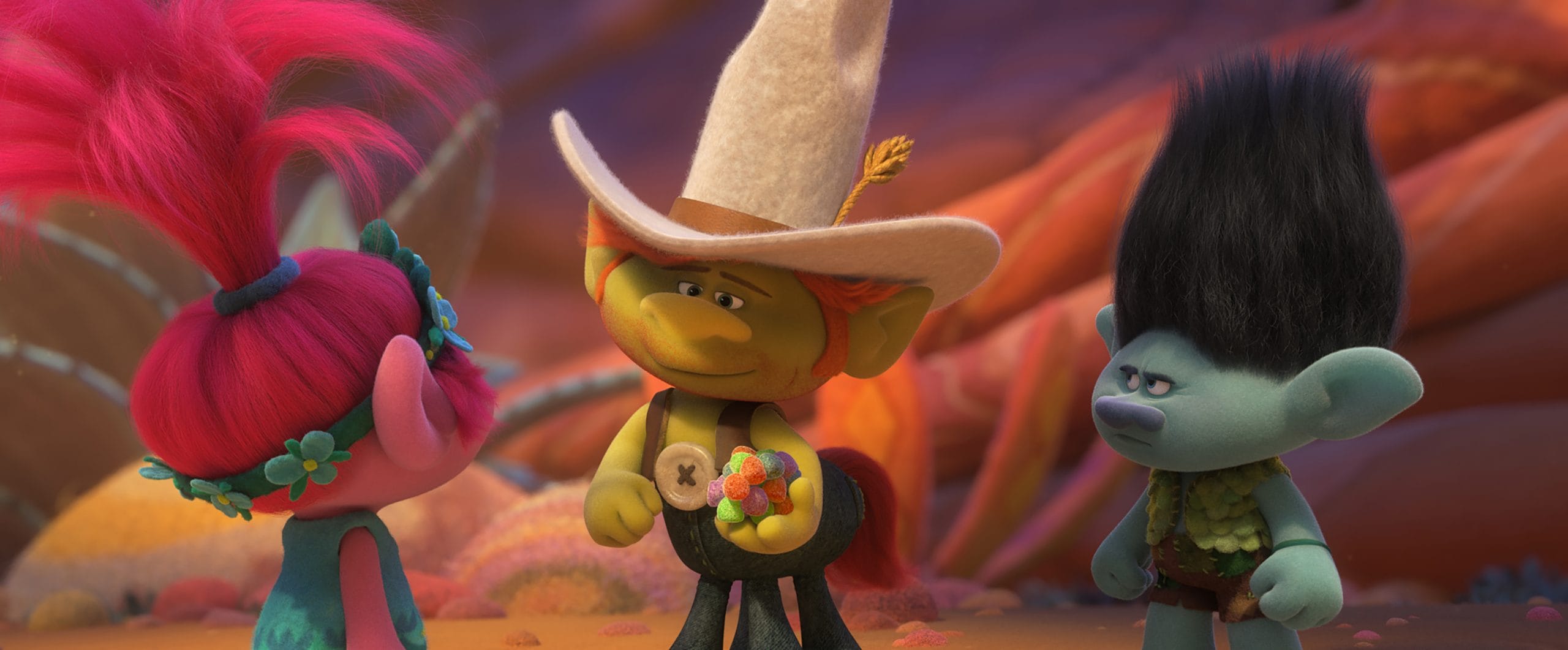 But wait! What can my tween/teen learn from the Trolls World Tour Characters?
Quite a bit actually.
The movie has some real pearls of wisdom scattered throughout but there were a few quotes that just popped!
With everything that's happening around us, may these quotes remind us of simply known but forgotten, profound truths.
Things won't always stay the way they are.

Be yourself. Don't conform to be who you are not, just to be a part of the crowd.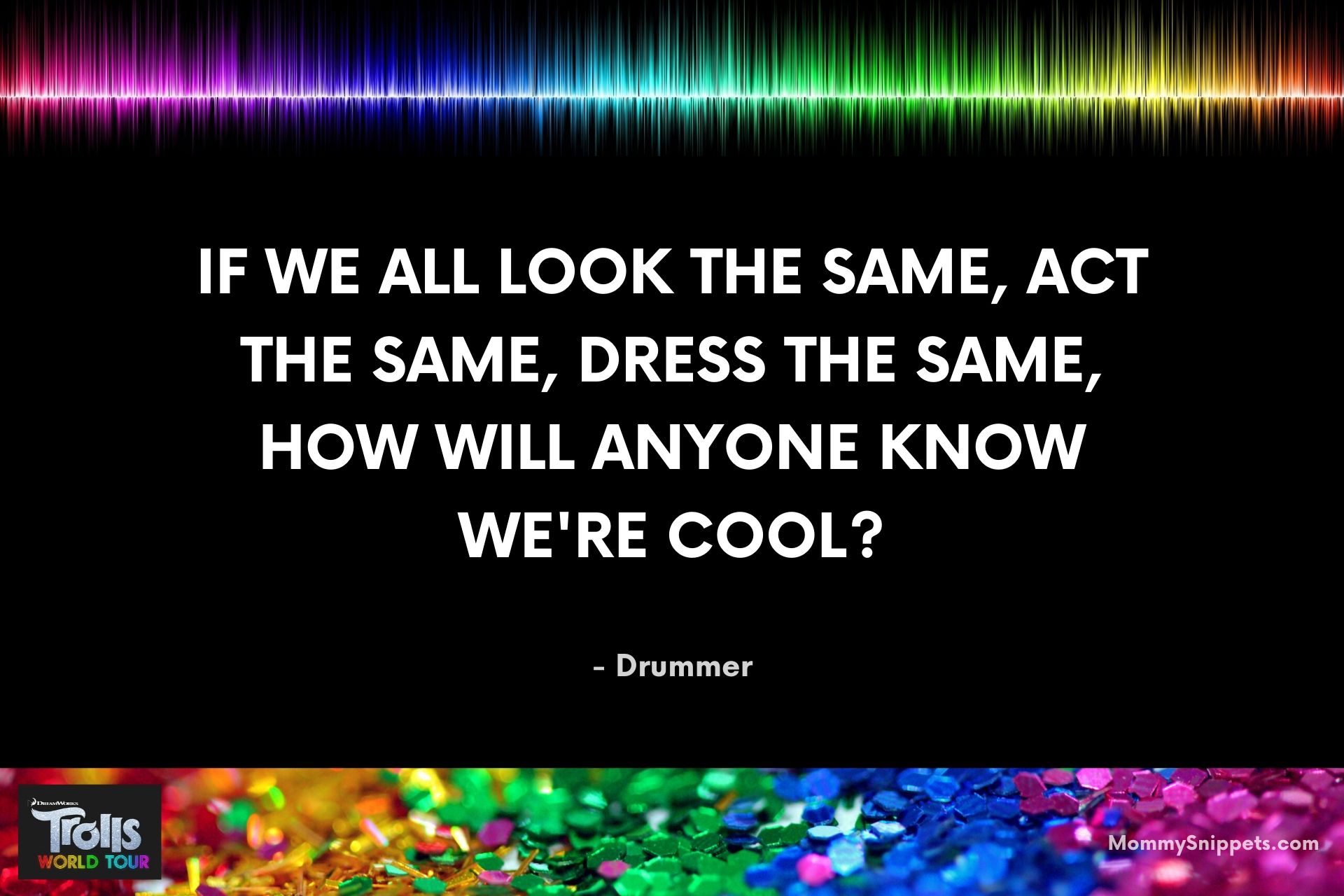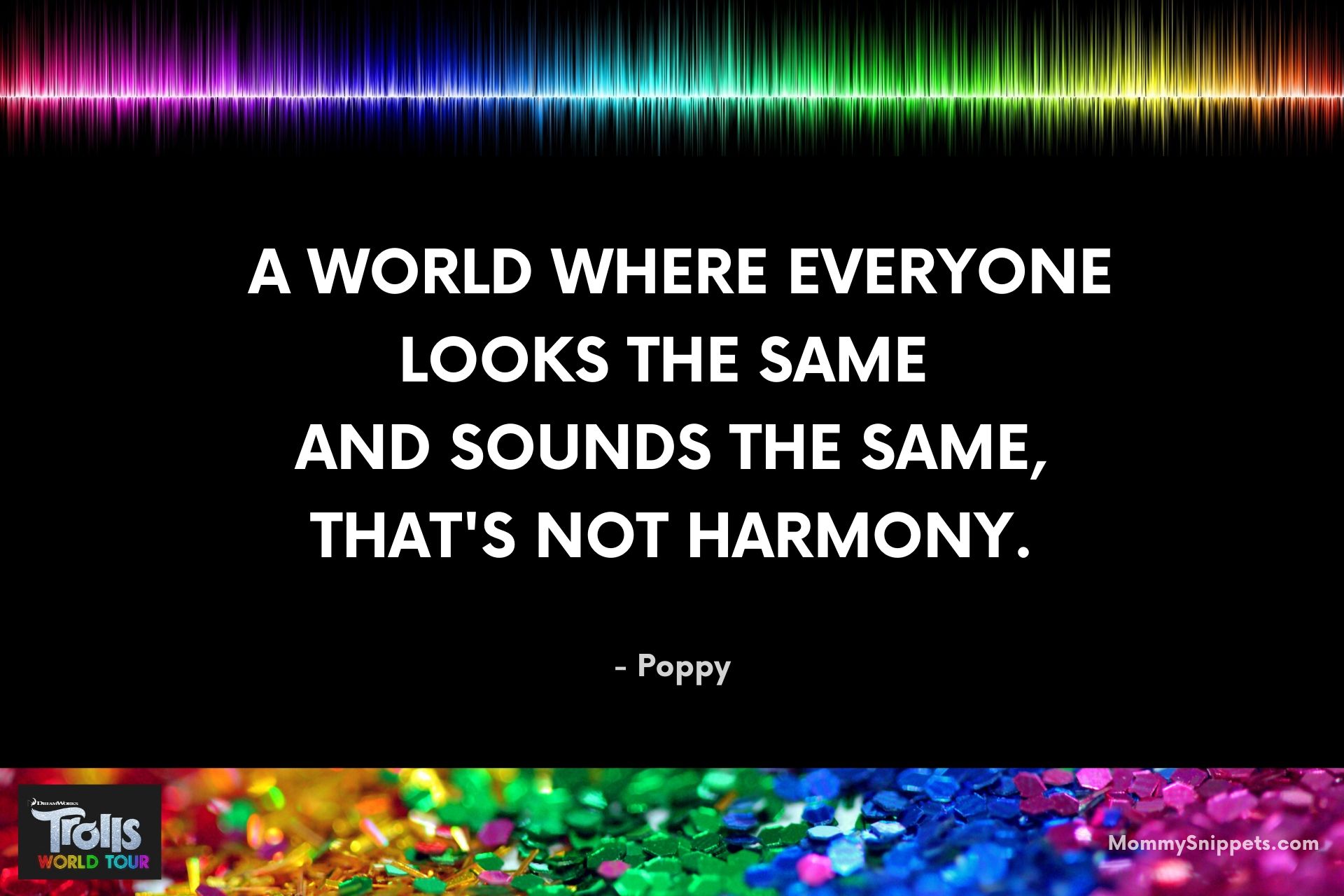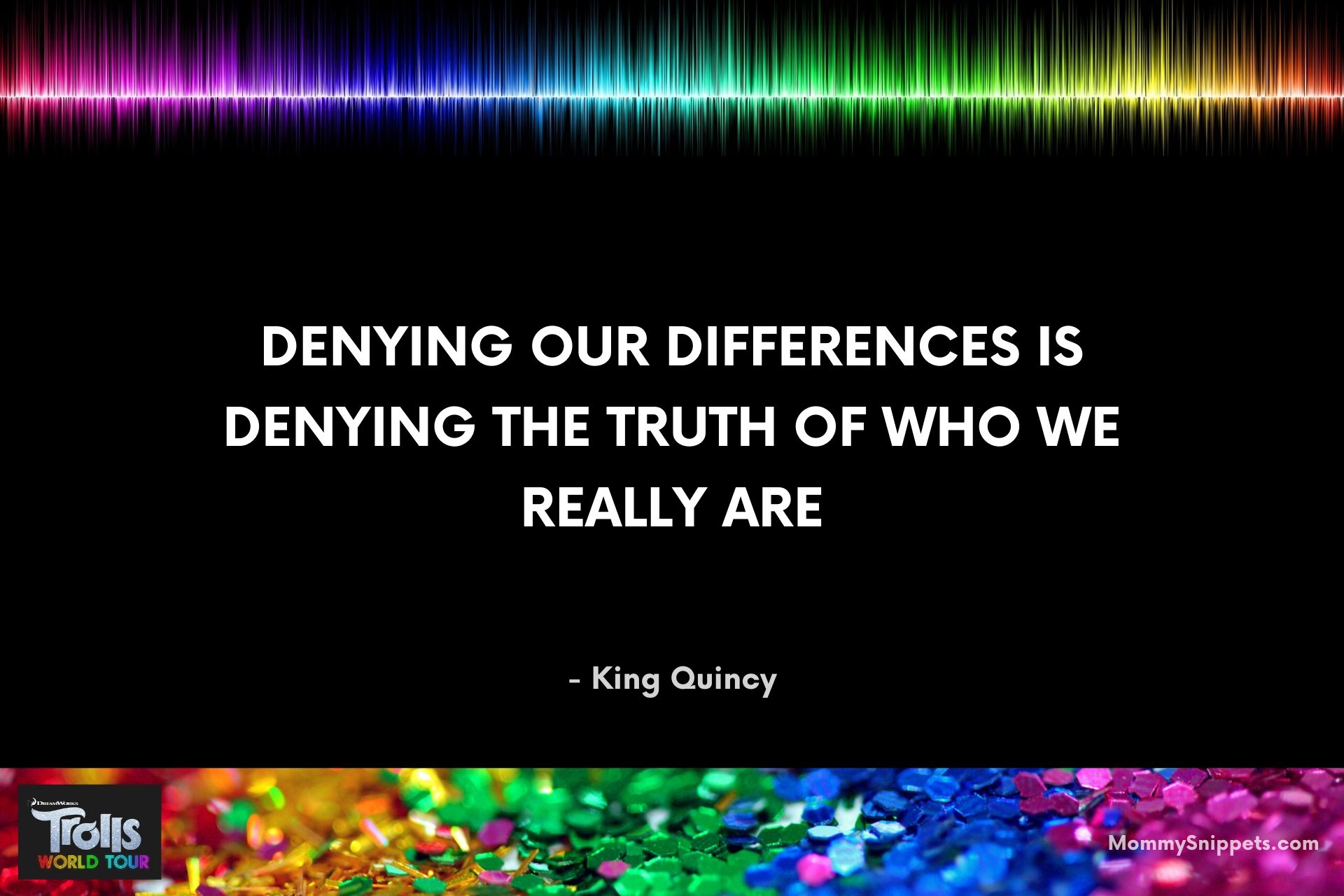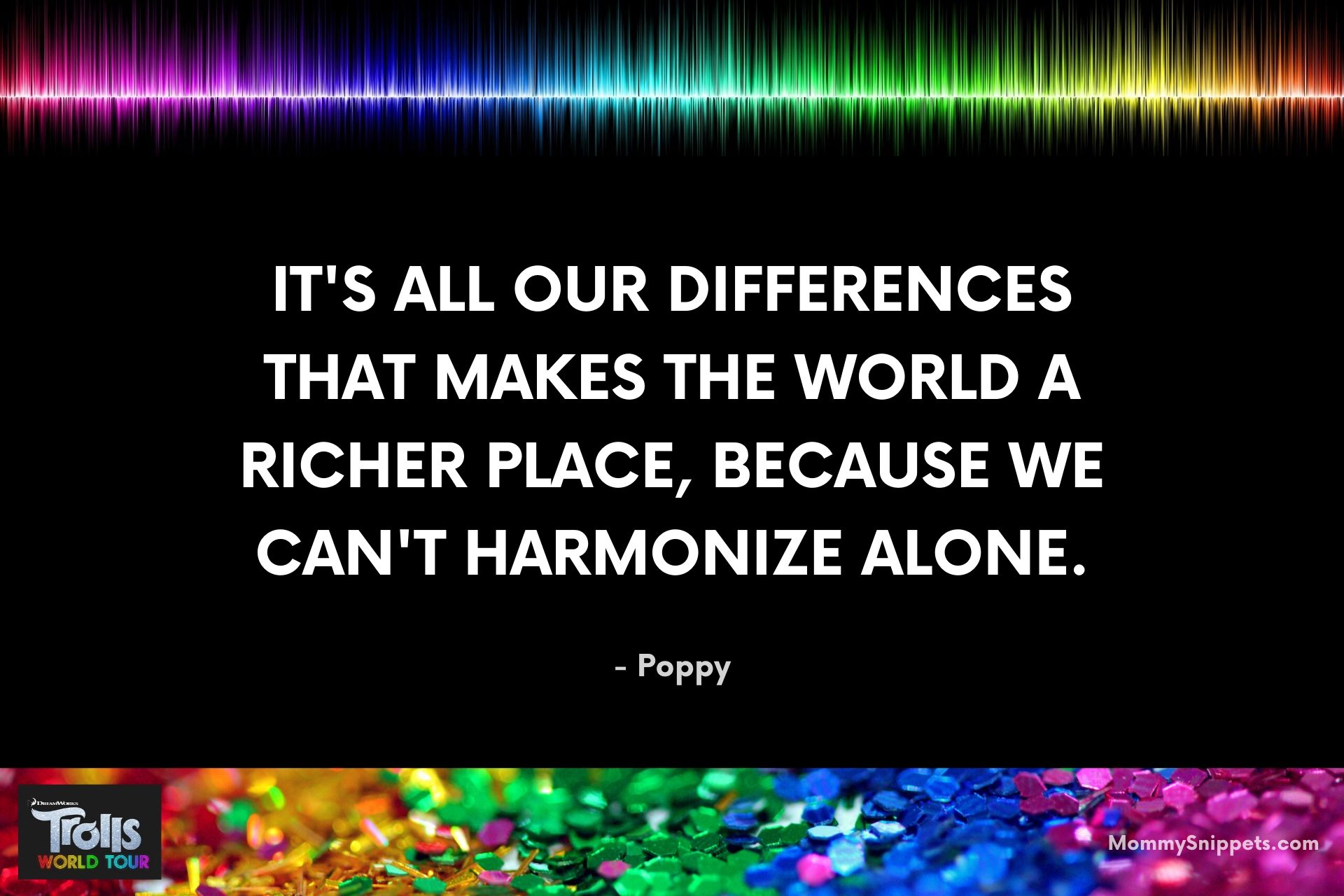 Be a team player…till the end.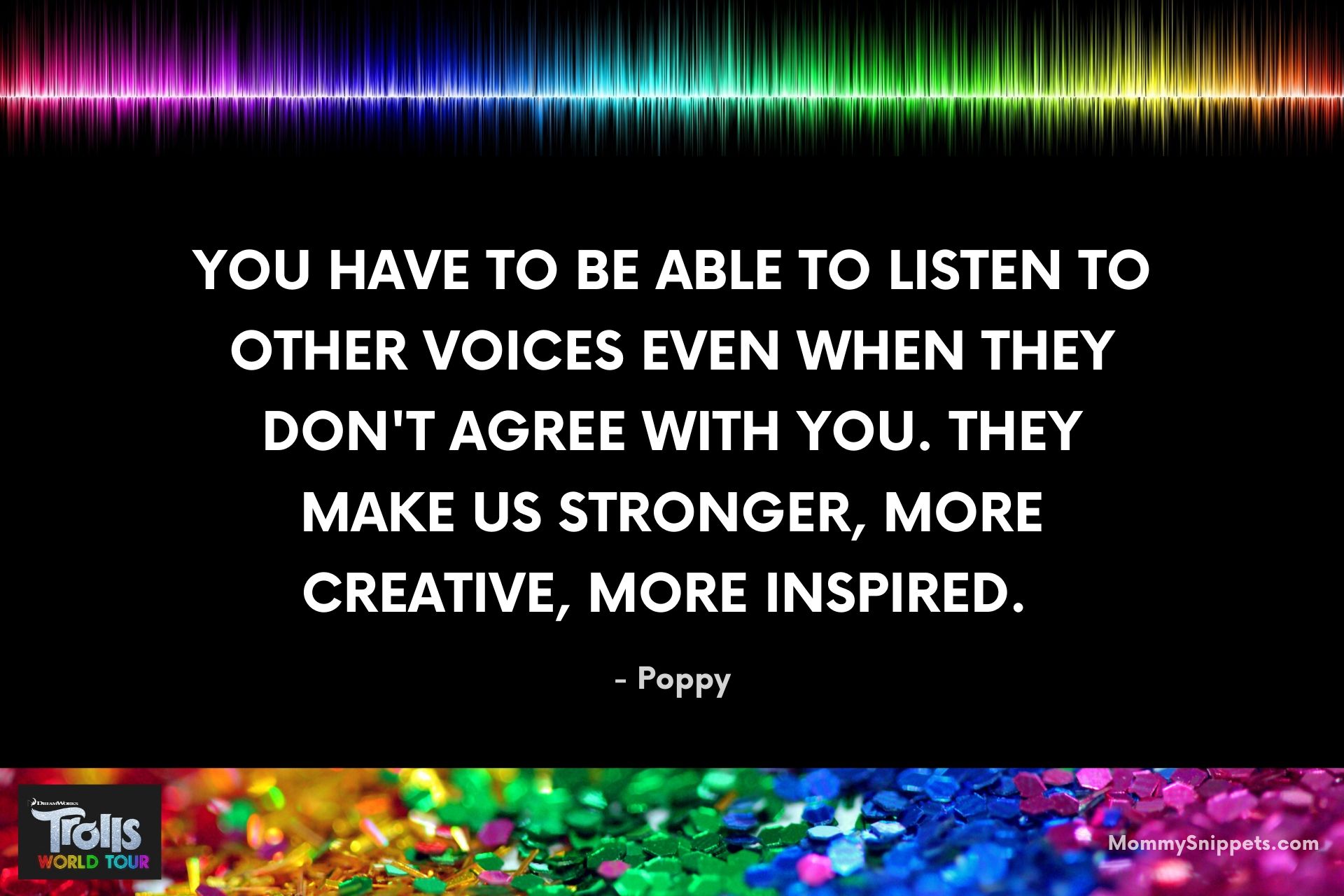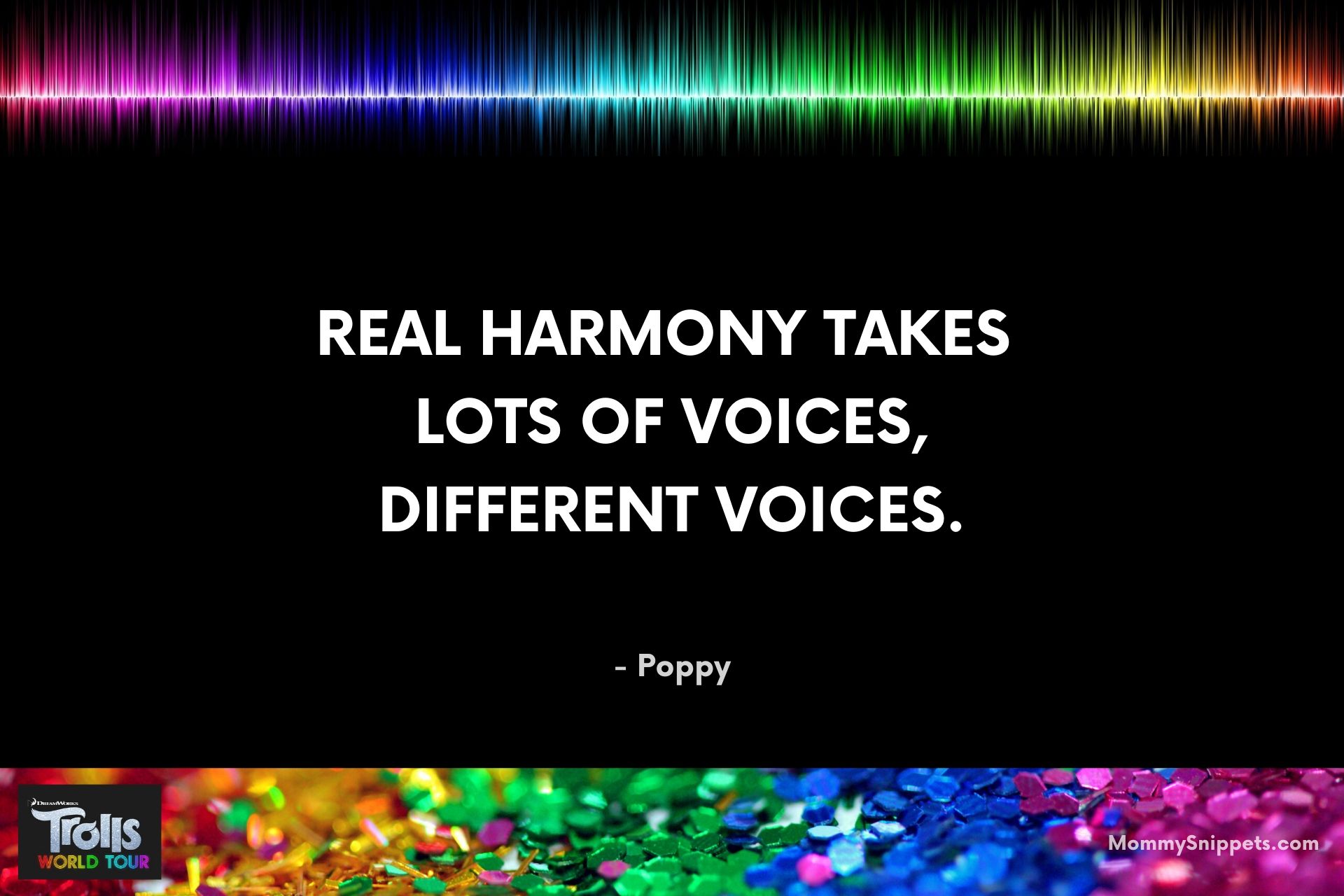 A good leader reminds himself/herself to stop doing all the talking.

Judge not.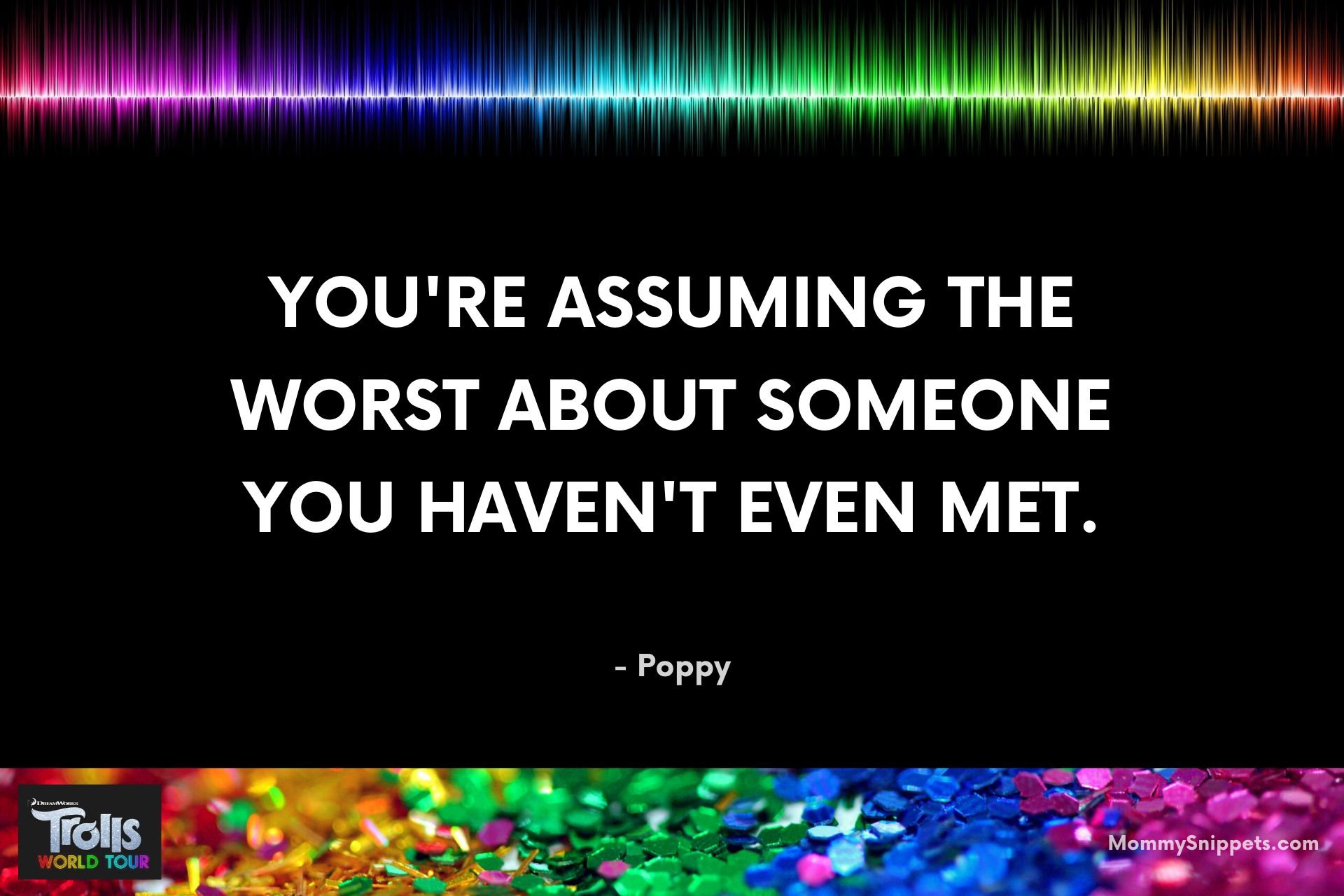 Be a good friend.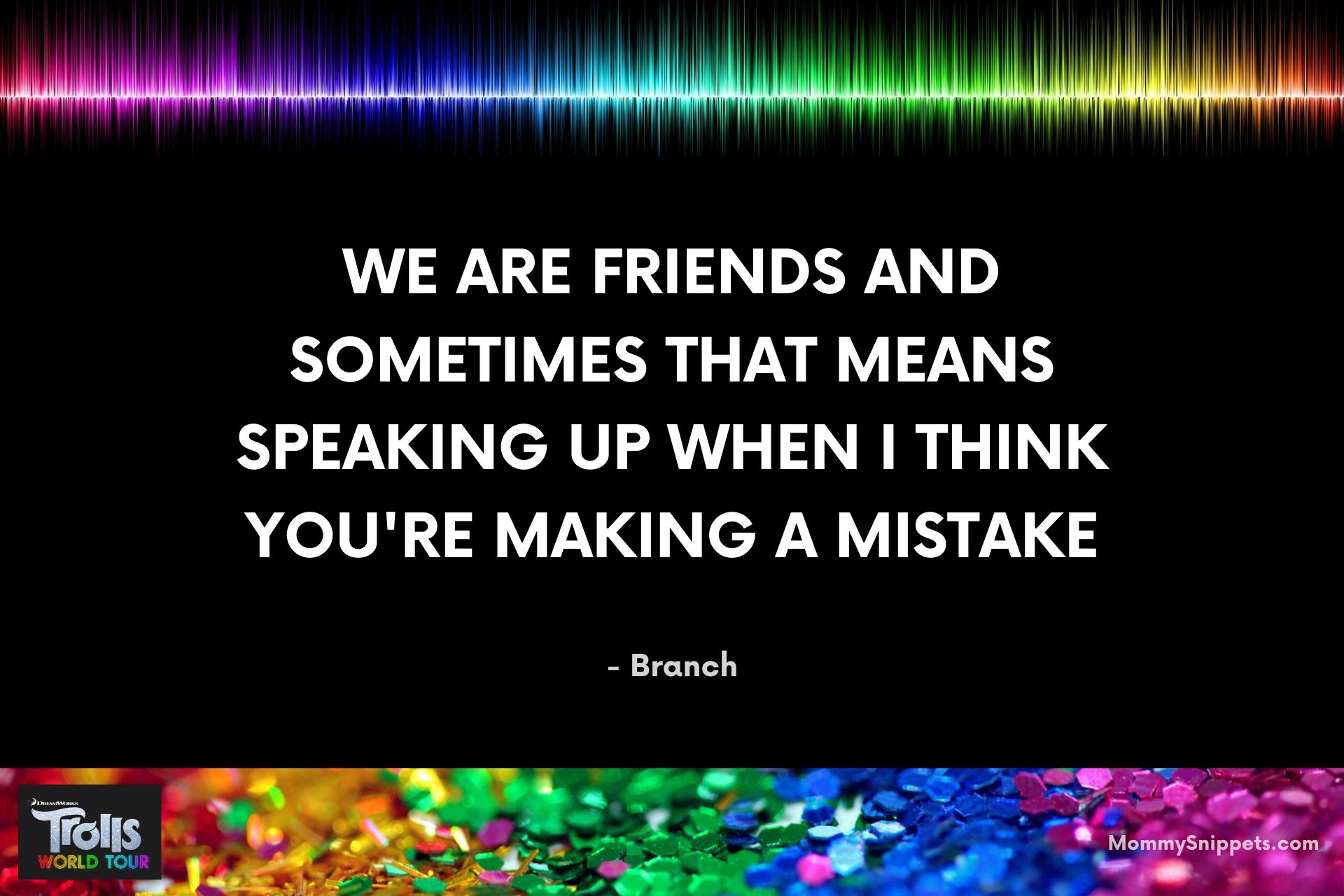 These quotes are gold, right? Feel free to share them, re-post them on Facebook, re-tweet them on Twitter, save them on your phone to share with friends and family, pin them to your Pinterest boards. They're so pertinent to this day and age.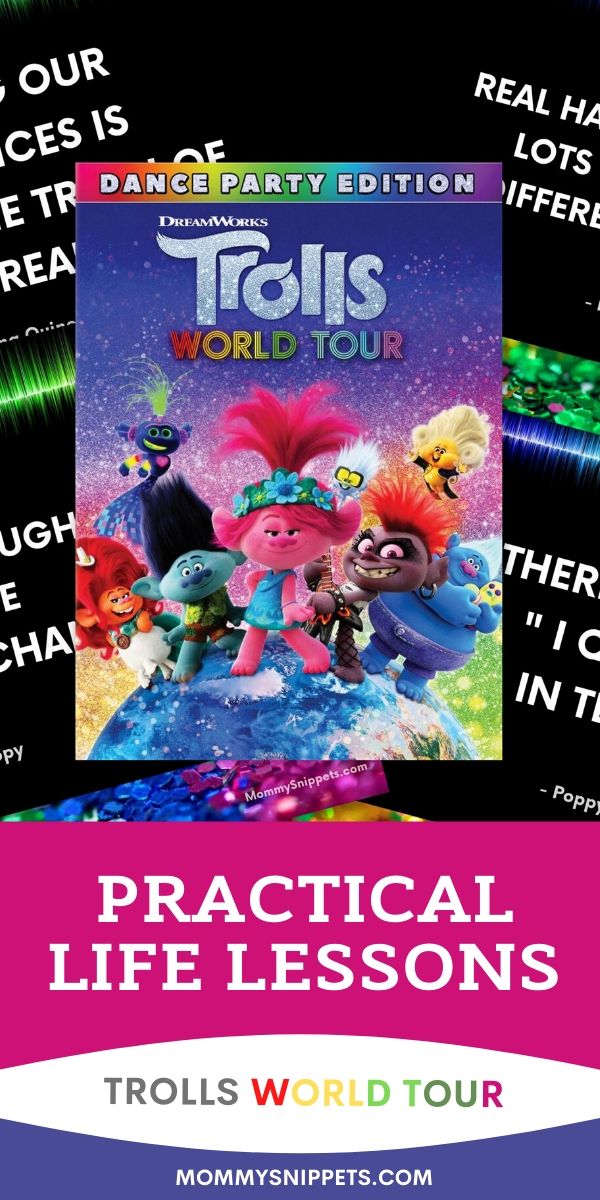 I think I'm going to have to rewatch the movie with my notebook and pencil in hand, right from the beginning, to catch all the wisdom I missed jotting down.


While you're planning your Trolls World Tour Family Movie Night, don't just serve popcorn. Make your movie night memorable. Make a Trolls inspired craft or enjoy making a fun treat together. Make those deposits into your family's memory box with these great ideas:
Fun Trolls Inspired Crafts and Treats
Have fun!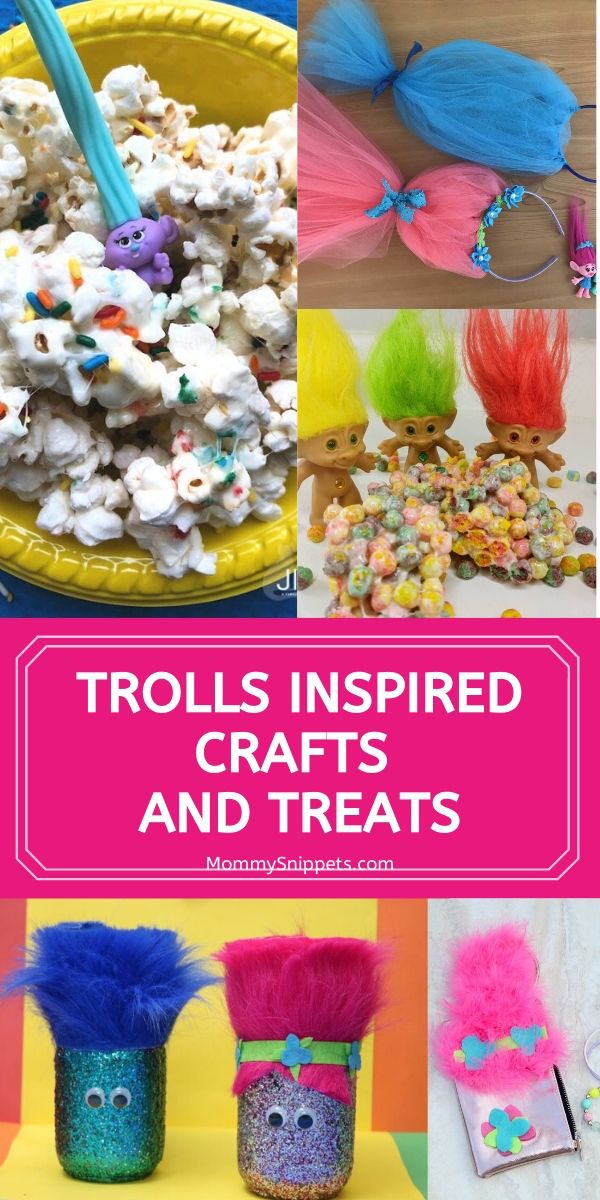 ENTER FOR A CHANCE TO WIN A COPY OF THE TROLLS WORLD TOUR ON BLU-RAY
To enter for a chance to win, please use the Giveaway Tools form provided below to be eligible for this giveaway.