How to Make Tortilla Pizza Pockets for a Quick Meal
This post contains editorial samples and/or affiliate links to products I recommend. While this adds no additional cost to you, I will earn a small commission on any sales made.
In the mood for pizza and have tortillas on hand? Try this! These are the ultimate Tortilla Pizza Pockets and they're so easy to whip up!!
Somedays you just need Tortilla Pizza Pockets!
All three of my kids are still at home, weathering the virtual schooling storm as best as they can.
Right after the Christmas break we were told school hours have been extended for my 6 year old and 10 year old.
Plus if that wasn't all, lunch timings have changed as well. Ana now comes to the table at 11.30, Lia around 12.20, and Sam at 12.30. Hubs comes in a little after 12 or 1, so yes, my dining area is now the revolving cafeteria.
Anyone relate?
The key is to keep lunch simple.
If you don't have leftovers from that big dinner you made last night, whipping something up in under 30 minutes, is just what you need.
That's exactly why these Tortilla Pizza Pockets are so popular!
Kids call these the Tortilla Pizza Pockets on the go and LOVE it!
How to Make Tortilla Pizza Pockets
I know Lia would love a veggie wrap, packed with peppers, onions, spinach, while Ana would like an all cheese wrap, packed with pepperoni.
Sam would go all in with a meat assortment.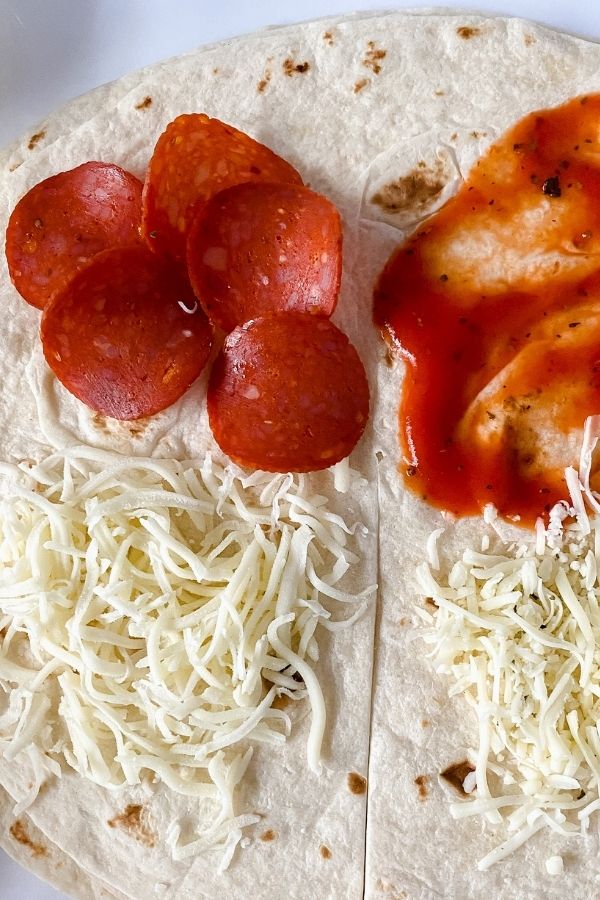 The neat thing about this quick meal idea is you can customize your family's Pizza Tortilla Wrap Pockets to stuff each wrap with what each person likes.
When all you need is tortilla wraps, cheese, pizza sauce and their choice of toppings, how could the kids groan when you announce what's for lunch?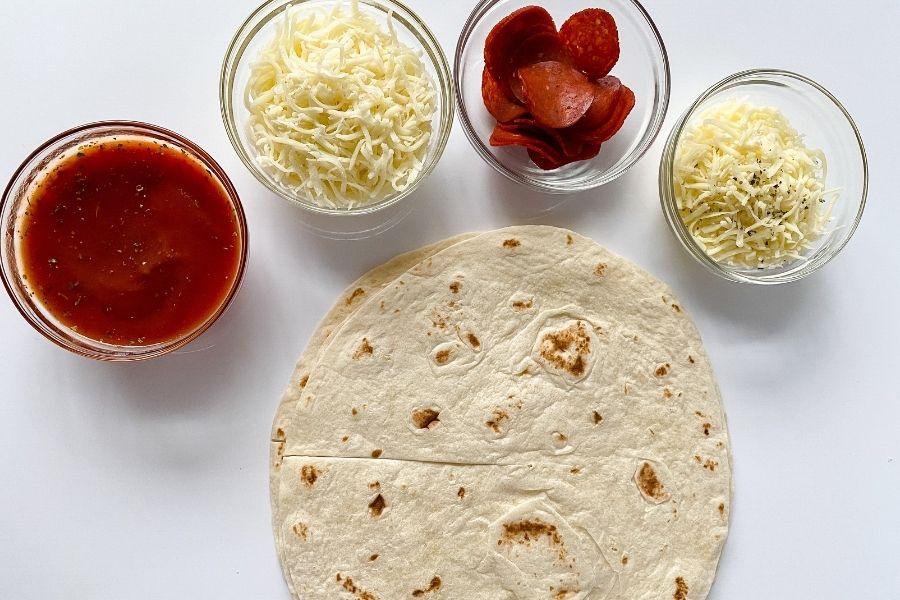 Plus it's an easy grab-and-go lunch, or large snack to fuel your young athlete before an intense sports practice.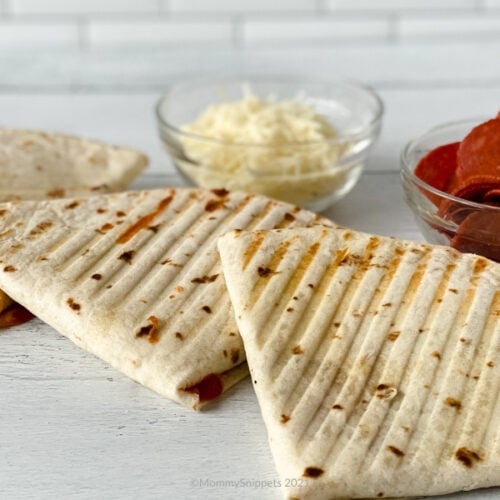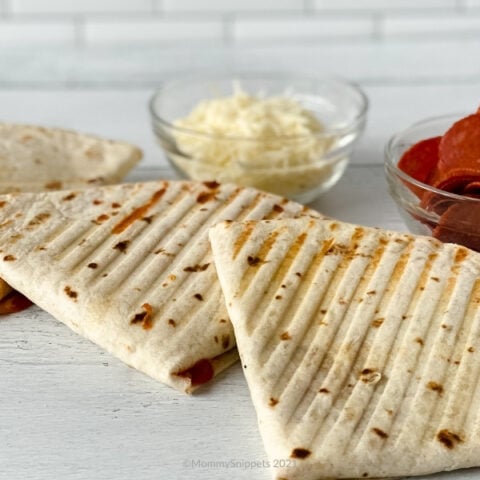 Easy Pizza Tortilla Pockets
Prep Time: 5 minutes

Cook Time: 5 minutes

Total Time: 10 minutes

These easy Pizza Tortilla Pockets are the perfect quick meal solution for those busy days. They make a great grab-and-go lunch option too!
Ingredients
Large Tortillas
Pepperoni
Shredded Italian Cheese Mix
Shredded creamy mozzarella blend
Pizza sauce
Italian Seasonings
Instructions
Cut a large tortilla in half only on one side of the tortilla.
Envision the tortilla is in four quadrants.
Place your toppings of choice in each of the quadrants.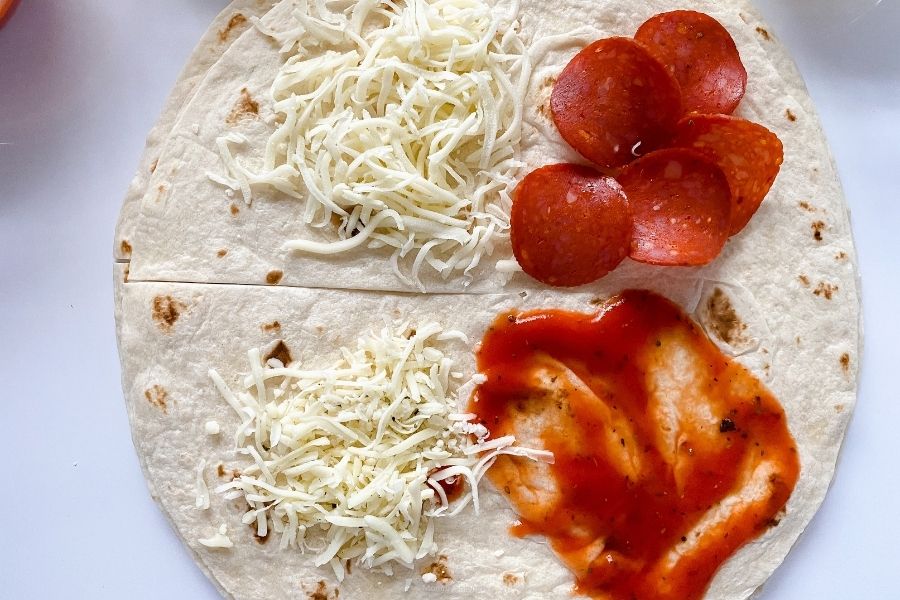 Fold over the first quadrants Fold that set over to the right.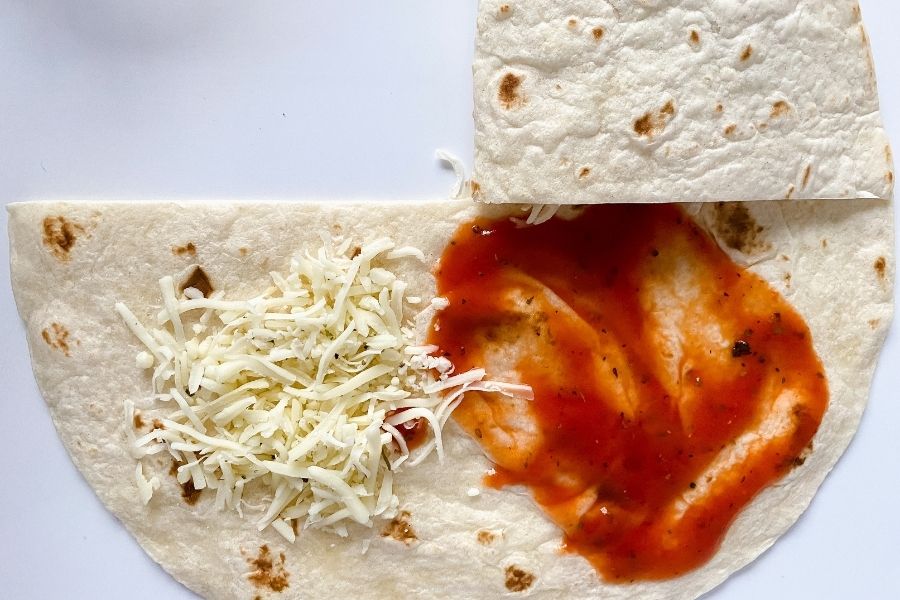 Fold down completing the wrap.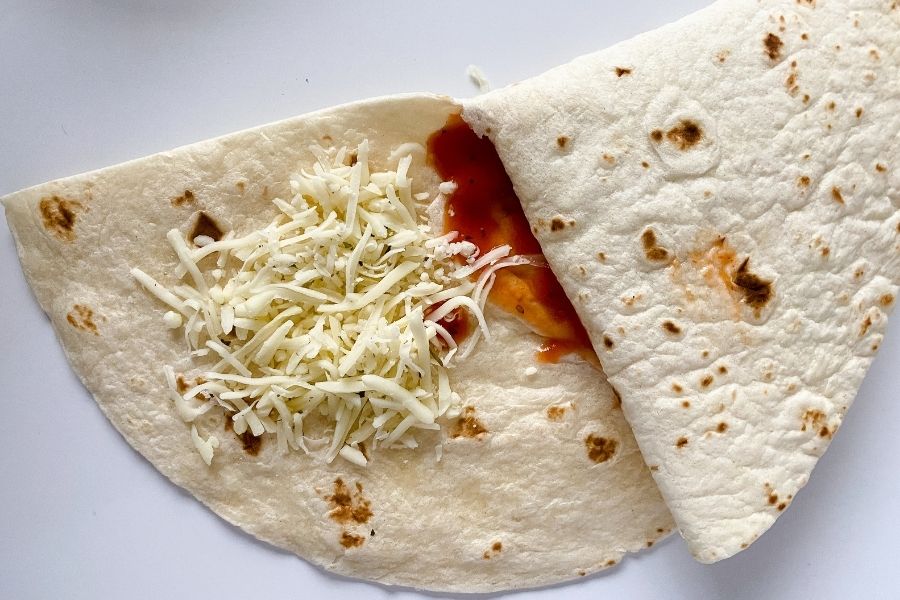 Place into a preheated panini machine for a flatter wrap.
Place onto a griddle or frying pan with melted butter for a thicker, but toasted wrap.
If using a griddle or frying pan toast on both sides.
Cut in half and serve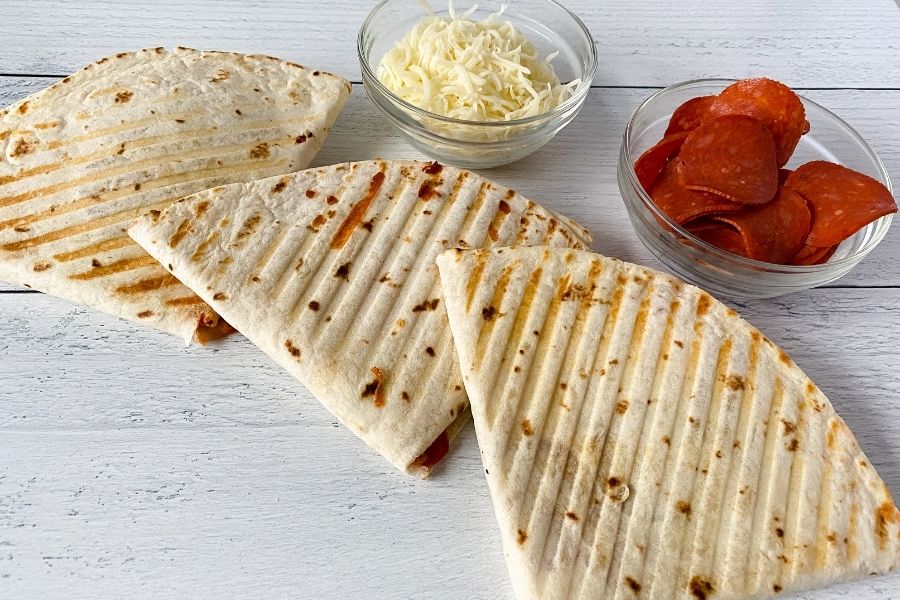 While you can use a griddle, or a pan, I find a panini press-n-grill makes just the perfect grill marks and pockets the stuffing in the wrap perfectly!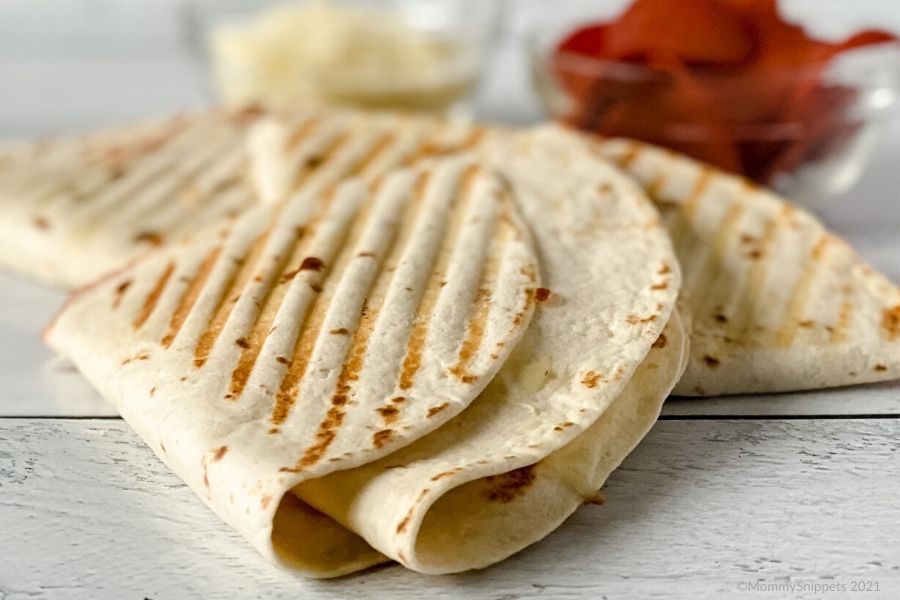 Elevate your Pizza Tortilla Pockets
Stay simple and just buy a regular 8oz can of tomato sauce, add a tablespoon of Italian Seasonings, a tsp of garlic, 1/2 a teaspoon of salt and a dash of pepper, and stir.
Your easy-peasy, in-a-snap, pizza sauce is now ready for use!
What would you put in your wraps?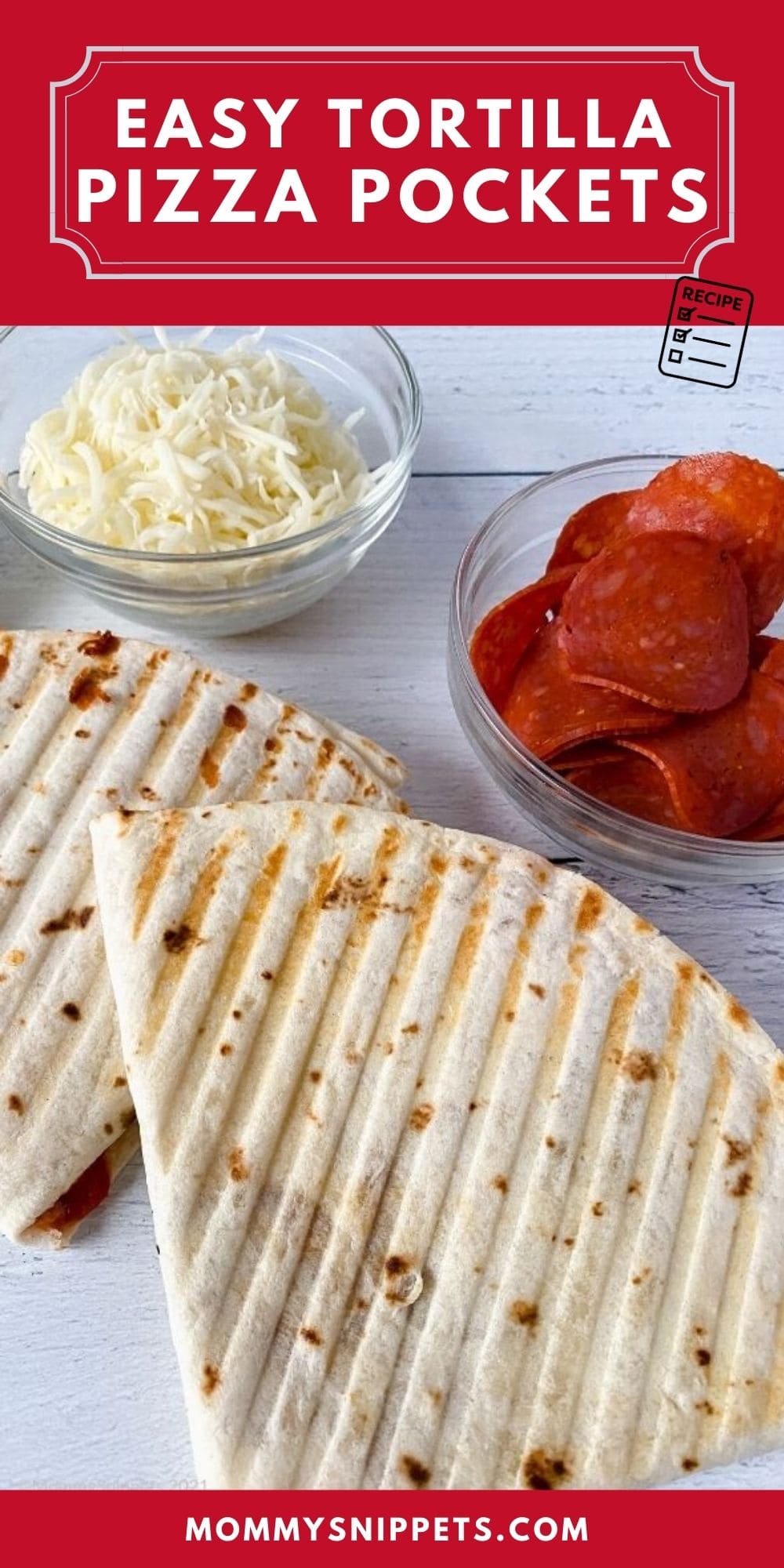 If you are looking for more quick meal solutions, try these popular favorites:
Easy Fried Rice Without Soy Sauce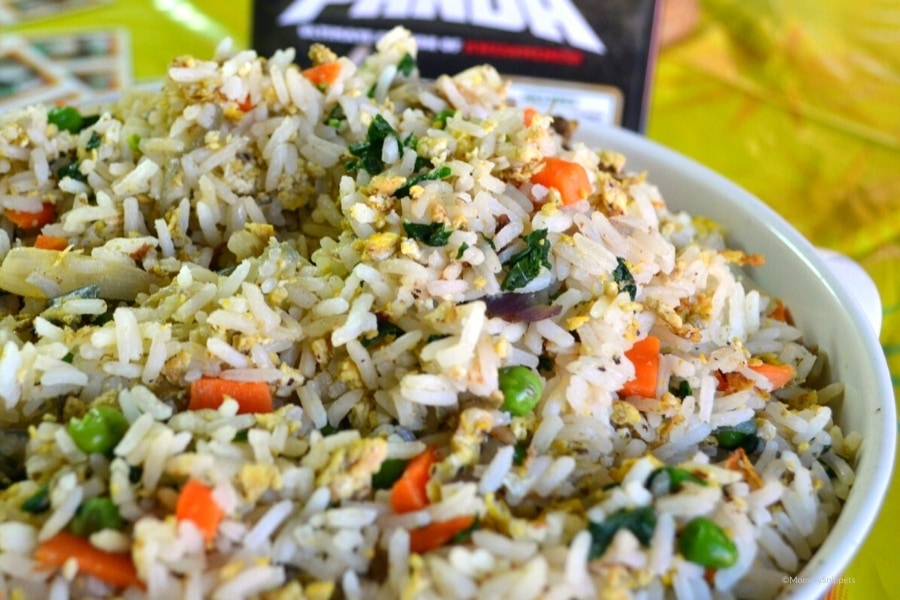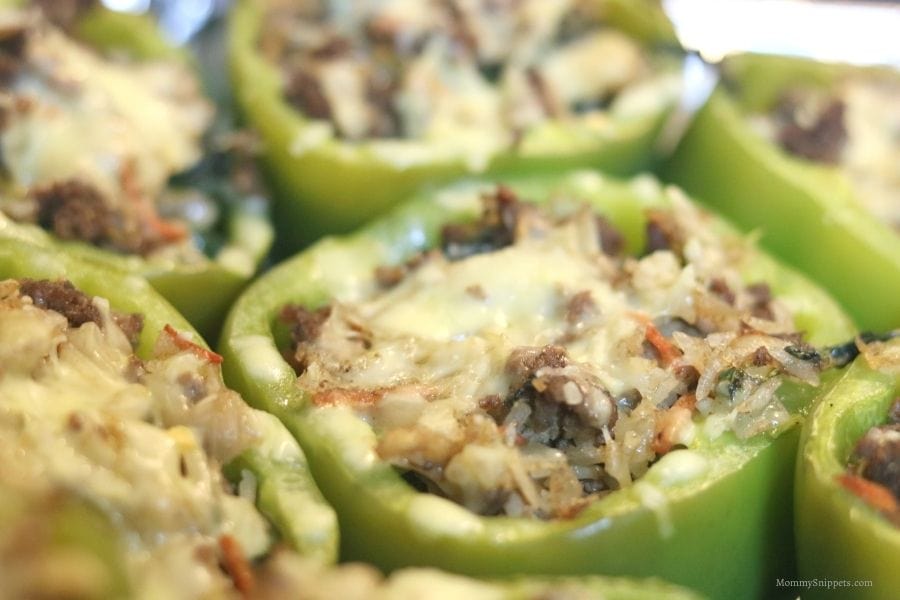 Oven Baked Meatballs with Hidden Veggies.
(These are delicious in spaghetti with a simple marinara sauce, or even a wrap with salad greens and hummus, or a sub)
I think we just may have meatballs for lunch, tomorrow!
I'd love to hear from you. Hop over to chat with me on Facebook and/or Twitter