How to make an Umizoomi birthday cake
This post contains editorial samples and/or affiliate links to products I recommend. While this adds no additional cost to you, I will earn a small commission on any sales made.
When my little man asked if he could have a Team Umizoomi themed birthday instead of a construction themed one, I agreed without batting an eyelid. It was only later when I went through party sites and Pinterest that I realized that a Team Umizoomi party wasn't exactly high on the popular list.
When my search for Umizoomi birthday cakes on Pinterest brought up professional looking fondant based cakes and edible Umizoomi cake toppers, I began to worry a little.
Erm, ok, a LOT!
Oh and to top it all, the birthday boy didn't want a store bought cake. In his words, "I want Mama to bake me a thocolet (chocolate) cake!"
Sigh!
After quite a bit of thought I decided to make him his Team Umizoomi cake.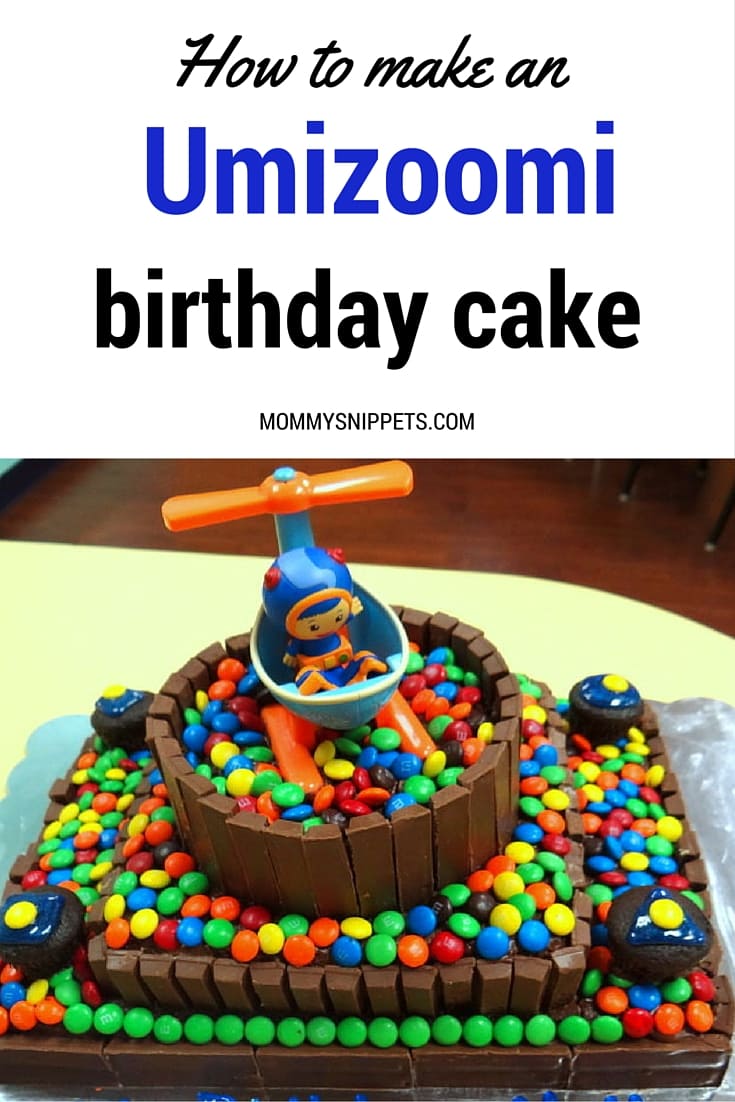 How to make an Umizoomi birthday cake!!
1. Since Team Umizoomi is all about math, patterns and shapes, I decided to run with the shapes theme. I picked up a large rectangle cake pan, a smaller square cake pan and a tinier round cake pan.
2. To ensure kids who like vanilla got vanilla cake and the ones who love chocolate got chocolate, I chose to alternate cake layers. (I used this reliable vanilla cake recipe except I substituted the vegetable oil with organic unsalted butter and my favorite chocolate cake recipe.)
3. For the frosting I cheated big time. I used Noccialata to hold the stacked layers together, "glue" the kitkat bars to form a fence around each layer and hold the colorful M&Ms grass on the top!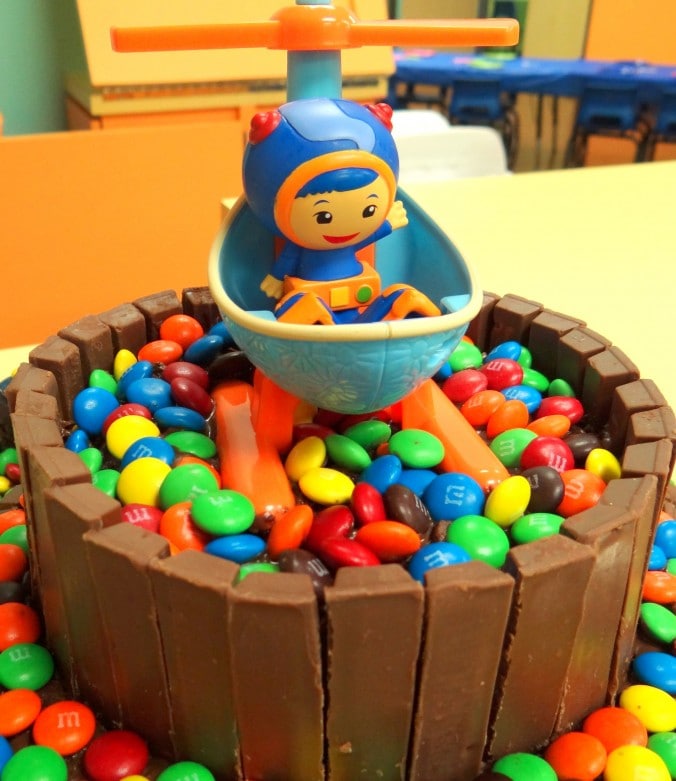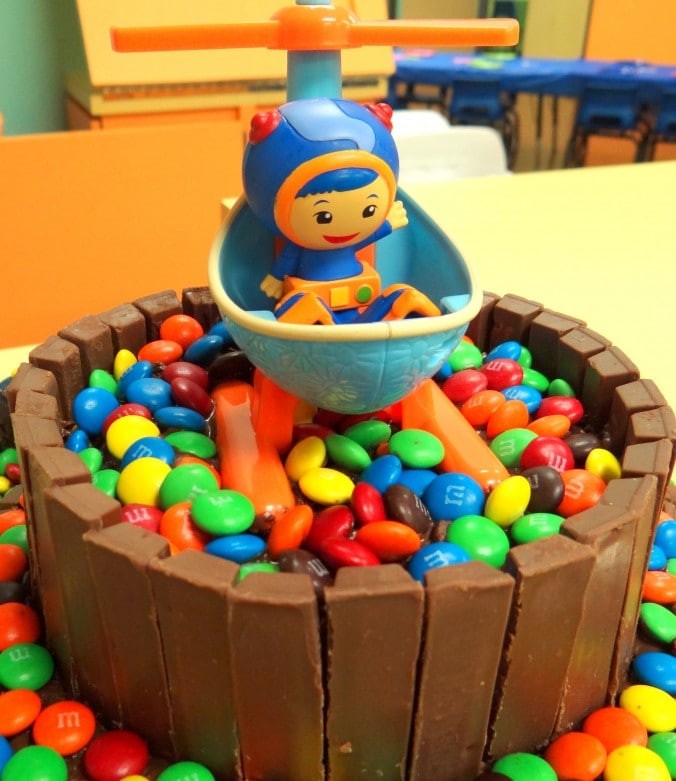 4. While pouring out the batter for the chocolate cake layers, I set aside a little batter to make mini muffins as well. Made tiny frosting shapes on these to contribute further to the shapes concept.
5. Finally topped it off with a Team Umizoomi favorite of my son's , a little Geo toy figure with his helicopter, that served perfectly as our cake topper.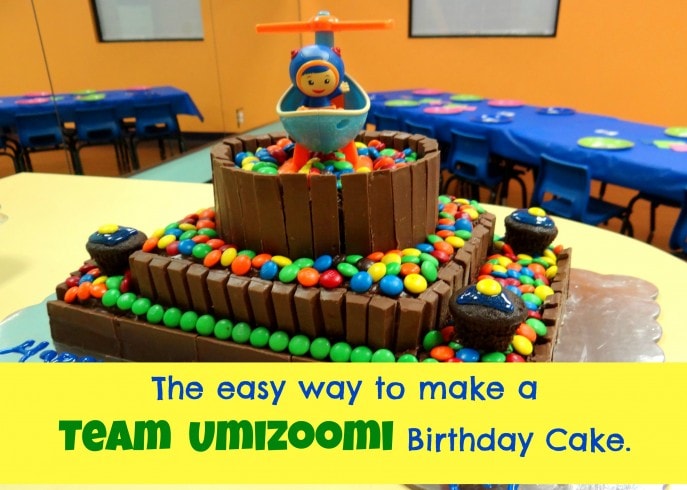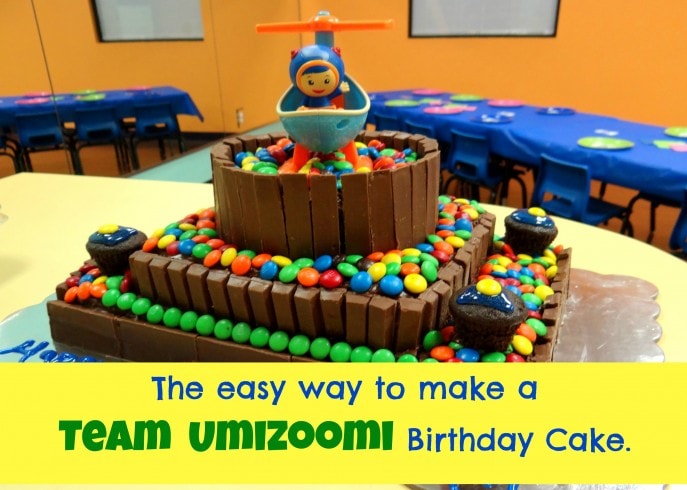 So there you have it.
Easy-peasy!
The reactions to the cake from both the young and the old made "Project Easy" definitely worth the effort!
Do you like to bake your child's birthday cake? Do you take any short-cuts?