My son was always quick to reach his milestones as a baby.
Why he even aced potty training before he turned 2, shocking both Hubs and myself. So when it was time for preschool we really thought it would be a walk in the park but we were so wrong. What proved to be one of the hardest seasons, as parents, gently worked to be a lesson in faith and patience, over time.
The day the tears stopped.
It didn't happen on day 3 or day 6. It happened a whole two weeks later.
Two weeks of waiting on the school premises. Two weeks of listening to him shriek after I slowly edged my way out of his classroom. Two weeks of peeking in to make sure he was ok. Two weeks of burdened praying. Two weeks of receiving assurance after assurance from the wonderful teachers and administrative staff. Two weeks of waiting…
waiting for that day.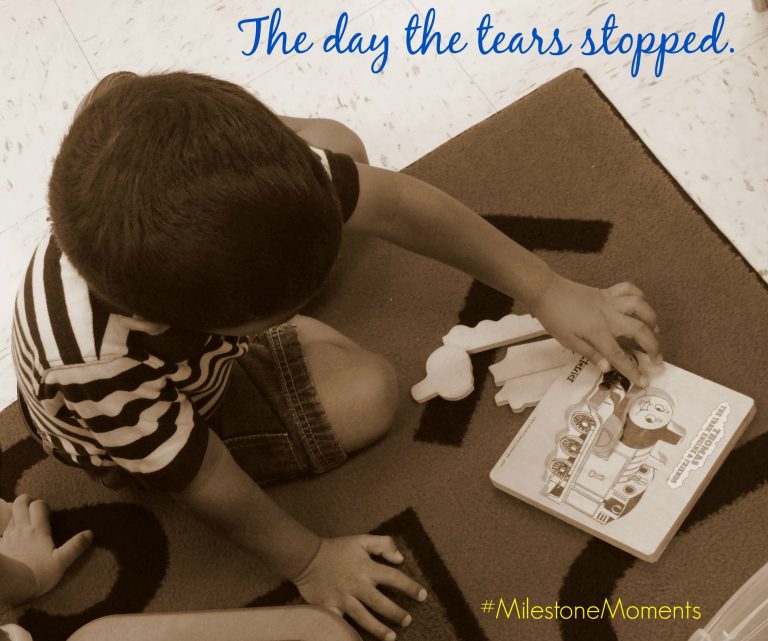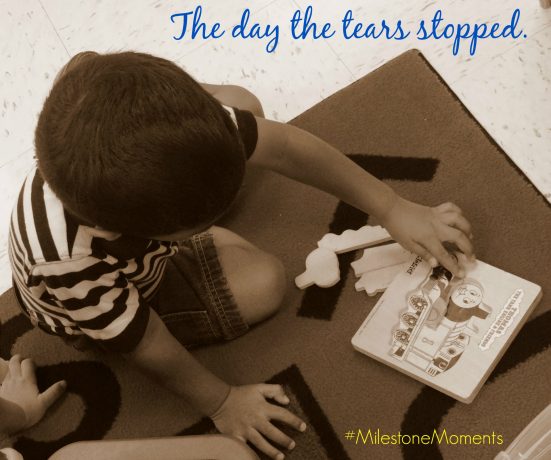 And then it happened.
The Monday of week 3, he walked into class, got a big hug from his teacher, turned around gave me the widest grin ever, waved goodbye, walked over to his little buddies and joined them on the carpet strewn with toys.
Just.like.that.
The tears stopped…
from his end.
I, on the other hand, walked out of his class, sat on the bench outside, called Hubs and cried…
tears of joy, relief, gratitude for answered prayer and peace.
His milestone moment may not have been a big one to many but to us it was HUGE.
Every finish line is a new start
P&G and Babies R Us have teamed up to celebrate such milestone moments, along with Noelle Pikus Pace, US Olympic Skeleton Athlete. Noelle feels strongly that "Raising a family is like training for the Olympic Winter Games" and that "Moms are in training every minute of every day." And that's one reason why Noelle relies on Babies R Us to stock up on Pampers.
She also believes that every finish line is a new start, when it comes to achieving those milestones, not just as a parent but also as a child.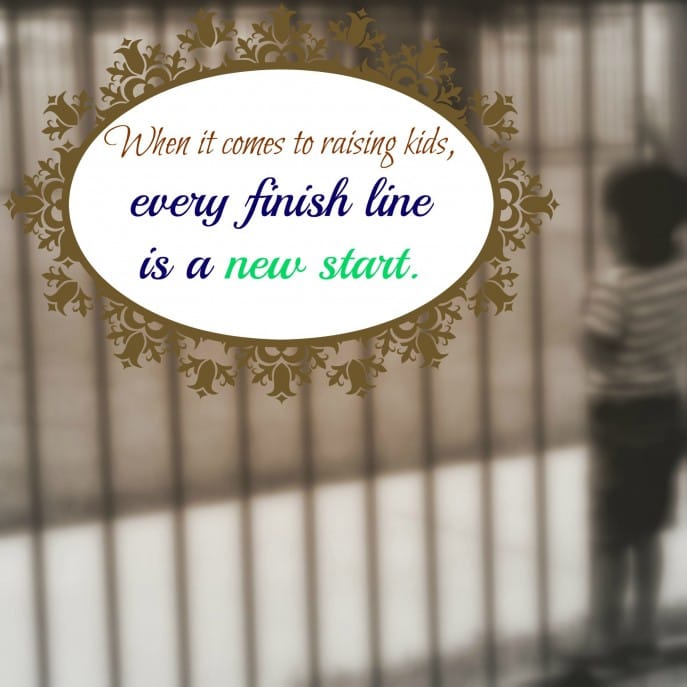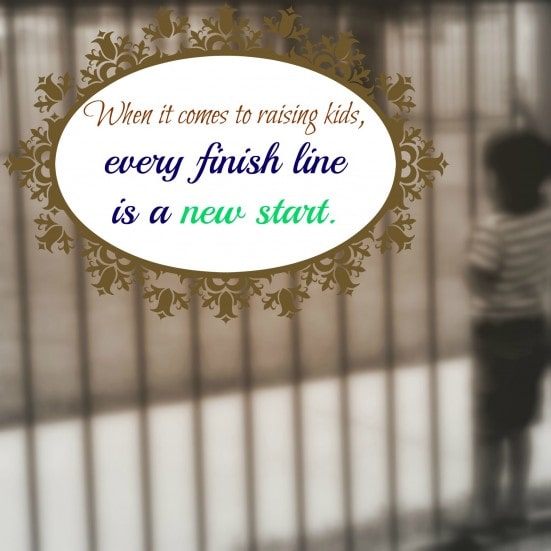 To celebrate #MilestoneMoments, Babies R Us has two awesome deals to cash in on…
From Friday 1/17 through Monday 1/20, receive $15 off when you buy 2 value boxes of Pampers diapers (78ct. or higher), in store only
and
From 1/31- 2/22, you will get FREE Pampers wipes (168-192ct, $7.39 value) when you buy any two select P&G items: 
– Pampers mega packs of diapers & Easy-Ups training pants (28-78ct, reg $18.99)
– Bounty 12ct paper towels (reg $19.99)
– Charmin 30ct toilet tissue (reg $19.99)
– Dreft laundry detergent (50oz or higher, reg $14.99 – $25.99)
– Tide laundry detergent (100oz or higher, reg $18.99 – $24.99)
– Duracell AA24pk batteries (reg $15.99)
To commemorate all of this, a #MilestoneMoments Twitter Party will be held on Wednesday, January 22nd at 2pm ET. 
Will you be there to share your child's milestone moments?
Plus here's a chance to win a #MilestoneMoments Pack right here!
 .
One reader will win a Pampers #MilestoneMoments Pack that includes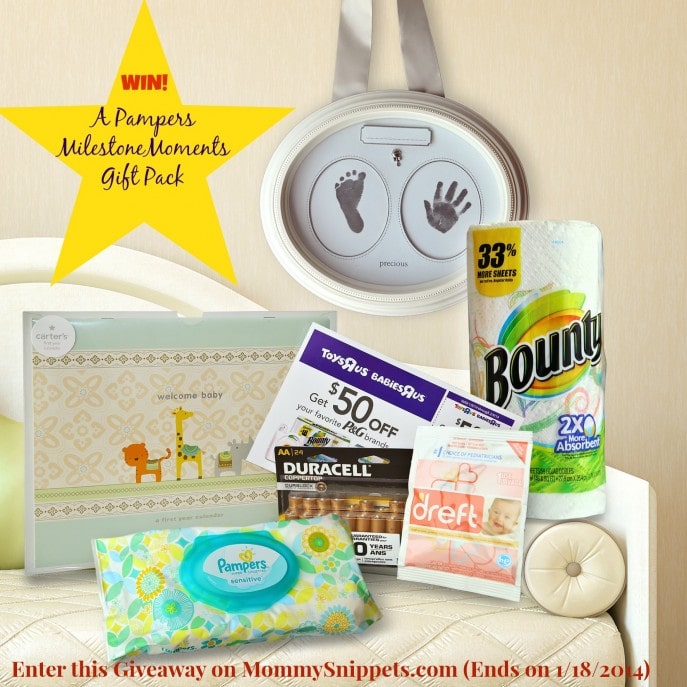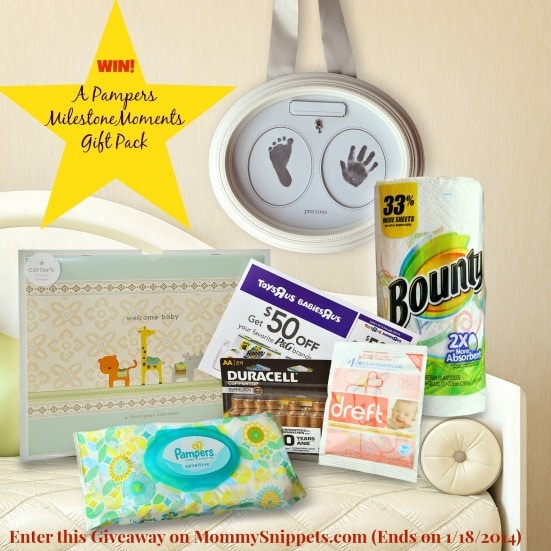 Babies"R"Us/Toys"R"Us Coupon: Save $50 on your total purchase of P&G participating brands of $50 or more
Pampers Sensitive Wipes (56ct)
Duracell AA Batteries (4 pack)
Bounty Regular Roll
Dreft Sample
Use the Rafflecopter form provided below (or click the Rafflecopter Giveaway link) to enter the Mommy Snippets giveaway. Entries not recorded in the same will be disqualified.
** If you face any problems while entering this giveaway, please get in touch with me ASAP! ** .
.