Roasted Tomato Soup Recipe
This post contains editorial samples and/or affiliate links to products I recommend. While this adds no additional cost to you, I will earn a small commission on any sales made.
Inspired by my Mama, this roasted tomato soup recipe is the one I turn to anytime my child feels under the weather or has a sore throat.
This morning my daughter woke up complaining that her throat hurt. In our home, it's understood that a sore throat generally calls for some homemade peppered chicken soup or my Mom's clear tomato soup.
With a club tryout later this afternoon at school, she asked if I could take some soup for her lunch at school.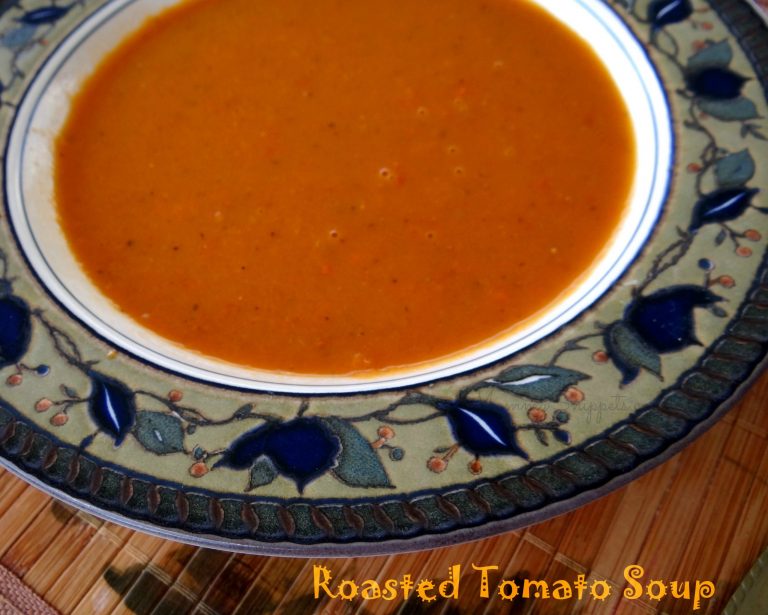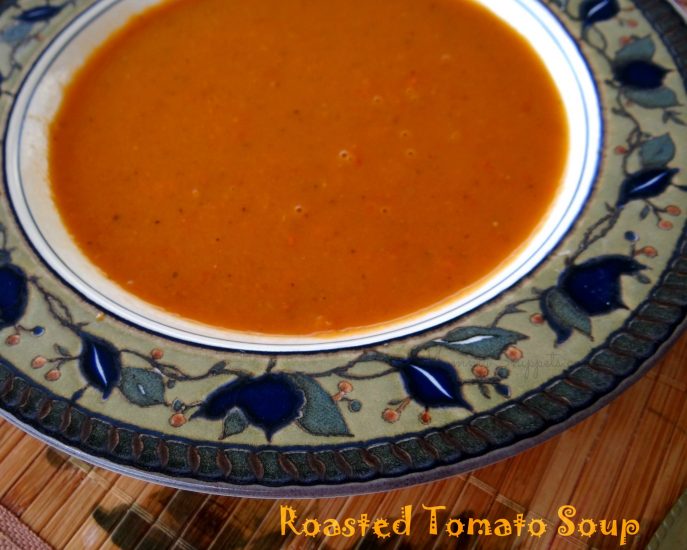 Realizing I didn't have any chicken in the freezer, I made her a flask filled with delicious tomato soup.
Now my Mom's soup isn't very filling, so I decided to add some onions and carrots in the same to ensure she had a filling meal, enough to sustain her for the rest of the day.
This is such an easy homemade soup recipe to whip up and roasting those tomatoes add so much flavor to the mix!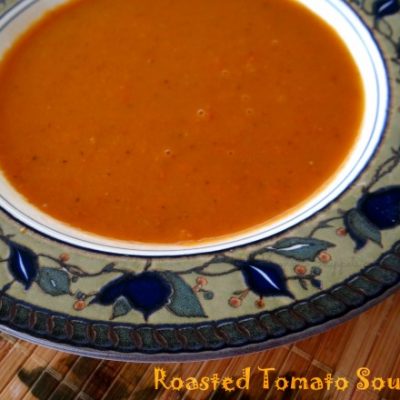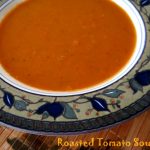 Roasted Tomato Soup Recipe
Ingredients
4

large Roma tomatoes

chopped or quartered

1

tbsp

dried basil leaves

3

tbsp

chopped onions

I used red as we love the flavor but for a more subtle flavor use yellow/white

2

garlic cloves-chopped

1

cup

small carrots or 1 carrot- chopped

1/2

cup

fresh spinach-chopped

1-2

cups

of room temperature water

Based on how thick you want your soup

Salt- to flavor

Freshly ground pepper -to flavor

3

tbsp

olive oil

1-2

tbsp

heavy cream

optional
Instructions
Preheat your oven/toaster oven to 450 degrees F

Spread the tomatoes and carrots on an oven safe tray, drizzle a tbsp of olive oil over the same . Sprinkle the dried basil leaves over the same and roast for 10 minutes.

While this roasts, take a pan and saute onions and garlic, in the remaining olive oil, till golden brown.

Add to this the chopped spinach, saute for 1 minute and set the pan aside.

Once the tomato-carrot mix is done, add this to the pan. Mix the same and saute for 1-2 minutes and season with salt and generous amounts of pepper.

Once done take a blender and add the contents in your pan and a cup of water.

Blend the same. Add extra water if you would prefer a thinner soup or plan to add heavy cream at the end.

Once all the ingredients are blended well,pour the soup into your pan and allow the same to simmer on low for about 5 minutes.

Remember to taste the soup and add extra salt/pepper if required.

Add the heavy cream, if desired, only once you move the pan off the stove, and gently stir the same into the soup well.

Serve your Roasted Tomato Soup with garlic bread, buttered toast or pop a few croutons right before you serve the same.
Do you have a favorite go-to soup when the kids/ Hubs feel a little under the weather?

(Please feel free to leave a link to the same in the comments. I would love to check it out)