A Letter to Mom by Bunny Girl
This post contains editorial samples and/or affiliate links to products I recommend. While this adds no additional cost to you, I will earn a small commission on any sales made.


.
Last night my daughter's Elementary School held a Mother's Day Dance/Event. We'd decided we weren't going but right after school, yesterday, my daughter's Kindergarten teacher beckoned to me and insisted that I just had to come because Bunny girl had a surprise for me.
Immediately our plans changed. We were going to the Dance!
The evening was loud.
Bunny girl and her friends  did more playing than dancing. Bunny Boo spent the former part of the evening chasing a 3rd or 4th grade kid with his balloon, shrieking with glee! Hubby found a few people to talk to while I found a few Kinder Mommies and chatted the evening away.
You can tell the "Dance" was rocking!
After about two hours, the Principal got up,said a few words about Mothers and then mentioned they would be having a Live Band perform.
But before all that, two Kindergarten kiddos had surprises for their Mommies.
She first called a little boy up and he read a letter out to his Mommy and then…
she called out Bunny girl's name.
I thought I'd dissolve into tears that very moment!
My baby walked over with poise and confidence and in front of a packed gymnasium of parents, grandparents and "wired on cupcakes" children, she read out a letter she'd written for me, a few days ago in class.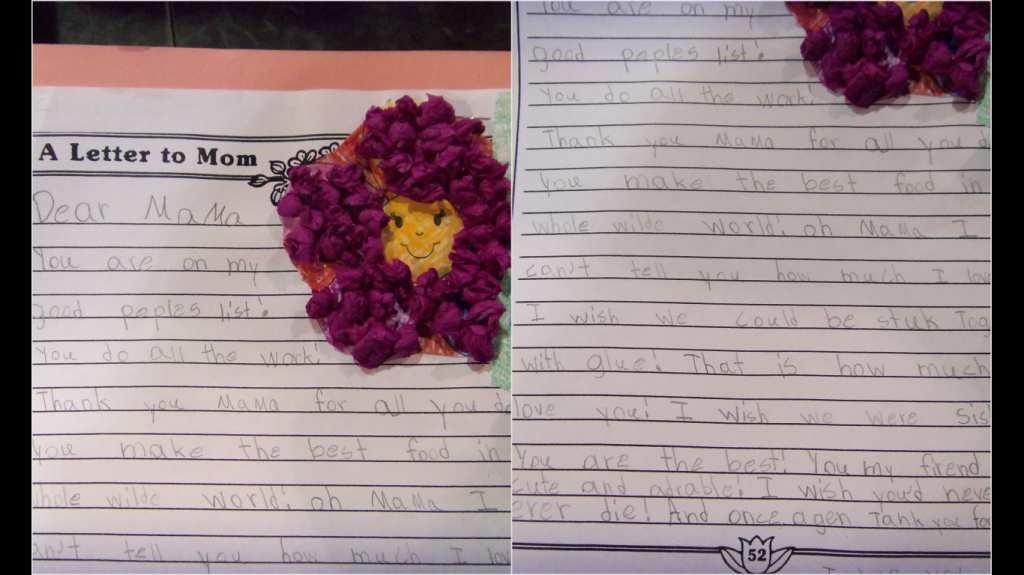 .
Dear Mama,
You are on my good people list! You do all the work!
Thank you Mama for all you do.
You make the best food in the whole, wide world!
Oh Mama, I can't tell you how much I love you.
I wish we could be stuck together with glue! That is how much I love you.
I wish we were sisters.
You are the best! .
You are my friend!
You are cute and adorable.
I wish you would never ever die.
And once again, thank you for all you do!
I love you, Mama!
.
.
There were very few dry eyes in that auditorium and I bawled like a baby.
I can't think of anything material that can compare to this priceless gift of love from my 6 year old.
My Mommy heart overflows!
This will be one Mother's Day I will never ever forget.