The Unforgettable Akeelah and the Bee Quote & Inspirational Life Lessons- Free Printable Wall Art
This post contains editorial samples and/or affiliate links to products I recommend. While this adds no additional cost to you, I will earn a small commission on any sales made.
There are some movies that you need to watch, and then watch again. Akeelah and the Bee is one of those movies for this simple reason.
The movie is packed with inspirational lessons and the unforgettable Akeelah and the Bee quote that everyone references, this wonderful family movie has valuable take-home nuggets that are relevant for all ages.
Life lessons learned from the movie Akeelah and the Bee
There are several Akeelah and the Bee moral lessons you can sit down with your family and talk over, after watching the movie. Some of my favorites are the ones I've shared below:
1. How much money you have in the bank does not determine your success.
2. Hard work and determination go a long way.
3. Be a believer in someone else's gift(s). You never know how much you will impact their life when you do.
4. You are never too small to make a difference in a person's life.
5. Overcome fear because when you do you will find a whole new world of opportunity awaits you.
The Unforgettable Akeelah and the Bee Quote
Of all the beautiful lessons packed into this movie, the one that just took center stage was what everyone calls the Akeelah and the Bee poem.
The Akeelah and the Bee quote is actually a quote taken from the poem penned by Marianne Williamson.
(Interesting tidbit: Many misattribute this quote to Mr. Nelson Mandela.)
"Our deepest fear is not that we are inadequate
Our deepest fear is that we are powerful beyond measure."
(Scene reference- Akeelah reads this quote while in Dr. Larabee's office.)
This is definitely frame-and-put-on-the-wall worthy.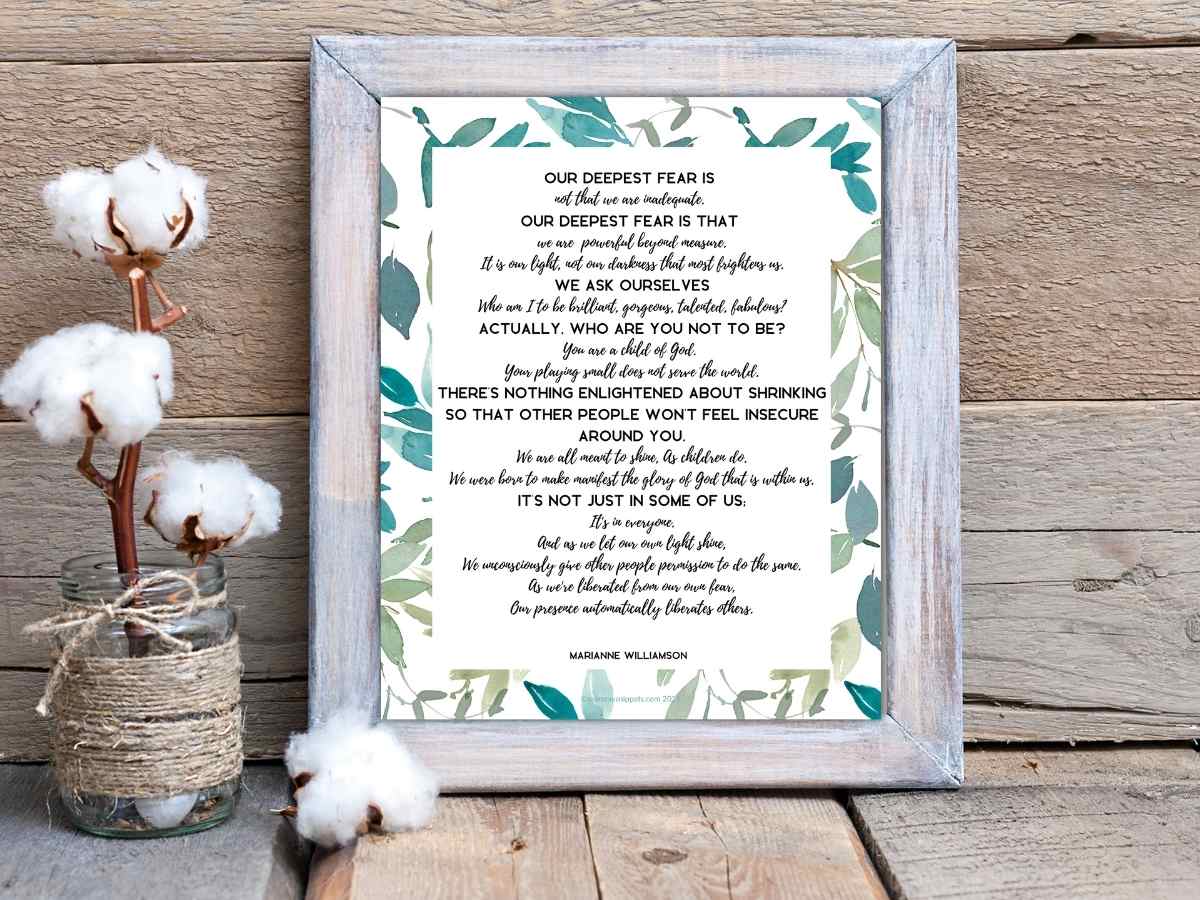 If only we remind ourselves of this each morning and teach our kids to do the same, it's enough to inspire, encourage and motivate us to do so much more.
And yes, to be all we are meant to be in our life circles.
If you've signed up for my newsletter, use the exclusive library access password to get into the library.
If this is your first time accessing a Mommy Snippets printable, please sign up for my newsletter to get the exclusive password. This one password will give you access to all the printables in the Mommy Snippets Community Printables Library for FREE!
Can you think of a movie (recent or an oldie)that has inspired, motivated, and/or

encouraged

you and/or your family?