Easy DIY 100th Day Of School Shirt
This post contains editorial samples and/or affiliate links to products I recommend. While this adds no additional cost to you, I will earn a small commission on any sales made.

Next month my son will celebrate being in Preschool for 100 days. While his teachers have some fun activities planned for the kids, I thought it would be neat to have him wear a tee that celebrated his big accomplishment. If you've been following my posts since early 2014, you will remember reading about how hard the first few weeks at Preschool were for Little Man. Today those days seem like a blur when I see the spring in his step as he jumps out of the car and runs up to the school building, in confidence and joy. (Thank God!)
While rummaging through my craft supplies I noticed I have way too many packs of wiggly (googly!) eyes. So yes, that's where the inspiration for his shirt came from!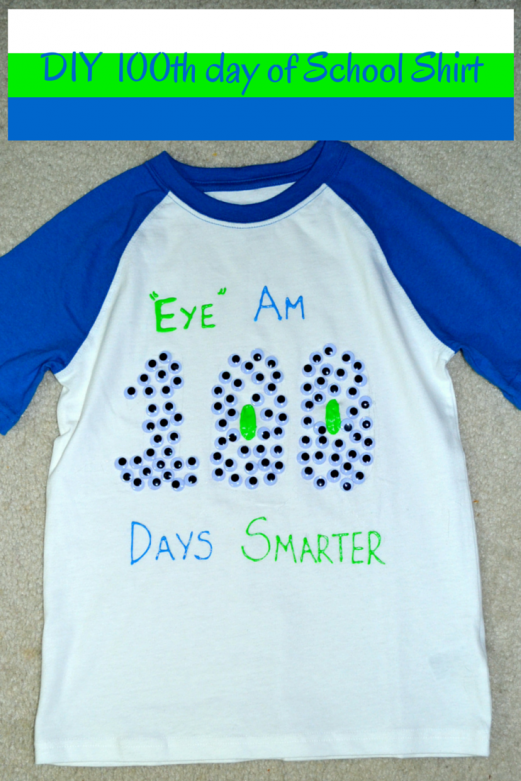 Easy DIY 100th Day Of School Shirt
Materials needed:
A solid colored t-shirt
A pack of wiggly eyes
2 colors of 3D fabric paint
A pencil
To avoid making way too many mistakes with the fabric paint, I would recommend first drafting out the words in pencil. (Yes, I did do that and still didn't have it come out exactly the way I wanted it to. Sigh! Oh well. Little Man loves it so that helps make me feel less judgmental!) If you can use a stencil, even better!
The words on his tee reads: "Eye" Am 100 Days Smarter.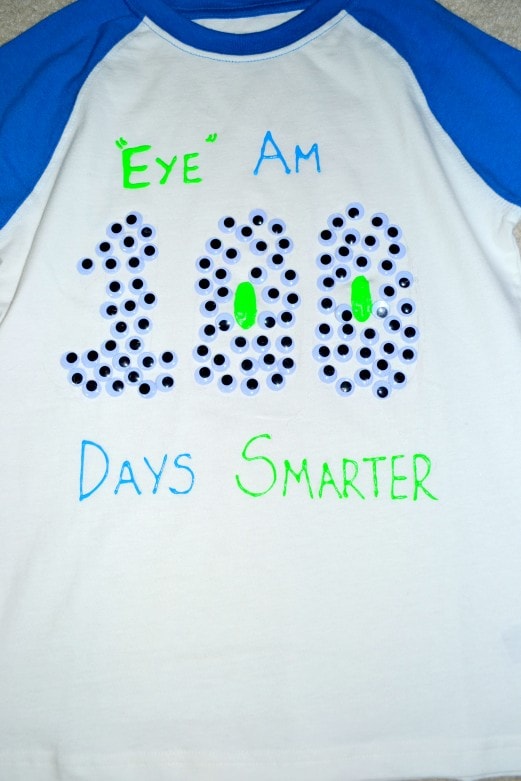 Now to ensure we didn't have any fabric paint smudges, Little Man and I stuck the wiggly eyes on first. He counted each eye, helped with lightly dabbing some glue onto the back of each eye (using the glue gun) and sticking them independently into the 1 and 0s. (Allow your child help you stick the eyes on. It doesn't have to be stuck on perfectly. The shirt becomes all the more special when you get him/her to help)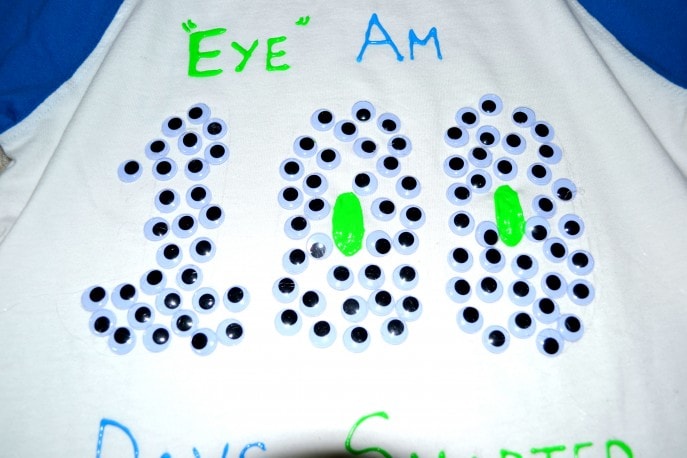 I waited ten minutes after we worked on the eyes, before I started on the fabric paint.
From start to finish, the entire project took about 30 minutes and an additional 2-3 hours to ensure the fabric paint had dried completely.
You can also find some fun 100th Day of School craft kits, stickers, pencils and other goodies online.
What do your kids do for the 100th day of school?