This post contains editorial samples and/or affiliate links to products I recommend. While this adds no additional cost to you, I will earn a small commission on any sales made.


If you're like many, this weekend's plans may, in all probability, include going to watch Cinderella in theaters.
Pssst! Here's my Fandango Family tip: If you're yet to get tickets, order online on the Fandago site or using the app to avoid waiting in those long lines. Or being turned away for the show time you want because it's sold out!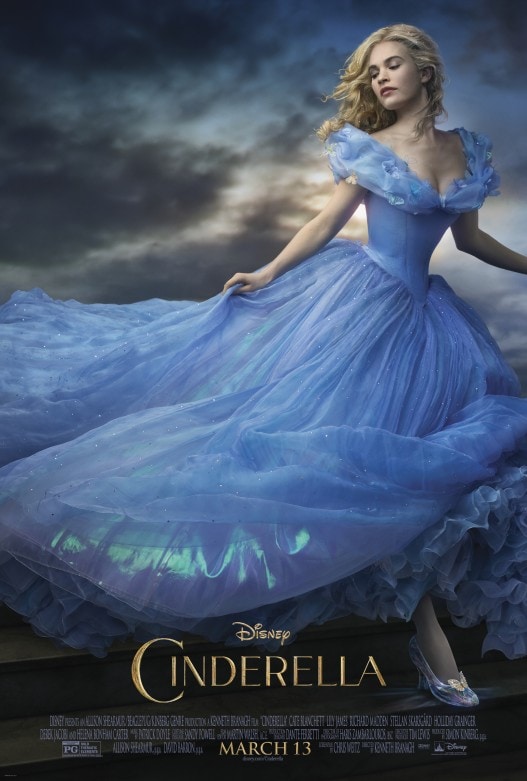 The story follows the fortunes of young Ella whose merchant father remarries following the tragic death of her mother. Keen to support her loving father, Ella welcomes her new stepmother Lady Tremaine and her daughters Anastasia and Drizella into the family home. But when Ella's father suddenly and unexpectedly passes away, she finds herself at the mercy of a jealous and cruel new family. Ella could easily begin to lose hope. Yet, despite the cruelty inflicted upon her, Ella is determined to honor her mother's dying words and to "have courage and be kind." And then there is the dashing stranger she meets in the woods. Unaware that he is really a prince, not merely an employee at the palace, Ella finally feels she has met a kindred soul.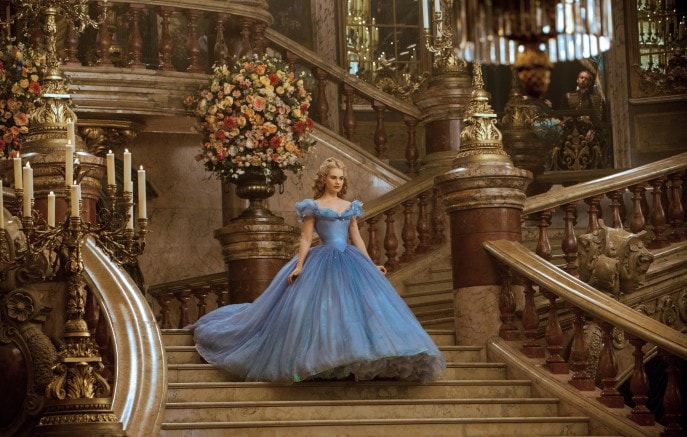 Thinking about the stunning backdrops in the movie and the gorgeous gowns featured in pomp and grandeur we decided to bake our tribute-to-Ella cookies to celebrate the big release today.
Cinderella's Almond Sparkle Cookies.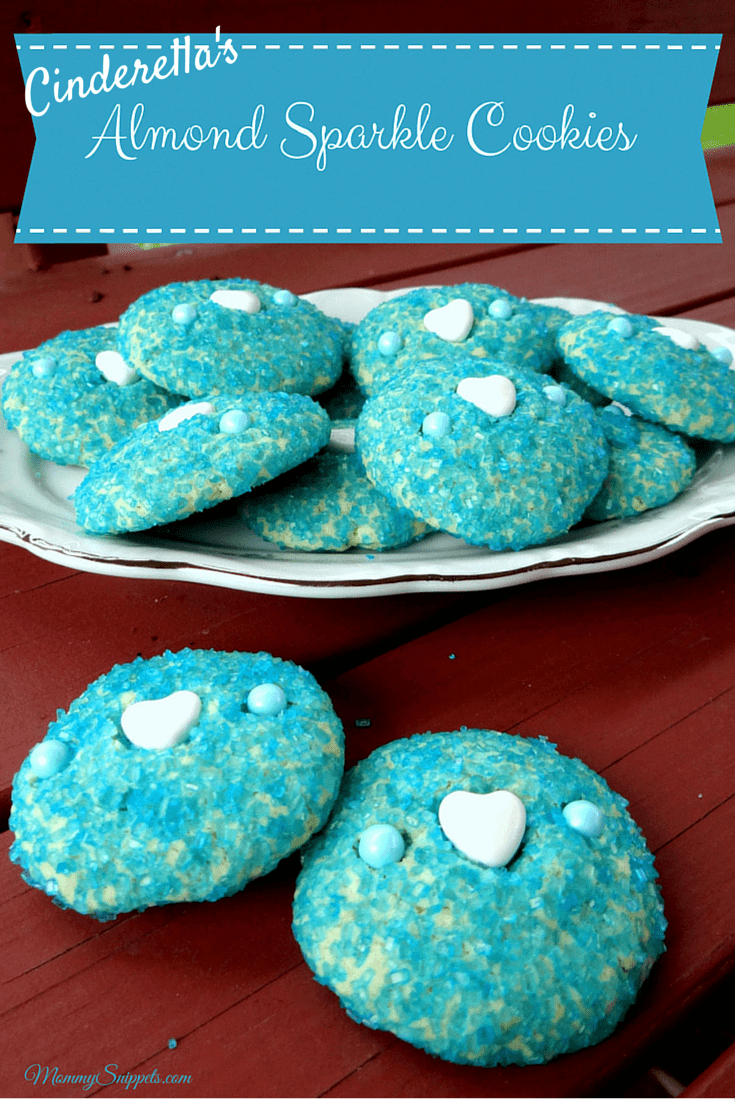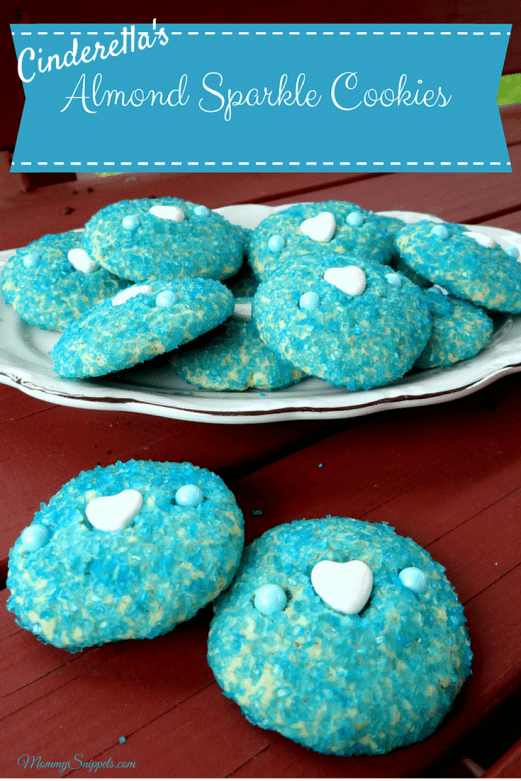 These are incredibly easy to make and are a sweet treat for the family to enjoy before and after the movie!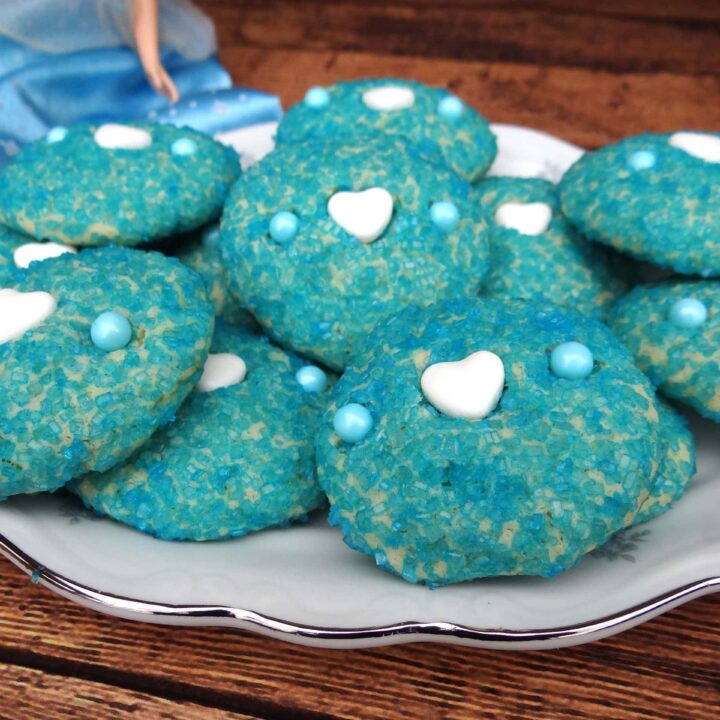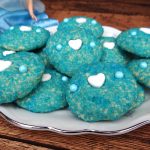 Cinderella's Almond Sparkle Cookies
Servings
:
30
large cookies
Ingredients
1/2

cup

unsalted butter- room temperature

3/4

cup

white sugar

1

egg

1

tsp

almond extract/essence

1/2

cup

ground almonds

2

cups

all purpose flour

1/2

tsp

baking soda

1/2

tsp

salt

2

tbsps

milk

Sweetworks candy - light blue Pearls and White Hearts Sweet Shapes

For decoration

Blue Sugar Crystals

To roll the cookie batter in prior to baking
Instructions
Preheat the oven to 350 degrees F

In a bowl, add all the dry ingredients (flour, baking soda, ground almonds, salt) and mix.

In your stand mixer or using your hand mixer, mix the butter and sugar till well blended.

Now add the egg and almond extract/essence and mix.

To this gradually add half the dry flour mixture, mix, add the milk, mix and finally the remaining flour and mix till combined well.

Now shape 1 inch balls and roll each ball in the blue sugar crystals. Place each blue sugar crystal covered ball, 2 inches apart, on parchment paper, on a cookie tray.

Once all your cookie balls are done and on the tray, play the same inside the oven to bake for 8-10 minutes.

As soon as you take the tray out of the oven, gently press in the candy to decorate the same and leave to cool.
These would even make great additions to a Cinderella themed party or play-date.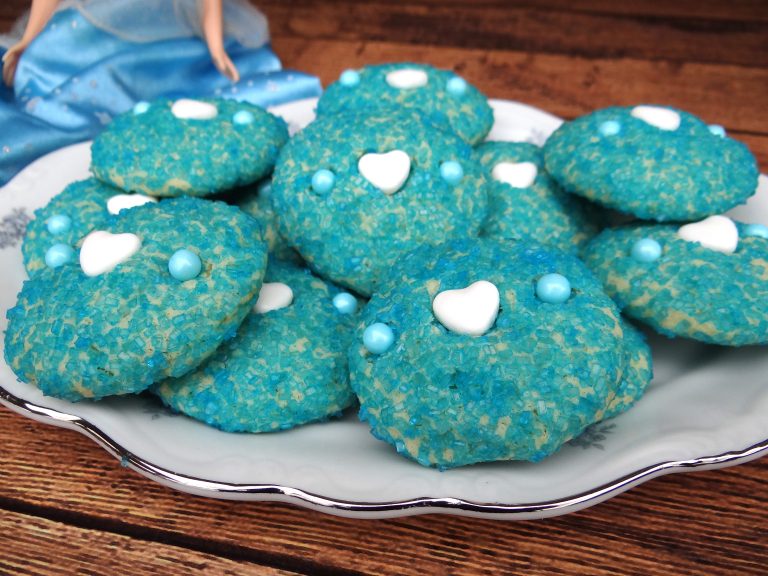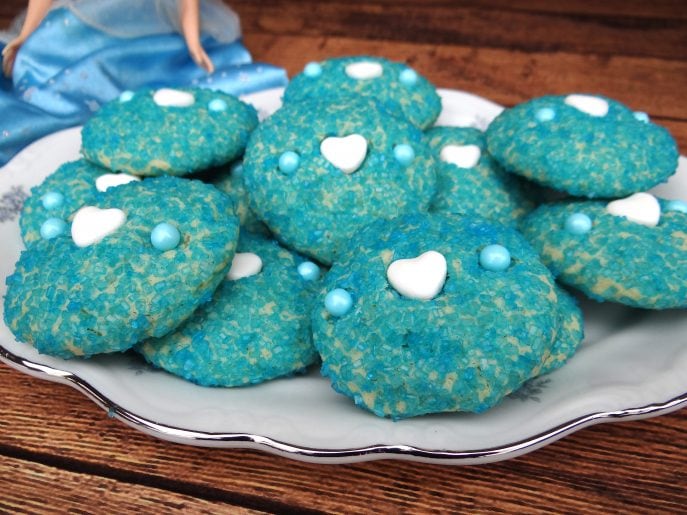 The Fandango Family corner has a fun resource to help you plan that Cinderella party with ideas for favor bags, a beautiful Cinderella carriage cake and even glass slipper cookies to pair with Cinderella's Almond Sparkle Cookies!
So exciting!
To catch more buzz on this anticipated Disney blockbuster, check out the Fandango Family media page and follow along on the Fandango Family Facebook wall.
And don't forget to plug in your entries in the Family Princess Sweeps that ends 3/16/2015
To participate, all you need to do is post your family's prettiest princess pics to Instagram, tag @Fandango and #FandangoPrincessSweeps, for your chance to win 4 tickets to Cinderella.
No Purchase Necessary. US res only, 18+. 1 entry/pp. Ends 3/16/15 @ 5pm PT
Are you excited to watch Cinderella?