The weekend that fed my soul…Celebrate What Matters 2012
This post contains editorial samples and/or affiliate links to products I recommend. While this adds no additional cost to you, I will earn a small commission on any sales made.
Faithful God…
I still remember the evening…
Over 11 years ago I sat listening to 3 young women in church singing "We are Women of Faith" during  that evening's Bible Study.
It was the first time I'd ever heard of Women of Faith and I remember thinking in my heart that attending one of their conferences would be so awesome.
At the time my then fiance (and now Hubs) and I didn't know the LORD was bringing us to this corner of the world…
so attending a conference was not on the cards at all!
This past weekend as I sat amidst hundreds of women at the Celebrate What Matters conference in San Antonio, the LORD reminded me of that unspoken bucket list desire I had treasured but forgotten over the past number of years.
He is SO FAITHFUL!!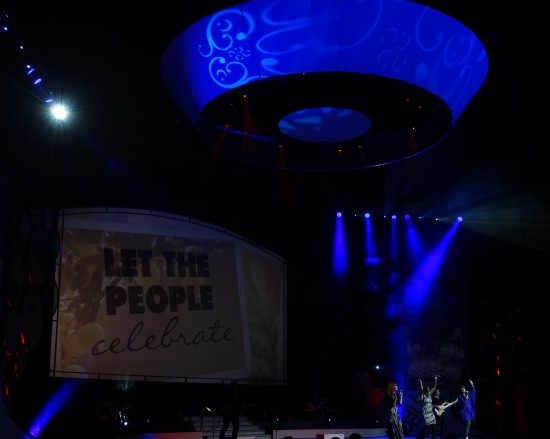 My soul was fed…and I'm fattened with satisfaction!
The Conference was everything I needed…
It was filled with faith-centric direction, anointed worship
good solid Word based encouragement from awesome women (and men) who've walked the Walk and beautiful performances by Ballet Magnificat.
It was such a blessing  to listen to people truly ordained by God to speak that Word of Season into my life…
Sheila Walsh, Angie Smith, Ken Davis, Lisa Harper, Jennie Allen, Pat Smith, Selah, Cece Winans, the Women of Faith Worship Team and Kevin from Jesus Paint Ministries.
If you haven't had a chance to see the Jesus Painter Ministries in action, you have to watch this…
And I just loved being in an auditorium packed with women who had no inhibitions about being raw in the Presence of the LORD.
We cried.
We laughed.
We drank up every moment in His Presence.
Each woman came with a hunger to meet with God…
the atmosphere was filled with a spiritual expectancy that was so tangible…
and I believe with all my heart,  no-one walked away disappointed.
It wasn't all about self…it was also a time to step out and give back
I loved that Women of Faith partner with World Vision and that they'd set a goal to get 400 children sponsored by the end of the conference.
To add a little fun into the mix, they promised to get Sheila Walsh's husband and Angie Smith's husband (Todd, lead singer with Selah) to dress in tutus and come out. (And the men agreed  willingly because it was for a cause they're so passionate about. That's God! )
Nobody knew if the goal had been met, till the last song of the conference…
What a fantastic way to end such an inspiring conference!
588 commitments confirmed to support children not as fortunate.
((Wow!!))
God moved!
I have so much more to share but I'm going to end this post with a slideshow of a few photographs taken over the weekend.

.
.
Do look out for a post over the weekend, in which I will share nuggets from the conference that I know will bless your heart just as it has mine.
** A big thank you to the incredibly sweet team from Tommy Nelson, you don't know how much this gift of love has blessed my heart!**