BIG ANNOUNCEMENT : Giving Christmas Away 2012
This post contains editorial samples and/or affiliate links to products I recommend. While this adds no additional cost to you, I will earn a small commission on any sales made.
As we hit October, I questioned whether or not I should do another Giving Christmas Away event this  year…
so I waited a bit, wondering if that gnawing "Lets Do It!" feeling would go away but it didn't. It only grew stronger and has now turned into a bubbly excitement…
the exact same feeling I had last year.
So …
YES!!
Giving Christmas Away 2012 is happening!! (November 25 -Dec 9)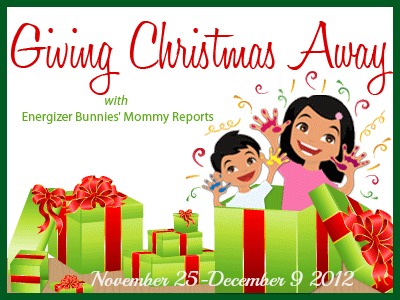 Our beautiful Event button has been designed by the very creative Jenn, with Stone Alley 4 WP. 
.
This year, all the toys will be donated to our local home for abused children and the smaller toys (that can fit into a shoe box) to the Operation Christmas Child program. We are still talking to people about adding another point for donation but will let you know once that has been confirmed.
During the Event, I will encourage you to dip into your pockets and donate something…anything…to the World Vision's efforts to make the lives of a child, not as fortunate as your own, better. I will have links etc, closer to the time.
If you would like your toys/games/kid-centric Christmas gifts featured in this awesome event, please email me at mjblog09 @ gmail dot com
We already have some awesome brands signed in.
I'm believing God to shoot the donations over and above what we were able to give last year…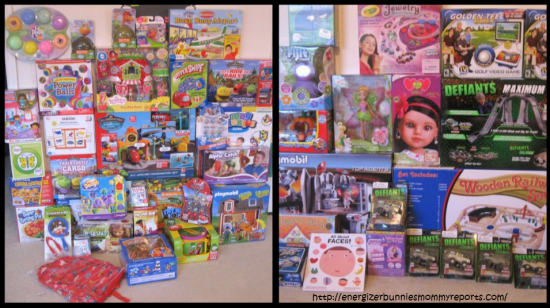 And for my ever-supportive readers, we will be giving away awesome Christmas toys, games and what-nots!
As with last year, I would encourage you to pass on the love, by gifting your win to a child you know, who is in need.
Why are we  doing this?
Because this is what Christmas is all about.
And honestly, there's no better way to  celebrate Christmas. {Trust me!}
Think about this…