Baby Girl turned 1 earlier this month. Deciding on where to host her 1st birthday party was hard considering it couldn't be at home because we're limited on space, had to be a place that would accommodate all our guests and provide fun not just for the birthday girl but also her guests. (who were mainly Little Man and Dottie's friends. All kids that Baby Girl adores.) 
While I really wanted to do something at the park because Baby Girl loves playing outdoors, the erratic weather our corner of Texas has been enjoying would have made that an iffy choice. I'm glad I listened to Hubs and narrowed down on Chuck E Cheese. (Affordable and fun!)
Now everyone knows you can't take food in, except the birthday cake, and you can't host your own party games et al, so how could we show our #DisneySide at Baby Girl's Minnie Mouse themed party?

How to celebrate a #DisneySide birthday party at a Party Place.
The important thing to remember when desiring to show your #DisneySide at your party is that every little thing counts. So don't stress if you can't showcase your love for Disney in a huge way, across the board. Celebrate within your capacity and most importantly, have fun!
Here are a few things we did to show our #DisneySide at Baby Girl's 1st birthday:
1. Baby Girl's birthday dress screams Minnie Mouse yet is something she can wear anytime .
I didn't want to buy a Minnie Mouse costume for Baby Girl as I wanted her 1st birthday dress to be one she could wear even after her birthday, for special occasions or even to church. I thought the outfit I found on an eBay store was perfect.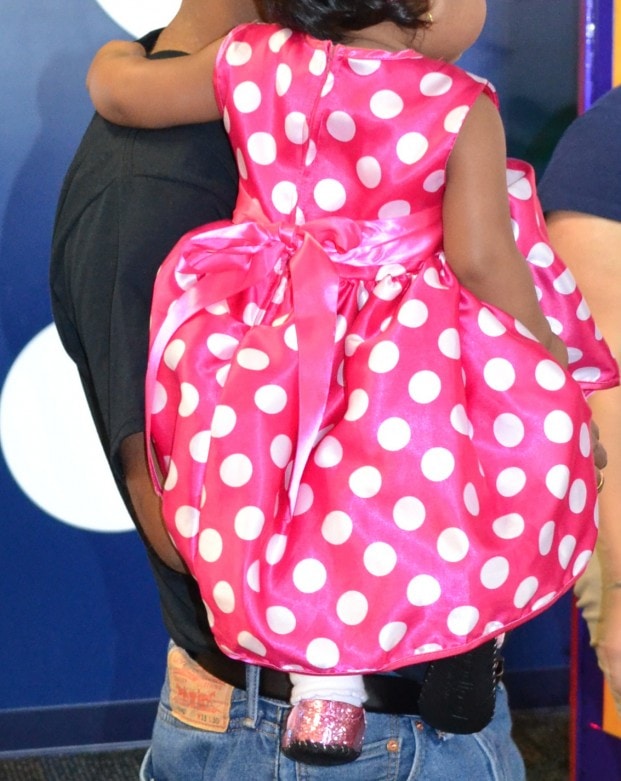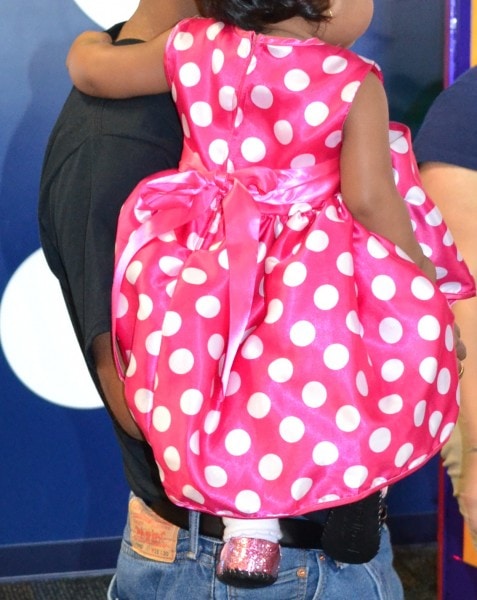 and how awesome that it matched the color of the Minnie Mouse hairband my Mom got for her last Summer?!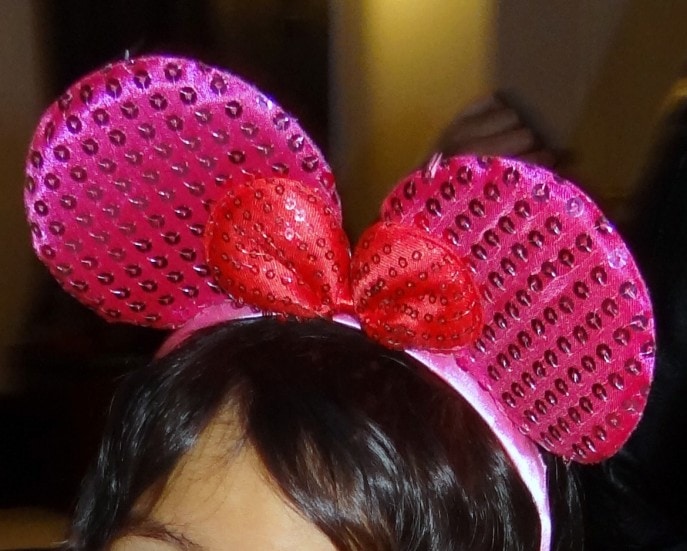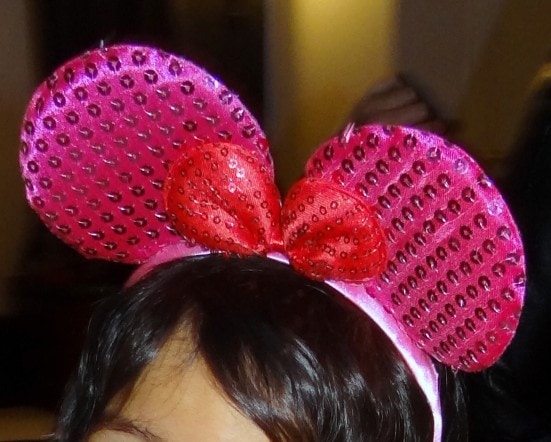 2 We picked tees to show our#DisneySide, choosing a casual look to allow Baby Girl to enjoy the spotlight.
We found Mickey/Minnie tees that reflected each of our personalities perfectly and yes, I shopped for everything online. ( Hurrah for the Disney Store, JC Penney, Amazon and eBay!)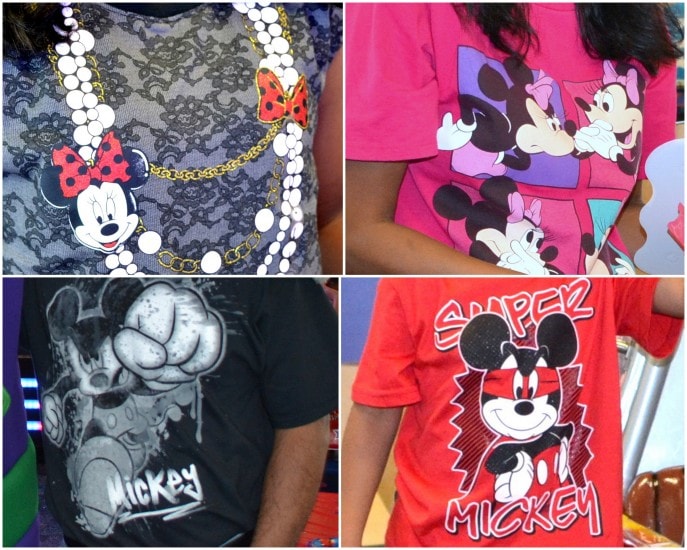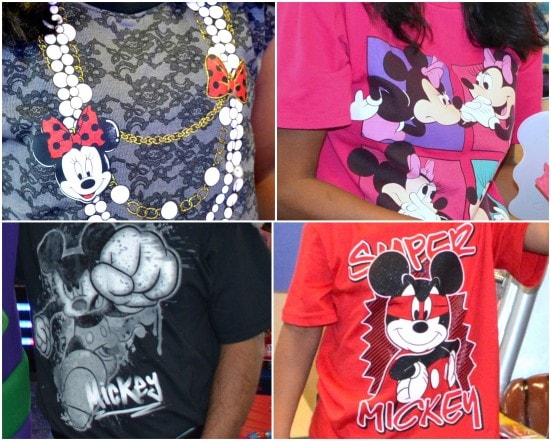 3. At a Minnie Mouse themed party, one has to eat a Minnie Mouse cake/cupcake!
Yes, you can do a store-bought cake to save yourself the hassle but we love putting our spin to a theme with our home-baked cakes and cupcakes. Yes, more work is involved but the reactions make it worth every effort put in!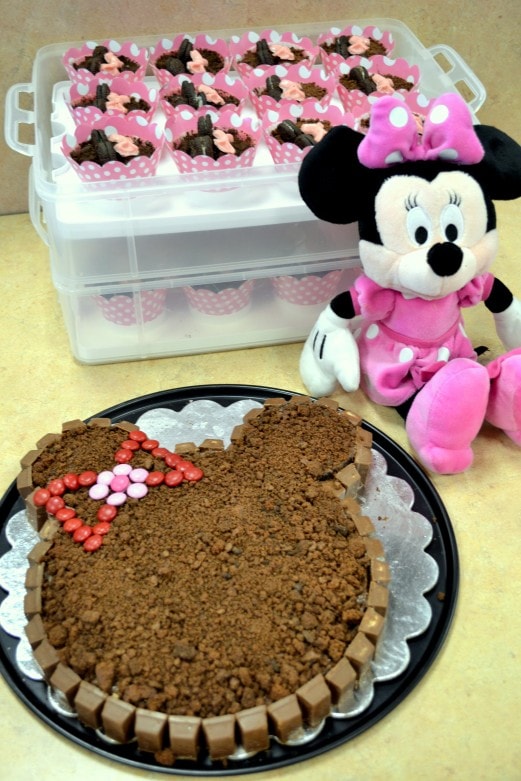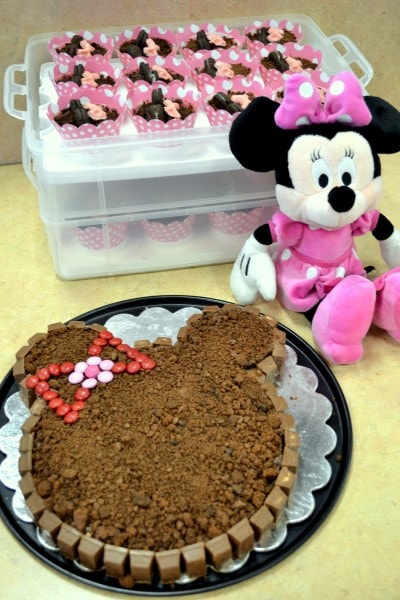 I'll be sharing how I made my Minnie Mouse cupcakes next week. My kit-kat Minnie Mouse cake was easy too. I baked a round chocolate cake and 2 jumbo cupcakes. Frosted all three with Nutella and sprinkled the top with brownie crumbles left over from the brownies I made for the kids teachers the day prior!
4. Sprinkle #DisneySide pixie dust in your guests favor bags with Disney themed treats.
As a Disney Side @Home celebrant, we were introduced to several awesome Disney celebration favor bag inclusions like sticker sheets, snack boxes, Disney Palace Pets, Disney luggage tags (a great way to tag favor bags with your guests' names on the same.), HP Photo Card packs to document fun memories etc. And great party musts that included the cute Minnie Mouse cupcake stand Baby Girl's cupcakes rested on.
My package was Mickey themed so we've set aside most of the contents for a friend to use at her son's upcoming Mickey themed birthday celebration.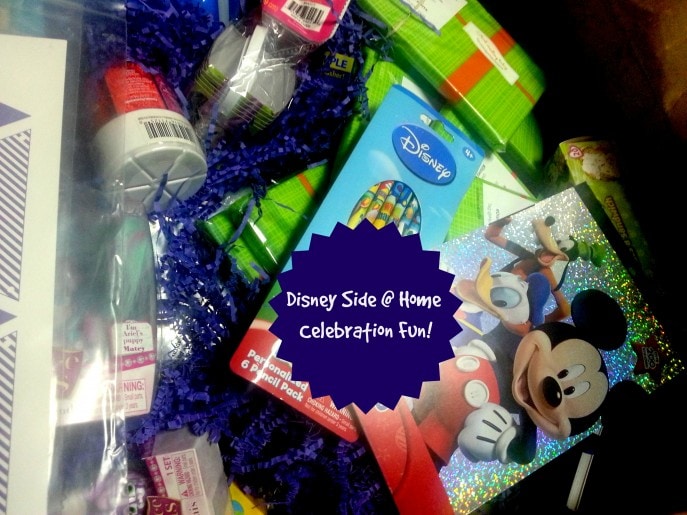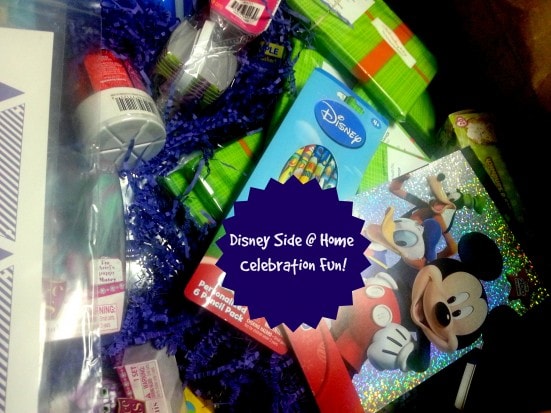 We picked up extra Minnie themed favors from the Birthday Express online and went to town on our Silhouette Potrait machine to make adorable favor bags.
(I'll be sharing how I made these next week too.)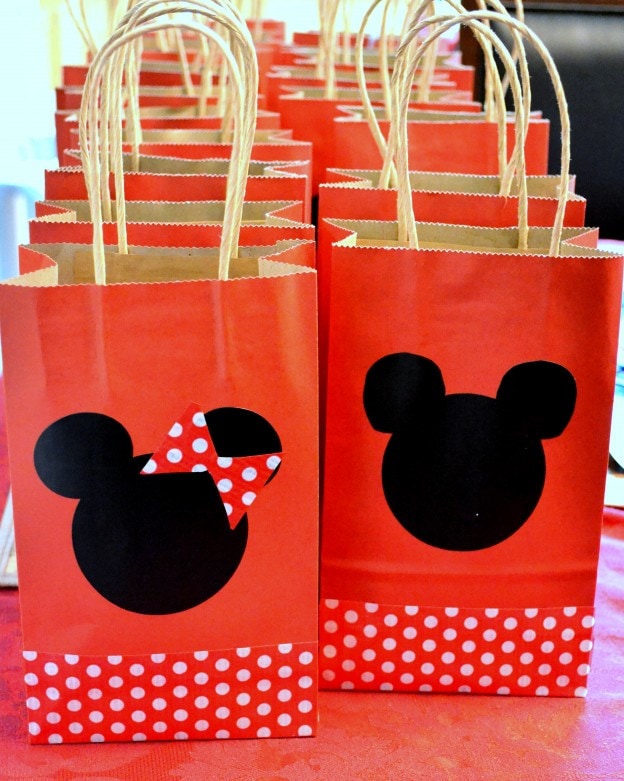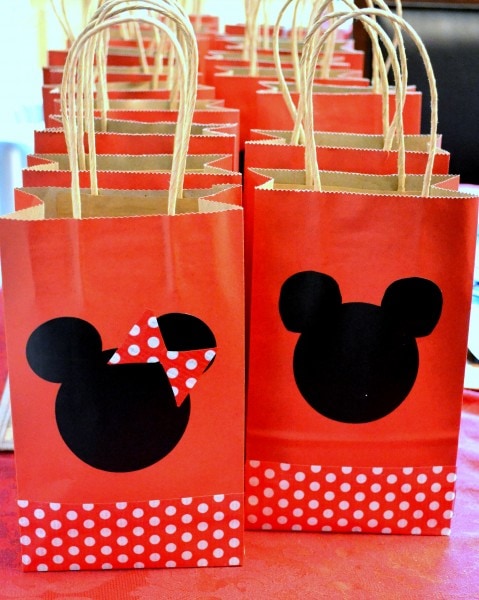 Overall the birthday girl had a blast, the kids had fun, the parents were able to socialize comfortably and we were able to mingle with our guests stress-free. In our books the party was a success!
So yes, you can show your #DisneySide even at a Party Place!
The Disney Side Celebrations site has TONS of resources to help you plan your next party.
But before you click out, see how we showed our #DisneySide at my son's preschool last year, to celebrate his 4th birthday. And over 5 years ago, we threw our daughter a #DisneySide birthday party that was the perfect preschool celebration!
I'd love to hear about your #DisneySide…
What theme would you choose for YOUR #DisneySide birthday celebration?