When I was pregnant with Dottie, I had a must-get-for-baby list that was two pages long. I was adamant Hubs had to help me cross off that list before she was born. And this was no easy feat considering the local baby store wasn't as well stocked as the metro store several hours away. After her birth, I realized I had bought a whole bunch of stuff for nothing.
While pregnant with Little Man and Baby Girl I was so much wiser and bought only what was really needed.
Smart ways to budget for a new baby
With all the things that are out there in the market, shopping for a new baby can be overwhelming, more so if you're a first-time parent. The secret to not losing your sanity is to take everything slow, not add everything to your baby registry and take counsel from experienced moms around.
1. Purchase diapers when on sale or sign up to receive diapers every few weeks via the Amazon Subscribe and Save program
I would stock up when diapers were on sale and would use the Amazon Subscribe and Save service. Besides the convenience of having diapers delivered to your doorstep at a fixed time every month, Prime members can get upto 20% off on diapers. This is a great deal considering you will go through a good number of diapers the first few months!
2. Invite family and friends to bless you with gift cards or money, at your baby shower
Invite close family and friends to opt to give you gift cards or money instead of baby toys, clothes etc., at your baby shower. Remember to assure them that any amount is welcome and a blessing, even if it's a $10 bill. Save those gift cards and/or money and put it towards a useful baby essential.
For more bang to your buck, when you buy two or more eligible Graco products featured in the Graco Hello Baby Registry program (before the end of June), upload your receipt(s), you can receive a $100 Baby Gift Bundle filled with new mom essentials including the Graco Bumper Jumper, NUK Simply Natural Bottles and Yankee Candle, at no additional cost!

3. Use coupons wherever possible 
Don't be embarrassed to ask your friends with older kids, baby's pediatrician, local stores and the hospital staff (before leaving with your newborn) for baby coupons. Every little saving helps.
4. Buy big-ticket items when on sale
I can't say this enough times. Only buy the big investments when they're on sale.
If you're expecting a new baby soon, though it's sad Babies R Us and Toys R Us is closing its doors, now may be the best time to shop for those big-ticket items like your baby's car seat.
Need a recommendation? The Graco SnugRide® SnugLock™ 35 DLX  is a parent-approved infant car seat perfect for rear-facing, for babies weighing anywhere between 4 lbs and 35 lbs.
Key Features include:
SnugLock™ installation in 3-easy steps using LATCH or Seat Belt
The InRight™ LATCH provides a quick and easy connection
1-Hand Adjustable Handle for easy in-and-out
Silent Shade™ canopy adjusts without disturbing baby
SafetyCore™ Crash Absorption Zone helps absorb crash forces from a front collision
4-position spring loaded recline makes proper installation easier
Easy-to-read premium bubble level indicator helps eliminate installation guesswork
EPS, energy absorbing foam for effective impact energy management
Removable infant head and body support cushions
Helps protect rear-facing infants from 4-35 lbs. and up to 32 inches.
5. Use cashback sites and offers, whenever possible.
Another great way to stay within budget with a new baby at home/on the way is to log in cashback offers when shopping in-store with Ibotta or online with Ebates. It may just look like you're saving a few dollars only, with each transaction, but that big fat cashback check at the end of the year will tell another story.
6. Only buy what your baby needs.
The baby department is loaded with things that may look helpful for your baby, but aren't really a necessity. Put the extra money you save towards that diaper budget!
Experience taught us we didn't need a large changing table, a diaper genie, a wipes warmer, a variety of baby shoes, designer baby clothes, a crib (a baby bassinet worked just fine. Our laundry found a new home in the crib!) or a baby bottle warmer (and in our case baby bottles as I chose to nurse all three kids past their 1st birthdays).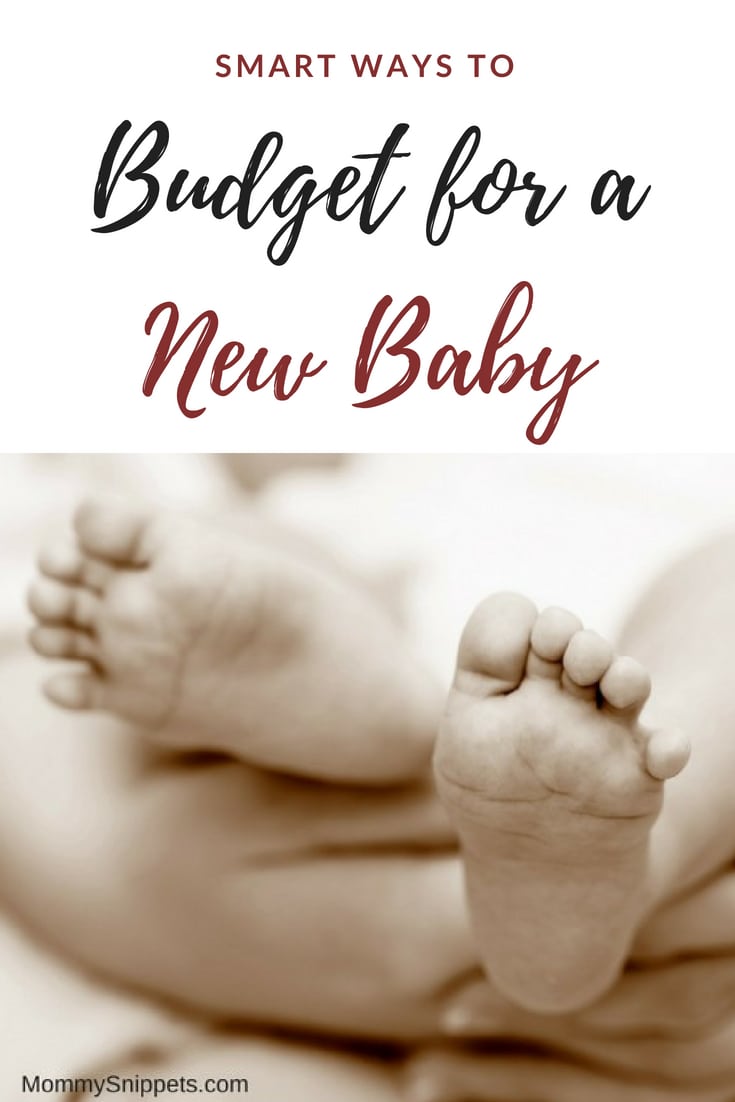 These are just a few ways you can save yourself from causing a nasty dent in your bank balance when your sweet newborn arrives.
I'd love to hear from you. Hop over to chat with me on Facebook and/or Twitter