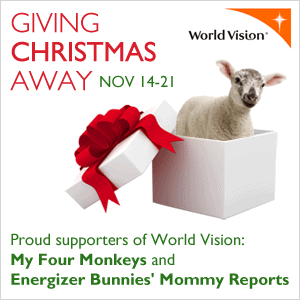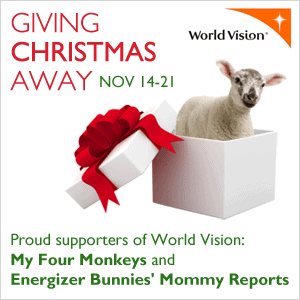 We're on Day 4 of the HUGE Giving Christmas Away Giveaway Event.
I'm so honored to have been able to share the heart of this Event earlier this week on the World Vision Blog.
((Click HERE to read my article Giving Christmas Away on the WV Blog))
.
.
This weekend my family will be driving down to San Antonio to personally hand over (as many toys as will fit in our car) the fruit of this Event to the local World Vision chapter.
Our sponsors have been so generous and I can't but help share the results of their generosity with you…
.
God has been so good!
Later next week we will be taking the remaining toys to the local home for abused children.
I'm excited as I just got off the phone with the Directors of both places and they're thrilled with what our sponsors have done!!
.
I know some of you have also helped support this cause monetarily…Thank you so much!
If you've just stumbled onto this Event and would love to know more, please visit this link.
.
For easy reference, here are the two secure, direct World Vision donation links if you'd like to help financially bless a child this Christmas by fulfilling their need of bare necessities:
(Remember, no donation is too small. Every dollar counts!)
.
.
1. Towards the Online Gift Catalog
The money you donate will be used to provide clean water, food, shelter, relief etc in countries around the world that need it the most.
.
2. Towards Christmas gifts for Kids in the US
The money you donate will be used to gift a less fortunate child in the US with clothes, school supplies and toys for Christmas.
.
You can also win a prize bundle of toys to bless on a child/children you know who may otherwise not be as fortunate to receive a Christmas prezzie this year.
(Hurry!! The Giveaway ends on Monday, 11/21/2011)
* NOTE: If you are entering the BIG Giveaway and have just donated to one of the links, you can click on the "I GAVE Christmas with my donation to World Vision" entry on the Giveaway Entry form. This gives you an additional 20 entries into the Giveaway. *
Thank you for bringing the spirit of C

h

r

i

s

t

m

a

s into the lives of these precious little ones.