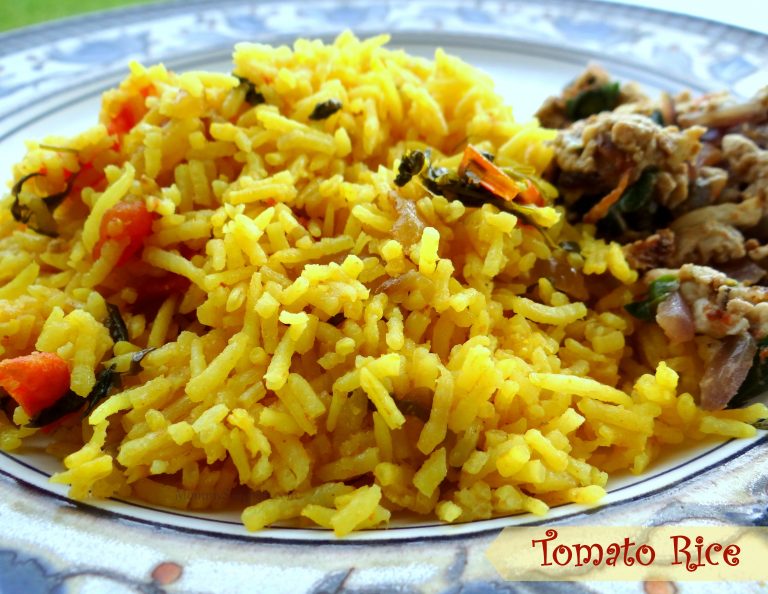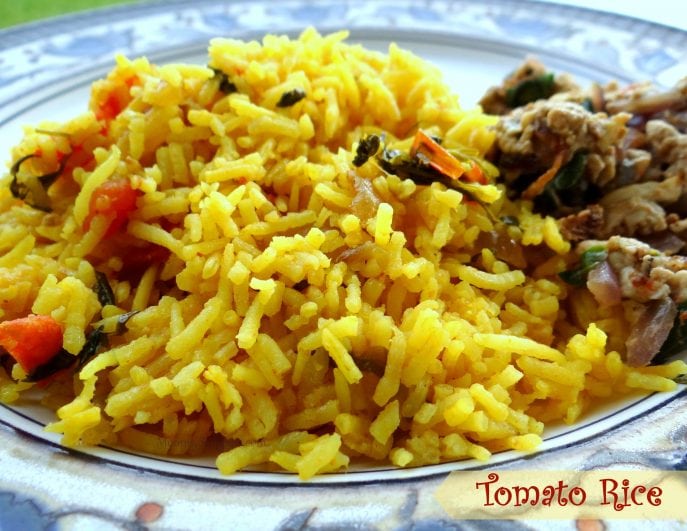 The weather has been pretty erratic here in our corner of Texas. This morning was sultry, hot and whoosh, mid morning, we had showers that lasted over an hour. Since then the sky has been overcast and we've been having scattered showers on and off. With my Little Man home with a sore throat and Baby Girl crawling into everything, I had to whip up something quick for lunch. With the weather being the way it is and a sudden craving for tomato rice, I decided that would be the best route out as it would pair wonderfully with the meat curry leftovers I had in the fridge.
The wonderful thing about tomato rice is that it's easy to make and is one of those comfort foods you can enjoy on a rainy day any day.
It goes great with any poultry/meat curry, a grilled steak, beans or even with scrambled eggs.
Want to give it a try?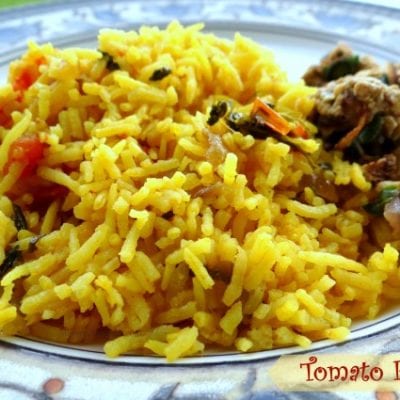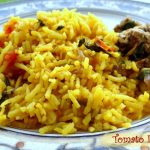 Tomato Rice
Ingredients
2

cups

raw basmati rice

1

cup

chopped onions

I used red for more flavor

4

ripe Roma tomatoes-chopped

1

cup

fresh cilantro

chopped

1

pinch

garam masala

If you don't have garam masala, take 2 cloves, 2 cardamoms, 1 inch cinnamon, 2 pepper pods and 1 bay leaf. Grind all this till it becomes fine powder

Juice from 1 lemon

2

tbsp

olive oil

Salt-to taste

1 1 /2

cups

water

1

tsp

turmeric powder

Gives the rice a yellow color and additional flavor - optional

1/2

tsp

chopped serrano peppers - optional
Instructions
In an open pot, saute the onions in oil, till golden brown

Add the tomatoes (and serrano peppers if you plan on adding the same) and sprinkle a little salt on the same to help it get nice and mushy.

Now add the garam masala (and turmeric powder) to the mix and saute for a few seconds.

Add the basmati rice and mix well.

Pour in the water, lemon juice and add the cilantro leaves.

Stir the mix and to the same add salt to taste.

Now cook the rice on a low flame. (The water will dry up, getting absorbed into the rice grains. In 10 minutes, check the rice. Once all the water is absorbed, move the pot off the burner and leave the rice in the pot, covered with a lid, for an additional 5-10. This allows the rice to cook right through)

Serve hot with a sumptuous curry, a juicy steak off the grill, beans or a side of scrambled eggs.
Do you have a favorite comfort food you like to whip up on a rainy day?