Best Summer Road Trip Idea: Drive Historic Route 66
This post contains editorial samples and/or affiliate links to products I recommend. While this adds no additional cost to you, I will earn a small commission on any sales made.
Every road trip is the most epic, the most memorable when you have amazing pics and funny stories to share. Route 66 should be your next road trip because it offers all of this and more!
And yes, the kids should definitely be a part of this trip. There are some great lessons they'll learn while on the road trip.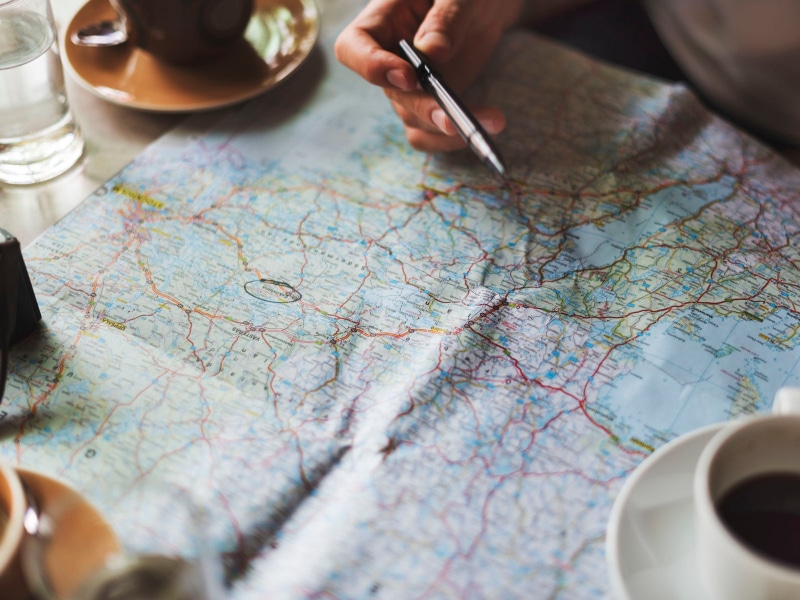 Epic Summer Road Trip on Route 66
Do you want a road trip that will make all your friends envious? Drive the historic Route 66. It's full of history, amazing food, and wonderful towns. Route 66 starts in Chicago and ends near L.A. so you will see some amazing sites!
3 Most Popular Stops Along Route 66
With a span of highway going from Illinois to California, there are a ton of places you are going to want to experience. Here are 3 stops you can't miss along the way.
Springfield, Missouri
Springfield, Missouri is known as "the birthplace of Route 66" so you simply have to make this one of your stops. They have amazing food (try Lambert's home of the thrown rolls!) and friendly people. You can even enjoy a drive-through tour of caverns at Fantastic Caverns. There is enough to do here to last you an entire day or more.
Palo Duro State Park, Texas
Your jaw will drop as you stare in wonder at the amazing canyons in Palo Duro State Park. It is located in the Texas Panhandle near Amarillo, Texas. This is a stop that is super popular because the scenery is magnificent and there is nothing like all the reds and oranges all around you!
Santa Fe, New Mexico
Route 66 cuts straight through the middle of New Mexico, so you'll probably stop somewhere here on your road trip. What makes Santa Fe one of the prime vacation locations in the country? The food can't be matched, and it has some of the best museums in the country. You'll have to stop at the oldest continuously used public building in the country – Palace of the Governors – it dates back to 1610!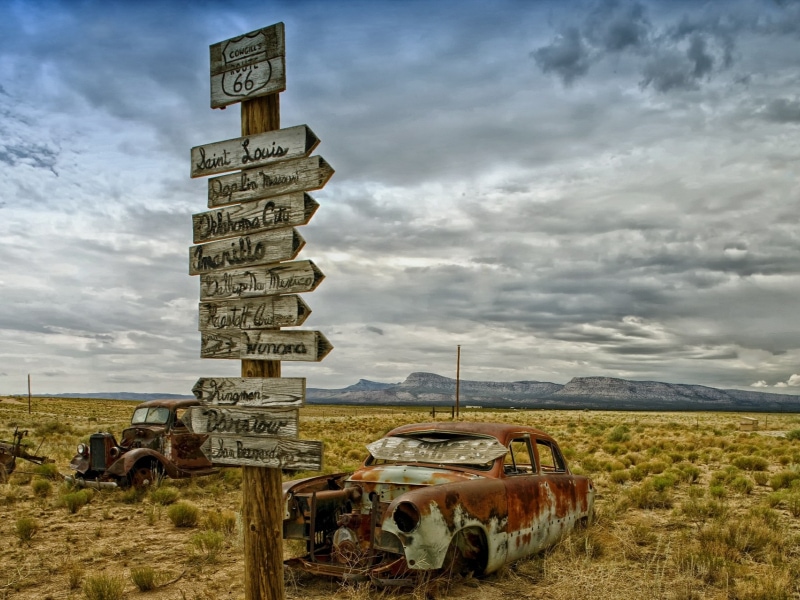 Best Photos to Take on Route 66
One thing a Route 66 road trip will definitely give you is a ton of jealousy-inducing photos! Here are my top three stops that you won't want to miss.
Cadillac Ranch, Texas
This is a stunning art installment in Amarillo, Texas. It features spray-painted cadillacs sticking out of the ground, with models dating from 1949-1963. You've never seen anything like it and it is definitely a must-see!
Arizona's Petrified Forest National Park
The Petrified Forest National Park features petrified logs laying all throughout the desert. The bright reds and oranges of the desert really jump off the camera. If you have yet to visit a desert, make this park one of your stops. You'll grab some impressive pics, especially at sunset.
Blue Whale of Catoosa, Oklahoma
As you drive through Oklahoma on Route 66, take a pit-stop in Catoosa and snap some pics of the Blue Whale. It has a really romantic story. Hugh S. Davis originally built this giant sculpture for his wife who loved whales. As he built it, he also envisioned a place for his grandchildren to play near the pond.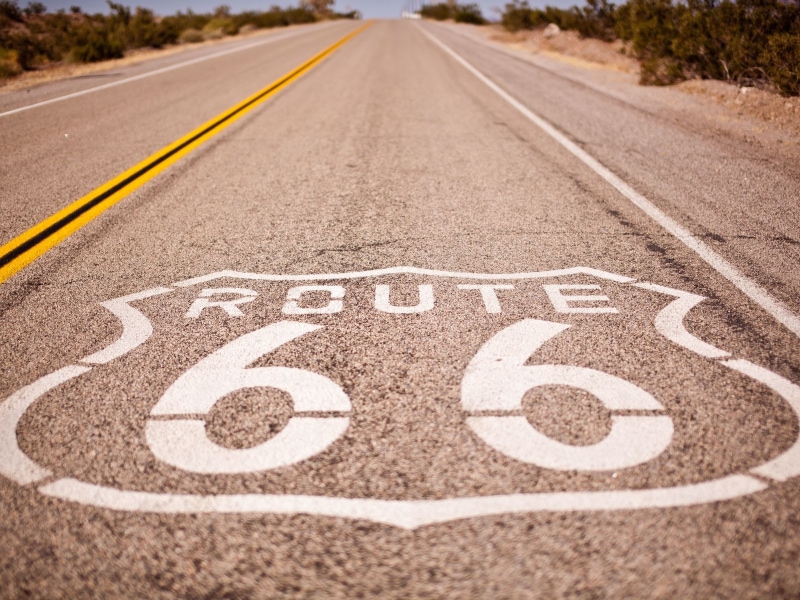 History of Route 66
Why is Route 66 one of the most iconic road trips every year? It's because of the history as one of the first major highways that connected small towns to major cities.
When it was first created in 1926, it connected Chicago to Los Angeles, going south through Texas, New Mexico and Arizona. And after it was created, it led to a more mobile culture, with people relocating to the south.
Travelers and tourists in the 60s began taking even more road trips, thanks in part to this highway. This led to the creation of motels, which were often lower-priced than hotels.
The entire evolution of Route 66 and how it affected shopping and the tourist industry is fascinating. Read all about it on the National Route 66 Federation.
Where to Eat Along Route 66
Every single state you drive through on Route 66 will have amazing food, but these are the three that I believe you seriously should not pass up!
Cozy Dog Drive-In
You have to stop at the historic Cozy Dog Drive-In, located in Springfield, Missouri. The first one was established in 1949 and their most famous thing is the hot dog on a stick.
4 Women on The Route
This is seriously one you might miss if you aren't looking for it. It's a tiny hole-in-the-wall, but you have to stop here! 4 Women on The Route is in Galena, Kansas. The restaurant is in the Kan-O-Tex service station and has a statue of Tow Tater (the inspiration for the Cars character Tow Mater) in front.
Jigg's Smokehouse
This place serves the best BBQ sandwiches! You'll have to make time to eat here, your tongue and stomach will thank you for it. The serving sizes are pretty big, so maybe share with someone.
Are you ready for the most epic road trip ever? Take a trip on Route 66!
I hope these tips helped you out.
Don't forget to also search for reviews and make your own dream vacation plans based on what you love to do. Have fun on your Route 66 road trip!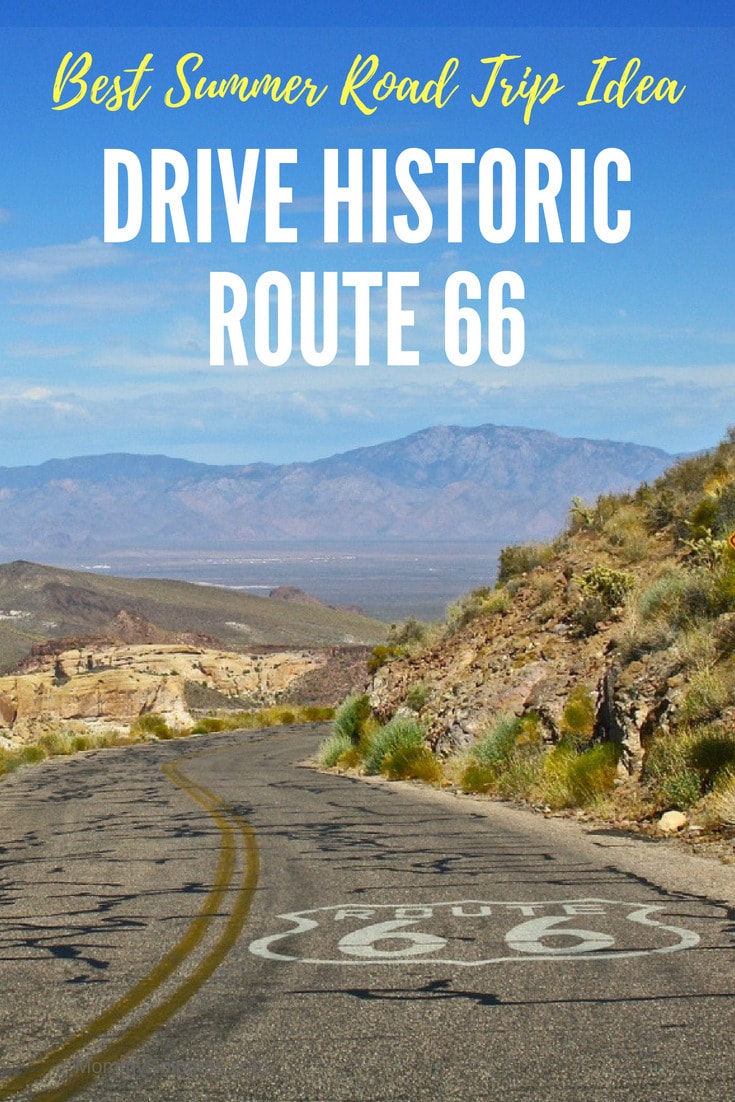 If you're in the market for a new or pre-owned vehicle in the Langhorne, PA area, visit the Reedman-Toll Subaru dealership, our partners for this feature. You know the success of a smooth drive always lies with the reliability of the vehicle you own.
I'd love to hear from you. Hop over to chat with me on Facebook and/or Twitter