A Step2 Lil' Chef's Gourmet Kitchen – the Step2 Kitchen He Loves!
This post contains editorial samples and/or affiliate links to products I recommend. While this adds no additional cost to you, I will earn a small commission on any sales made.
The Step2 Lil' Chef's Gourmet Kitchen was one of the best gifts we got our son. Read why you can't go wrong with this Step2 Kitchen!
Imaginative play has always been one of my daughter's most favorite things to do as a preschooler.
So when our little man was born, I wondered whether he would be as big a fan as he grew older or whether little boys had their own favorite thing to do.
Now, as a three-year-old, I can testify that he's as big a fan of imaginative play as his sister was.
And this Mama couldn't be happier.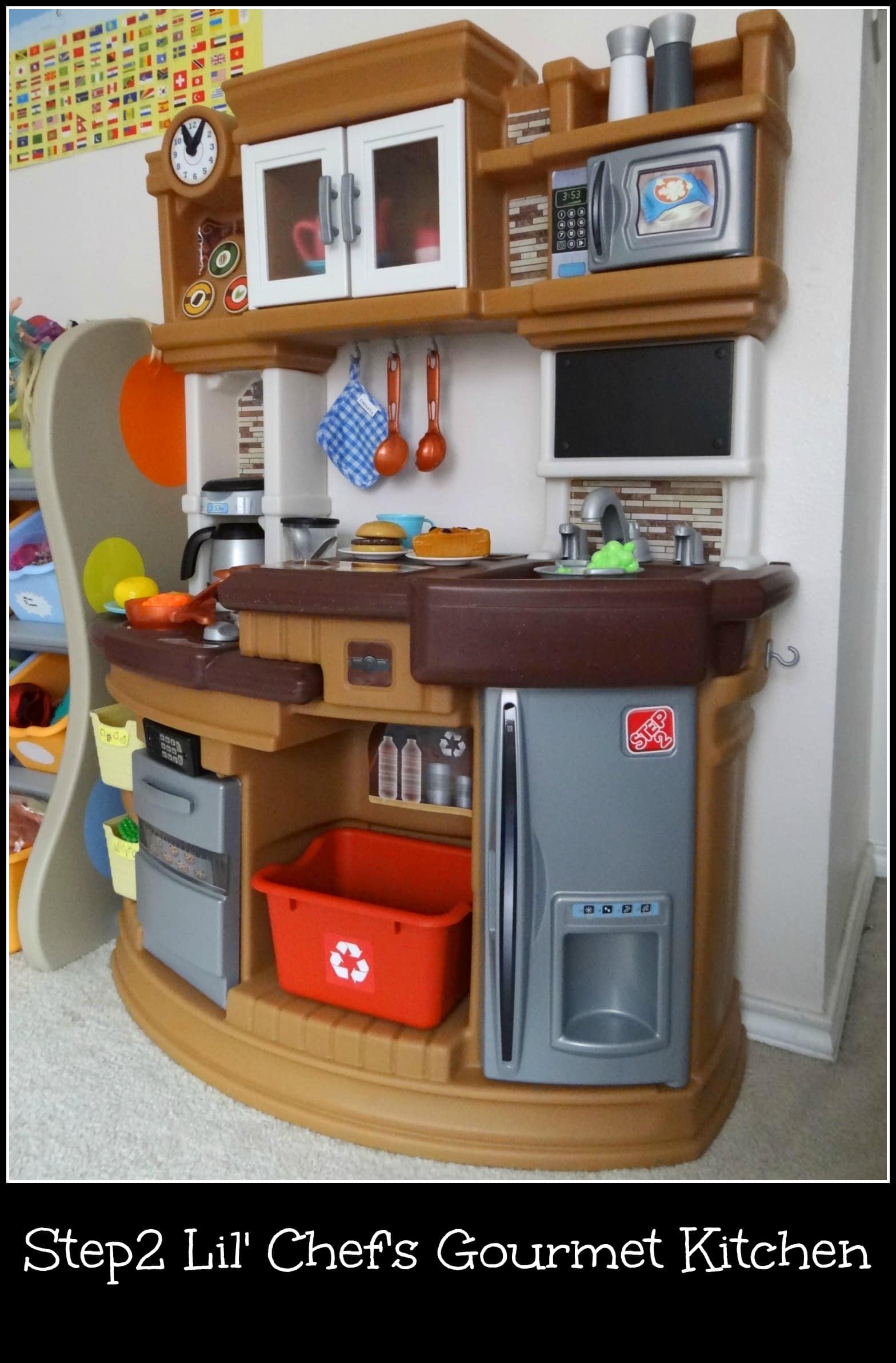 Now not being a fan of anything that takes up too much space, I wasn't sure how much I was going to love having the Step2 Lil' Chef's Gourmet Kitchen placed in the kids' playroom, but over a month later, I can vouch that it has been one toy that is played its worth in our home!.
Why My Son Loves His New Step 2 Kitchen, The Step2 Lil' Chef's Gourmet Kitchen
Oh yes!
This is one Step2 playset I would recommend adding to that wish list for more reasons than one.
Take a look at the specifications…
Made in USA of US and imported parts. Some accessories and electronics made in China.
-Three realistic electronics include a bubbling stove top, beeping oven and ringing phone
-Make the coffee, set the clock and write a note on the chalkboard
-Wide counters and pass through window are perfect for a play date!
-Clear cabinet doors open up for more storage
-Handy bins make clean up easy!
-The recycling bin and reusable bag help teach responsibility and imitate home
-43-piece accessory set includes dishes & food, pots & pans and reusable single use coffee pods!
-Requires two "AA" & two "AAA" batteries (not included) and three 1.5 v button cell batteries (included)
Adult assembly required
Recommended Age: 2 and up
Product Number: 837300
Dimensions: 46.00 H 39.00 W 16.75 D
Weight: 30.00 lbs
This is a very easy toy to set up.
(Don't let the pile of screws intimidate you. Follow the instruction manual enclosed in the box, and you will do just fine.)
The only steps that may take a little time may be nailing the straps from the toy to the wall to prevent the kitchen from toppling over a younger child you just may rest his/her weight on the same during play.
And a few holes may require additional pressure to get those screws in, so get some "muscle power" help from Dad if Mom's handling set up!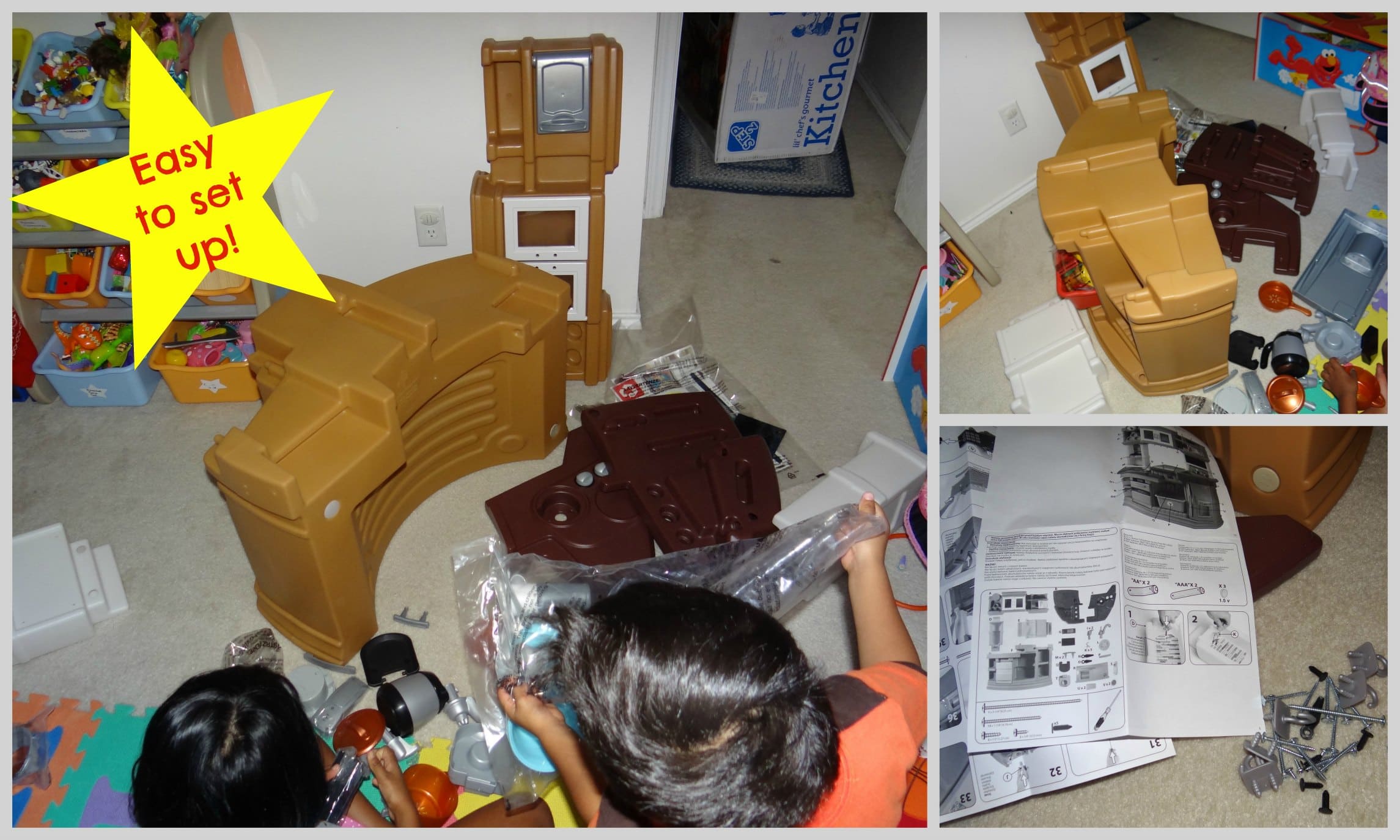 The first time we set up the kitchen, we sailed through and forgot to add batteries for the stove top, so had to dismantle and assemble the set all over again.
(The kids were way too excited to get this set up, so yeah, I admit, I tried to set up without following all the instructions in order. Sigh! Lesson learnt!!)
.
Why this Mama recommends the Step2 Lil' Chef's Gourmet Kitchen
In an age filled with electronics, it's heartening to see companies like Step2 strive to manufacture quality toys that encourage good, old-fashioned play.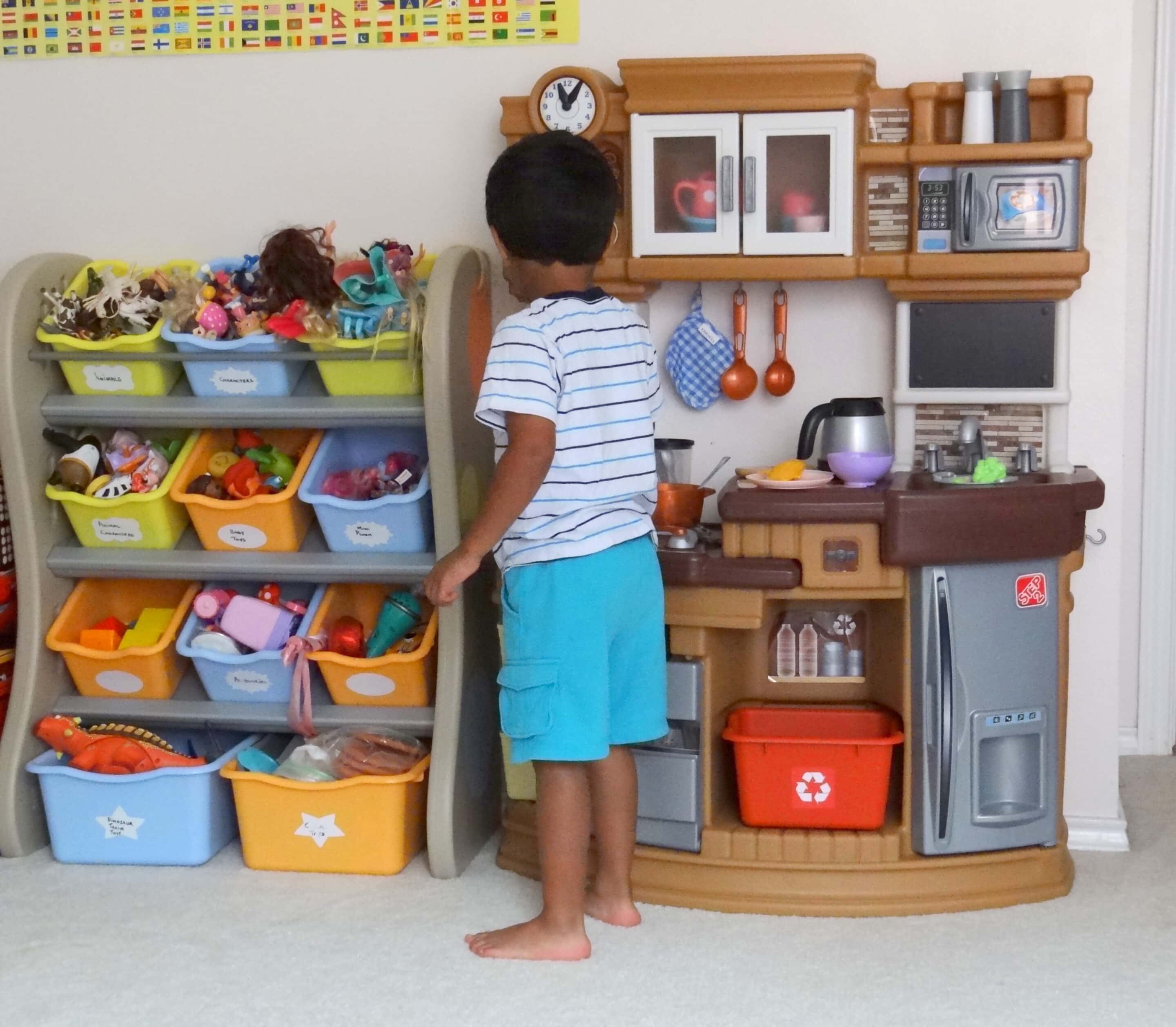 Imaginative play is a personality-developing skill that needs to be nurtured and encouraged…
and the Step2 Lil' Chef's Gourmet Kitchen does just that!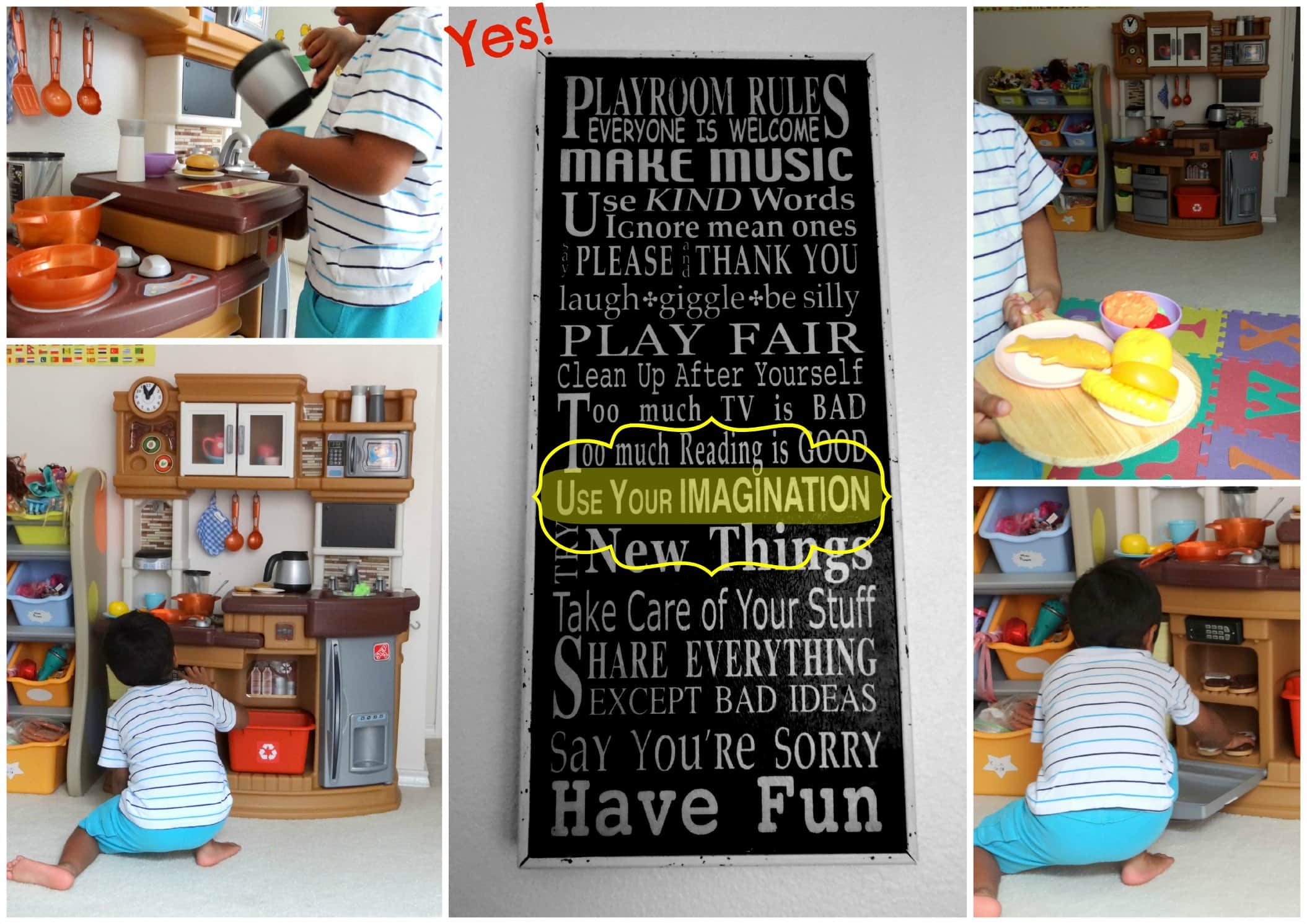 It's so much fun watching my son (and daughter, she's 7 but that doesn't stop her from having as much fun with this toy!) take his "cooking" scenarios to different levels.
One day he's a gourmet chef whipping up delicacies on a cooking show (yes, we watch way too much Food Network in our home!),
the next, he's a famous restaurateur serving mouth-watering dishes, and the third, he's a parent cooking for his child!
With a complete kitchen at his disposal (and I'm talking microwave, an oven that beeps, a stove that lights up, a refrigerator, cabinets et al!), why not?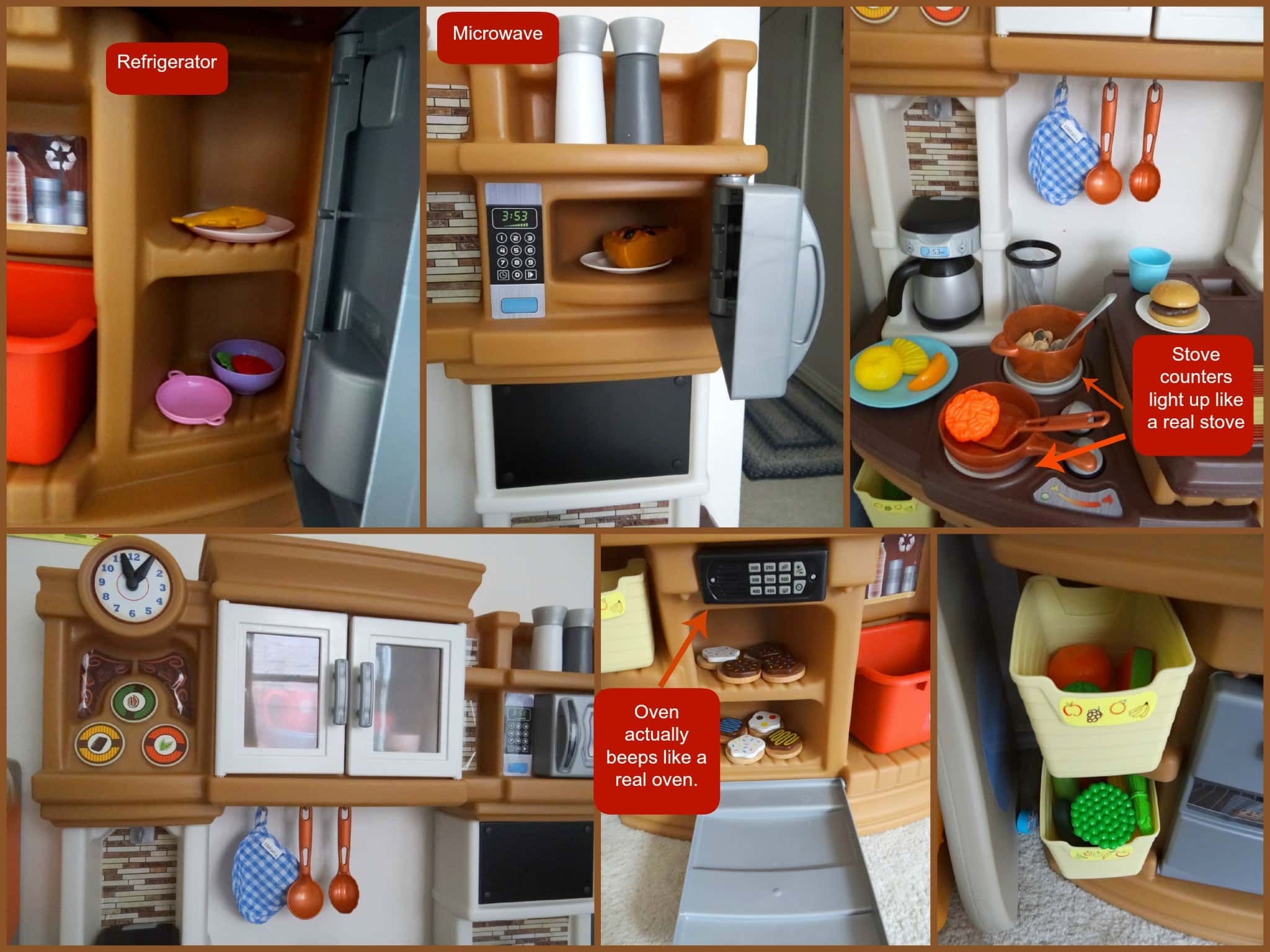 I love that I can also teach him through play.
For instance, take the veggie and fruit trays.
Dump out all the pretend play food
you have
(The kitchen comes with a few pretend play food
items, we added a bunch more to make play more fun!) and ask your child to sort out the fruit from the veggies.
This is a great toy for both boys and girls…
and honestly, your elementary school-aged child will have just as much fun playing with his/her preschool/toddler sibling with the same.
This is one toy that provides hours of fun…
good, ol' fashioned fun!