5 ways to support a NICU family
This post contains editorial samples and/or affiliate links to products I recommend. While this adds no additional cost to you, I will earn a small commission on any sales made.
"I participated in an Influencer Activation on behalf of Influence Central for Kmart & March of Dimes. I received a promotional item to thank me for my participation."
When my first born was born a week early and was rushed to the NICU for observation after birth, I remember feeling scared. By God's Grace she didn't have any birth complications but because there was a meconium leak in my amniotic fluid, the neo-natal team wanted to make sure she hadn't swallowed any.
All three of my children have made their arrival in this world a few days prior or after their set due date. And for that I'm so thankful.
It isn't easy when a baby is born premature and it's harder still when there have been complications during the pregnancy or birth. As a friend or kin of the family that has just welcomed a preemie baby into their lives and has him/her in a NICU, how can you support them?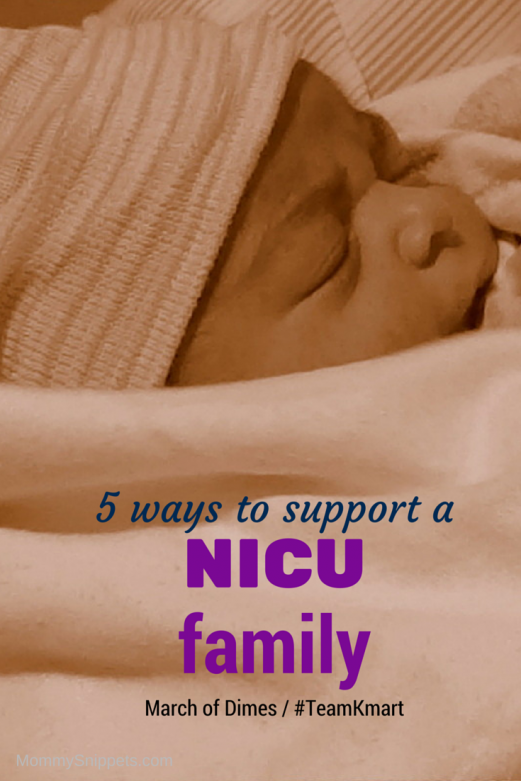 5 ways to support a NICU family 
Friends of ours from church tried several years to have a second child. After two miscarriages they were blessed with a baby girl but she arrived in this world several weeks early, at 29 weeks. The family's world, for those few weeks, was rocked upside down. But thanks to the support of a great medical network, family, friends and church, they were able to slowly recover back to functionality. Several things helped make that possible:
1. Friends and family signed up to deliver meals to the parent who stayed at home with the older sibling and to the parent at the hospital.
2. Monetary donations were collected to help offset the many unplanned for expenses, making each day a little easier on the couple.
3. People took turns in babysitting the older sibling, taking him out to the park and the library so that Mom and Dad could spend some time together, at the hospital, with baby. Some friends even made care packages for the child and for the parents while at the hospital.
4. An impromptu baby shower of sorts was hosted in the church lobby to invite gifts for the Preemie as nothing, really, was in place when the little one arrived.
5. Prayer. Families and friends prayed for the child, the parents and everyone involved in working with the baby. My friend said knowing that her daughter was surrounded by prayer brought her so much peace and assurance each day. It made getting through each day so much easier. The notes and cards with words of encouragement and love, also helped.
As a top corporate fundraiser for March of Dimes, having raised over 125 million US dollars over the past 32 years, Kmart is now inviting customers to join in the cause in one or all the below mentioned ways:
1. Leave a donation in-store or online via the Kmart.com/MarchOfDimes link. 100% of all donations will be handed over to March of Dimes
2. Purchase a collectible puppy figurine in-store or online, for $5, and $1 from each sale will go to March of Dimes.
And as a special thank youto Shop Your Way members who do donate by June 20th 2015, Kmart will give a 5% off coupon for the next in-store or online qualifying store purchase.
This year, the money raised by Kmart will go towards the work teams of scientists are on, to find out the causes for premature births. These teams are also working to develop new treatment plans for five March of Dimes Prematurity Research Centers.
Would you share other ways one could support a NICU family?
,