When the City of South Padre Island Convention & Visitors Bureau hosted our family, a few weeks ago, we knew we wanted to experience the island in all its wholesomeness.

Yes, it's home to a gorgeous beach line, fun beach activities and Schlitterbahn but it's also home to amazing wildlife and over 500 species of beautiful birds!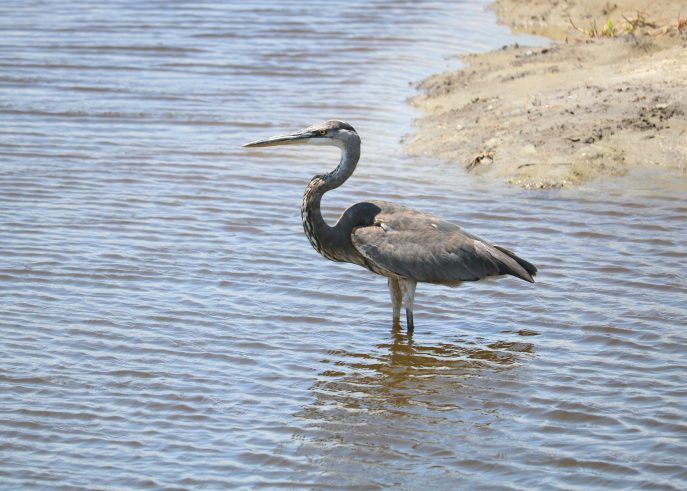 Falling in love with Nature's best at South Padre Island
South Padre Island is the only island in Texas and is the southern most part of the largest of all Texas barrier islands. The Padre Island, as a whole, is also the world's longest barrier island. This naturally means it's thriving with hundreds of birds, flora and fauna.
As you plan your next visit, or first visit, to South Padre, pencil in time to visit and experience the attractions mentioned below.
Sea Turtle Inc.
Founded in 1977 by Ila Fox Loetscher, lovingly known as the Turtle Lady of South Padre, Sea Turtle Inc. is an educational rehabilitation and conservation center for sea turtles.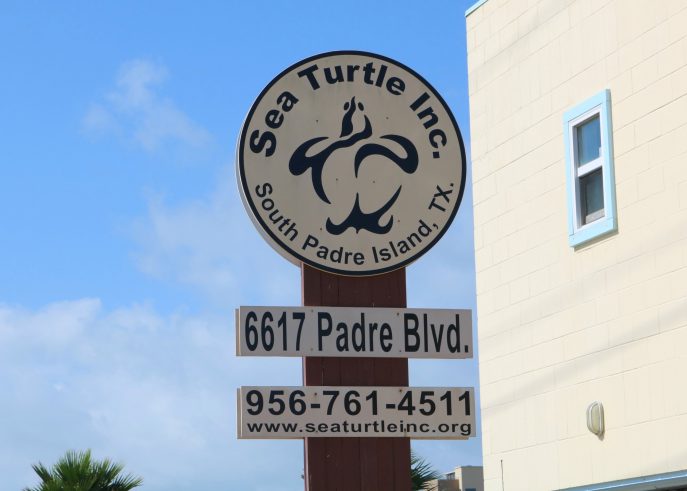 No entry fee is charged but visitors are invited to place a donation in the box to further rehabilitation and conservation efforts. ( It's recommended to place $4.00 for adults, $3.00 for seniors and $2.00 for children over the age of 4.)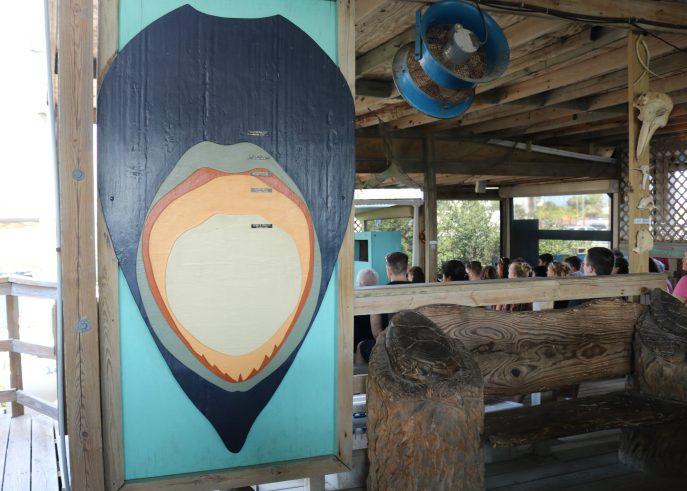 The center is such a great learning ground for visitors, young and old. Besides educating visitors on the types of sea turtles, their behavior and conservation efforts,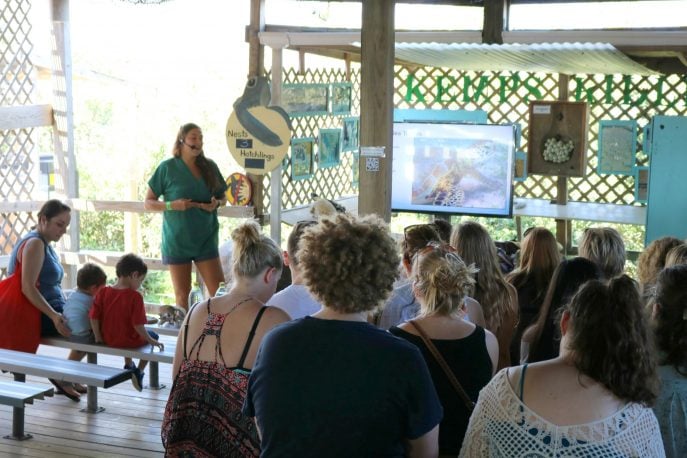 the staff on hand willingly introduce the current turtle residents, in the tanks or pools, to interested visitors.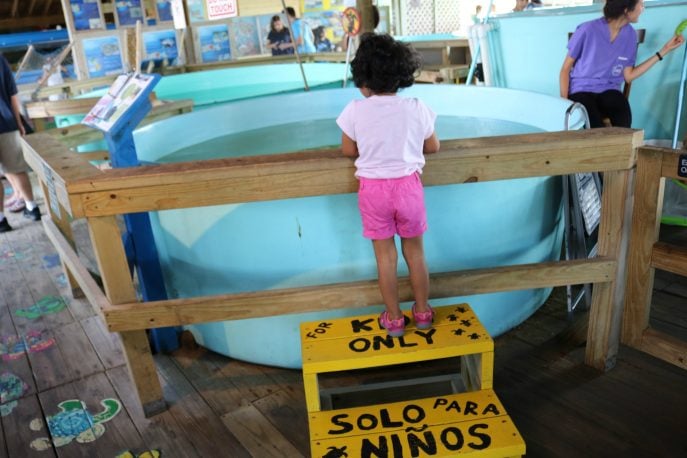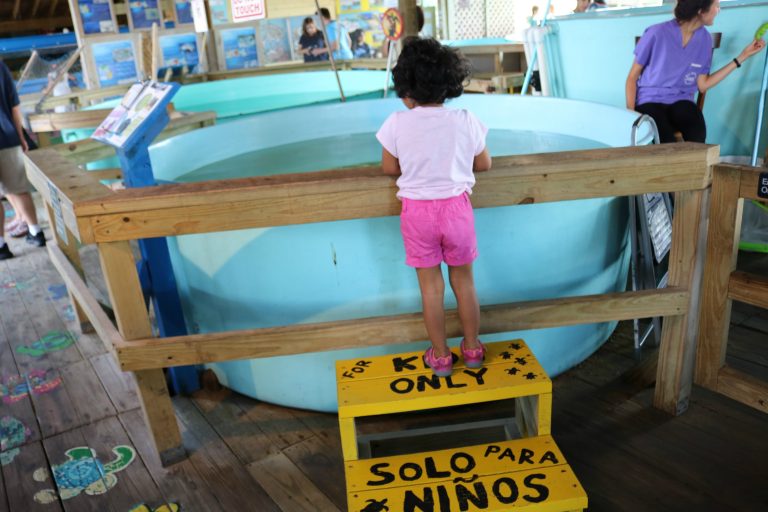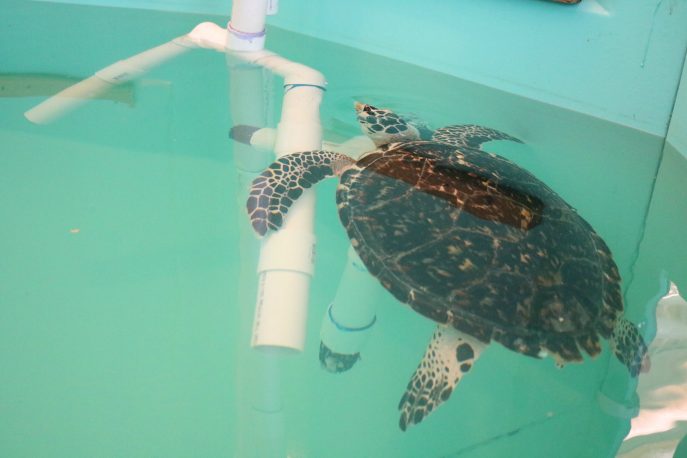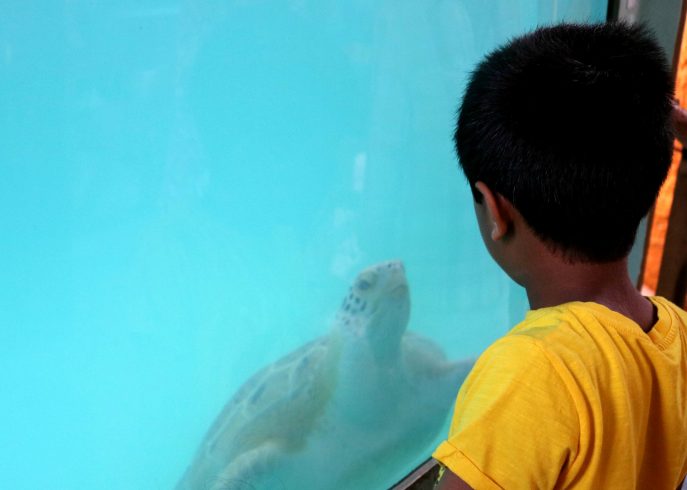 Each tank/pool has a little bio with the name of the turtle, how he/she was rescued and whether he/she can be released back into the wild after a full recovery.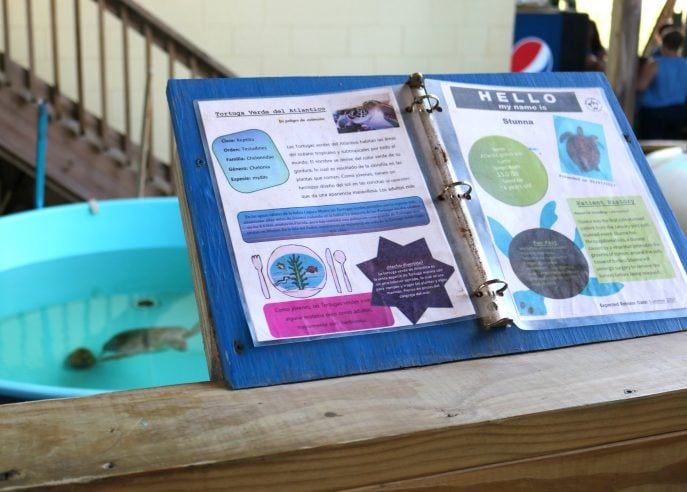 Sea Turtle Inc. is also home to Allison, the first turtle in the world to use a successful prosthesis.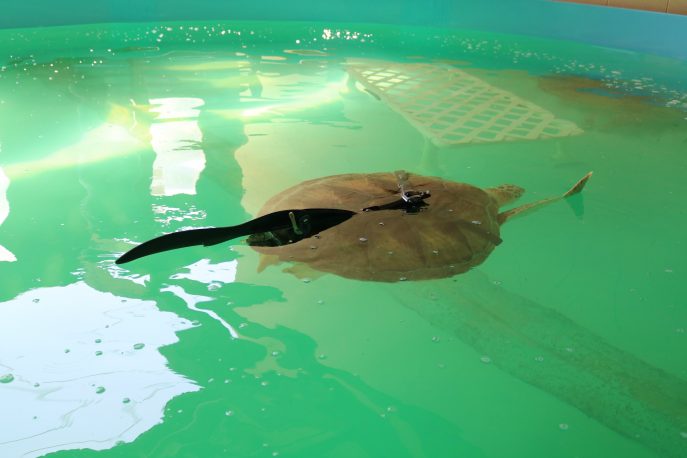 One of my favorite efforts undertaken by the center is rescuing sea turtle eggs from nests left ashore the beach, and after incubation, releasing the hatchlings back into the ocean.
We have witnessed two incredible hatchling releases, one up at North Padre and the more recent one, at South Padre Island, two years ago.

Heads up! It's currently hatchling release season. Follow the Sea Turtle Facebook page to find out when the next hatchling release is. It's a precious experience your family will never forget.
South Padre Island Birding and Nature Center
We walked into the South Padre Island Birding and Nature Center thinking we wouldn't spend more than an hour there.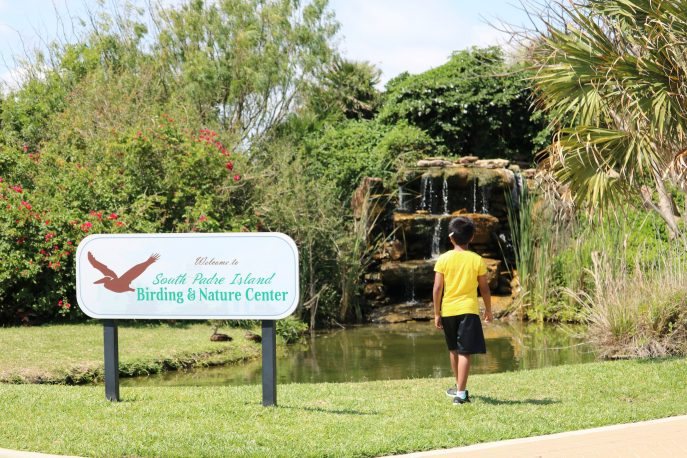 Three hours later we were still exploring the 3300 feet of linear boardwalk!
We visited the Center on Earth Day so several fun activities were lined up for the visitors. The kids played an educational game of Bird Bingo where they learned about the resident birds and migratory birds seen in the past year(s).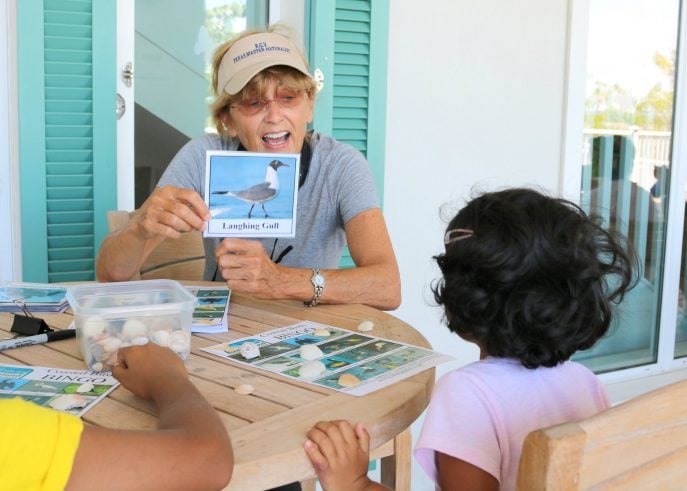 They won a South Padre Island Nature Center t-shirt each and yes, Baby Girl insisted on wearing hers with pride, down the boardwalk trails, even though it was quite a scorcher that morning.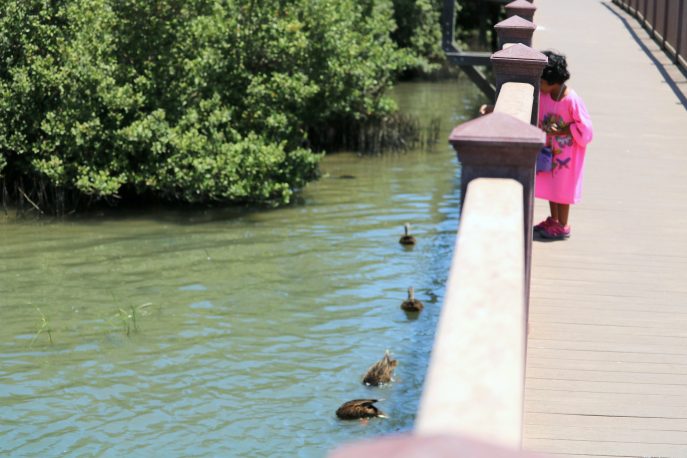 Even if you visit on a regular day, there's always something happening and don't visit without your camera!
I also highly recommend taking a guided tour.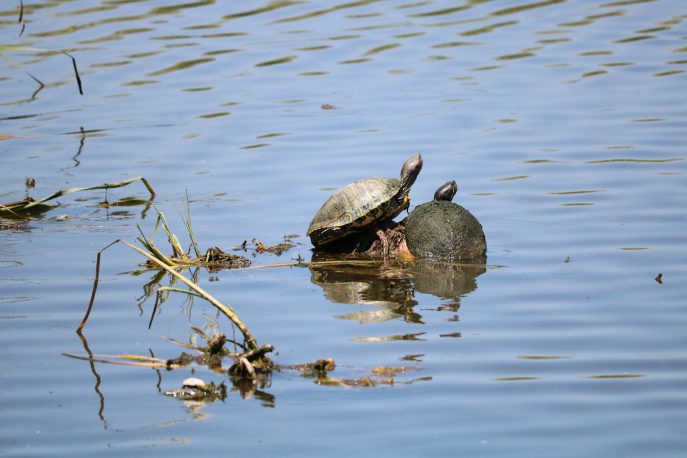 The staff are incredibly knowledgeable and walking encyclopedia on all things related to the birds you will see.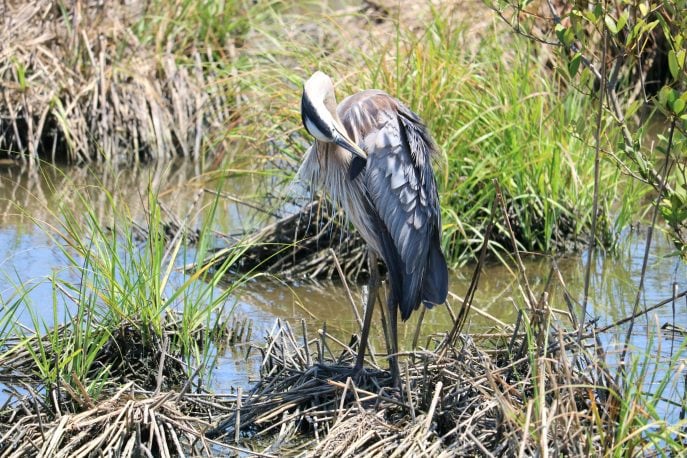 Besides birds, the Center is also home to several butterfly species and American alligators.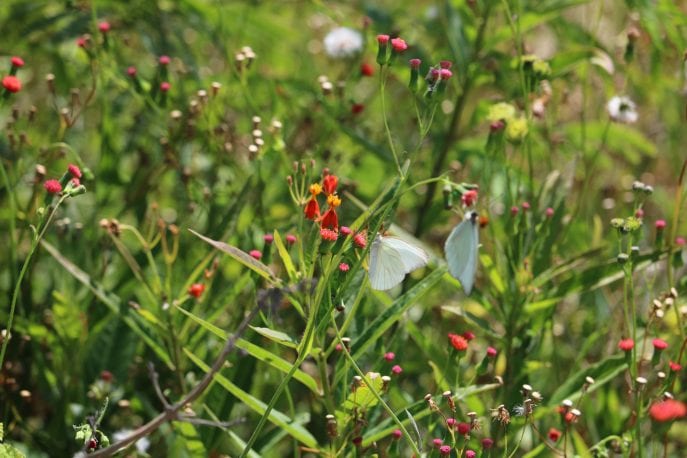 Admission fees are $6 for adults, $5 for students 13-18 years and Seniors 55 years+, $3 for children 4-12 years and free for children 4 years and under, with a paid adult.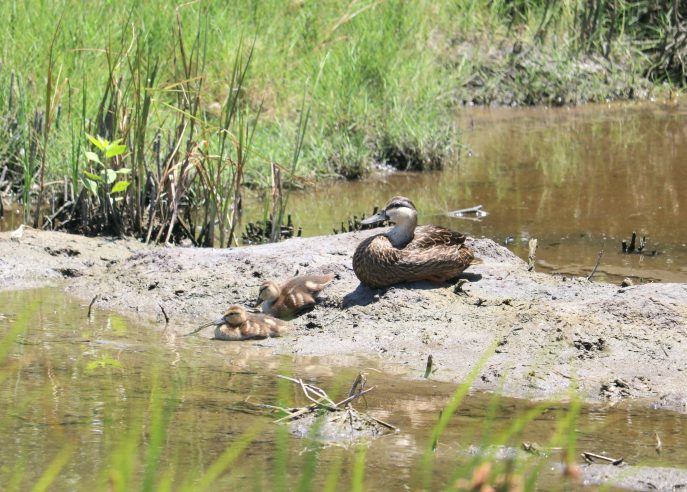 South Padre Island is definitely a treat for eco-tourists, nature lovers, photographers and families eager to kindle a love for nature, in the hearts of their children.
I'd love to hear from you. Hop over to chat with me on Facebook and/or Twitter