Milk a cow, bottle feed a calf and more at Jersey Barnyard, Brenham
This post contains editorial samples and/or affiliate links to products I recommend. While this adds no additional cost to you, I will earn a small commission on any sales made.
When you're invited to visit a 100 year old farm, you don't say no…
especially when you've secretly always wanted to have a taste of the farm life!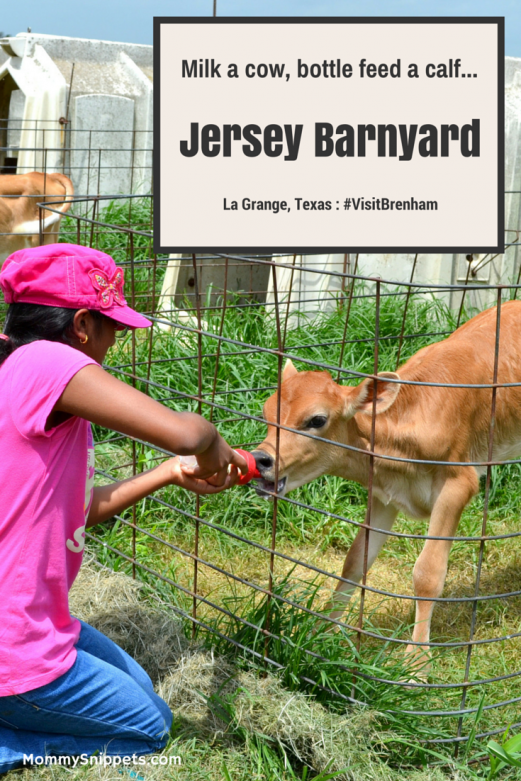 Milk a cow, bottle feed a calf and more at Jersey Barnyard
While being hosted in Brenham, an educational tour at the 740 acre, four generation run, Jersey Barnyard was one of the things on our itinerary that had the kids very excited.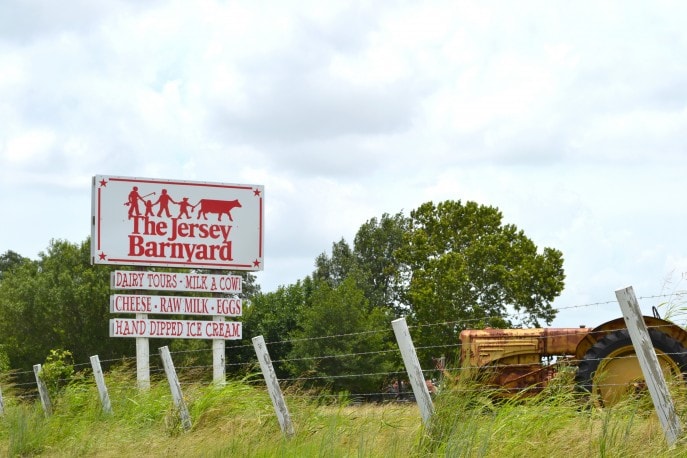 The farm was once home to Blue Bell icecream's beloved mascot Belle, who passed away earlier this year. Though she is missed greatly, the farm remains bustling with feathered and four legged inhabitants that remain the heart and center of Jersey Barnyard's functioning.
Our educational tour began with a visit to the miniature pony, donkey, followed by feeding of the chickens.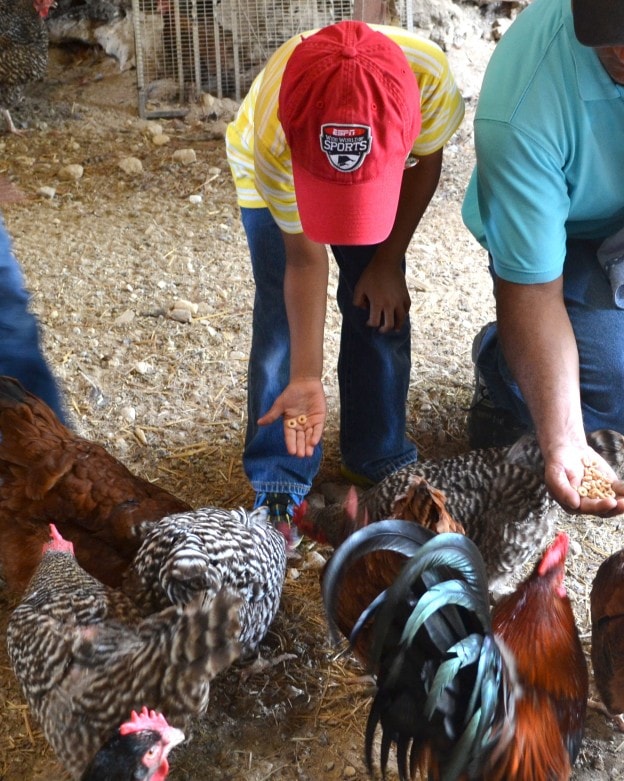 The kids got to see several Mamas brooding, keeping eggs warm in their respective nests.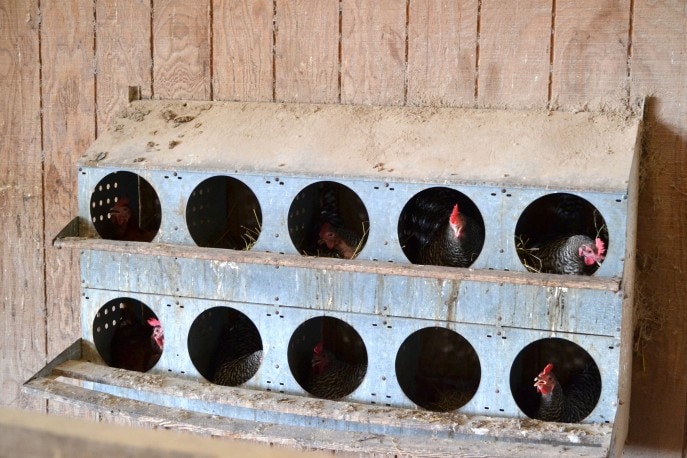 We even learned that they've had chickens that have laid blue eggs!
Baby Girl sadly missed feeding the chickens as she was taking a quick cat nap on Hubs' shoulder, but quickly woke up when she heard the kids ooh-ing and aah-ing over a cuddly bunny. And quickly caught up to feed the ducks, a few straggler chickens and visit with the sheep, turkeys and mud-bathing pigs.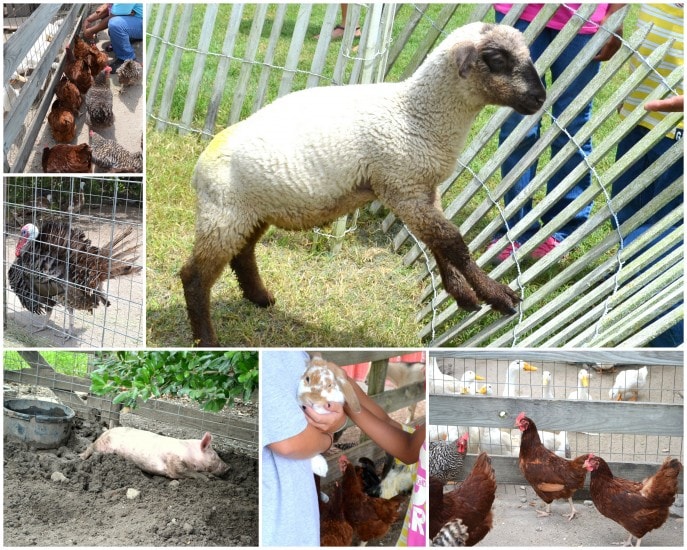 One of the sweet moments on our tour was watching our little animal whisperer, Dottie, bond with a fainting goat. (Yes, such a goat exists! This is a myotonic goat, otherwise known as the fainting goat, is a domestic goat whose muscles freeze for roughly 10 seconds when the goat feels panic. Though painless, this generally results in the animal's collapsing on its side.)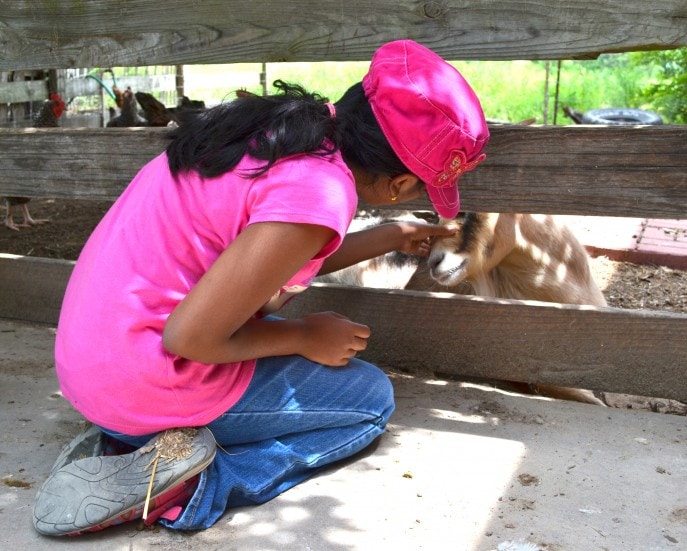 On the way to meet the calves, we stopped to feed the goats that were such a comic bunch. In the active bunch was a little kid that got his horns stuck in the fence. Dottie was most worried and had us wait till we got him help. The kid apparently has quite a reputation for getting his horns stuck in the same place every day. (The little stubborn learner is pictured in far left hand corner of the photograph below)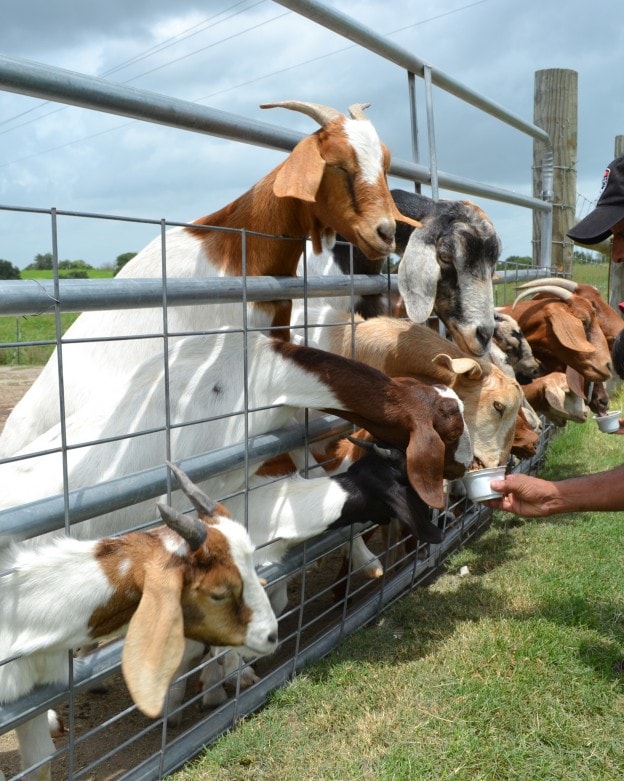 The kids also loved being able to bottle feed a hungry calf each. We honestly thought buying a milk bottle for each of the kids would suffice but now I wish we bought two each as those little calves drank their bottles up so quickly! (You can buy bottles of milk from the Barnyard store, to feed the calves, at $2 a bottle.)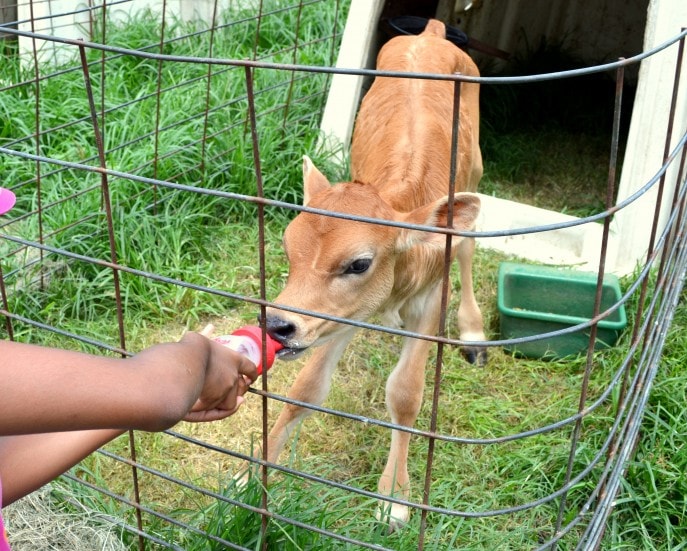 After feeding the calves, we hopped on for a short hayride to the milking barns, to feed Peanut, a Mama cow expecting the arrival of her sweet calf in 3 months time.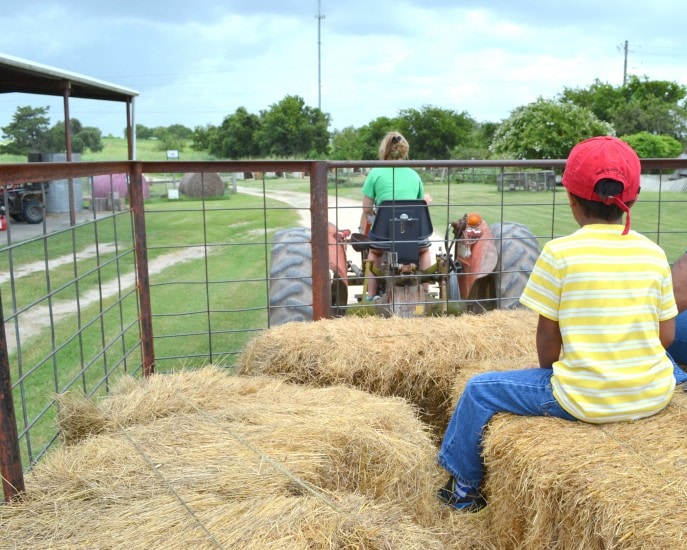 We were educated on how to identify if a Jersey cow is healthy or not and the kids were shown how to milk a cow the right way.
I wasn't so sure they'd get the hang of it but both surprised us in being able to successfully milk Peanut on the first try.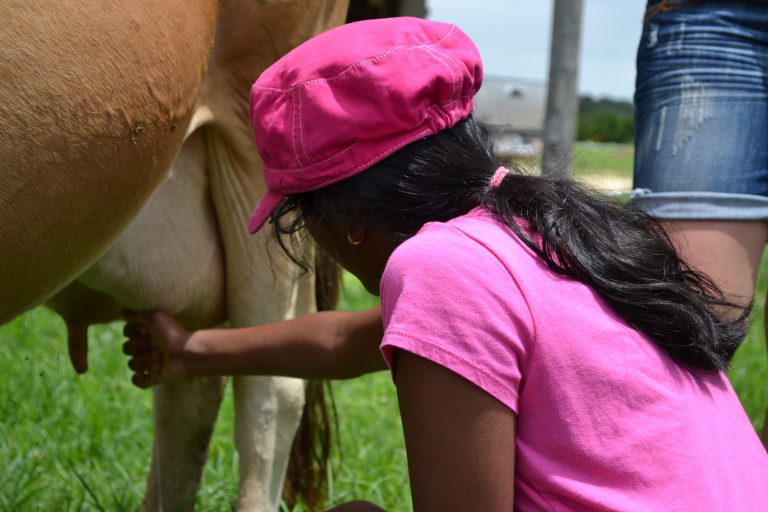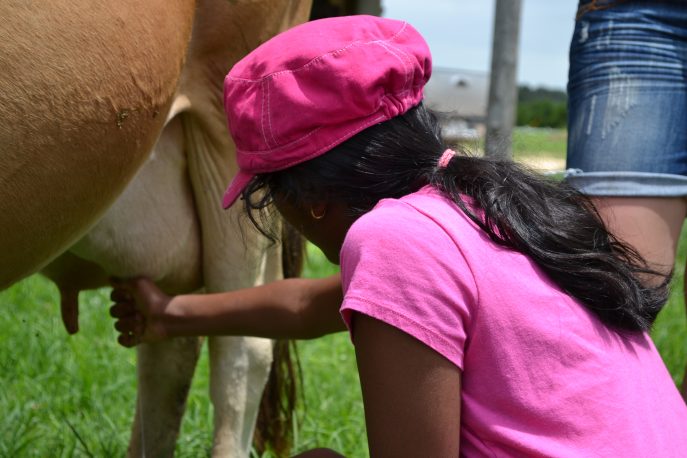 Such excitement!
Our fun tour ended with a visit to the milking parlor and the hay ride back to where we started.
I'm not sure if the farm life is for me but it sure was nice to step into their shoes for an evening!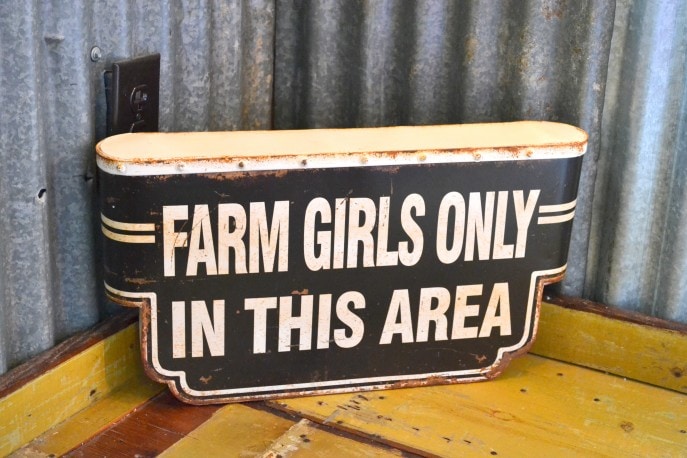 For more details on the educational tours, contact Jersey Barnyard:
Jersey Barnyard

3117 State Hwy 159

LaGrange, TX 78945

Phone (979) 249 3406
Did you have something to share about this feature? I'd love to hear from you. Hop over to chat with me on Facebook and/or Twitter