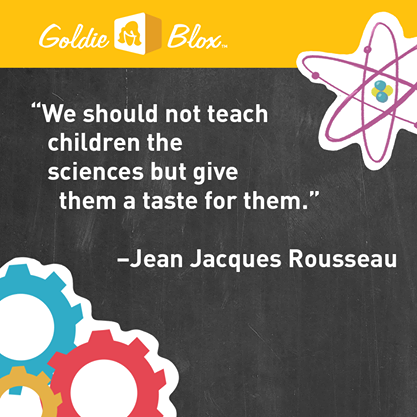 When I first saw this quote on the Goldieblox Facebook page I knew the invitation to test out their toys and share an honest opinion on the same was going to mean so much more for my 8 year old.
You see, she's our voracious reader. Finding a few spare minutes on hand, sends her straight to our home library to dig out a book, to read a page or two. She's happiest with books and honestly, we love that. Reading has helped sharpen her creative writing skills, build on her vocabulary database and just strengthen her fine art skills altogether.
Because she knows these are her strengths she has been trying to push her math, science and analytic thinking skills to a corner even though she's really good with these. As parents we see the untapped wealth she has within her but want her to enjoy exploring those avenues naturally and not force her into the same. Seeing her tinker around with the GoldieBlox sets has made us excited.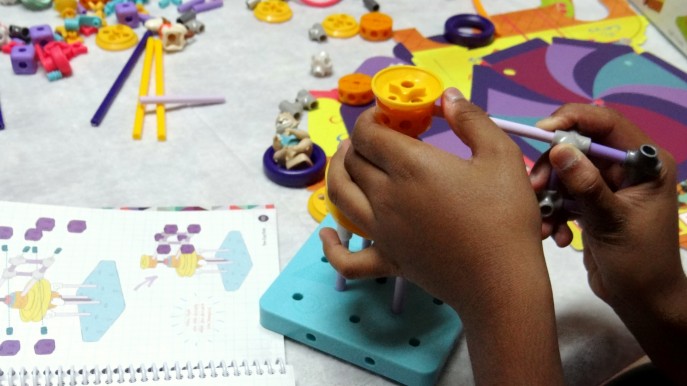 Why?
We see her dipping her toes in a world of creativity, analytic thinking, discipline and patient determination, while having fun.
In a world where men largely outnumber women in science, technology, engineering and math, girls lose interest in these subjects as early as age 8.  Construction toys develop an early interest in these subjects, but for over a hundred years, they've been considered "boys' toys." GoldieBlox is determined to change the equation. We aim to disrupt the pink aisle and inspire the future generation of female engineers. We believe there are a million girls out there who are engineers. They just might not know it yet. We think GoldieBlox can show them the way.- Debbie Sterling, Inventor and CEO
Thank you Debbie Sterling for making this happen!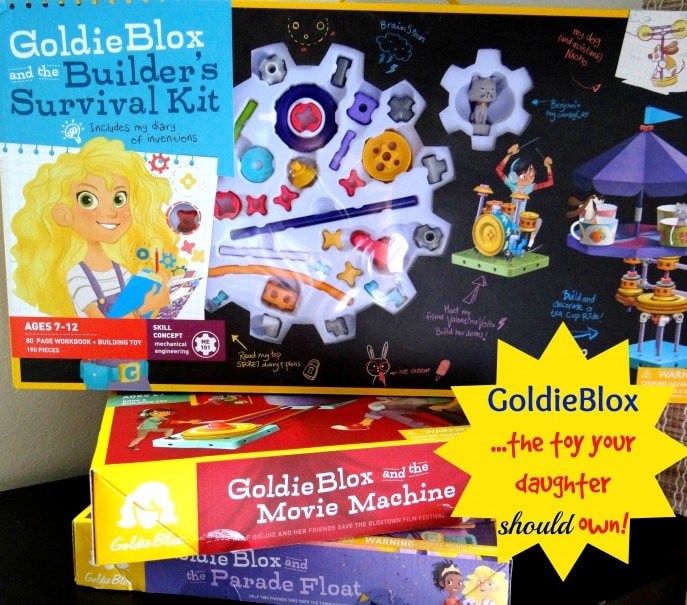 The neat thing about a GoldieBlox set is it always comes with a book that features the star character, a young inventor, Goldie Blox. Halfway through the book the young reader will find she will need to help Goldie and her friends build a solution to the problem they're facing, yes, "inventures". To make this easy on the young engineers, building instructions are given stage-wise through the story, thereby ensuring no child feels overwhelmed.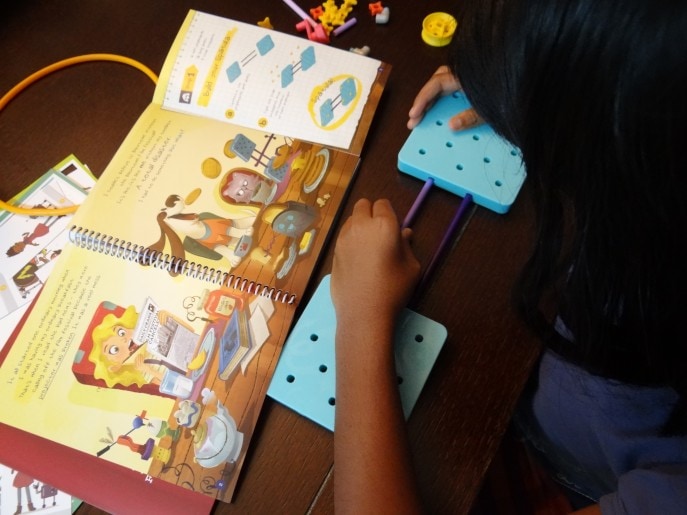 Knowing Dottie, if she'd been told she had to make a Zoetrope (the first moving pictures machine!) in the first place would have resulted in her setting the project aside, intimidated. But starting off with instructions to build a spatula, then a drum and over time eventually assembling a Zoetrope that actually worked was "Oh! So cool!!"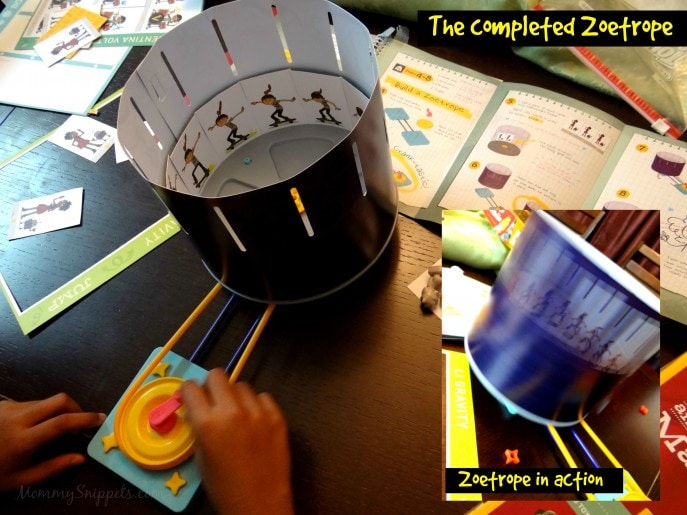 All this awesomeness can be found in the GoldieBlox and the Movie Machine kit. 
We started off by referring to the different pieces as the red flowery thing and the purple sticks but by the time we moved along to GoldieBlox and the Builder's Survival Kit (the more extensive kit of them all), Dottie was asking us to pass her axles, connectors, pegs, elbows and what-nots. (A big leap towards a love for engineering. Woohoo!)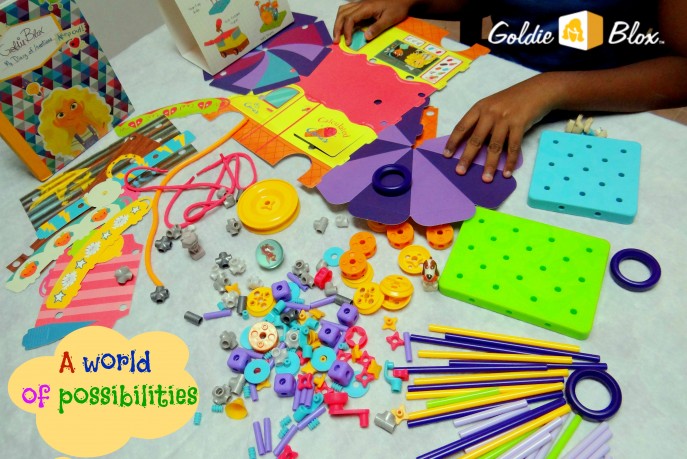 The young girl who would think twice about sitting down and following instructions to put together inventures, now opens up her Builder's Survival Kit and sets out to "build" a complex tea-cup ride independently.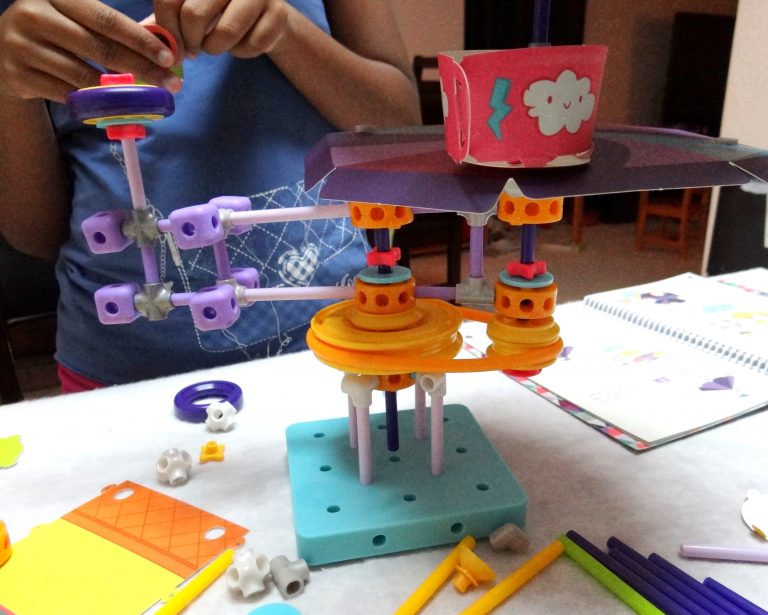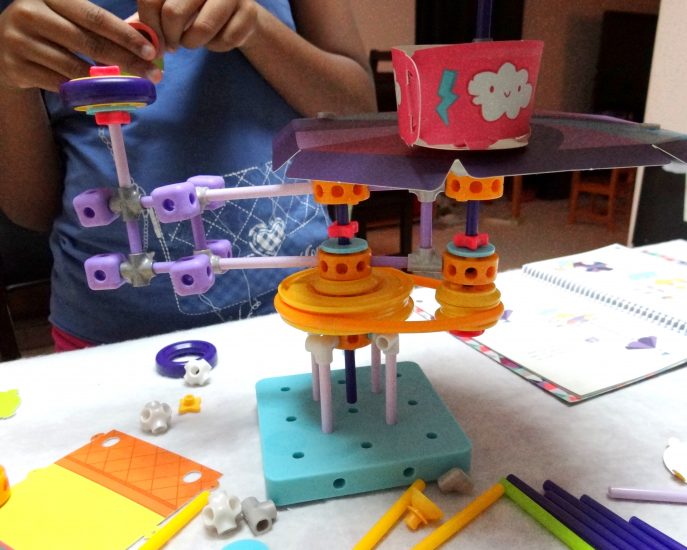 (Pssst! To help encourage her new found love, I've "un-bloxed" the kit on our kitchen table to give our kids the freedom to sit down, imagine, analyse and create inventures of their own, whenever they want.)
And no, this is not a gender specific toy. Boys love this just as much. Ask my 4 year old! He spent an evening making a parade float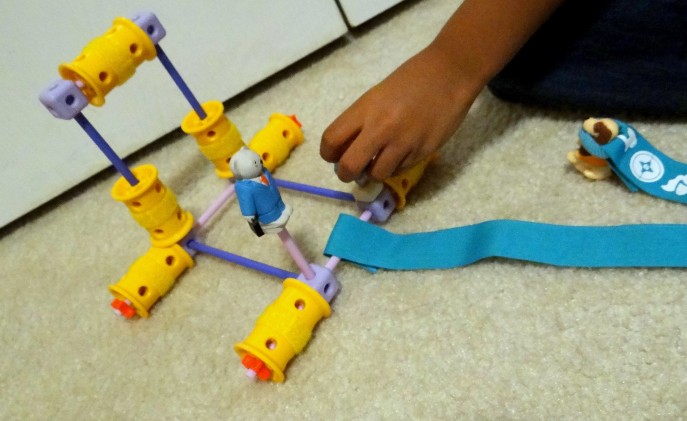 and all of yesterday making random inventures that become bigger and better, with each project!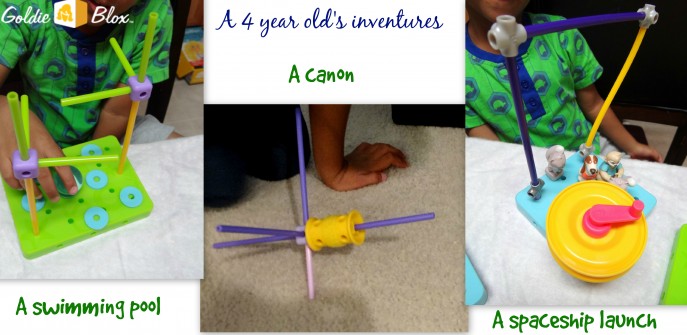 I love that the possibilities are endless, all the pieces in different kits work perfectly with each other and this is one non-electronic toy that keeps both my 8 year old and 4 year old enrapt from start to finish!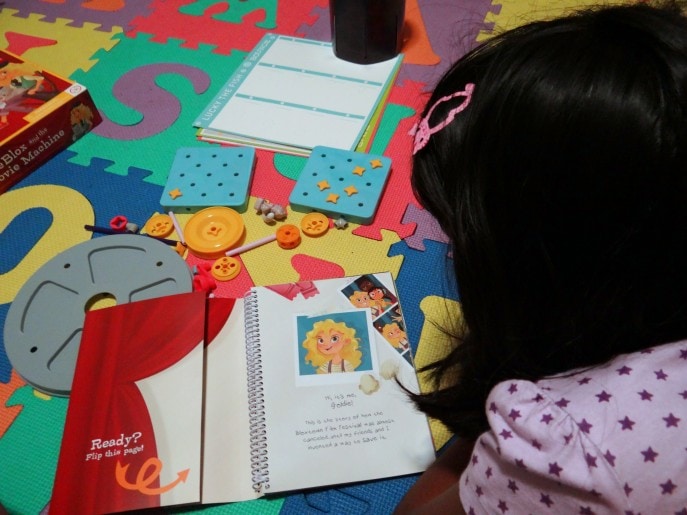 I definitely foresee me picking up a kit or two (or three?!) over the next few weeks and yes, I'm sure I'll be known as the GoldieBlox Mom soon as all Dottie's friends can expect seeing these as birthday gifts in the months to come!!
Think GoldieBlox is just what your daughter/granddaughter/niece/friend needs? Win a package right here!
The generous GoldieBlox team is putting two of the newest kits in the hands of one of my readers.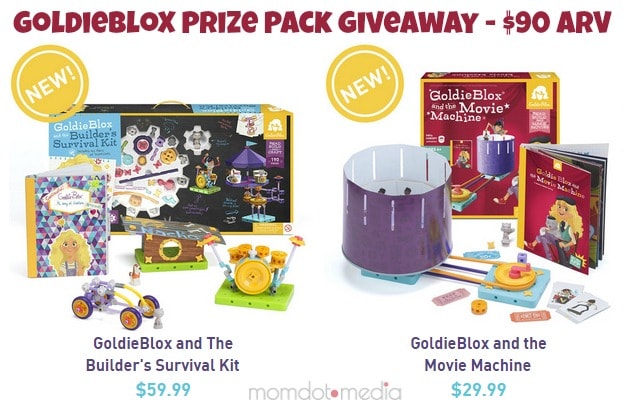 To enter for a chance to win the same, please fill in the form below. Entries not recorded in the same will be disqualified.
** If you face any problems while entering this giveaway, please get in touch with me ASAP! **