Did you know you can extend the life of your organic vegetables?
This post contains editorial samples and/or affiliate links to products I recommend. While this adds no additional cost to you, I will earn a small commission on any sales made.
My husband and I have been trying to steer towards healthier food choices, especially during the week. As a family that tries to opt for organic produce options as far as is possible, shopping in bulk is one way we can save a little on our grocery bill.
This, though, can be hard as everyone knows organic produce tends to have a shorter shelf life if not stored right.
Did you know you can extend the life of your organic vegetables?
It's true!
A little care after you bring those veggies home from the store, can do a great deal of good.
This is a sponsored post for SheSpeaks/Rubbermaid®.
Investing in the right produce storage containers is key.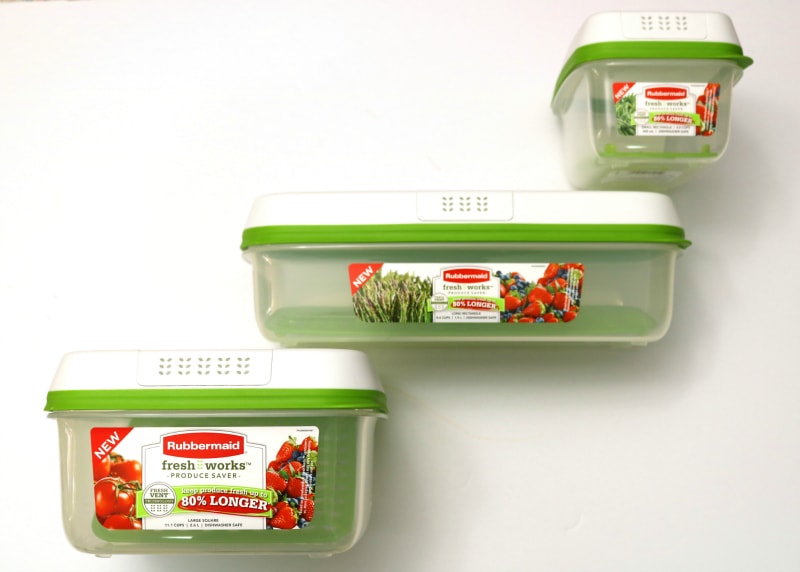 Rubbermaid FreshWorks™ BPA free, dishwasher safe containers use the FreshWorks™ FreshVent™ technology to keep veggies and fruit up to 80% longer*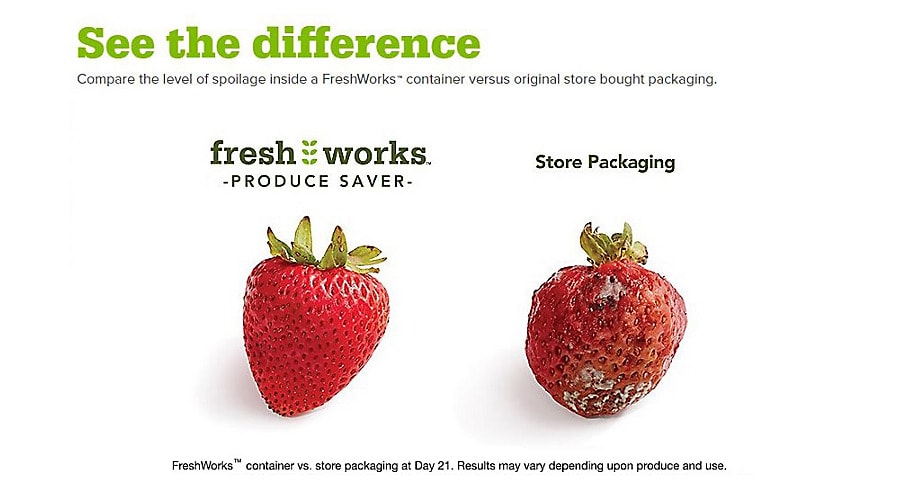 The FreshVent™ Lid contains revolutionary membrane that naturally regulates the flow of Oxygen and Carbon Dioxide to create the optimal environment so your produce stays farm fresh.

The CrispTray™ elevates produce away from moisture and promotes proper airflow to help prevent spoilage.
*Based on strawberries in FreshWorks™ containers vs. store packaging. Results may vary depending upon produce and use.
The product line comes in 6 different sizes, making it convenient to store all types of fresh produce:
Large Square (11.1 Cups): Perfect for Tomatoes
Long Rectangle (8.4 Cups): Great for asparagus or zucchini
Small Rectangle (4.0 Cups): Will keep your green beans fresh.
Small (2.5 Cups): Ideal for small berries.
Medium (6.3 Cups): Perfect for strawberries.  
Large (17.3 Cups): Optimal for leafy greens.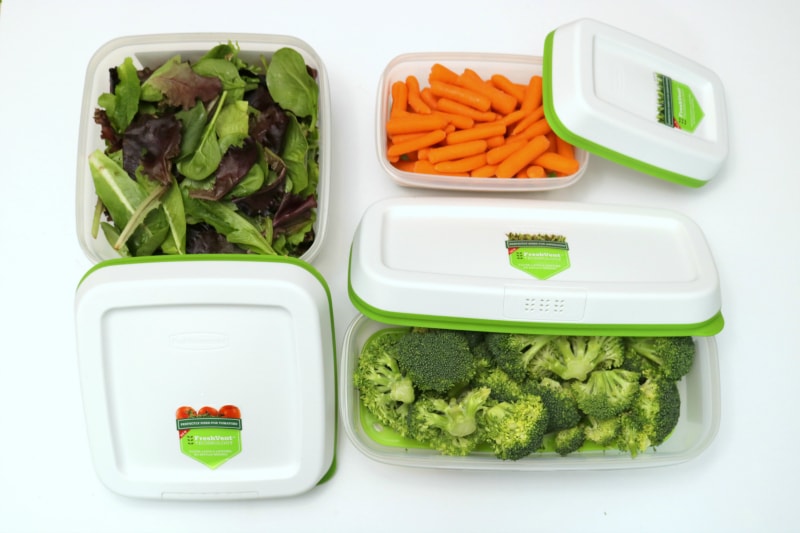 There are certain things to keep in mind to help with the produce-life-extension goal, prior to placing the produce in the containers:
Produce should never be cut before placing in any Rubbermaid FreshWorks™ container.
Produce should never be washed before placing in any Rubbermaid FreshWorks™ container.
The FreshVent™ membrane must be placed at the bottom of the container always and doesn't need to be replaced at any point.
These containers make it convenient for those rushed mornings when Hubs needs to put a salad together for lunch later that day, while at work.
And definitely helps reduce the amount of fresh produce, bought in bulk, that gets thrown away because it got spoiled after 3-4 days.
Did you know, as a result of throwing away fresh produce, Americans waste $24 billion worth of produce every year, which is the equivalent of $192 per household? **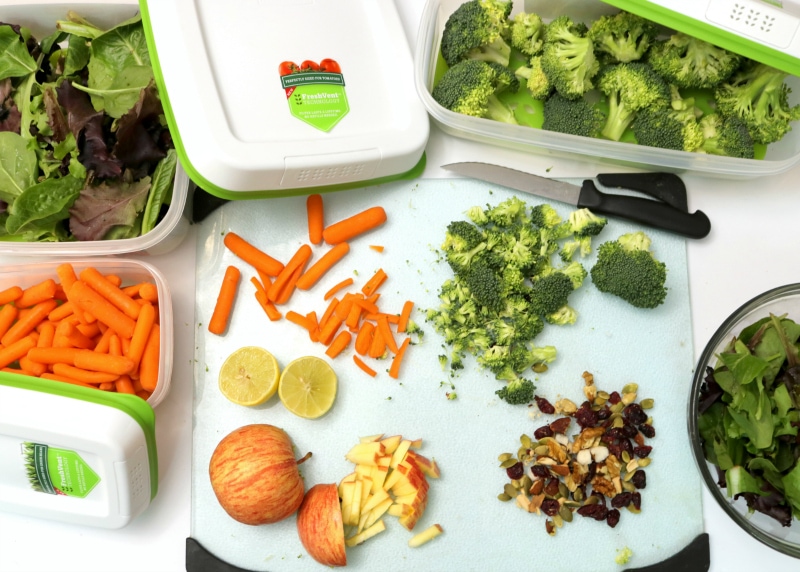 A mix of greens, carrots, broccoli, apples, nuts, dried cranberries and some leftover chicken from last night's dinner makes for a hearty, heart-healthy meal.
We prefer to opt for a simple homemade dressing with lemon juice, olive oil, and honey. Nothing beats the simplicity of this dressing especially as it's easy, preservative free and gives the salad that added flavor punch.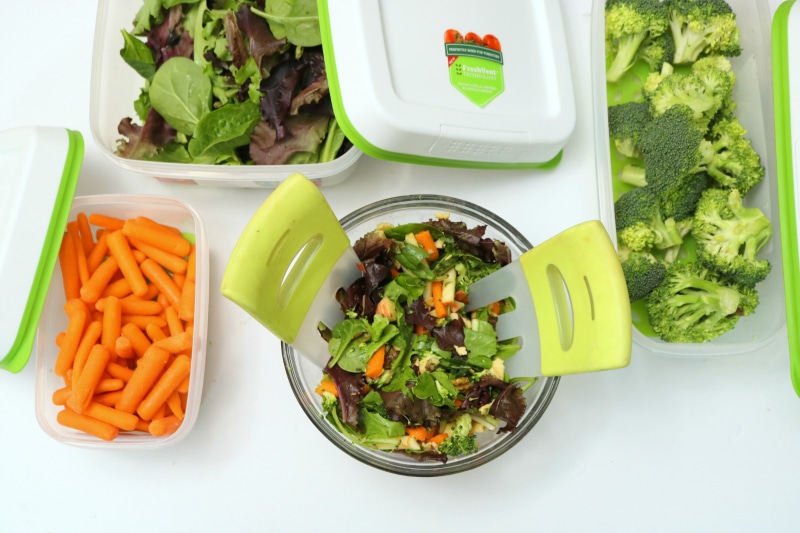 Oh, and if you need a little crunch, crush some hummus, lentil or pita chips over the salad, just before you eat the same.
Ready to make that smart Freshworks investment decision?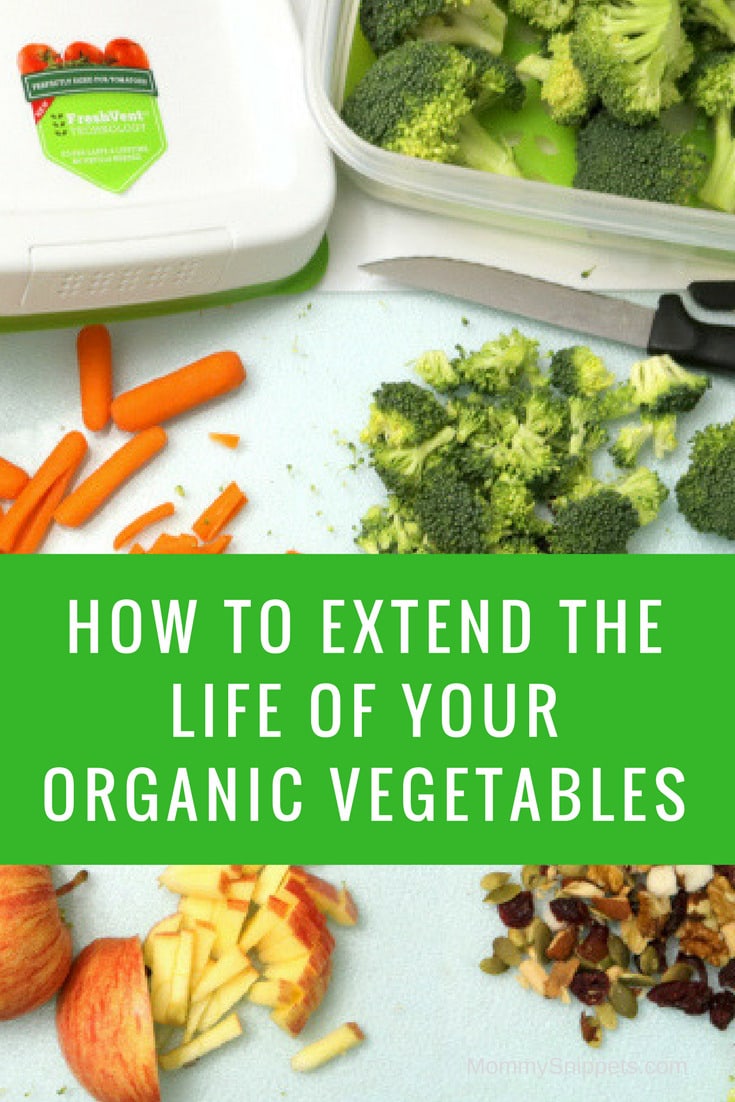 ** Source: USDA 2014
HOW WOULD YOU LIKE TO WIN YOUR OWN FRESHWORKS™ CONTAINER SET? (ARV: $50)
Enter for a chance to win a set, similar to the one featured in this article.
Use the form below to be considered eligible to win.