Bring Dumbo to your home screen today (+ Dumbo inspired "Surprise" Pops)
This post contains editorial samples and/or affiliate links to products I recommend. While this adds no additional cost to you, I will earn a small commission on any sales made.
Growing up, Dumbo was always one of my favorite Disney movies, so when I heard Disney was bringing the adorable baby to life through Tim Burton, a director who always brings so much personality to the screen, I figured we would be in for a treat.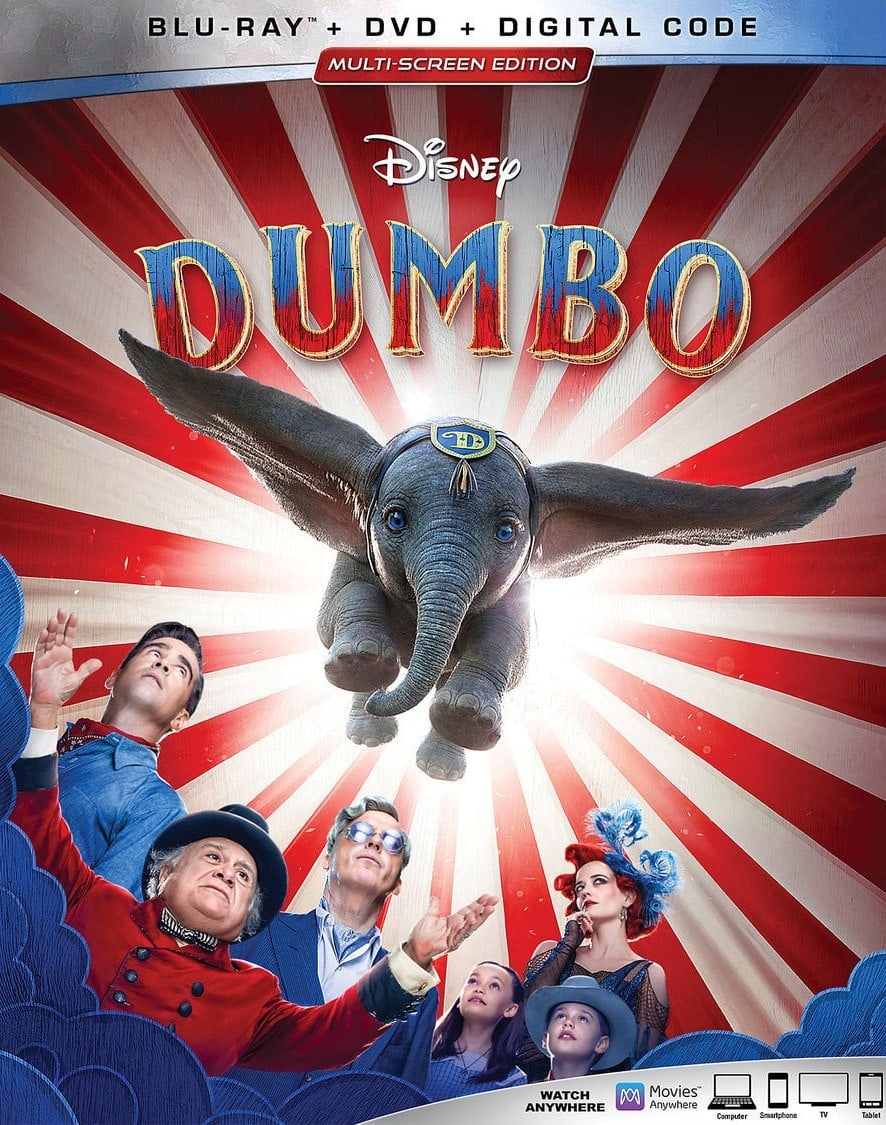 Look at those eyes!
This feature has been sponsored by Disney. All opinions are my own.
Since we didn't have a chance to watch the movie when it hit the theaters, my kids couldn't wait for us to open up our special Disney home viewing gift pack when it arrived.
And it was perfect for a trip to the beach, complete with the cutest tote (so in love!), a "jumbo" sized beach towel, the perfect iced tea tumbler for Mama, sunscreen and of course the Dumbo Blu-Ray-DVD-Digital HD Combo Pack.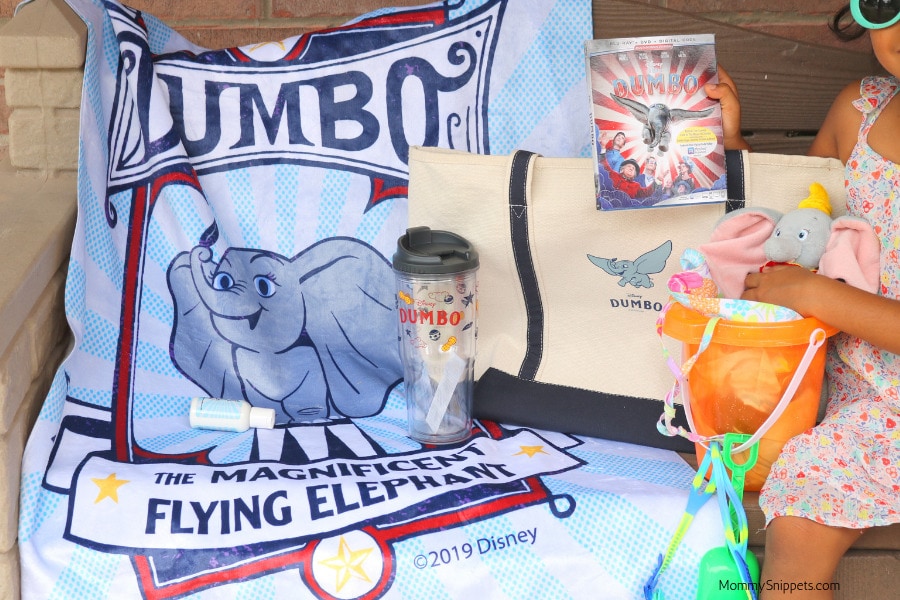 Littlest insisted it was not complete without her Dumbo plush and other beach essentials!
Family movie night: Dumbo (An unbiased review)
From Disney and visionary director Tim Burton, the all-new grand live-action adventure DUMBO expands on the beloved classic story where differences are celebrated, family is cherished and dreams take flight. Circus owner Max Medici (Danny DeVito) enlists former star Holt Farrier (Colin Farrell) and his children Milly (Nico Parker) and Joe (Finley Hobbins) to care for a newborn elephant whose oversized ears make him a laughingstock in an already struggling circus. But when they discover that Dumbo can fly, the circus makes an incredible comeback, attracting persuasive entrepreneur V.A. Vandevere (Michael Keaton), who recruits the peculiar pachyderm for his newest, larger-than-life entertainment venture, Dreamland. Dumbo soars to new heights alongside a charming and spectacular aerial artist, Colette Marchant (Eva Green), until Holt learns that beneath its shiny veneer, Dreamland is full of dark secrets.
Rating: PG
Running time: 1 hour, 11 minutes (+ Bonus Features that include Easter Eggs from the original Dumbo classic, Bloopers, Behind The Scenes looks and more)
Know before you watch:
It's important to remember this Tim Burton movie is inspired by the 1941 classic and not a CGI animated version of it. While it is a family movie night pick, I would advise parents with young children who are sensitive to be cautious that there may be some parts that may trigger tears. While my 13 year old and 9 year old weren't affected by the twists and plot, my youngest was saddened especially by scenes following Dumbo's separation from his mother and when he was ridiculed. She was also not a big fan of the creepy Nightmare Island.
And this is what makes movies like this a good idea to own and watch at home, where you can skip bits that may scare your little one.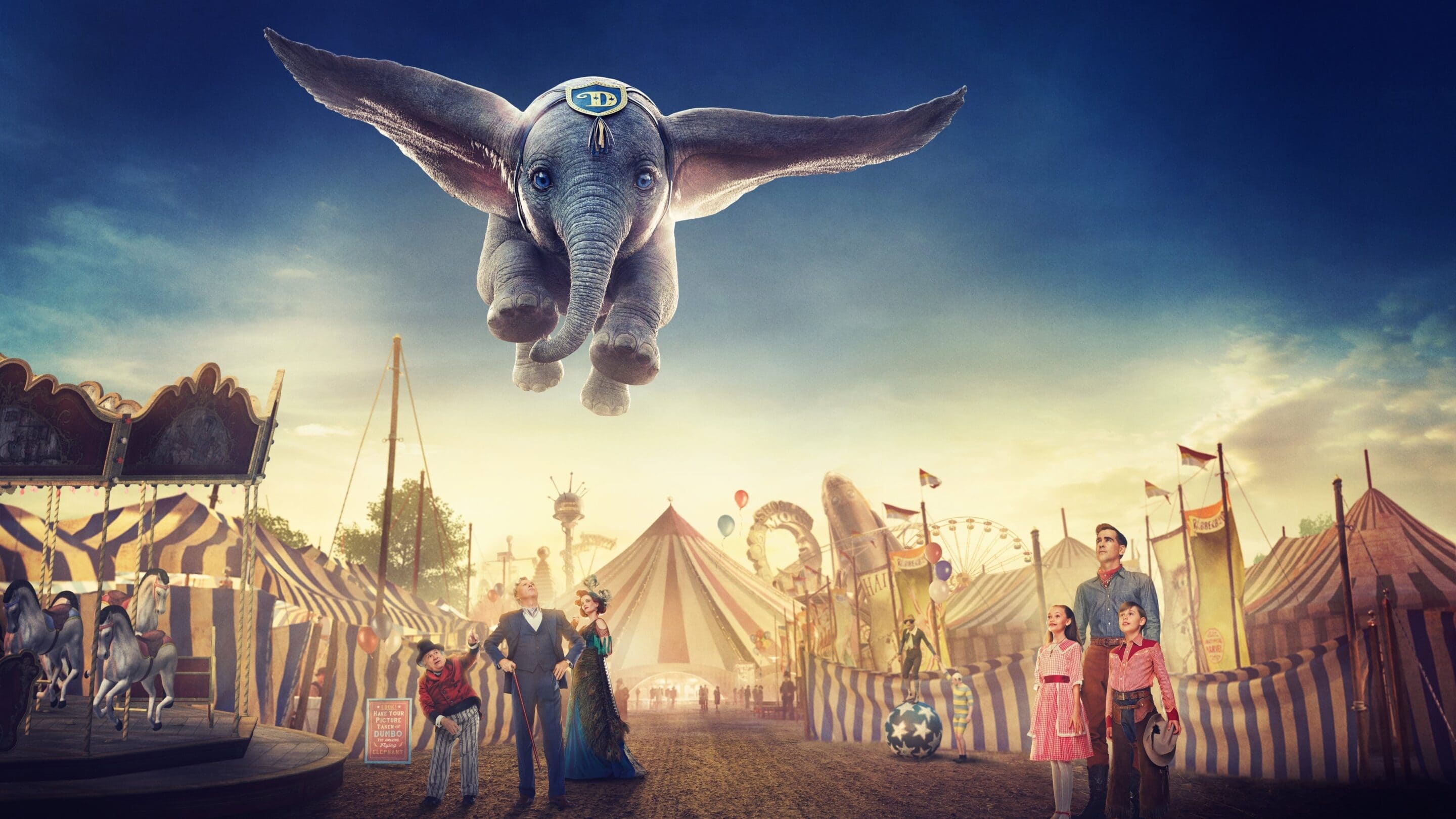 Overall I loved that the music from the original score was tied in, the sets were rich, elaborate and detailed, family bonds celebrated, and the movie eventually ended in a happy note.
No spoilers here. You will have to watch the movie to see how.
How to make Dumbo inspired "Surprise" Pops: A sweet treat inspired by the movie Dumbo
I love making movie-inspired treats and crafts for the kids to enjoy before family movie night. Dumbo is no exception and this surprise sweet treat is sure to put a smile on everyone's faces. My kids helped make this fun treat and yes, it would make a perfect Dumbo/Circus themed addition to a party table too.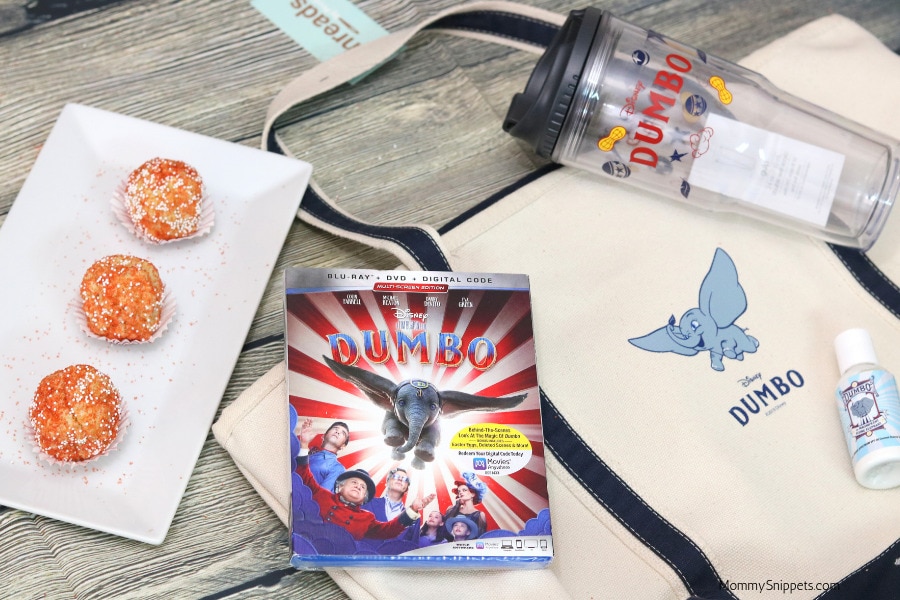 Ingredients required to make Dumbo inspired "Surprise" Pops
Store-bought Mini Rice Krispies Treats
Red and White striped mini cupcake wrappers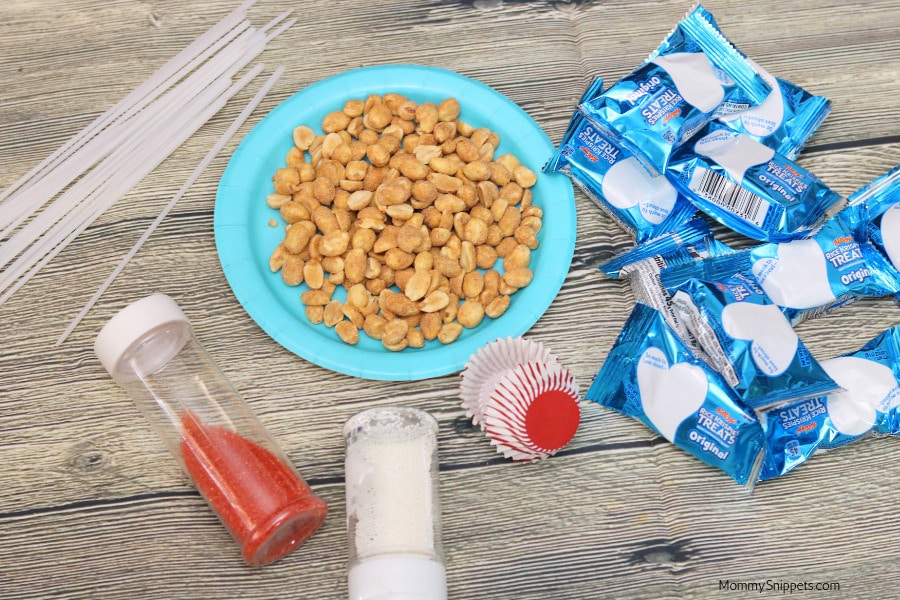 To make the Surprise Pops:
1. Take two mini Rice Krispies squares and gently shape each square into the shape of the bowl.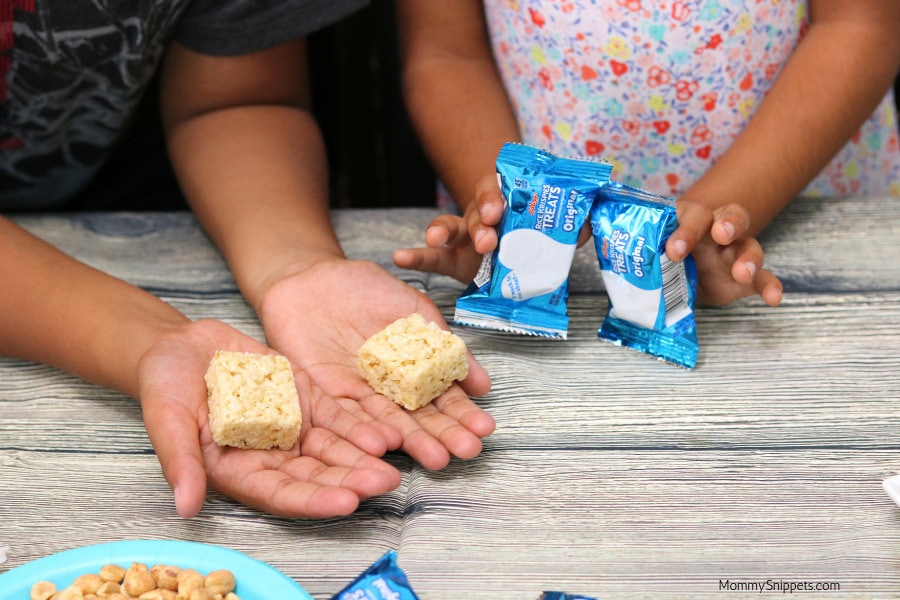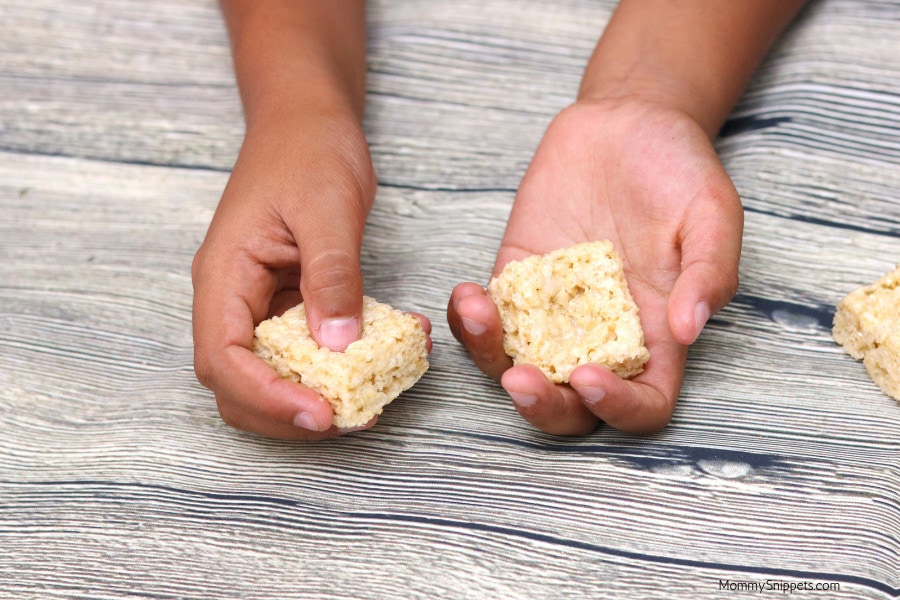 2. Carefully place a few honey roasted peanuts into the bowl-shaped depressions in each of the squares.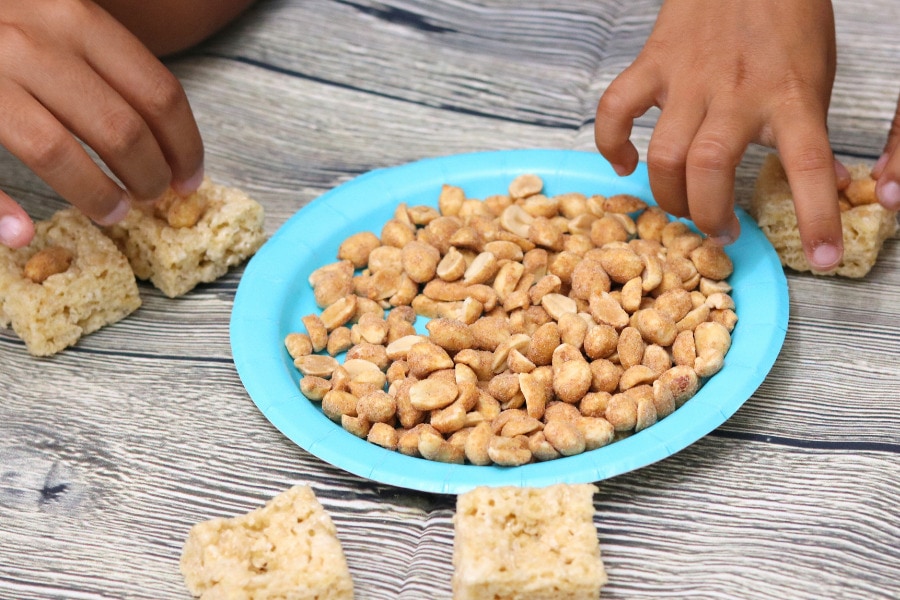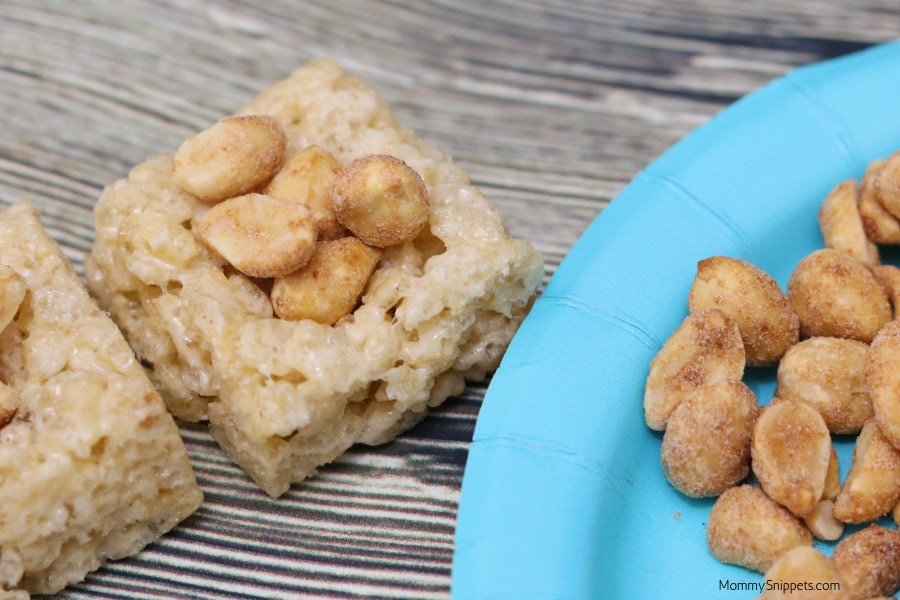 3. Now carefully place one square over the other ensuring the peanuts stay inside the two squares.
4. Gently seal the sides, with your fingers and once done delicately mold the sealed squares into the shape of a ball.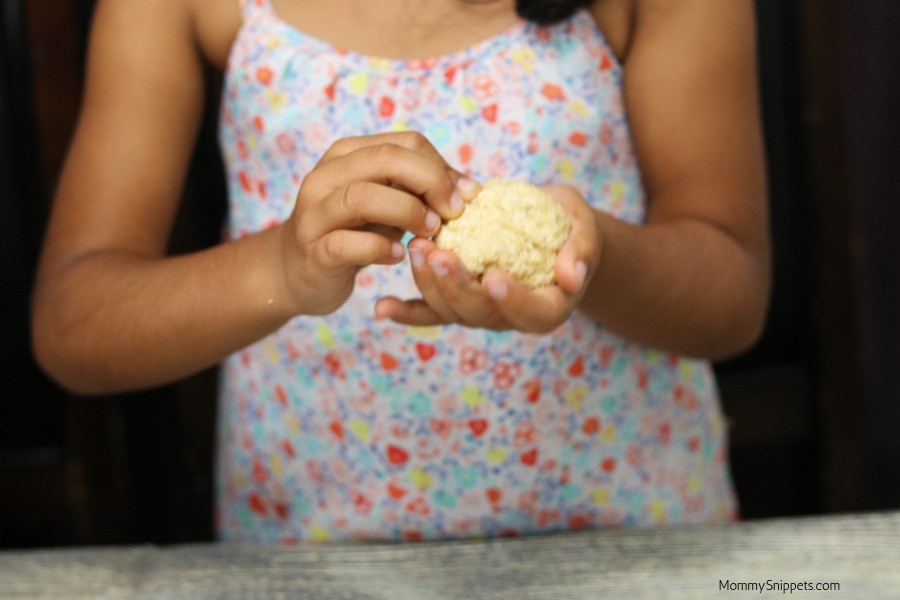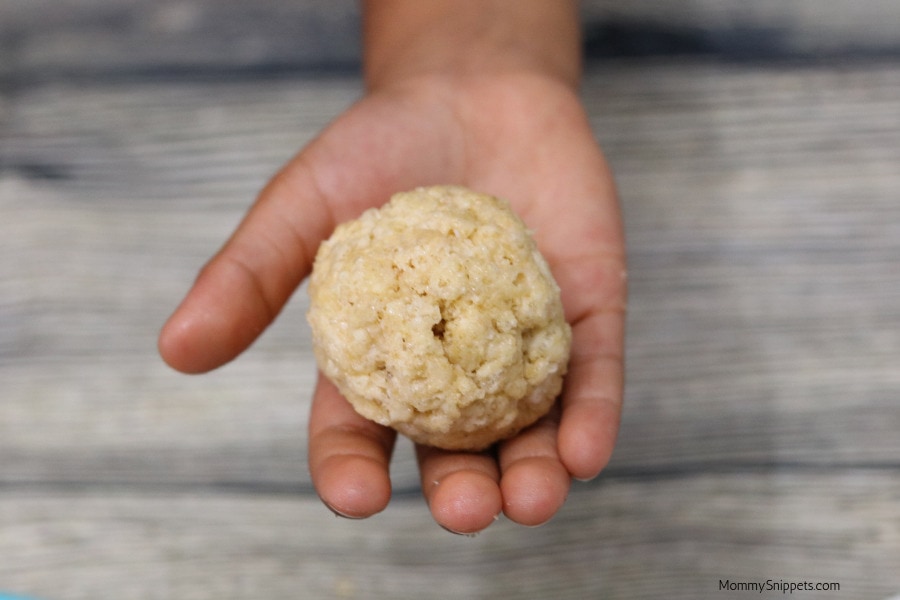 5. Once done, roll the ball in red sprinkles and then the white bead sprinkles.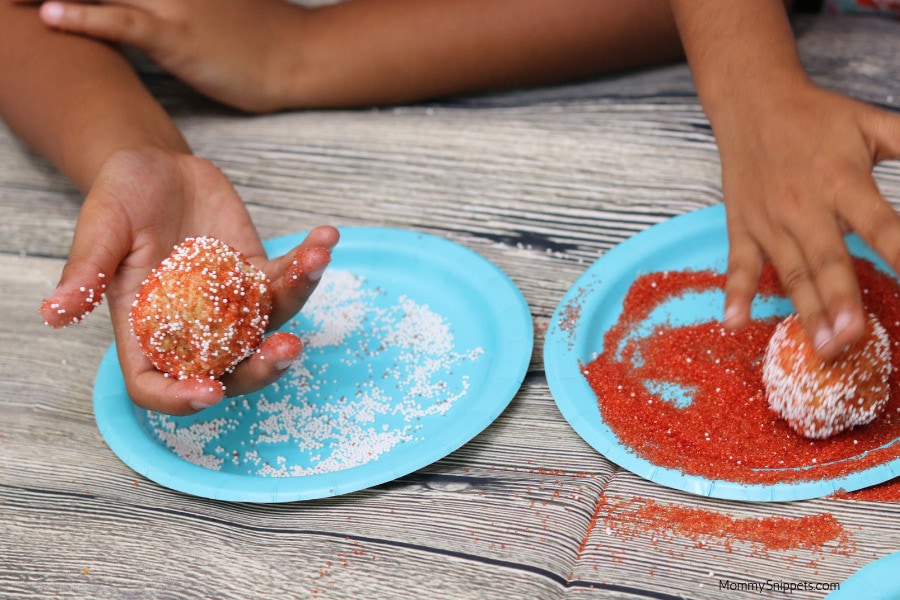 6. Place the "Surprise" ball into a mini cupcake wrapper.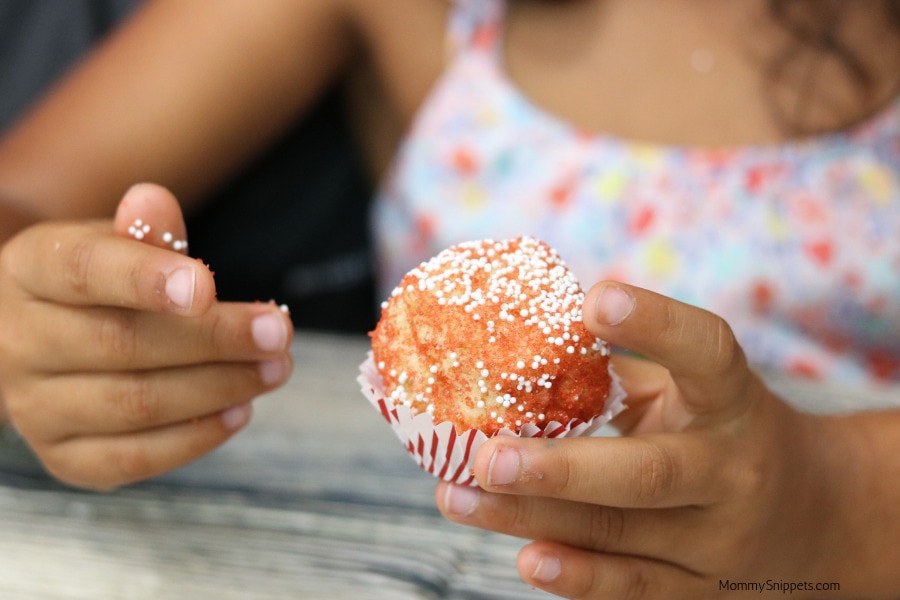 7. Finally, gently drive a lollipop stick into the bottom of the wrapper and halfway through the "Surprise" Pops.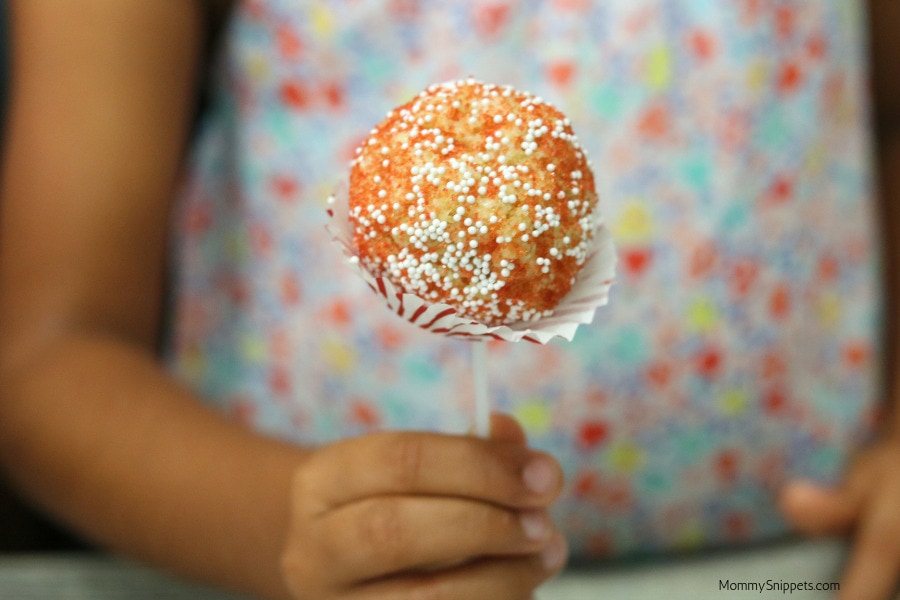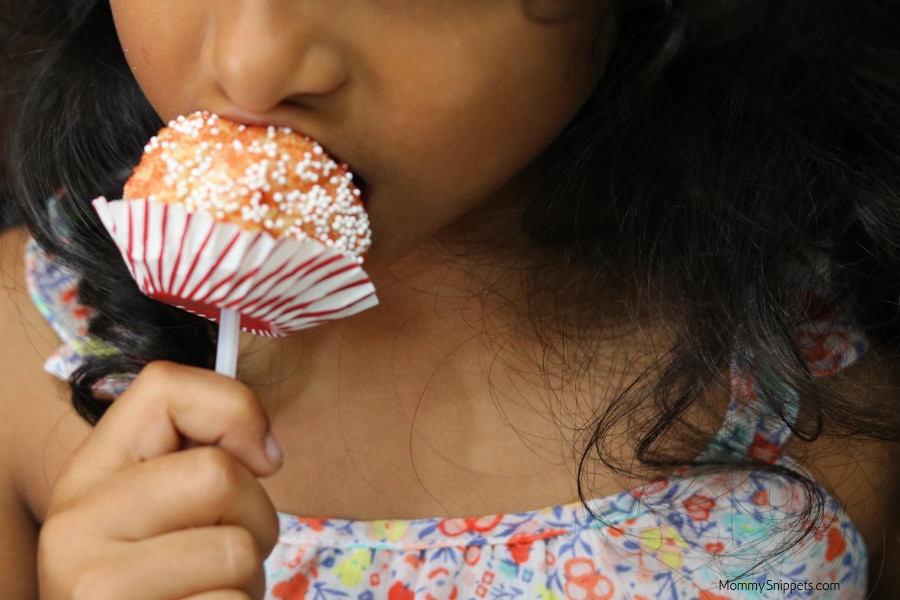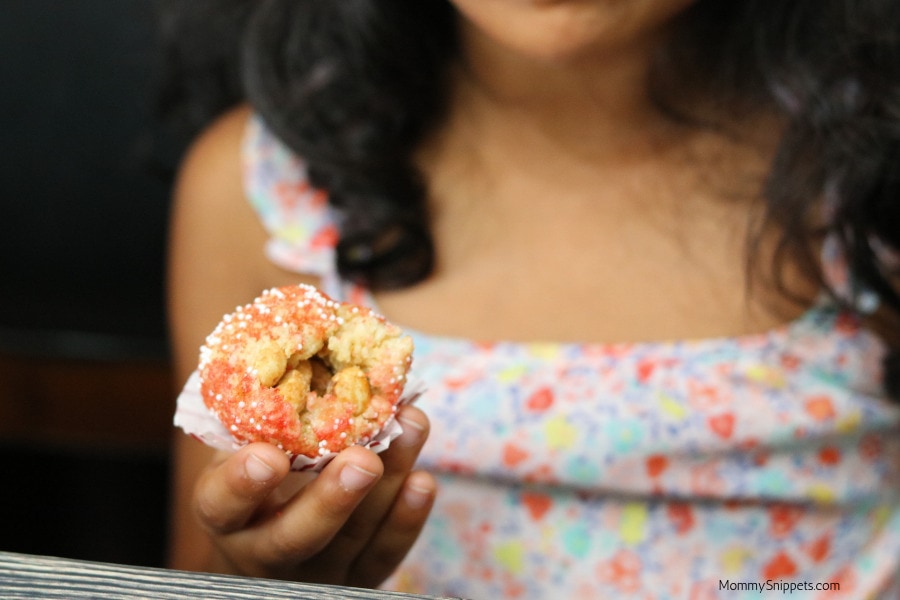 Now pass your finished pops around and watch everyone take a bite.
SURPRISE!!
I'm sure those honey roasted peanuts hidden inside weren't an expected find.
I promise, your family/friends won't stop with just that one pop!
This would definitely be Dumbo approved, peanuts and all!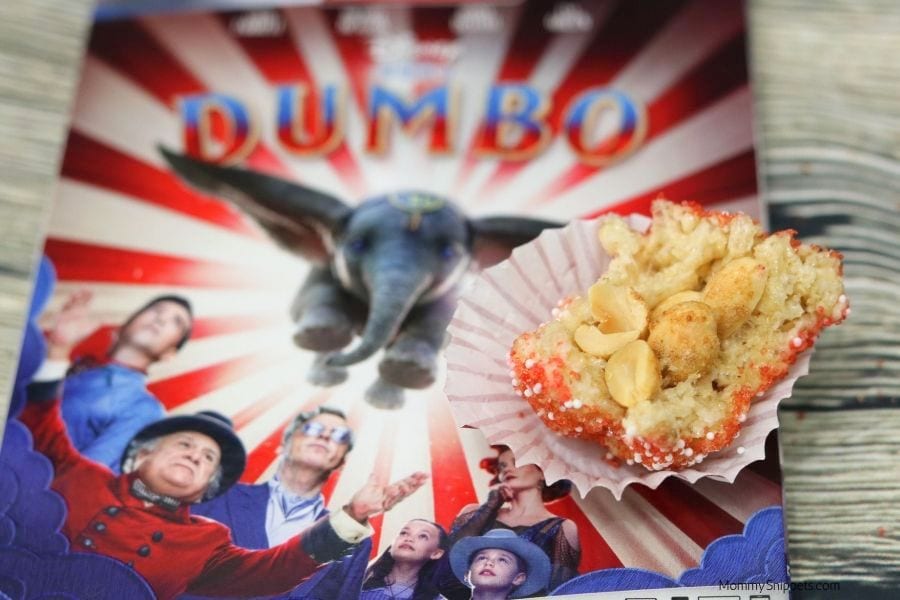 Now that you know how to make Dumbo Surprise Pops, make these Showstopping Sprinkled Animal Crackers by Geeks Who Eat.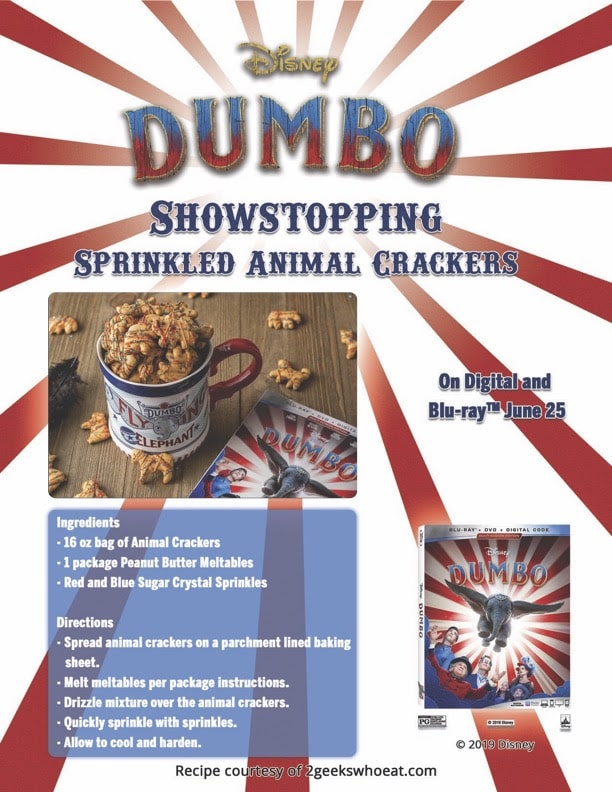 Armed with treats you're now all set for a little circus fun. After the movie, why don't you have the family try their hand at juggling?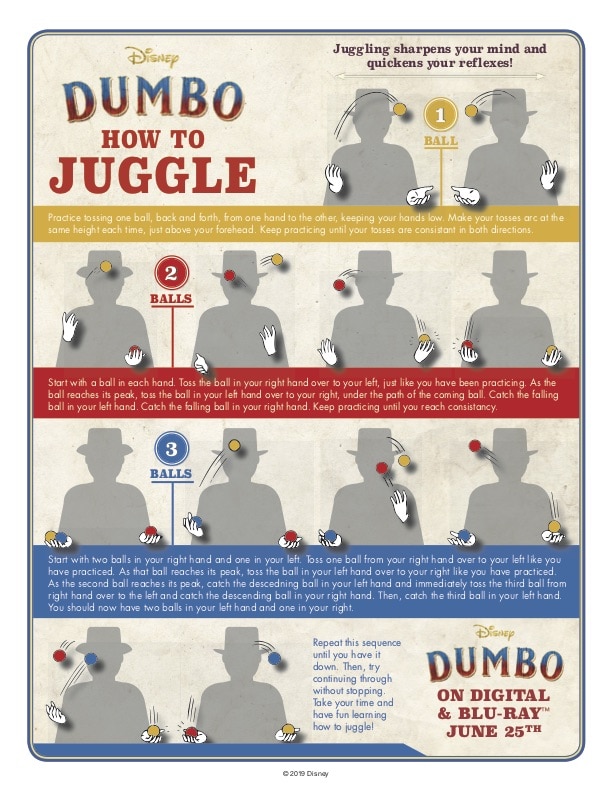 So much fun!
Don't forget to share these cute ideas with friends and family.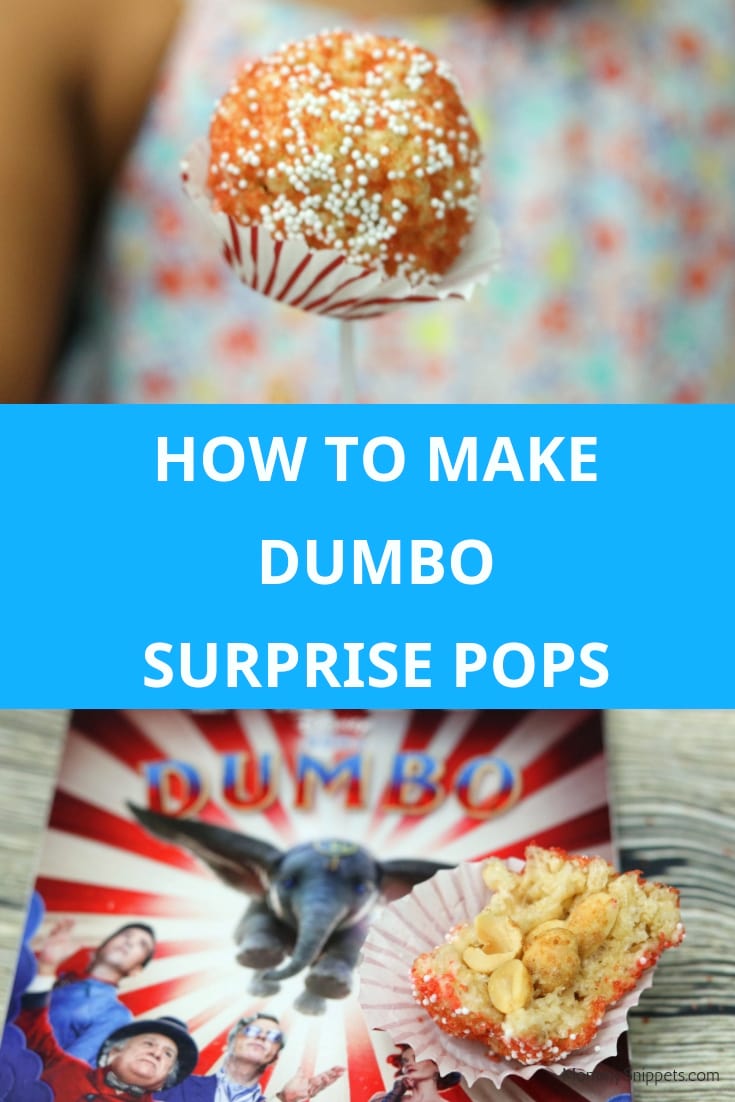 Enter for a chance to WIN a Dumbo Blu-Ray & DVD Combo Pack – 2 winners
To enter for a chance to win a Dumbo Blu-Ray & DVD combo pack,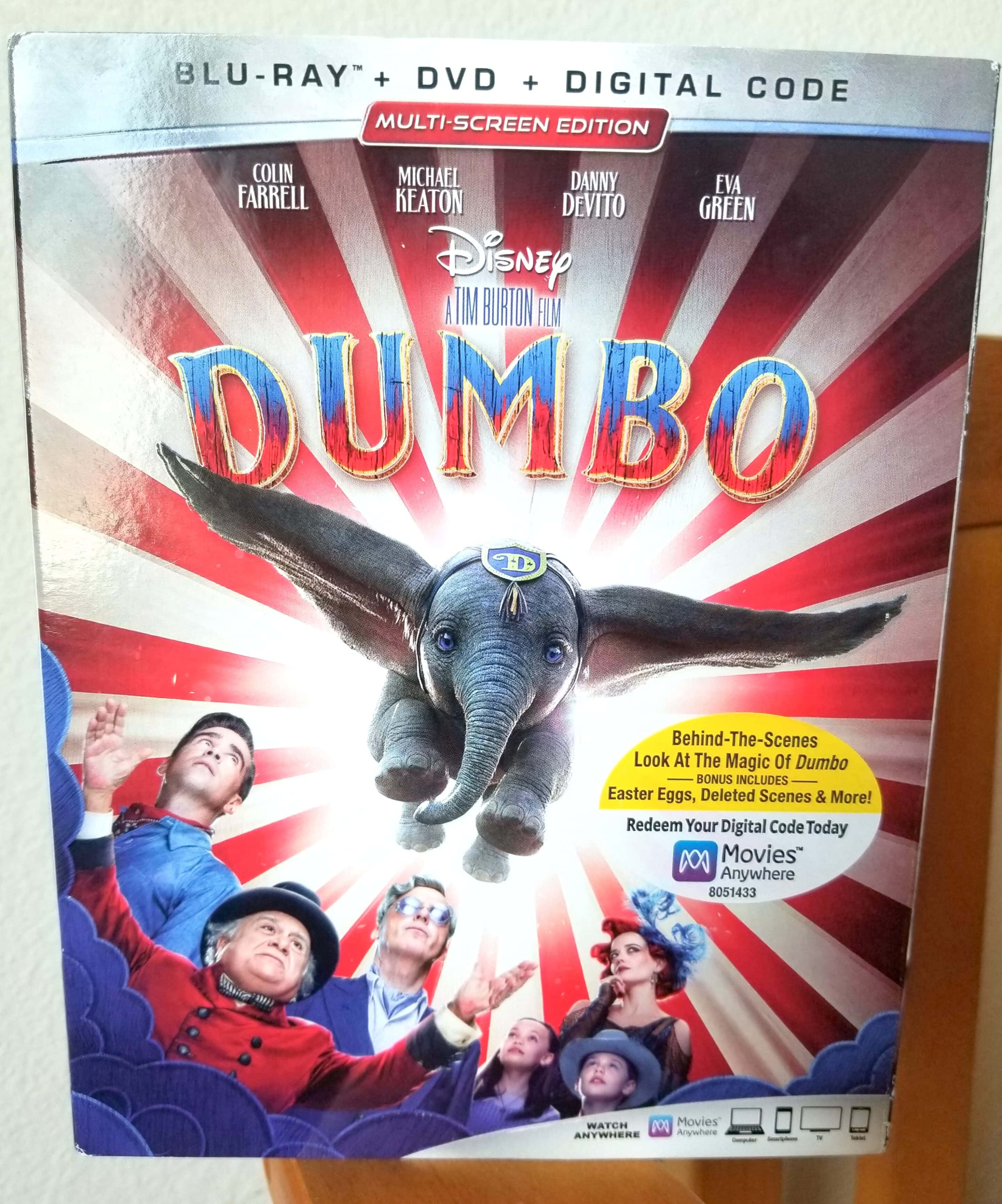 please use the Giveaway Tools form provided below to be eligible for this giveaway.