There was a time when anyone would mention Staples to me, the first things that I would think of would be 0ffice stationary, school supplies and tech equipment. But when I was invited to walk through the store and pick up materials to create a handmade gift/craft idea for the holidays, the offerings in each aisle opened my eyes to so much more.
There's actually a world of fun, crafting, handmade projects and possibilities one can dive in on!
Take for instance, cork tiles.
Most people look at them as dull, drab squares on which people stick stuff on.
But with a little design tape and twine or some ribbon, you can create…
A DIY Recipe Card Holder and a DIY Bow Holder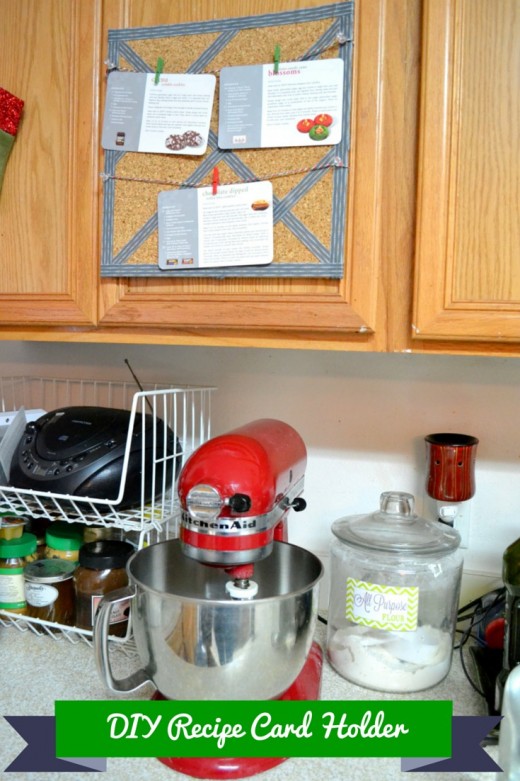 If my favorite recipes aren't in recipe books, they're on recipe cards. And honestly, it's such a pain to keep track of all my cards especially when I start the holiday baking/cooking in high gear. Being able to display them, for my reference, in the kitchen, aesthetically, definitely helps.
To make this DIY Recipe Card Holder you will need:
12 inch x 12 inch cork tiles
1 pack of Scotch fasteners
Scotch Expressions design tape/any washi tape
Clear push pins
Mini colored wood clothing pin clips
Baker twine
(You can pick up all the supplies at Staples either in store or online.)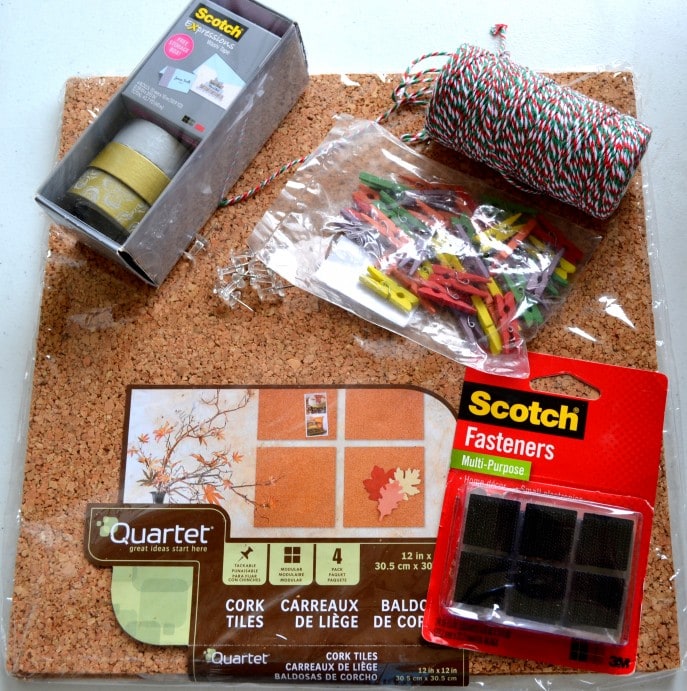 1. First border all four sides of your cork board with the design tape/washi tape of choice. Make sure you leave margin of extra tape on either side to fold over the same on the other end of the cork board.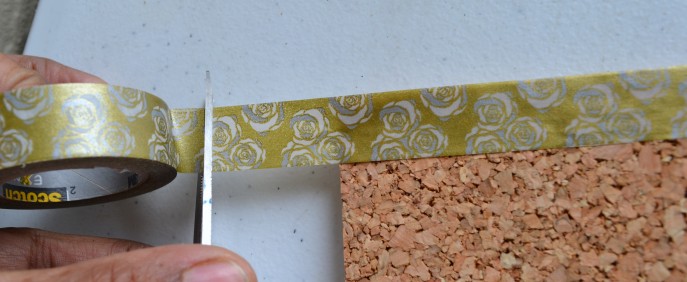 2. Measure two equal lengths of twine across the board, leaving extra twine on either end to fold over onto the other side.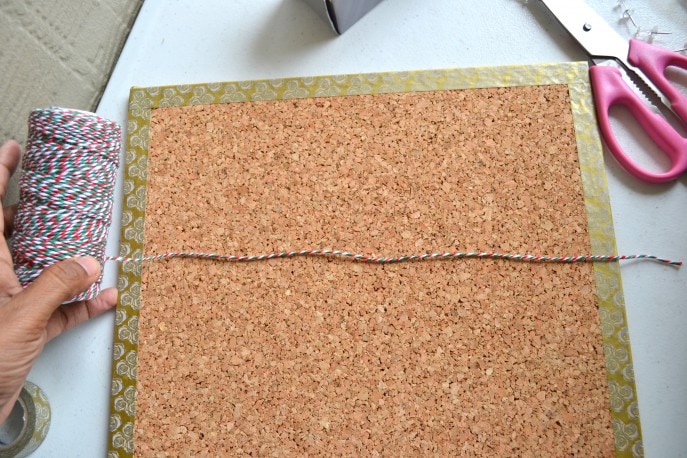 3. Fasten either end of the twine onto the board with a push pin, ensuring you hold the twine down in the middle with the pin to make sure it stays in one place.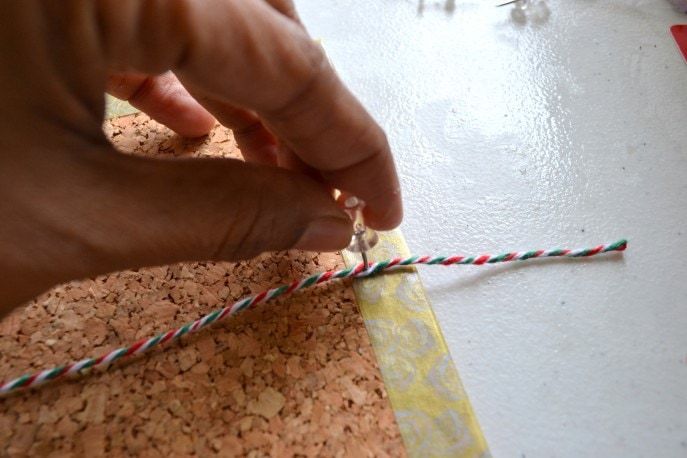 4. Turn the board over and stick the extra ends of the twine onto the cork board with the design/washi tape. (You can even use Duck Tape for a firmer adhesive solution)
5. Also attach the Scotch fasteners on four ends of the board, ensuring you stick these on the ends where you folded the extra design tape over. (This will provide an extra seal to the design tape folded over.)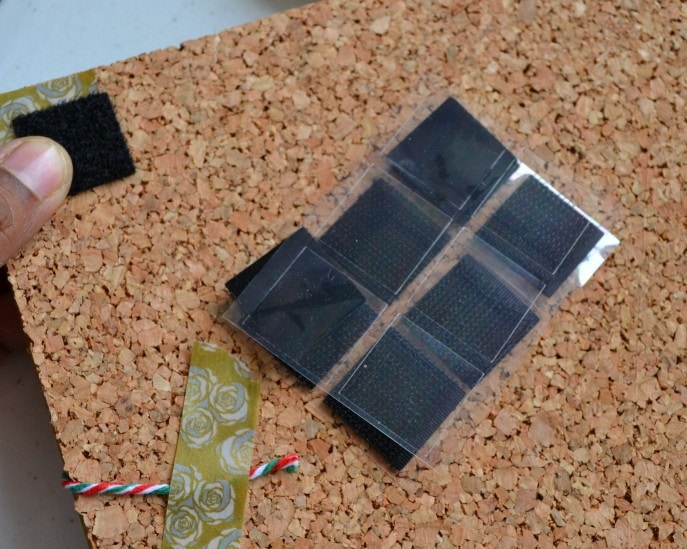 The neat thing about these fasteners is you can stick these on any surface, cabinet or wall.
So your recipe board can travel around your home based on where you stick up other fasteners. So it can be a Recipe Card Holder in one room, a Receipt Holder to hold bills to be paid in your office room or a Study Notes holder in your child's room.
6. Now turn your board over and hang up those recipe cards with your mini wood clothing pin clips.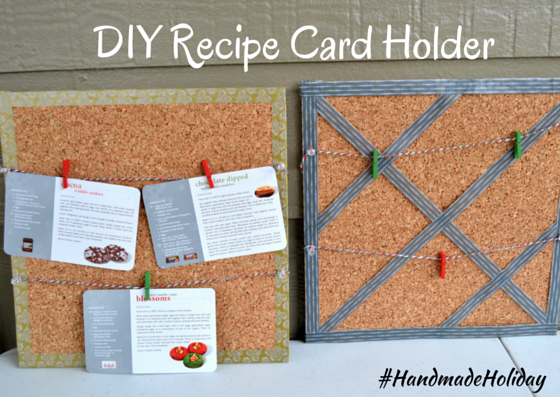 Since I had leftover cork boards, I decided to also make Baby Girl's bows and cloth hairbands a place to hang since they're mixed up with big sister's hair accessories.
This DIY Bow Holder follows all the steps as the Recipe Card Holder, except instead of using Baker Twine I used a purple ribbon I found lying around to fasten her little bows on.
I also used just one ribbon though you can use two or three, dependent on how many bows you need to hold up.
Instead of that second row of bows, I just stuck in four push pins to hold her cloth hairbands.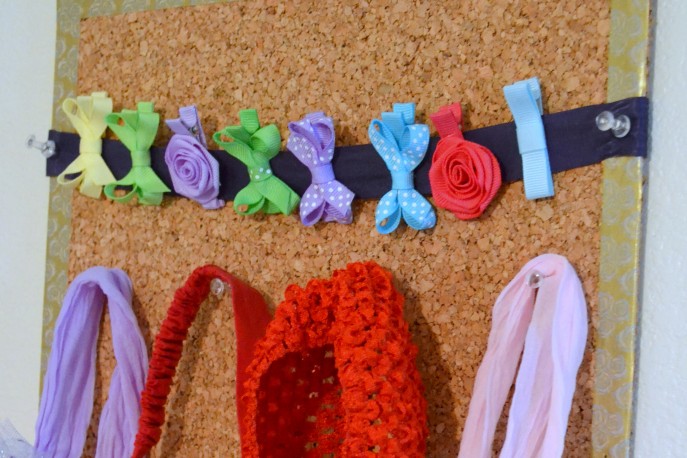 I really love the bow holder and now think I may make Little Man a tie holder with the last cork board I have!
* Check out the Staples Pinterest Board for some great last minute holiday ideas.