An affordable, non-candy, Christmas gift idea for kids at school.
This post contains editorial samples and/or affiliate links to products I recommend. While this adds no additional cost to you, I will earn a small commission on any sales made.
My daughter's school has a strict no candy gift policy. Which means no candy may be passed out at class parties, added to goodie bags or even brought to school.
They're also very picky about adding snacks in treat bags or passing them out especially if a classroom has even one child with a food allergy. So we've had to improvise each year with our take-home treat ideas.
Most often than not, we brainstorm while walking down Dollar Tree's aisles. Their offerings change each season, making our task so much easier.
Since my daughter's classmates are always stocking up on pencils for their assignments, this gift idea will be perfect!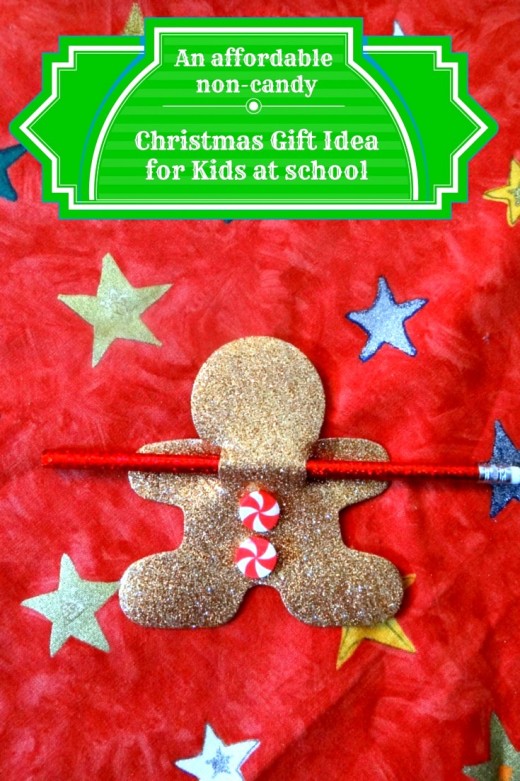 An affordable, non-candy, Christmas gift idea for kids at school.
I picked up 2 packs of Christmas pencils, 1 pack of glittered Gingerbread men foam based cutouts and 1 pack of Christmas erasers from the dollar store for a total out of pocket cost of less than $5! 
You will also need a pair of scissors and glue dots or a hot glue gun to stick on the erasers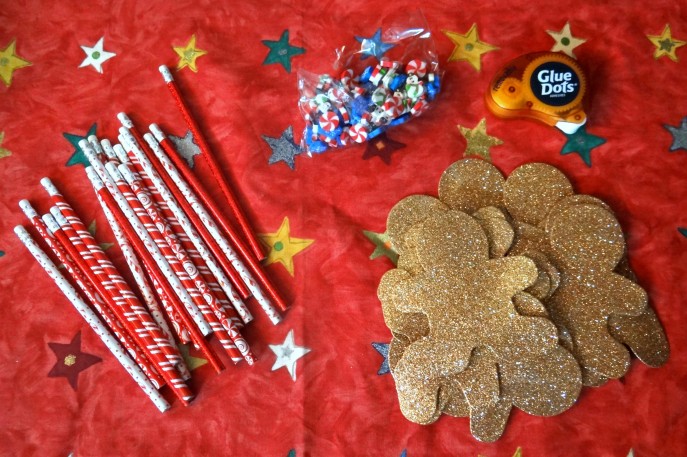 Not only is this easy for a tween to handle independently but it's also a practical take-home that looks adorable, festive and fun!
To make the Gingerbread Men pencil holders, you will first need to cut small slits close to the arms, ensuring the slits aren't cut too long. The easy way to do this is to lightly fold the Gingerbread Man in half and cut a 1/2 cm slit with your scissors.
You can make the slits wide apart or close together. Just make sure you leave space to stick the "buttons" on.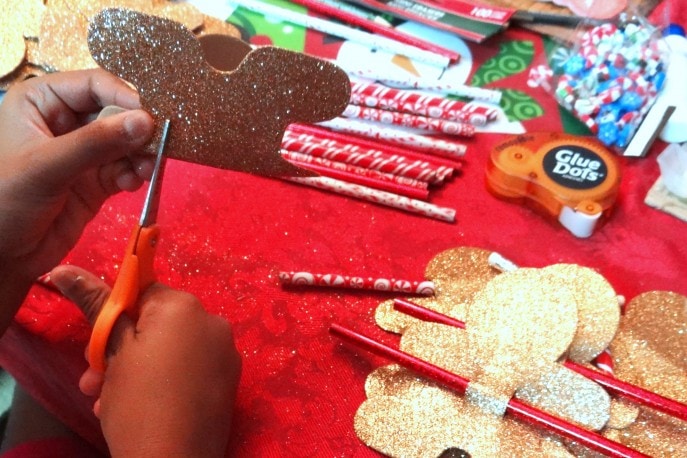 Now slide the pencil through the slit and turn your focus on those "buttons".
Take 2 similar designed erasers (We used blue snowflakes for the boys and candy cake ones for the girls) and stick them on with Glue Dots or a hot glue gun to ensure it sticks. (The glitter on the Gingerbread Men makes it a little hard to stick on. Hence the use of Glue Dots or a glue gun)
I love that I didn't need to help my 8 year old make her class gifts this year and that I didn't have to spend much to have her go to school with a cute Christmas goody for her buddies!
Do your kids give Christmas gifts to classmates? What do you like to give?