My son loves building things. Constructing something that looks and makes sense has always intrigued him even as a 2 year old. So when he opened out a box to find wooden planks and plastic connectors, he was thrilled. He emptied the contents out onto the carpet and got lost in a world of creative expression.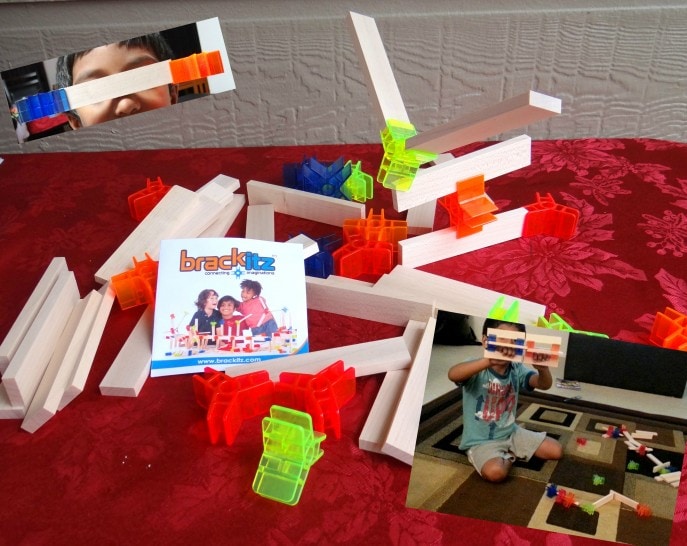 Engaging creative minds with Brackitz
Brackitz is an American, award winning toy system that helps lay the foundation for high-level cognitive thinking, reasoning and problem solving that kids will continue to benefit from long after childhood. Standard sets include interlocking 4-inch wooden planks, and 90° and 120° angle connectors, which can be pieced together to form a wide variety of models and architectural structures. 
I love that there's no right or wrong way to play with this and that my kids are encouraged to think of new ways to connect, construct, build and imagine.
In just the past few weeks we've seen airplanes, dumbbells, spy glasses, cars, rocket launchers, fire towers and even dinosaurs come to life on my living room floor with just a bunch of ordinary wooden planks and plastic connectors.
And with my 9 month old always around her older siblings, I feel at ease knowing none of the pieces are too small for her to swallow. (Thank You Brackitz for thinking of me!)
Honestly, why wouldn't you want to consider a simple toy like this that doesn't cost a whole lot yet is a fantastic investment to plant those STEM (science, technology, engineering and math) seeds of love?
Win a 50 piece Brackitz set right here!
Just leave a comment telling me what you would build/construct with a box of Brackitz in front of you. (Yes, Brackitz has a suggested appropriate age range of 3 years – 103 years!)
Please use the Giveaway Tools form provided below to be eligible for this Mommy Snippets giveaway. 
** If you face any problems while entering this giveaway, please get in touch with me ASAP! ** .