How to make Blueberry Oat Crumb Bread
This post contains editorial samples and/or affiliate links to products I recommend. While this adds no additional cost to you, I will earn a small commission on any sales made.
It's funny how when you have kids you try to plan ahead of yourself at times.
When Baby Girl began her journey with solid foods I thought I would be frugal and buy baby cereal in bulk when on sale. The plan backfired when I realized I was left with one too many single-grain and multi-grain cereal packs and had to eventually give them away to another mom with a little one younger than her.
I wish I realized I could do more with the cereal than just give it to her as her transitional solid food.
Say what, now?
Yep, I just used Nestle Gerber's iron-fortified Oatmeal & Banana Cereal in a bread recipe.
And guess what?
It was so good!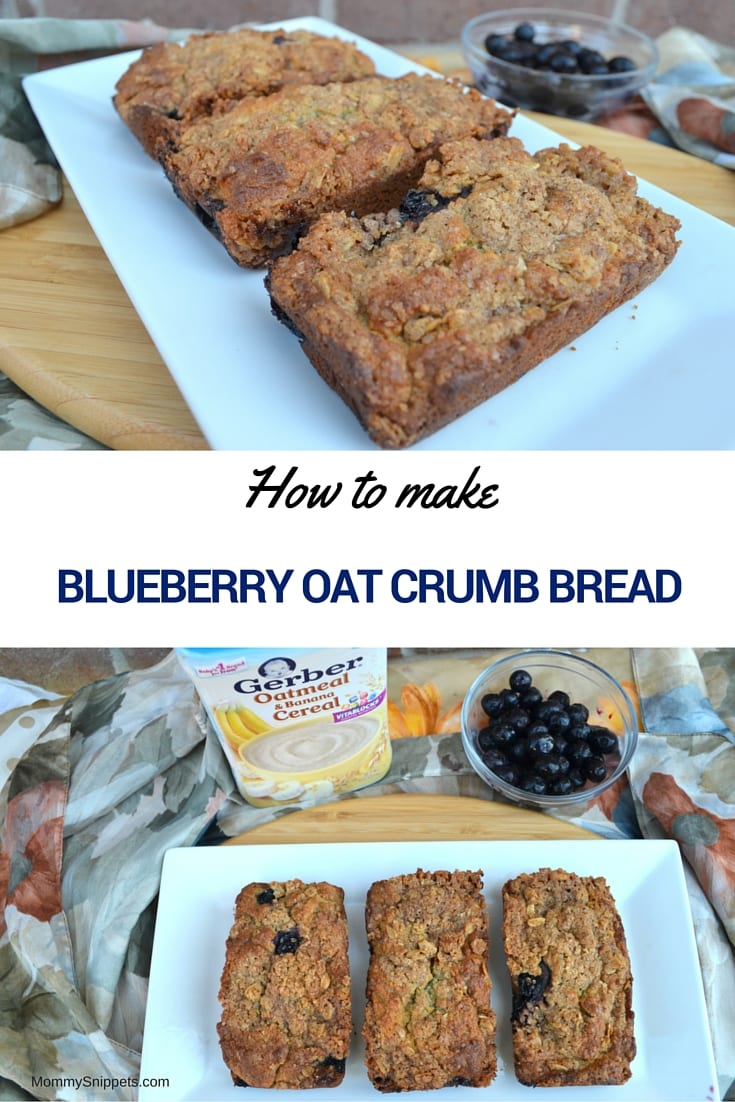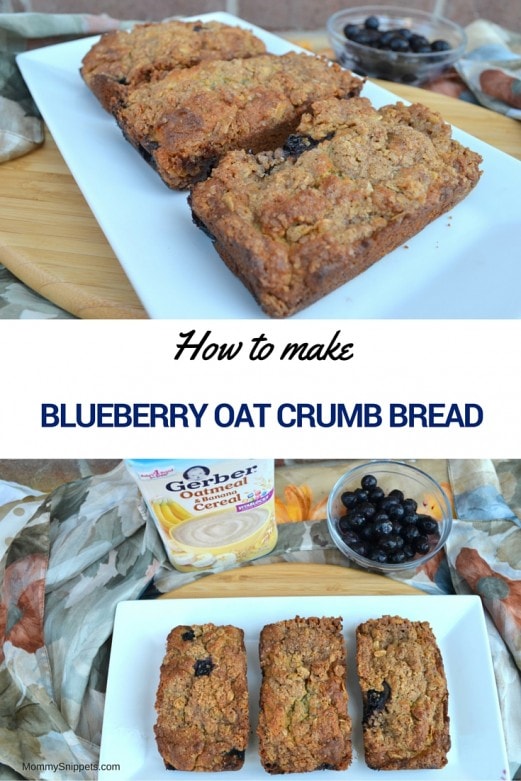 How to make Blueberry Oat Crumb Bread
I'm sure you're thinking this couldn't possibly work because baby food is well…
baby food.
But au contraire my friend, it's eye-opening how something as simple as baby cereal can be used in a recipe, taste good and be good for you! (Think Vitablocks- a blend of six B vitamins, vitamin E, C, iron, zinc and calcium-in each serving of cereal)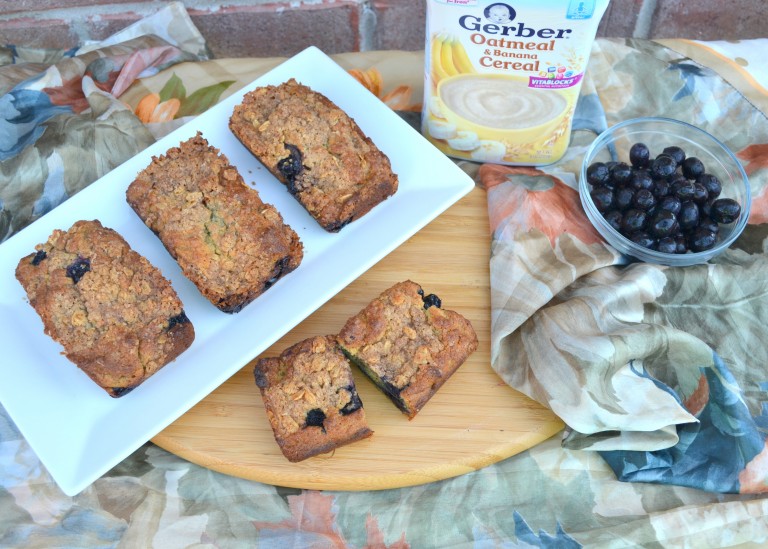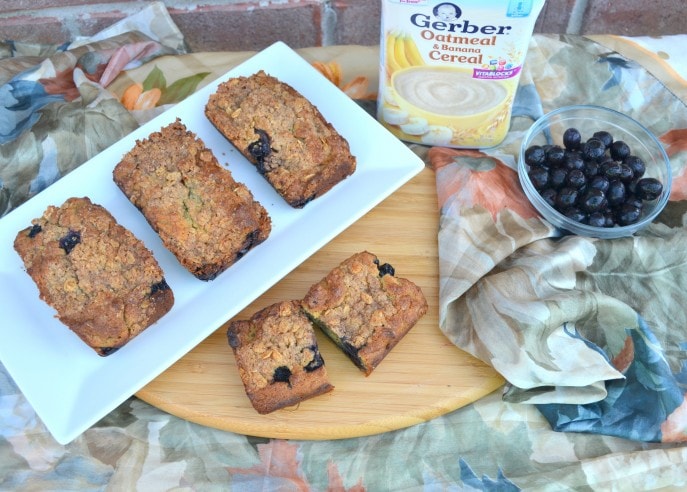 The addition of juicy blueberries and granola add an extra punch to this recipe.
I urge you to give this a try and see if you won't go out and buy some baby cereal (even if you don't have a baby) to use in your baked treats here on out!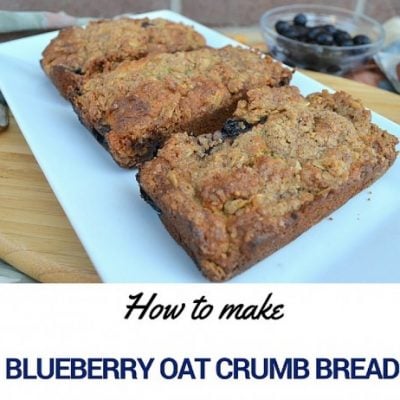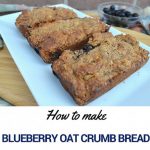 How to make Blueberry Oat Crumb Bread
Ingredients
2

eggs

1

cup

sugar

1/2

cup

butter

room temperature

1/2

tsp

vanilla essence

1 1/4

cup

flour

1

cup

Nestle Gerber Oatmeal & Banana Cereal

You can use any flavors or just a plain Oatmeal too

1/2

tsp

salt

1/2

tsp

baking soda

1

cup

greek yogurt

or if you would prefer the not-as-healthy alternative, sour cream

1

cup

fresh or frozen blueberries.

Make sure you thaw out the frozen blueberries prior to use

2

tbsp

flour

1

cup

granola of choice

I used a Vanilla and Almond granola and crumbled it further with my mini pestle

2

tsp

brown sugar

1/4

cinnamon powder

2

tsp

cold butter
Instructions
Preheat the oven to 375 degrees Fahrenheit.

Grease your bread pan or a mini loaves tray

In your mixing bowl/stand mixer, add the eggs, sugar and mix together for about 30 seconds.

Add to this mixture the butter, vanilla essence and mix for an additional minute.

In a separate bowl, mix the dry ingredients together. (Flour, salt and baking soda)

Now gradually add the dry ingredients, alternating this with the yogurt/sour cream.

Once all the ingredients are blended well, gently fold in the blueberries ensuring they hold shape.

Pour the batter into the bread pan or the mini loaves pan 3/4ths of the way and prepare the crumble to top the same.

For the crumble, mix the butter, 2 tbsp flour, granola, brown sugar and cinnamon powder together. Sprinkle this mixture over the batter.

Pop the pan/tray into the middle rack in the oven and bake for 20 minutes (for the mini loaves) or 45 minutes for the single bread loaf, or till a toothpick when inserted comes out dry.
I always say the proof of the cake is in the eating.  So when you find a loaf missing because Hubs said he couldn't resist a midnight snack or when your two year old insists on smelling each bite before stuffing large bites in, you know this is a recipe that will be pulled out again.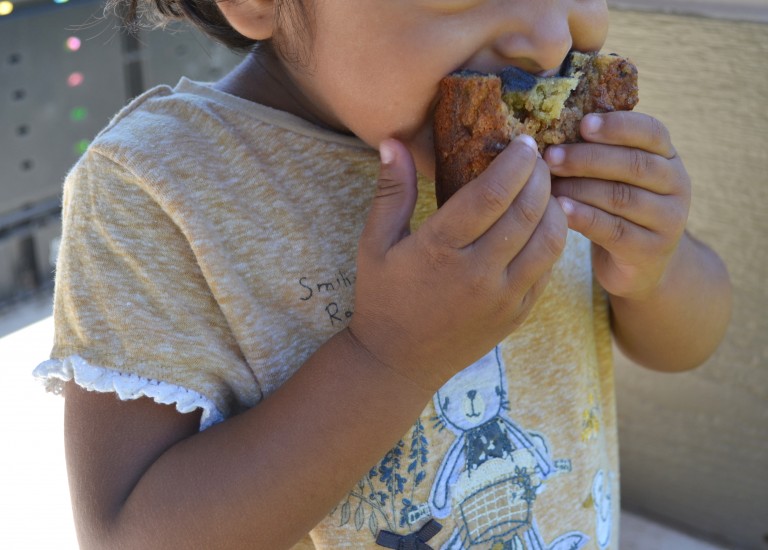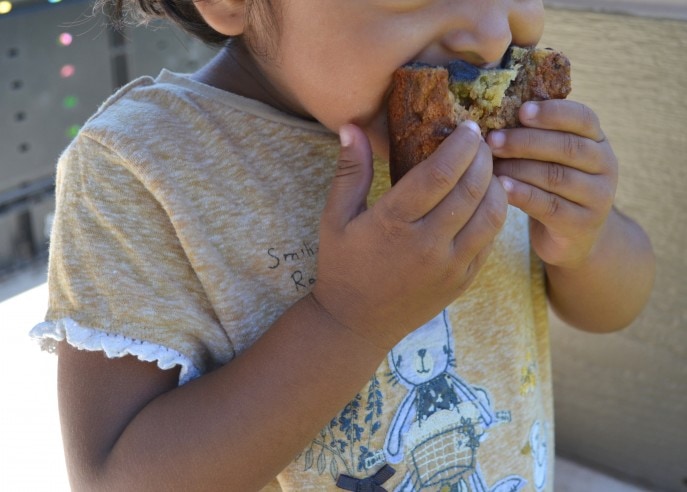 I took a few slices over to the Bible Study at our neighbor's home last week and everyone raved about how good the Blueberry Oat Crumb Bread was. When I said I made it using a secret ingredient, following that up with baby cereal, the look on faces around the room was priceless.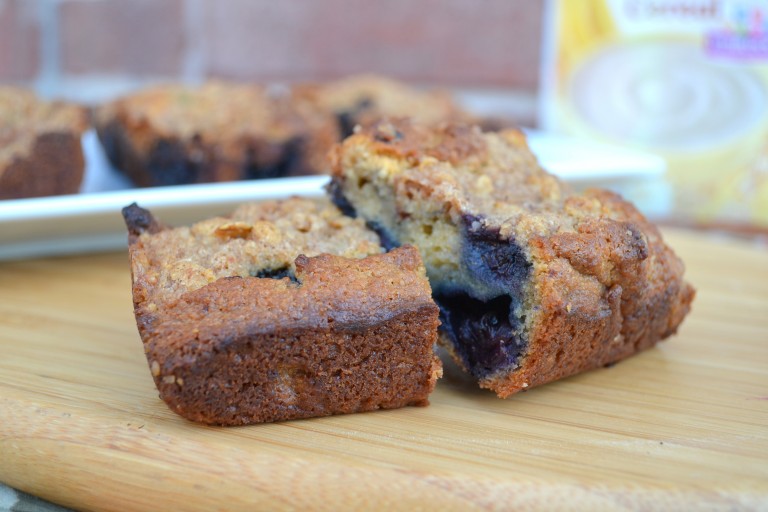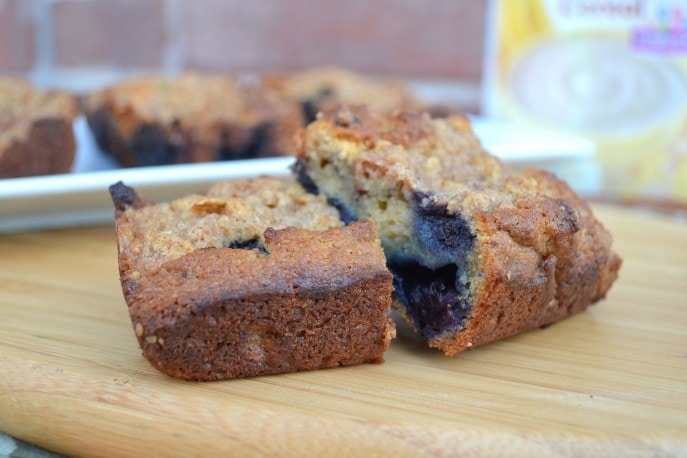 Baby cereal in your favorite baked treat really does work.
Try it out for yourself. Here are a few recipes for inspiration.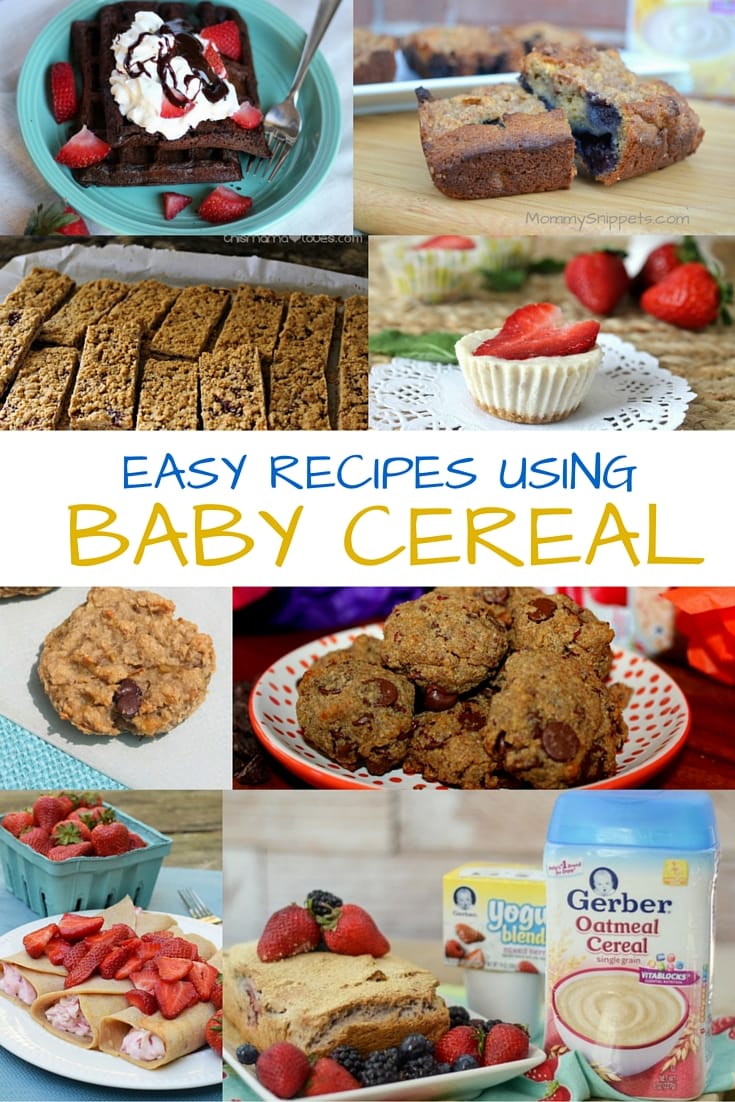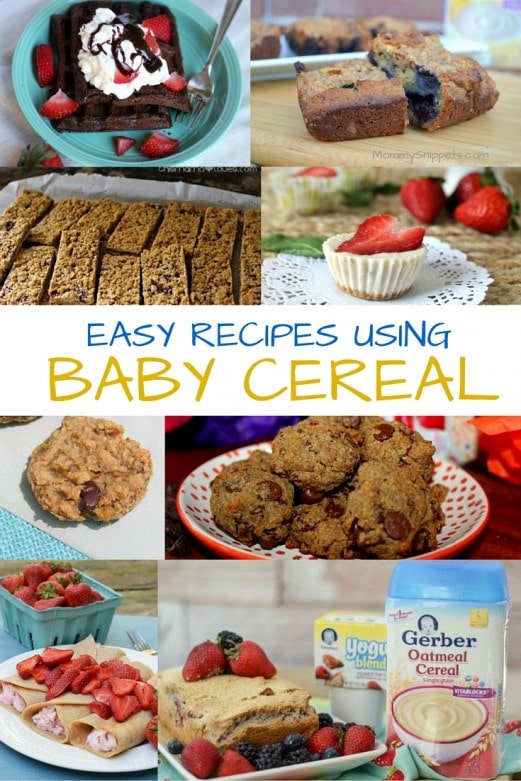 You could make Mini Chocolate Banana Strawberry Oatmeal Cookies or these Mini Strawberry Cheesecake Bites when you're craving a sweet treat. If you're a chocolate lover, you will enjoy these Oatmeal Brownies.
If you're stumped for breakfast ideas, try these Sweet and Savory Strawberries and Cream Oatmeal Crepes or these Chocolate Oatmeal Waffles. For dinner? Here's a meatloaf recipe.
Oh and with summer road trips being planned, I know my Blueberry Oat Crumb mini loaves, these Baby Cereal Bars with Fruit , snack pouches filled with Banana Oatmeal Bites and slices of Berry Oatmeal Bread would make great travel snacks.
And yes, all these recipes use baby cereal!
Experiment using the other flavors available at Walmart.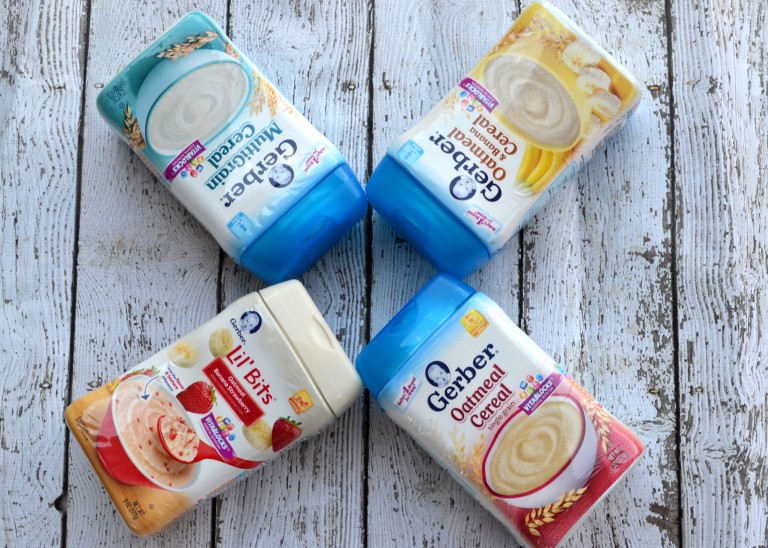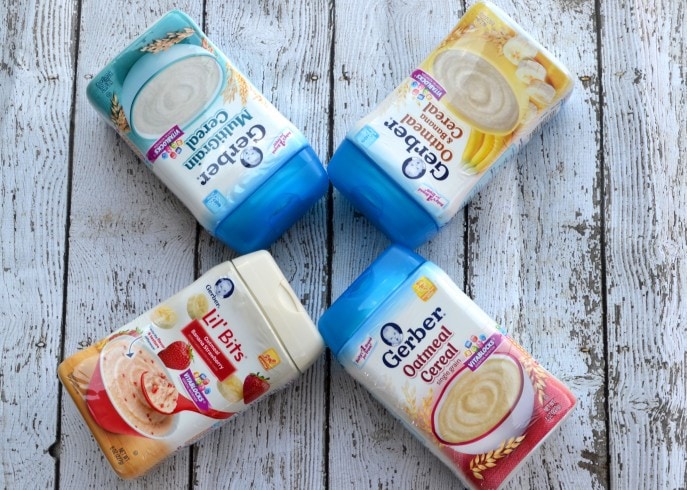 And I challenge you to serve it up to friends and family.
Don't tell them what's in it till after they tell you how much they love your dessert or baked treat recipe.
After my success with baby cereal, my next project is fruit ice pops using…
wait for it…
Nestle Gerber 1st Food Fruit.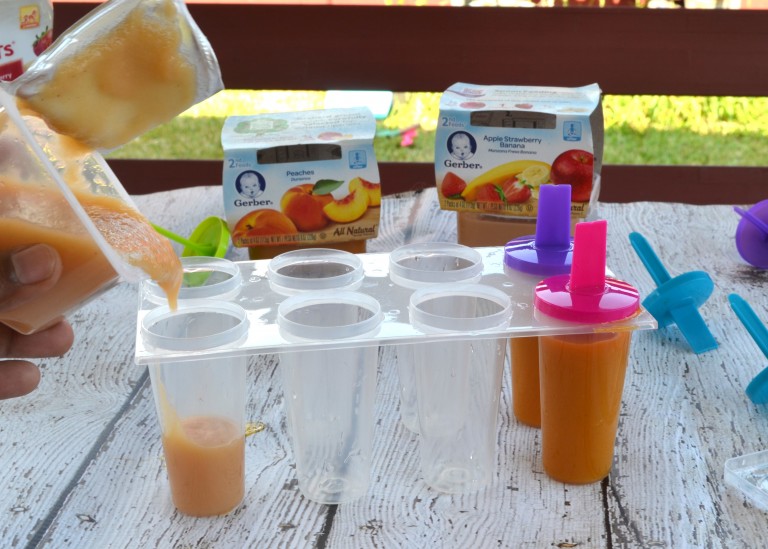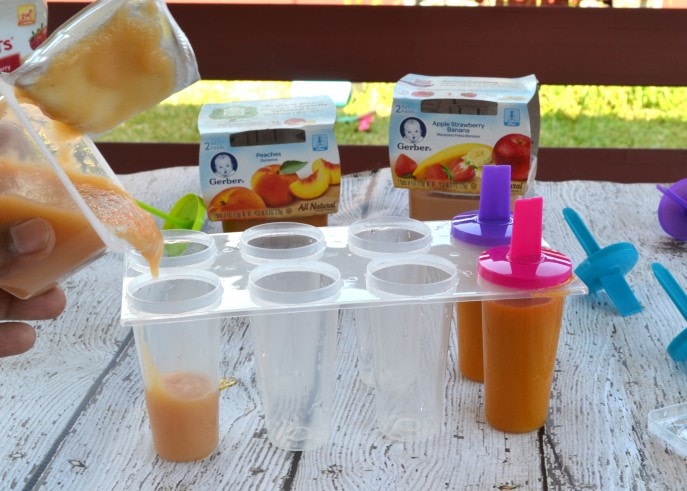 How would you like to win a $50 Prepaid Gift Card
You could use your winnings to buy some baby cereal and ingredients to make your own Blueberry Oat Crumb Bread and the other recipes featured.
Leave a comment sharing something you think you can make or have made using Nestle Gerber baby cereal
Don't forget to plug in your entry, in the Giveaway Tools form below and mark off those additional chances to win. 
* If you face any problems while entering this giveaway, please get in touch with me ASAP! 
I'd love to hear from you. Hop over to chat with me on Facebook and/or Twitter