Back to school books your kids will love
This post contains editorial samples and/or affiliate links to products I recommend. While this adds no additional cost to you, I will earn a small commission on any sales made.
When Dottie started school we began a tradition that we've carried on with Little Man and will do so for Baby Girl when it's her turn to go to school.
The night before their first day of school, we give them a book(s) to kickstart the new year and soothe any back to school jitters there may be.
HarperCollins has several books that are perfect for your little one's new school year. For ease, I've linked each title ready to click, drop in your Amazon shopping cart and ship, in time for the first day of school.
Back to school books your kids will love
Otter goes to school- Sam Garton
When Otter learns that Otter Keeper is good at so many things because he goes to school, she decides to start a school of her own, for her friends. All goes well till Teddy says he's sad because he feels he isn't good at anything. The book is such a sweet reminder for kids that every child has a different gift/talent and each is good at something.
Lola knows a lot- Jenna McCarthy
Lola knows a lot. She knows how to hula hoop, how to count to 10 in Spanish and how to drive her sister crazy. For a while she thinks she knows everything till her big sister corrects her. Lola encourages young readers to get excited to learn so much more when school starts.
Winnie and Waldorf: Mini disobedience school- Kati Hites
Waldorf hasn't been on his best behavior and Winnie decides it's time he needs to go to school. Waldorf follows the lessons taught and then he's faced with quite the situation…can he save the day?
Little Wing learns to fly – Calista Brill
Little Wing struggles to fly but never gives up. The day does come when he finally succeeds but with the excitement of the accomplishment
he forgets to stick to Mama's rules. The outcome of a sad result of the same is a happy one and kids will learn how important it is to never give up and to yes, always listen to what Mom and Dad say.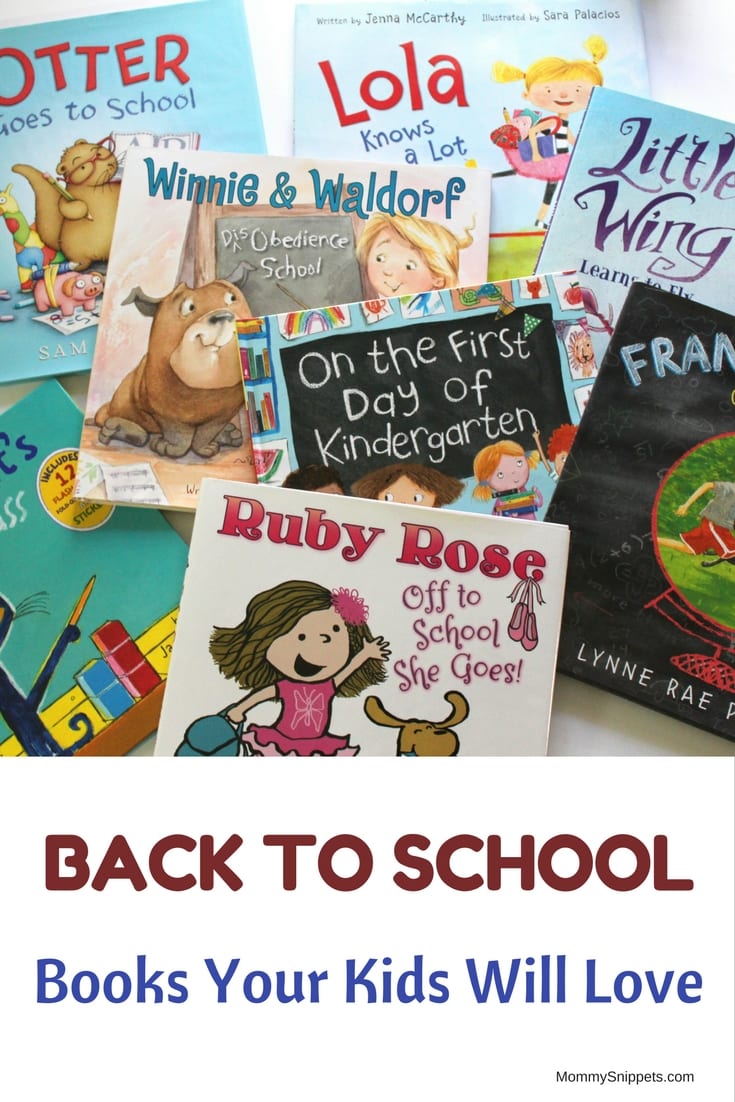 On the first day of kindergarten -Tish Raben
The perfect book for a new kindergartener, this book follows a little girl through her first 12 days of school. 12 exciting things to look forward to.
Pete the Cat's got class – James Dean
Pete fans will love this new book with 12 flash cards, a fold out poster and a sheet of stickers. In this book Pete teaches his friend Tom who is struggling with math how math can actually be fun. With a little help from their race cars, Tom learns to love the subject and shows young readers how any subject can be fun if you just find a fun way to learn it.
Ruby Rose: Off to school she goes- Rob Sanders
Little Ruby Rose loves to dance. She dances in the lunch room, at gym and even in class but learns that there is no dancing in school. With a funny twist of events she comes home excitedly to confirm that her teacher really is a great dancer. How? Your little one will need to read the book to find out.
Frank and Lucky get schooled – Lynne Rae Perkins
Frank and Lucky are inseparable as most boys and their dogs. Besides being great friends the two learn a lot about the world as they spend time with each other at home, and as they go out and explore. Kids will be introduced to different subjects like map reading in geography, fractions in math, science and even art, through this book.
Rappy goes to school – Dan Gutman
Rappy the rapping raptor goes to school and on his first day wonders if he would make friends and do ok. Over the course of the day he encounters a classmate being bullied, what would he do? This book could serve as a discussion opener to talk to kids about bullying and what to do if they see a child being bullied or are being bullied themselves.
I'd love to hear from you. Hop over to chat with me on Facebook and/or Twitter