An unforgettable Women In Surf experience at Schlitterbahn
This post contains editorial samples and/or affiliate links to products I recommend. While this adds no additional cost to you, I will earn a small commission on any sales made.
Life gets busy when you're juggling kids' schedules and sometimes you just forget to cross things off your bucket list.
It's something I didn't think I would do any time soon, so when the invitation to join Schlitterbahn's annual Women In Surf event came via email, even typing the letters, "Y-E-S", required a whole deal of courage.
Not being the sporty, active parent didn't make things any easier but I'm glad I bit the bullet.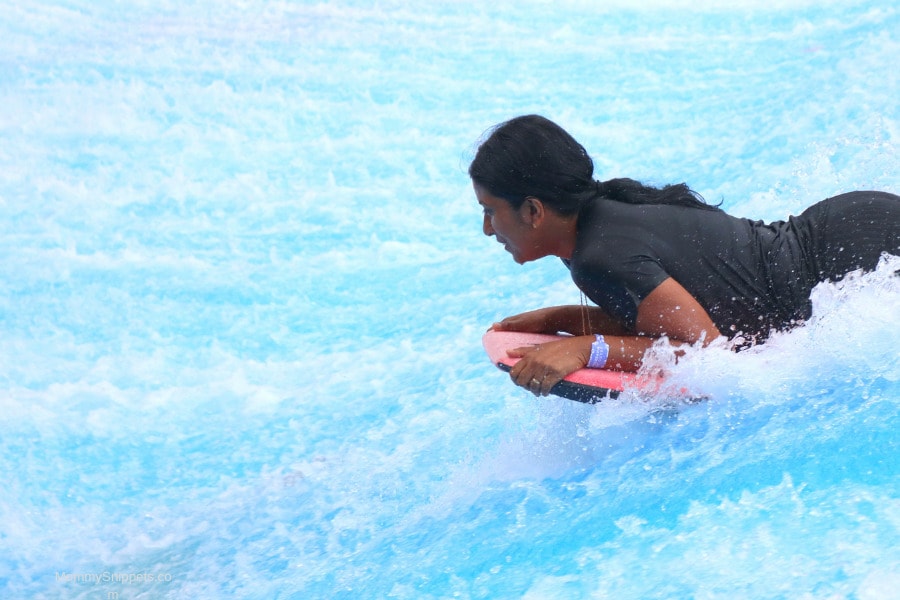 My family was invited to Stay and Play at Schlitterbahn South Padre Island as part of a partnership with Schlitterbahn and Texas Travel Talk. The partnership included lodging, food & beverage, and compensation for the trip. The opinions reflected are honest and based upon my own experience.  
An unforgettable Women In Surf experience at Schlitterbahn
I pulled this one thing off my bucket list to prove to myself that I didn't need to believe a lie that I couldn't do it.
I also did it to show my kids that there is a big pay-off when you step out of your comfort zone and face your fears.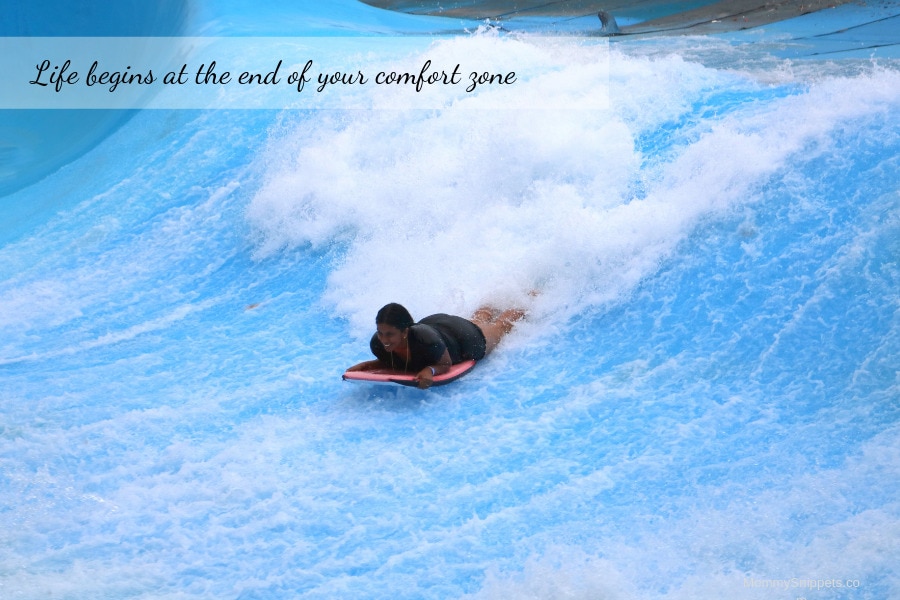 The Women In Surf event is more than just that one day in the year when women are encouraged to come out to their local Schlitterbahn parks and give surfing at the Boogie Bahn a go. It's a celebration of girls and women stepping out to try surfing especially as most surfing lessons, at the park, are taken by boys/men.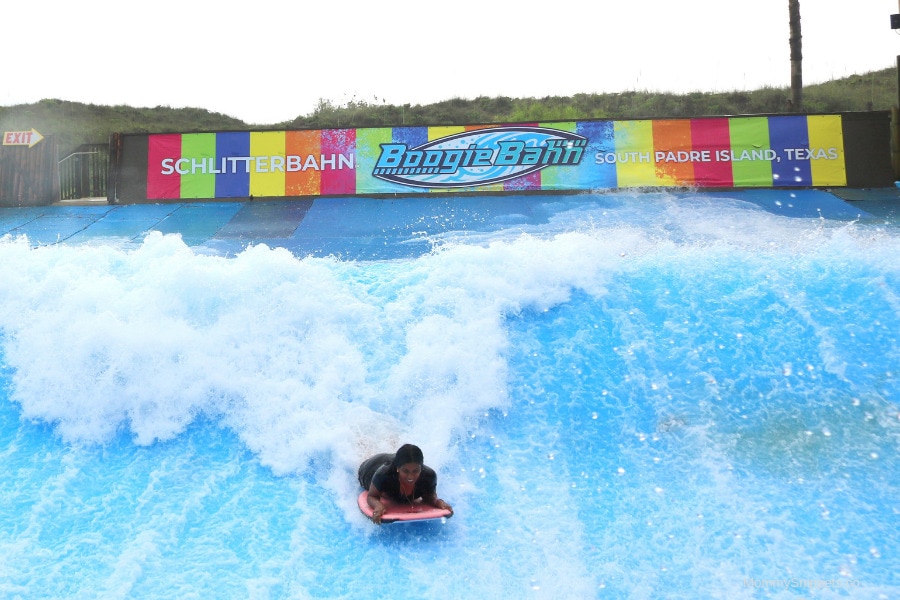 Women like the Women In Surf instructors, Bodyboard Champions, the mother-daughter duo, Cathy and Morgan Seabert have even proven that it's not hard to leave a strong impact on what was ordinarily a male-dominant sport.
Honest opinion?
Schlitterbahn couldn't have picked any better when they chose Cathy and Morgan to lead this event!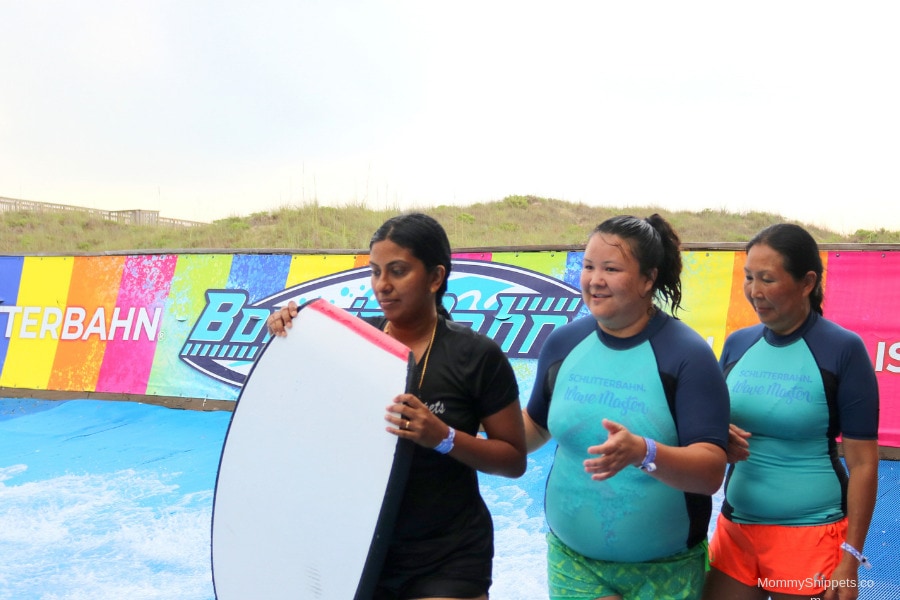 Besides being the best cheerleaders and incredibly patient, both carefully studied each slide onto the Boogie Bahn and had the perfect tips, during our one-on-one instruction sessions, on how to improve surfing posture, stance, and skill.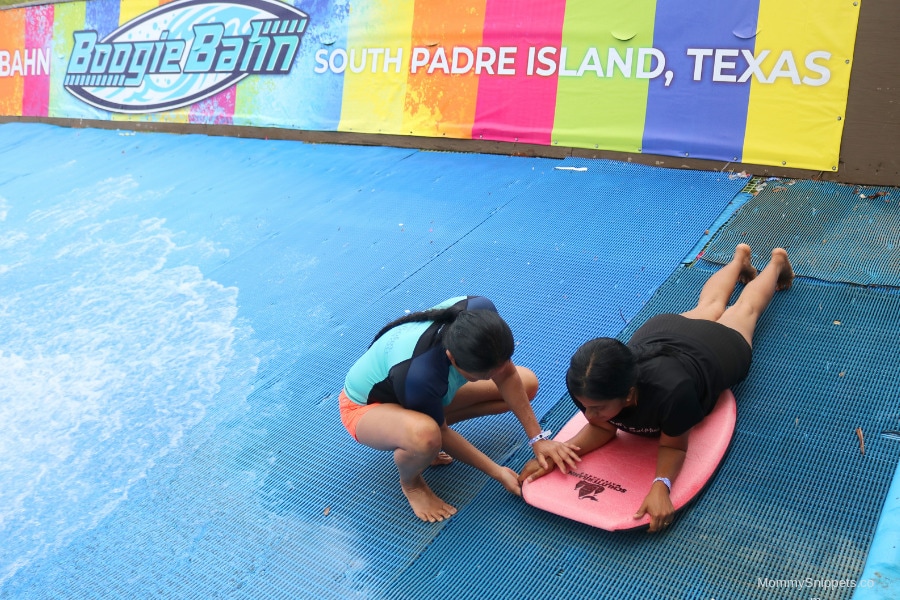 By the end of the hour spent, I was able to comfortably glide waves from one end to the other, while on my board, without getting wiped out.
View this post on Instagram

What made this all the more special was getting to take the lessons with Dottie, something both of us will never forget.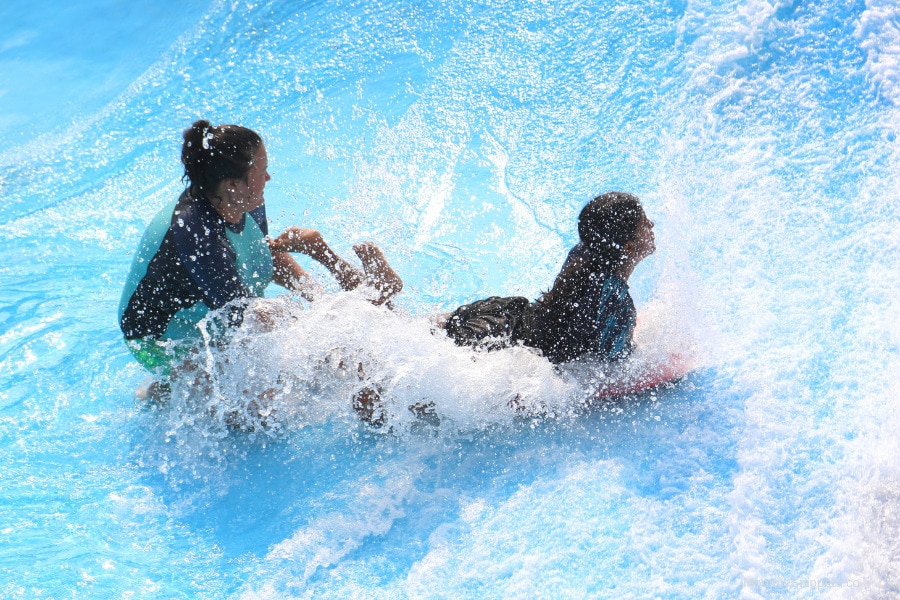 She surprised me with how quickly she absorbed all the tips and if we'd been there an extra hour she would have been off her belly and on her knees, while gracefully gliding the waves, on her board.
This definitely means we will be going back to Schlitterbahn South Padre to hit the Boogie Bahn again.
No fear here!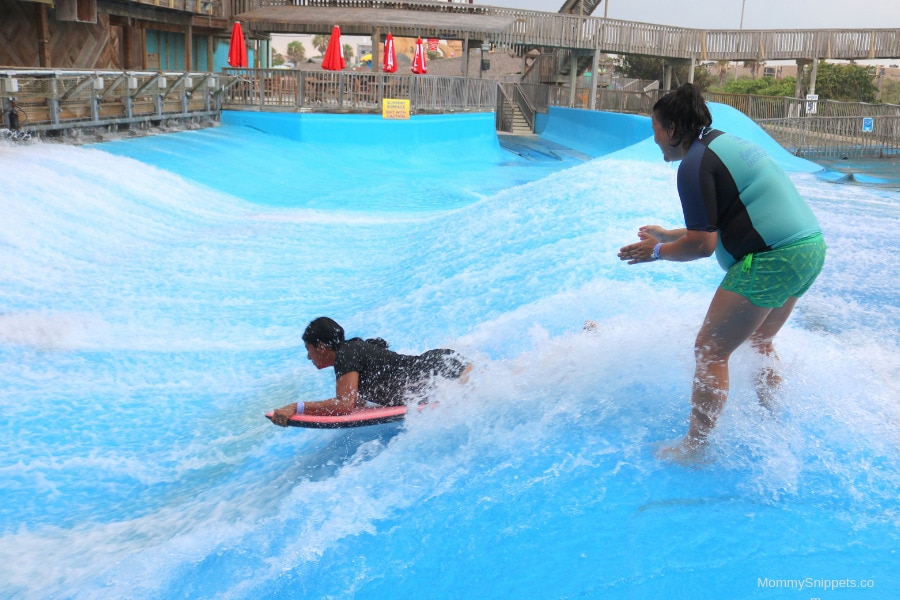 Tips for a first-time surfer at Schlitterbahn's Boogie Bahn
Here are a few tips to make your first time surfing the Bahn a successful one. (If I could do it, you can too!):
Always wear a one-piece bathing suit, with a rashguard, preferably. Your itsy-bitsy, teeny-weeny, two-piece can be saved for after you ride the waves.
Hit the water park when it just opens and head straight to the Boogie Bahn as it gets pretty packed through the day. Lighter crowds mean shorter lines and a higher frequency of times you can hit the Bahn waves.
Don't shy away from asking the lifeguards on duty for tips especially if it's your first time on the Bahn.
If you do want to take lessons, check with one of the park personnel on how you can sign up for one-on-one, affordable, surf instructionals.  You do not have to be a pro surfer. Novices can pick up quite a bit in just an hour, and enjoy belly surfing just as much. (I'm proof!)
Ready to give this a try?