20 of the best stocking stuffers for adults
This post contains editorial samples and/or affiliate links to products I recommend. While this adds no additional cost to you, I will earn a small commission on any sales made.

Now that we have the baby and kids covered, it is time to find stocking stuffers for adults. I think this is probably the trickiest of the bunch, but that won't stop me from finding a few creative and fun items to fill those stockings.
Stocking Stuffers for Adults
Take a look at these stocking stuffers for adults.
A Hotels.com gift card: I can't think of anyone who would groan if this was in their stocking! Gift cards don't expire and this would come in handy especially if the recipient travels quite a bit or if they're parents who would welcome a weekend off with a fun staycation.) As a plus, Hotels.com currently has a promotion where the purchase of a $50 Hotels.com will come along with an additional $10 Hotels.com gift card. (Visit the website to check if there are any restrictions to this offer.)
Subscription to the Dove Channel: Ordinarily priced at $4.99 a month, you can grab a subscription for $19.99 plus tax on Cyber Monday, 1/28/2016 only. Hurry! Use the promo code DOVEDEAL to avail of the same. This channel subscription makes a great stocking stuffer for people who enjoy wholesome, inspirational family entertainment.
Decorative Lip Balm Collection: New chapstick is a great stocking stuffer. Men would most likely prefer this Lip Balm. If you would like a gag gift, this Bacon Lip Balm is the perfect option.
Reusable Toastabags: Make a grilled cheese in the toaster. Fantastic idea for a teenager as well.
Smash-It Egg Yolk Stress Relief Ball: This stress ball looks like a raw egg. Smash the yolk and it goes back together again.
I Love You Because Pocket Stones: A little reminder to the love of your life.
Mystic Glacier Putty: I found the adult version of silly putty. Just be careful because the kids might snag this one.
Chocolate Mexicano Disc Sampler: Gourmet chocolate in a variety of flavors including salted, coffee, and chipotle chili.

Chicken Foot Professional Double 9 Domino Game: Challenge your spouse to a game of dominoes, where the game takes the shape of a chicken foot.
Vacuum-Insulated Stainless Steel Travel Mug: What a sleek looking mug.
Mini Portable Speaker: Take this speaker anywhere you go. It easily fits in your pocket.
Mini Desktop Vacuum Cleaner: Keep your workspace clean and tidy with a mini vacuum that is in the shape of a ladybug.
In-Ear Earbud Headphones: These things are always breaking. In fact, these are almost mandatory. I like this set because they work really well and are affordable. You can also pick your favorite colors.
Keyboard Cleaner: Remove gunk and debris from keyboards, remote controls and more by using this cleaning gel.
Colorful Blessings Cards to Color and Share: Color your own greeting cards with this set that includes bible verses.
Cable Organizer: Perfect for any desk. Put those cables in their place.
Toydriver: A screwdriver meant just for toys! No need to bring out the electric screwdriver. Use this little guy instead.
Himalayan Salt Lamp Night Light: Since the original Himalayan Salt Lamp wouldn't fit inside of a stocking, this night light is just the solution.
Leather Notebook Journal: With refillable pages, this journal will easily become a keepsake.
New York Botanical Garden Candle: After this soy candle is done burning, use the container as a trinket box.
I hope that some of these stocking stuffers for adults has helped fill those stockings this year.
Some of my favorite options are the Colorful Blessings Cards to Color and Share and the Mini Desktop Vacuum Cleaner.
Which ones are your favorites? What would you add to my list? 
Feel free to pin this post and share it with friends and family.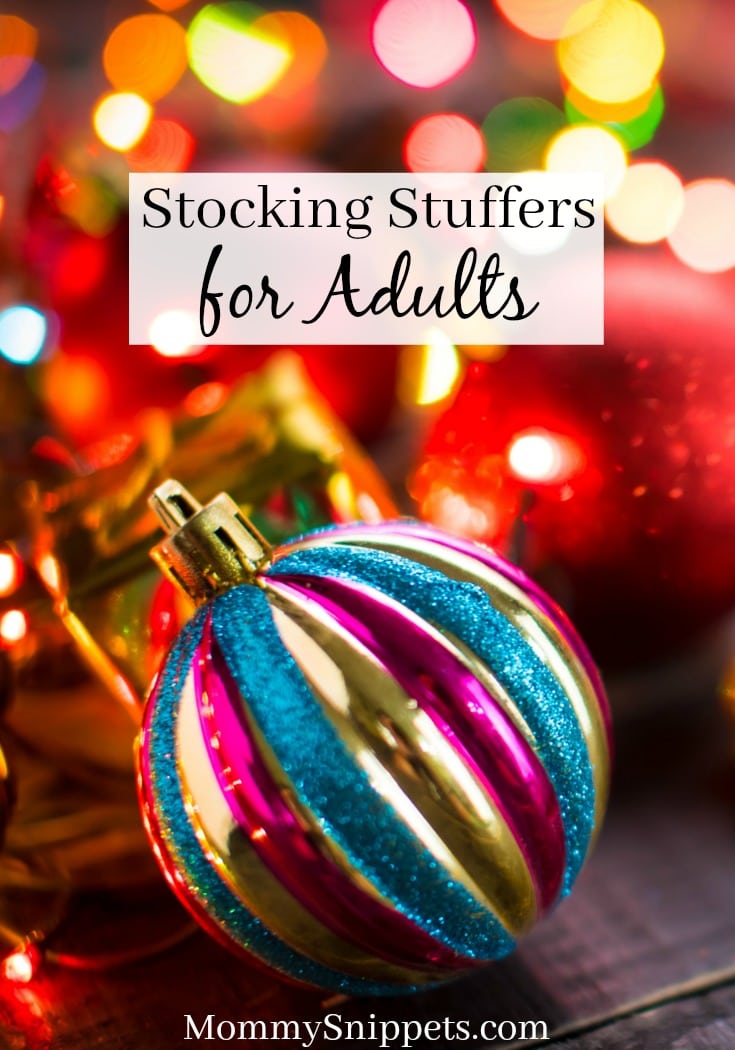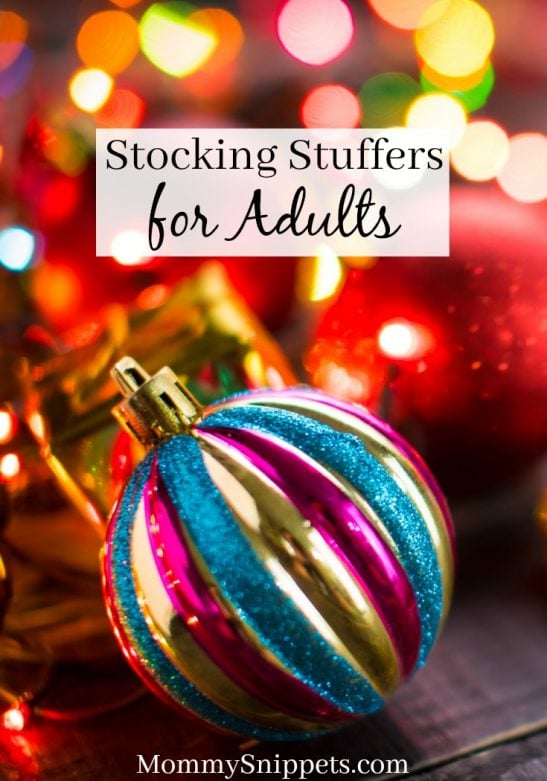 I'd love to hear from you. Hop over to chat with me on Facebook and/or Twitter