Sliced Ham with Maple Bourbon Glaze
This post contains editorial samples and/or affiliate links to products I recommend. While this adds no additional cost to you, I will earn a small commission on any sales made.
Sliced Ham with Maple Bourbon Glaze is a sponsored post inspired by the National Pork Board. All opinions are my own. #HolidayHamFeast #Ham
Don't you just love the aromas that waft through the air when you walk in the door just before a family meal feast, this season, and all the food involved?
Oh and if you're playing host this year don't forget about the leftovers your family ends up eating a good number of days after!
If ham features on your Christmas menu, I have a great 15 minute recipe that will help you add some pizzazz to the holiday leftovers.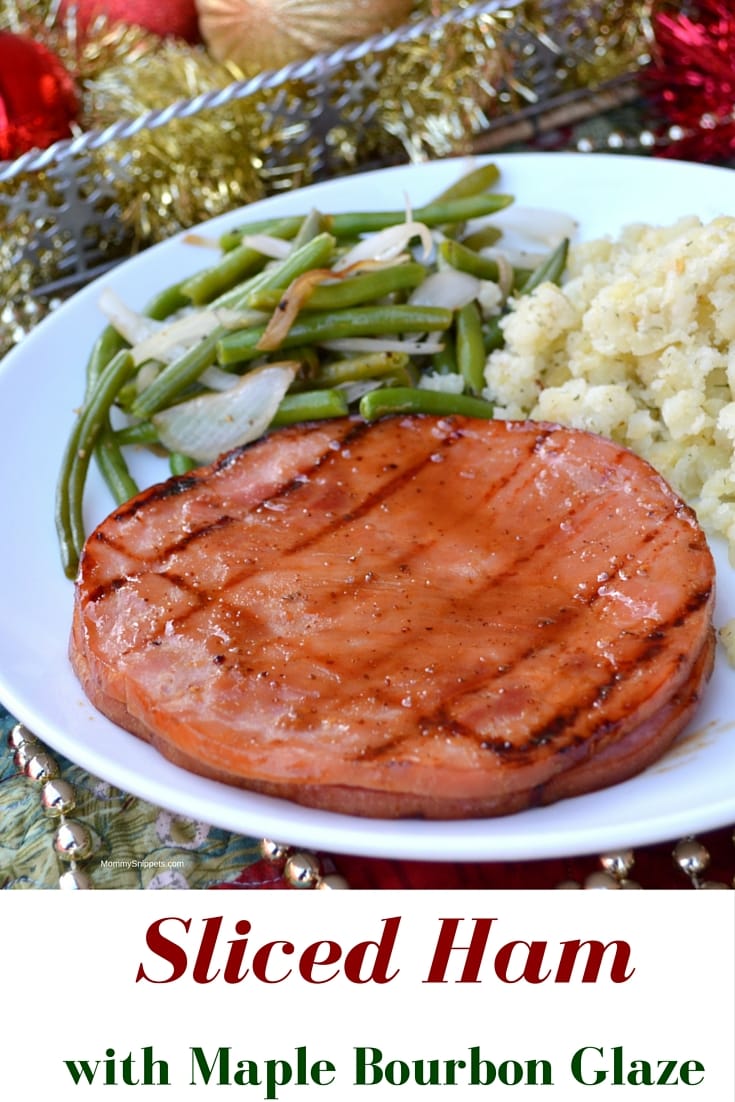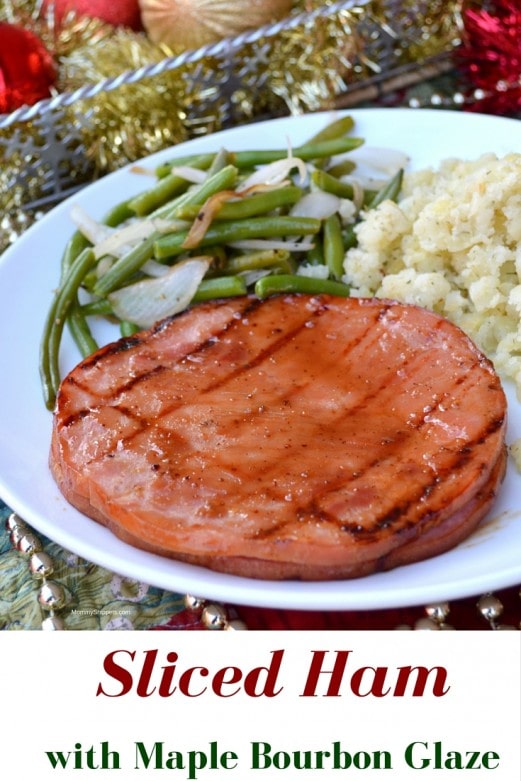 Sliced Ham with Maple Bourbon Glaze
PorkBeInspired.com has over 2000 recipes you can go through for inspiration.
It's hard to narrow down on what to try, so to help start you off, I'm sharing a Sliced Ham with Maple Bourbon Glaze recipe that you can use for all that leftover ham.
(The original recipe calls for bone-in steak but sliced ham works just as great and you're transforming those leftovers beautifully!)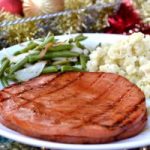 Sliced Ham with Maple Bourbon Glaze
Ingredients
2

fully-cooked bone-in ham steak

about 1/2 inch thick or 8 slices of fully cooked ham

3

tbsps

maple flavored syrup

2

tbsps

bourbon sauce

1

tbsp

soy sauce

2

cloves

garlic crushed

1

tsp

dijon-style mustard

We used whole grain mustard
Instructions
Prepare medium-hot fire in grill

In a small bowl stir together syrup, bourbon, soy sauce, garlic and mustard

Grill ham directly over fire for 5-8 minutes, turning and brushing with glaze during last couple minutes of cooking

Remove ham from grill and brush with any remaining glaze.
Serve this up with a side of seasoned potato crumble and peppered beans or some cornbread and voila, you have a whole new meal in front of you.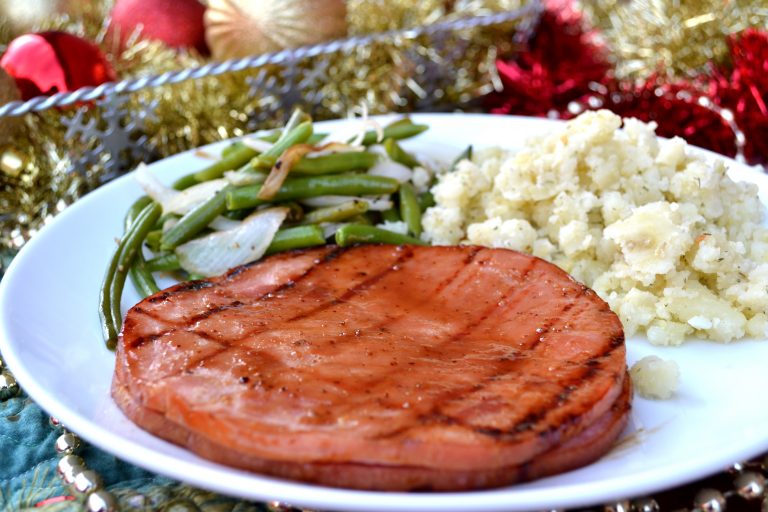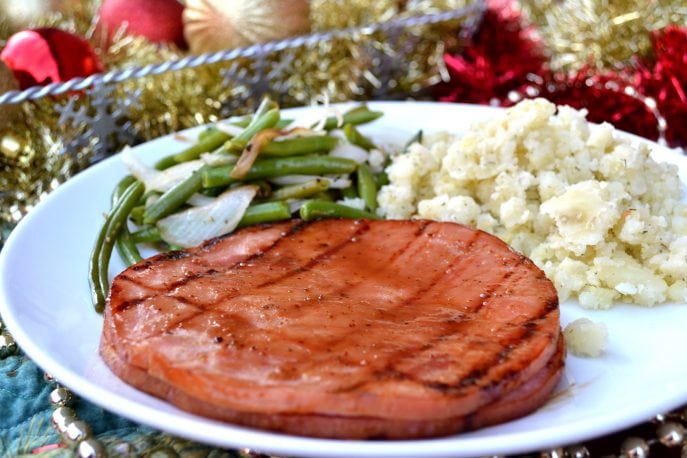 What makes this a winner is the fact that it takes a little less than 5 minutes to prep and 10 minutes to grill. 15 minutes to get it ready and on your plate.
And take a look at those grill marks.
Doesn't everything taste better grilled?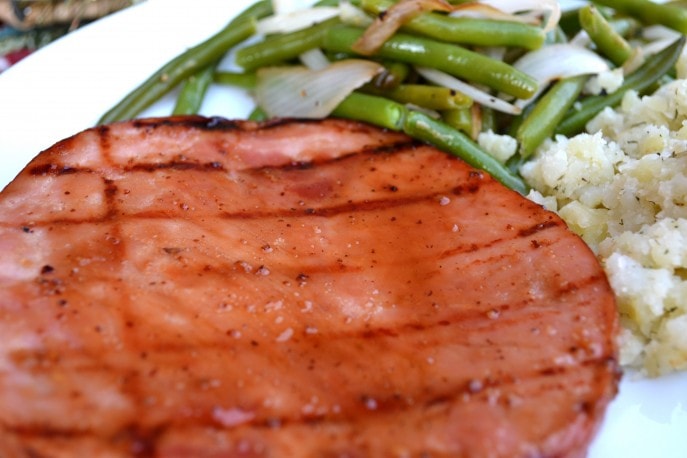 Enter the Holiday Ham Feast Sweepstakes and WIN!

To help you shop for your holiday feast, the National Pork Board is hosting the Holiday Ham Feast Sweepstakes.
5 entrants will be randomly chosen to win a $200 H-E-B gift card. No purchase is necessary to enter the same.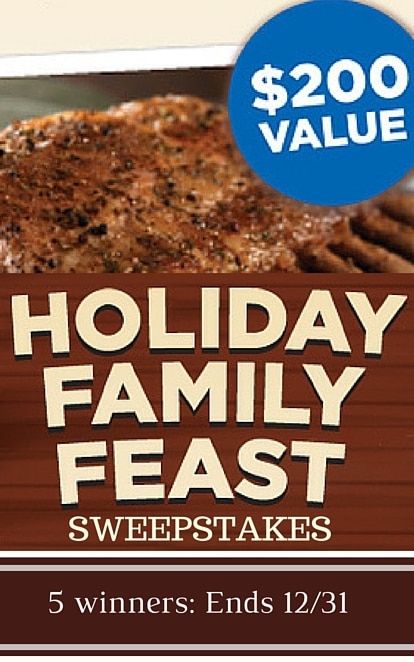 This is open to all legal residents of SOUTH TEXAS only, aged 18 or older.
The contest runs from December 18th, 2015 to December 31, 2015. With a short window involved, the chances of winning is always better.
Go!!! RUN!! Get your name in!

Visit the site to read more on the official rules.
Spread the buzz!
I'd love to hear from you. Hop over to chat with me on Facebook and/or Twitter