Things to Keep In Mind When Purchasing A Convertible
This post contains editorial samples and/or affiliate links to products I recommend. While this adds no additional cost to you, I will earn a small commission on any sales made.
Convertibles have always been a "cool" car to drive. Whether you're a trendy high schooler, or cruising around in one during your retirement years… a shiny drop-top is sure to get you some looks and a few thumbs up at the stoplight!
Things to Keep In Mind When Purchasing A Convertible
As you may have guessed, however, there are things that you need to consider before rushing out and buying yourself a convertible. Here's a list of things to keep in mind.
Weather Conditions
As with any small car, you want to keep things like traction in mind before purchasing one. If you live in an area where there's ice, snow, or sleet during the winter then a convertible may not be your best bet. Consider having an alternate car for these months. If you do decide to drive your convertible year round, be sure to purchase alternate winterized tires for icy months.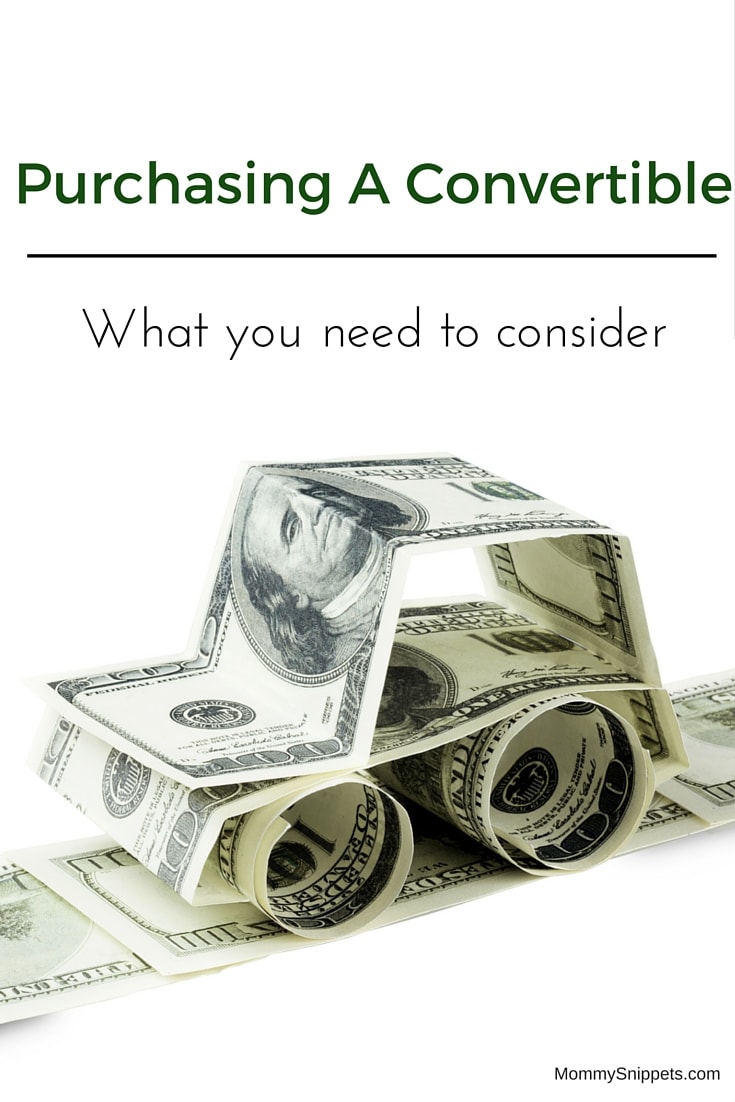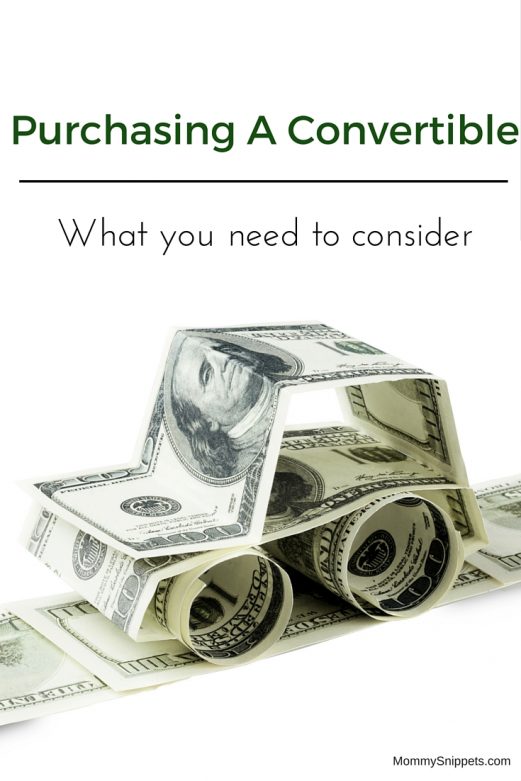 Insurance
Don't be caught off-guard when purchasing a sporty vehicle! Check with your insurance company and find out how the new vehicle will affect your current insurance rate. Some people have been surprised to find out that their insurance cost sky rocketed after a new car purchase, and in many cases exceeded their car payment. It is better to know these types of things in advance.
Leaks
Be prepared for leaks, and know how to properly handle these if they occur. Having a drop top means that you lack the standard sealing that most cars have. This leaves more room for things like leaks to occur, and not acting immediately when this happens could lead to major mechanical and interior issues for your vehicle.
Repairs and Parts
Just as with any car, be sure to have a good idea what parts and normal maintenance for your car will run you. Sporty cars like convertibles often have more expensive parts and labor cost than standard vehicles. This is something that you want to keep in mind when purchasing one.
If you are excited about having a convertible, don't let these things discourage you! They can absolutely be fun and safe cars to drive when operated properly. Just keep the things above in mind, and be fully prepared when making your investment!
.
If you're in the market for a new or pre-owned vehicle in the Wilmington, Delaware area, visit the Sheridan Ford Sales dealership, our partners for this feature. You can enjoy a more reliable drive when you choose the right vehicle.
I'd love to hear from you. Hop over to chat with me on Facebook and/or Twitter