How to Make Festive Peanut Butter Rice Krispie Balls
This post contains editorial samples and/or affiliate links to products I recommend. While this adds no additional cost to you, I will earn a small commission on any sales made.
Here's an easy no fail, no bake Peanut Butter Rice Krispies Treats without marshmallows. These Peanut Butter Rice Krispie Balls are a holiday Rice Krispies treats recipe we love!
I love Christmas treats and when they're easy-peasy to make, well, all the better!
This no bake, basic, 3 ingredient, Peanut Butter Rice Krispie Treats recipe, adds an extra ingredient to make it festive.
Something every child's face lights up with: Christmas Sprinkles!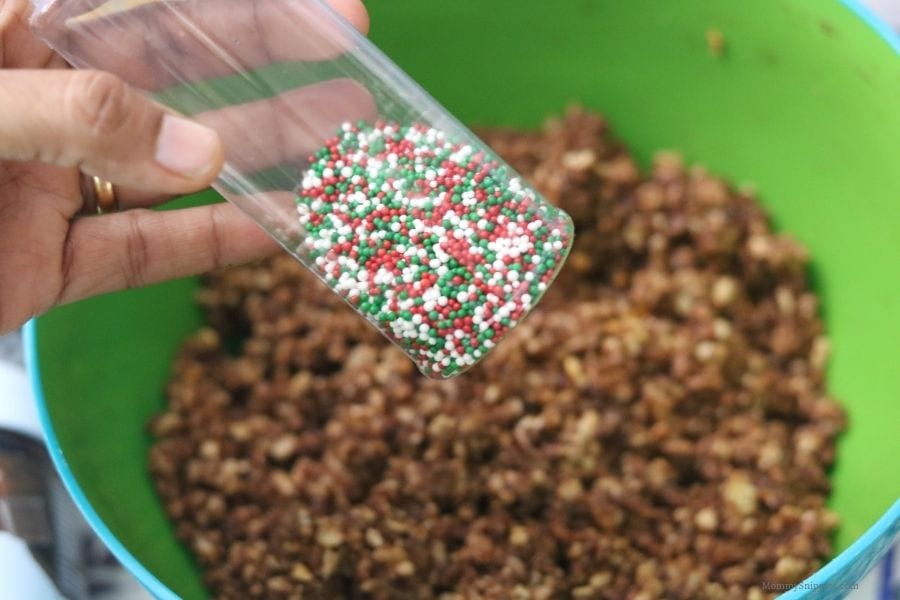 As a child, my sister and I would join our mother to help man a table, at our church's Christmas Fair.
One stall that would sell out quickly was the one that sold bags with homemade Rice Krispies treats.
It's an age-old treat that everyone loves, so why not serve these up during the holidays too?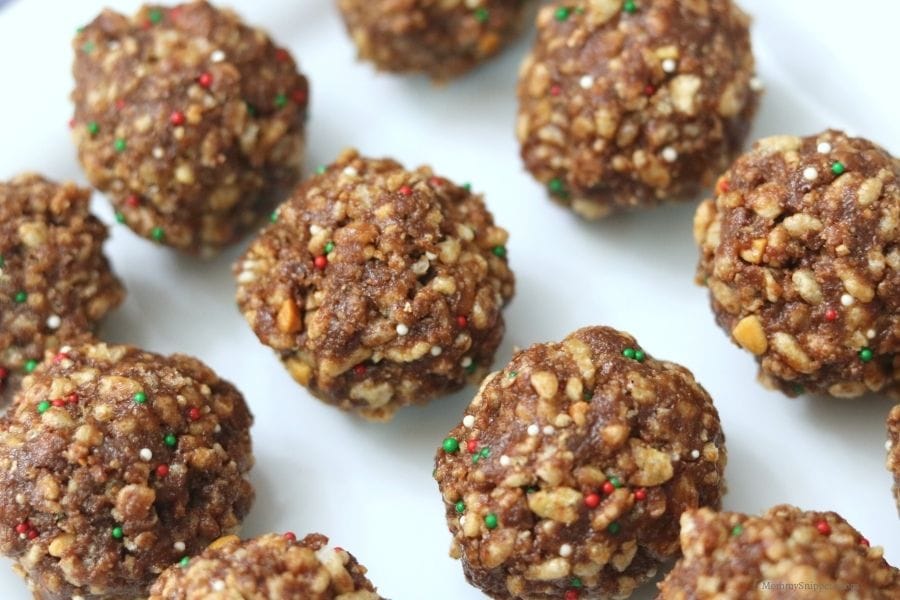 Festive Peanut Butter Rice Krispie Balls Recipe
While you can use any brand of peanut butter for this recipe, I would recommend sticking to creamy peanut butter unless the kids like that nutty crunch in your treats.
The same goes with your chocolate spread, but consider giving this upcoming small business a try- Lekkco.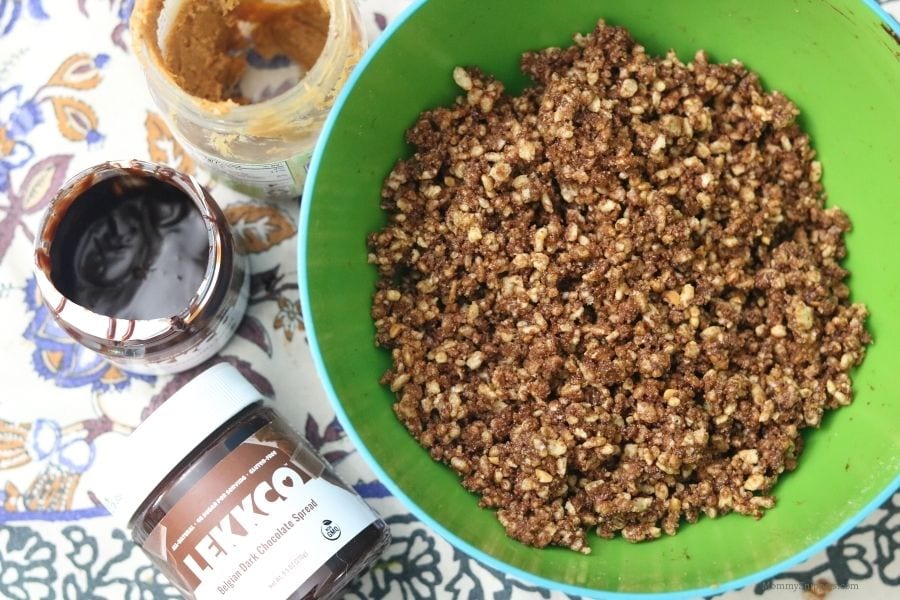 We received a sampling of a few of their Belgian dark chocolate flavors, with no obligations, but I had to give this a try and see what the kids thought.
The big draw being the sugar content. Their favorite chocolate spread has 21 grams of sugar in 2 tbsp while Lekkco has 8 grams in 2 tbsp!
Plus this non GMO spread comes with three additional flavors- Caramel and Sea Salt, Coconut and Caribbean Banana.
I decided to make our Peanut Butter Rice Krispie Treats with the original Belgian Dark Chocolate Spread, and allow the treats to do the convincing.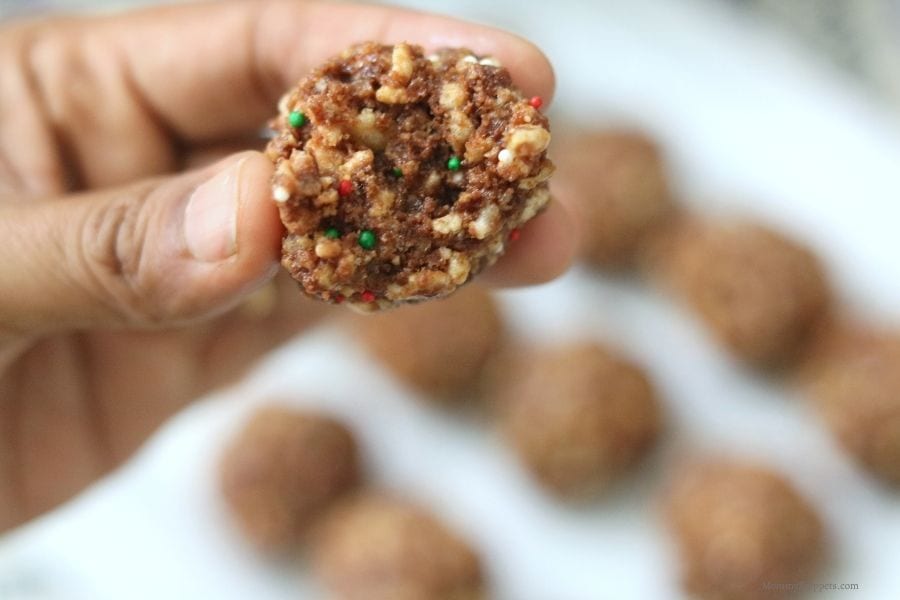 The kids loved it and we polished off the treats in no time.
Try this easy recipe.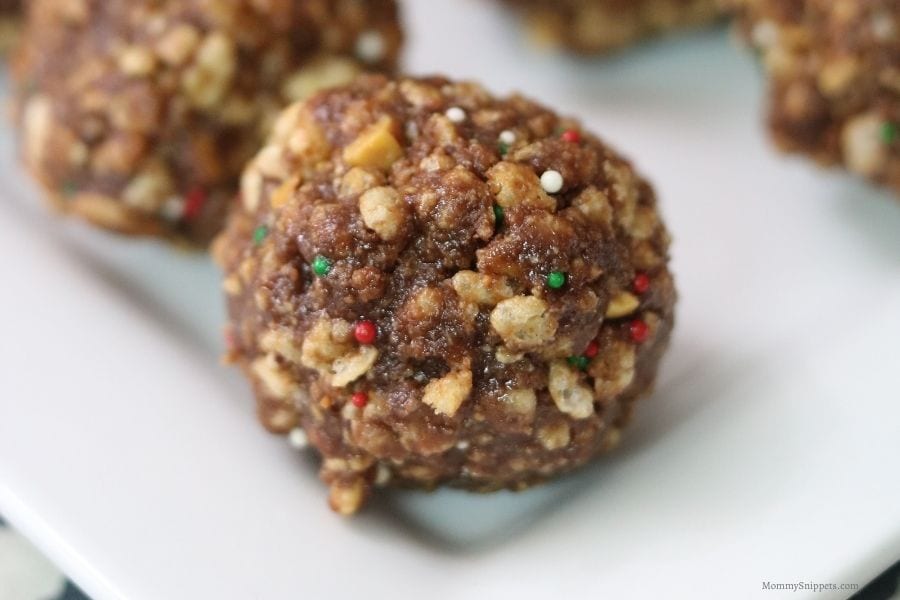 It's like your traditional Rice Krispie treats but more filling (and rich) with the addition of peanut butter.
It's also much healthier with the Lekkco spread, and minus the butter plus marshmallows!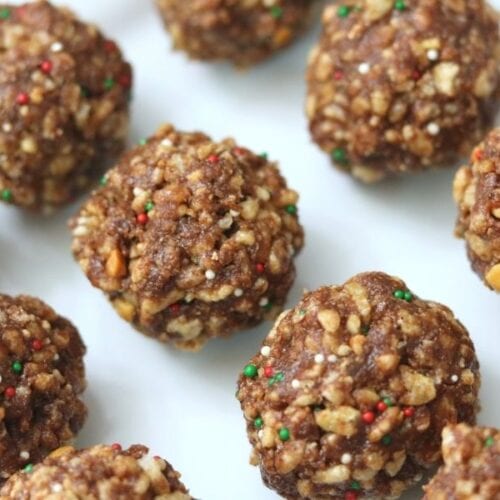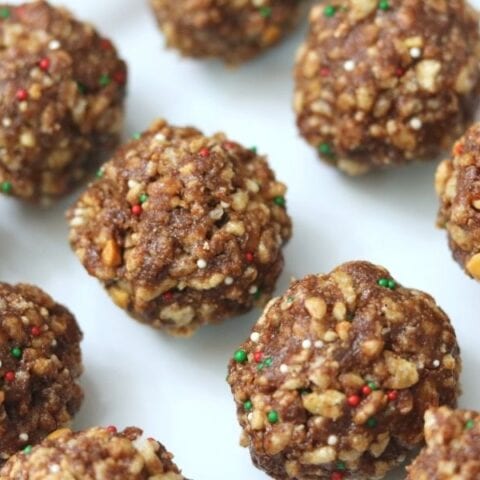 Peanut Butter Rice Krispie Treats
Yield: 18

Prep Time: 5 minutes

Cook Time: 15 minutes

Total Time: 20 minutes

Festive 4 ingredient no bake Peanut Butter Rice Krispie Treats for your holiday treats table.
Ingredients
4 cups Rice Krispies
5 heaped tbsps creamy peanut butter
5 heaped tbsps chocolate spread (I like using the Lekkco Dark Chocolate Belgian Spread)
Christmas color sprinkles
Instructions
Take a big bowl and empty out 4 cups of Rice Krispies into the same.
Add the peanut butter and chocolate spread.
Combine this mixture well. (I like using my hands to do this.)
You know your mixture is ready when you are able to form an approx. 2 inch sized ball. Feel free to add more peanut butter and chocolate spread if you feel the mixture is too dry or needs a little more of a binding agent. This is a no fail recipe, so don't worry about being stringent with the measurements.
Add as many sprinkles as you want to add a touch of Christmas to your treats. Combine again and then make your 2 inch sized balls.
Notes
This does not need to be refrigerated and will make a great carry snack!

You could even make these Peanut Butter Rice Krispie Treat Pops, if you add these colorful cake pop sticks.
Ooh, take elevate this to the next level with melted chocolate to cover the crispy balls. Oh, oh, and make them festive like these Oreo Cookie Balls.
Don't forget to share this recipe.
We all need easy, no fuss, recipes for the upcoming holidays. This is one to add to your list, for sure!