At Home on the Riverwalk…The Marriott San Antonio Rivercenter
This post contains editorial samples and/or affiliate links to products I recommend. While this adds no additional cost to you, I will earn a small commission on any sales made.
San Antonio has and always will be the hub of bustling activity. Irrespective of the time of the year, there's always a steady inflow of visitors to the city.
Where to stay?
If you are visiting the city for the first time and plan to tie in a complete tour of the city, I would highly recommend staying on a property on or near the Riverwalk for several reasons…
1. A majority of the tourist attractions are located around the Riverwalk.
2. Proximity to family attractions like Sea World , Fiesta Texas and the San Antonio Zoo.
3. Value for money in terms of the locale experience, in more ways than one!
That being said, two properties I'd suggest to be considered would be the Marriott San Antonio Rivercenter and the Marriott San Antonio Riverwalk.
My family had the opportunity to stay at the Marriott Rivercenter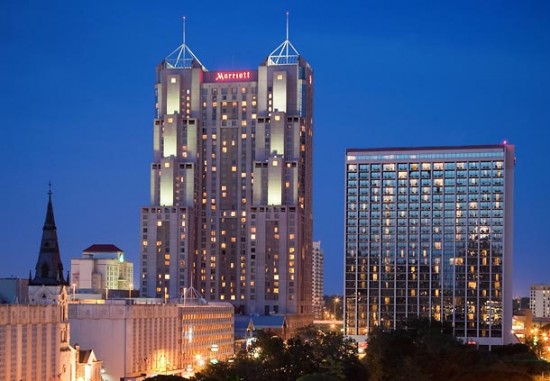 and I did get to tour the Marriott Riverwalk in depth, to get a feel of the place.
Both properties have a huge selling point…
their location. ((Wow doesn't even begin to describe it!))
The Marriott San Antonio Rivercenter
As soon as you set foot into this property, the aura of regal, grandiose, luxury envelopes you. But as soon as you see the beaming faces behind the Customer Service desk you know there's little to feel overwhelmed about.
This property houses 86 luxurious suites and 915 guest bedrooms. I can only guess that the number of suites are that many because they're in such high demand.
If you look through the photographs on my slideshow you will see how they've transformed the guest space into a temporary home…
convenient in every manner.
We stayed in a king-bed suite with a fold out queen sleeping arrangement. It wasn't a surprise when Hubby announced he'd martyr his space on the bed to allow me and the kids to sleep comfortable. Unfortunately for him, my little people thought Dad's bed looked more fun and quickly dragged their blankets to the living room to join him on the pull-out…
I don't need to reiterate how comfortably I slept that night!
I have to add here that this is an older property so the rooms are a little smaller and ceilings lower but if that doesn't bother you, you can count on a comfortable stay in your new home!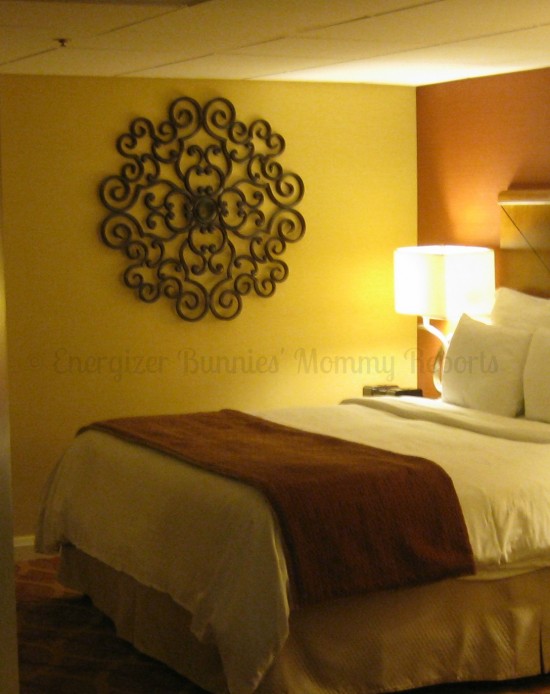 Fantastic Location!
The Marriott Rivercenter is conveniently connected to the Riverwalk from 3 levels. In less than 3 minutes flat you can walk out from the lobby, onto the Riverwalk…
and no, I'm not exaggerating!
The Rivercenter Mall houses a food court (with an IHOP Express), Starbucks, Chilis and various other eat-stops and stores to satisfy a shopper's heart. (Macy's included!) Because our weekend at the Marriott was packed with lots to do, we'd run down to Starbucks, grab a baked treat, coffee for Mom and Dad,  Hot Chocolate for the kiddos, and go.
It was so convenient and very affordable.
I also loved that I didn't need to drive over to the Alamodome for the Women of Faith, Celebrate What Matters 2012 Conference. I just walked over in less than 10 minutes, with a large group of women who were also staying at the property because of the sheer convenience and location factor!
(Keep that in mind when you're looking for a property to stay at when visiting the city for a conference/concert. The hotel is also very close to the Convention Center.)
And if you plan to be in town for the popular Riverwalk Lighting Parade on November 23, 2012 , I'd suggest booking a room preferably at the Marriott Riverwalk Property. You won't have to go down and get sandwiched between the masses to watch the lighting, you can just look out and enjoy the event from your hotel room!
The Properties : A Visual Tour…
In the slideshow you will notice that both properties house…
Their own restaurants
A Starbucks (the Marriott Riverwalk's Starbucks even serves hot food)
An indoor and outdoor pool
A complimententary guest access only gym
A self service laundry facility that is free to use (detergent needs to be paid for) and
A UPS store.
Both properties can also make arrangements with their travel partner to organize tourist packages for your family and for larger groups, even organize a  Riverwalk cruise dinner!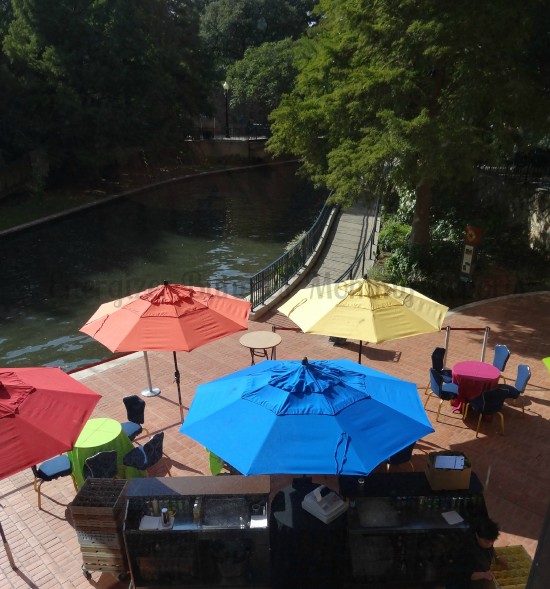 Would we go back?
Oh yeah!
Next time though, we may think of staying at the Marriott Riverwalk as it seemed more casual and relaxed especially for a family with young kids. I know I'd miss the ability to walk out into the Rivercenter Mall in a jiffy…
but the view of the Riverwalk will definitely compensate for that!
Either way you can't lose when you stay at a Marriott…
and that too one on the gorgeous San Antonio Riverwalk.
It's a win-win situation either way.
Great hospitality, awesome location.
At home on the Riverwalk.
How can you go wrong with that?!!
Have you ever stayed at a Marriott property? What have you loved about it?