An Easy DIY Dog Tug Toy Tutorial + Ways To Help Your Pet Shelter
This post contains editorial samples and/or affiliate links to products I recommend. While this adds no additional cost to you, I will earn a small commission on any sales made.
Your local pet shelter is always in need of help. Check out this easy DIY dog tug toy tutorial. Learn how to make dog toys with shirts. Our shelter loves these t-shirt dog toys!
Our local pet shelter has been familiar ground for my kids ever since they were little.
Volunteering at the shelter was our agreed trade-off with Lia, and later Sam, before Hubs and I agreed we would give in to years of begging for a family dog.
Jingle's arrival in early 2016 didn't stop the kids from continuing to help at our local pet shelter, that is, till everything hit.
Thanks to some brainstorming with our shelter's team, we were able to find safe ways for our family to help.
Think homemade dog enrichment toys (yes, t-shirt dog toys!), dog food bagging, and more!
Read further for our easy DIY dog tug toy tutorial.
PRACTICAL WAYS TO HELP YOUR PET SHELTER
Keeping in mind social distancing measures, these suggestions will allow your family to help your local shelter, even during these times.
MONETARY DONATIONS
Besides the obvious, every shelter needs monetary donations. One easy way to do this could be to host a birthday fundraiser, inviting family and friends to donate to your shelter, instead of giving you a gift, this year.
DONATIONS FOR PET ESSENTIALS
With everything going on, the influx of dogs and cats to local shelters has not reduced. The need for blankets, towels and dog food is high.
A great idea would be to invite friends and family to set aside gently used blankets and towels, in bags, that can be dropped off at your doorstep or may be picked up at theirs.
With cooler weather rolling in soon, these donations will be so helpful.
Food is another big request that is always high on any shelter's list of needs.
While you shop I encourage you to shop for food as if you were shopping for your own dog.
We're a Blue Buffalo family mainly because of the high-quality, real meat ingredients.
DONATIONS FOR ENRICHMENT ITEMS
Resident dogs in any shelter can suffer from cabin fever.
Routine short walks are not enough to keep dogs healthy.
Finding fun, creative ways to keep their minds and bodies sharp is so important.
Enrichment toys can be bought at the store but you can make some without spending a dime!
During the summer, Lia built her Girl Scout Silver Award project around this.
She identified the need to help make our local shelter dogs more adoptable.
Besides creating a website with resources to help potential pet parents, she also made 110 dog tug toys from old, donated t-shirts.
This is such an easy enrichment item to make and so inexpensive and dogs love these!
HOW TO MAKE DOG TOYS OUT OF SHIRTS- Easy DIY Dog Tug Toy Tutorial!
We made a patriotic-themed dog tug toy.
You can choose any 3 shirt colors but if you would like to make a patriotic themed tug toy then you will need these three colors.
All you need are three old t-shirts (red, white and blue).
And no, they don't have to be solid block t-shirts. The print on the tees will actually make some really pretty looking tug toys.) and a pair of scissors.
That's all!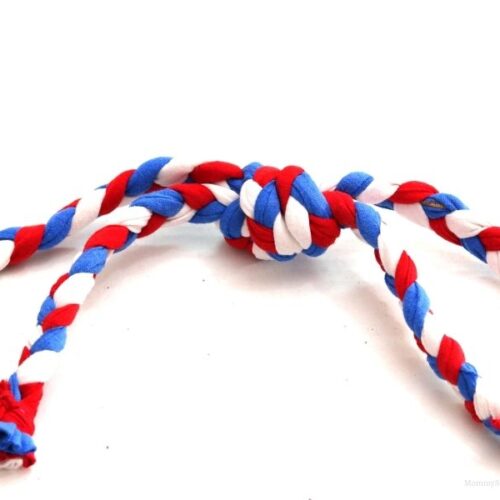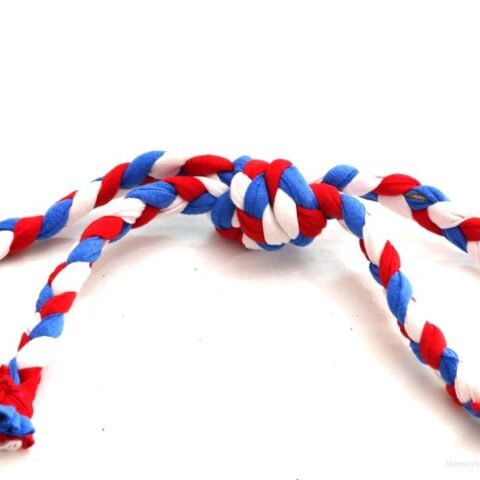 Easy Patriotic DIY Dog Tug Toy Tutorial
Yield: 1 Tug Toy

Prep Time: 5 minutes

Active Time: 10 minutes

Total Time: 15 minutes

Easy to make dog tug toy, using old t-shirts.
Materials
3 old t-shirts (They don't have to be perfect. Stained, small holes, anything works!)
Tools
A pair of scissors that can cut through fabric.
Strong tape (optional)
Instructions
Cut 2 t-shirt strips, approximately 4 inches long. For a thicker toy, double this and cut at 8 inches. Do this for all 3 colors, ensuring you end up with 6 strips- 2 blue, 2 red and 2 white.
Don't worry if your strips aren't perfectly cut, you won't make out once the toy is made.
Use as much of the t-shirt as you can. Cut all the way upto the top seam.
Cut 4 strips from the t-shirt sleeve. This may be 4 strips of the same color or different colors. (We will use these smaller strips to hold the braids.)
Now take each t-shirt strip and pull to stretch the fabric. This makes each strip longer, thereby making the tug toy longer, as a result.
To begin making the first braid in the toy, take 3 strips (one of each color) and a smaller strip to tie the strips together.
I like to tie the strips together and keep everything in place with 2 knots.
To begin the first braid, I like taping my braid to the table or counter I'm working on. This is optional. I just find this allows me to work on tightly braiding in each strip, with better control.
Start making the first braid. (We will be making 2 braids, using the 6 strips)
Ensure the strips are tightly braided together. Loose braids give room for dogs to pull the strips apart, while playing.
Once done, take a small strip and tie the end tight, with a knot. Now begin your 2nd braid.
When both braids are complete, make sure you cut the loose ends off either side of each braid.
Ensure you cut close to the knotted strip but not too close.
Allow just enough space to allow the small knotted strip to hold everything securely in place.
Place both your braids next to each other. They should be similar to length. Don't worry if one is longer than the other. This won't affect the toy in any way.
Holding both braids, carefully create a loop. This will be like forming a lasso.
Take 2 ends of the same side of both braids, and pass this through the hole in the "lasso".
Ensure both ends pass through the hole completely.
Now pull each braid to tighten the middle knot and to ensure the toy has a firm, secure, grab spot for the dog.
And there you have it! A beautiful patriotic tug toy, easily made with old t-shirts lying around the house. How cool is that?
You can also make a Sock Enrichment Toy.
Yes, you can finally do something with those orphaned sock pairs!
Place an empty plastic water bottle in the sock and tie the open end short.
Dogs love playing fetch and listening to the crinkly noises made as they hold the bottle covered with the sock, in their mouths.
Remember, you can make all these while at home, and donate them safely to your pet shelter when ready.
The times we are in should never stop us from helping animals in need.
With a little creativity and thought, you can continue to make a difference in the lives of the residents at your nearest shelter.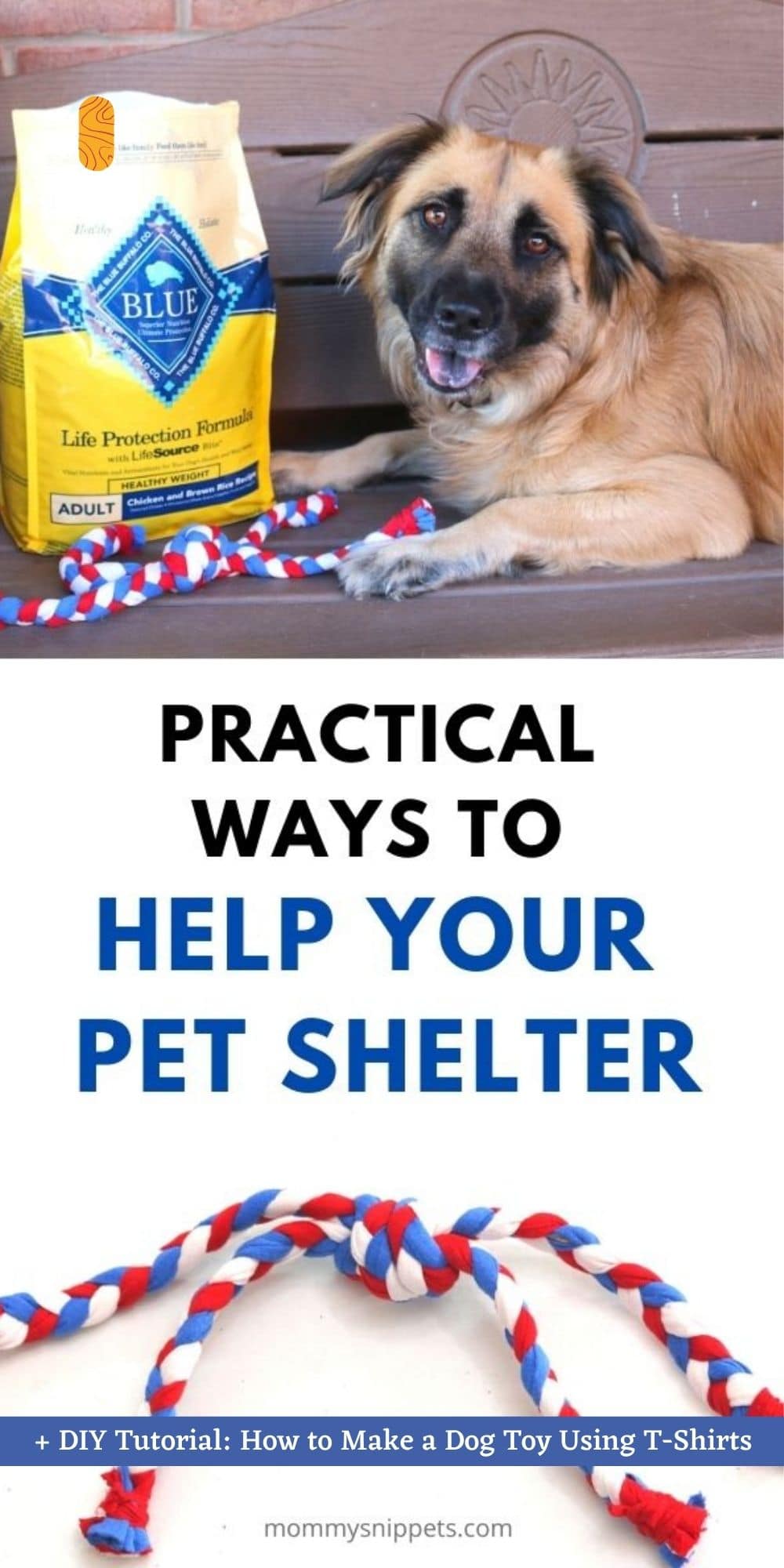 Check out more pet resources and resources to inspire you to adopt from your local pet shelter.
This feature was sponsored by Inmar Intelligence and its advertiser. Honored to support a brand my family uses and Jingle loves!
I'd love to hear from you. Hop over to chat with me on Facebook and/or Twitter