I'm so excited! For the 3rd year in a row we're hosting the 3rd annual Christmas giving event on Mommy Snippets. Welcome to …
Giving

Christmas

Away

2013
The dates you need to mark on your calendar are November 25- (updated) December 14, 2013!
,
This annual event will include a big giveaway with fun toys that can be won. Keeping with the heart of the event, I do ask if you could donate the toys you win to children you know who wouldn't otherwise be able to celebrate a nice Christmas this year.
I do also know that times are hard for many families too and understand if you would be entering to win the toys for your own kids.
Either way, may the gift of giving and the Love of Christ be shared, as a result.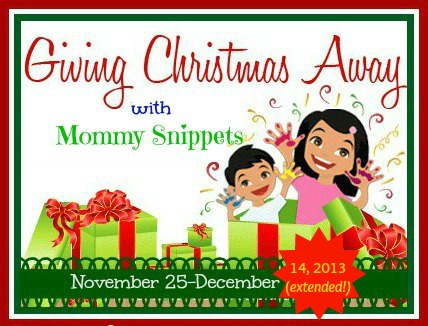 .
** If you would like your toys/games/kid-centric Christmas gifts a part of this awesome event (this will include a feature in our 

Christmas Gift Guide 2013

), please email me at

 mjblog09 @ gmail dot com

 
As with the past two years, the toys received , featured and reviewed by us will be donated to our local home for abused children and the smaller toys (that can fit into a shoe box) to the Operation Christmas Child program.
That being said, I know God will show us other avenues to donate to, closer to the time. (There's such a need for  joy, especially in the lives of precious children, even in our country today.)
As the focus of our entire program is to share in the blessings we have, irrespective of big or small they may be, I will ask if you would consider going a step further.
Would you consider donating a one time amount (How much you can give does not matter…every dollar counts!) to World Vision for their efforts?
If you know you can make a way to spare 30$ every month, would you do so today? 30$ every month can provide a child with food, clothing, shelter and an education.
What a difference you can make in the life of a child.
And through the month of November I will share other ways you can help give back this Christmas. (Remember the 30 Day Give last year?)
Little gestures can go a long way.
I can't wait to see what God will do this year especially since He surpassed our greatest expectations with what He did the past two years!
And like I said last year, there is no better way to celebrate Christmas with your family.
The gift of Giving Christmas Away is rich.
And one your family will never forget.
As always, I love to sign off with what has become our anthem for this program…
Be blessed.