3 reasons why the Embassy Suites San Antonio Riverwalk is just right for large families.
This post contains editorial samples and/or affiliate links to products I recommend. While this adds no additional cost to you, I will earn a small commission on any sales made.

After the birth of our youngest, six months ago, we graduated to the status of a large family. (At least in the eyes of many.) We love to travel and since the kids are still young, bunking in one hotel room isn't really an issue. 5 years from now, that will be a different story.
On a recent trip to San Antonio,we stayed at the Embassy Suites San Antonio Riverwalk – Downtown. We haven't stayed in this chain of Hilton's prior to this but had heard some good things about it. Now that we've stayed on site, I have several reasons why I recommend the place to large families visiting San Antonio.  I understood why large families chose this particular property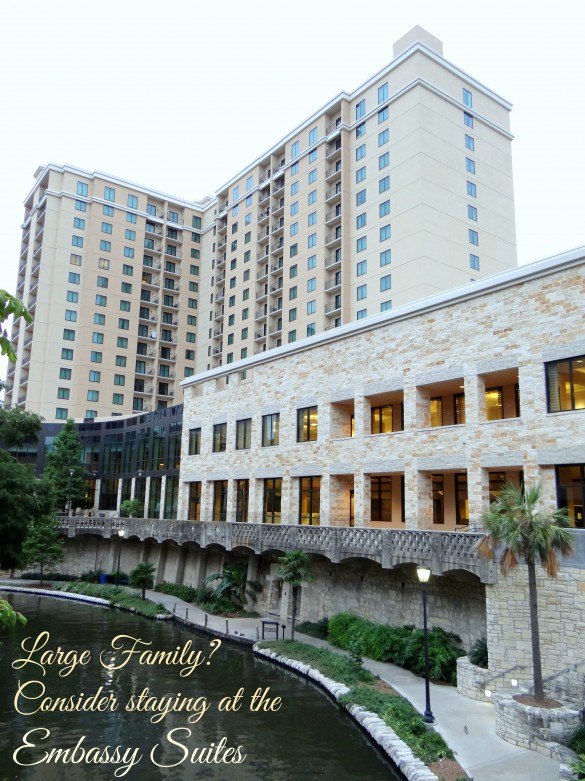 3 reasons why the Embassy Suites San Antonio Riverwalk is just right for large families.
I can think of several reasons why this is a great property to consider but three reasons stand out.
1. Affordability
When traveling with 5 or more not so little people, the last thing you want is a cramped lodging space. Paying for two separate rooms isn't always fun especially if 3 out of the 5 not so little people are older kids and you worry about safety. The neat thing about any Embassy Suites booking is you always get a suite that includes a living area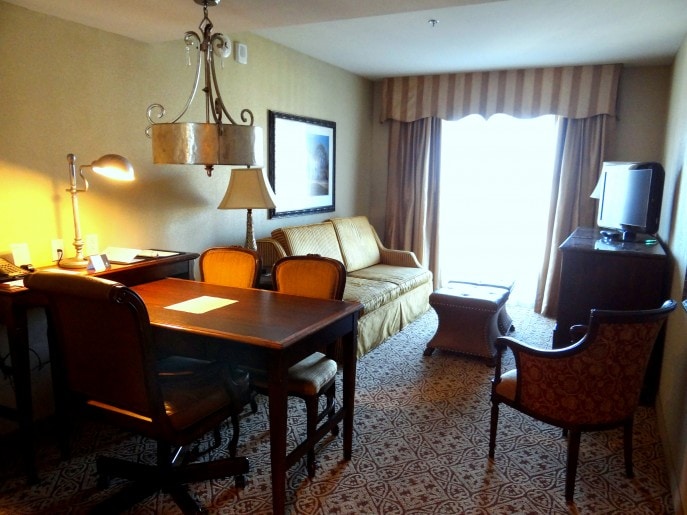 and a bedroom, irrespective of the rate.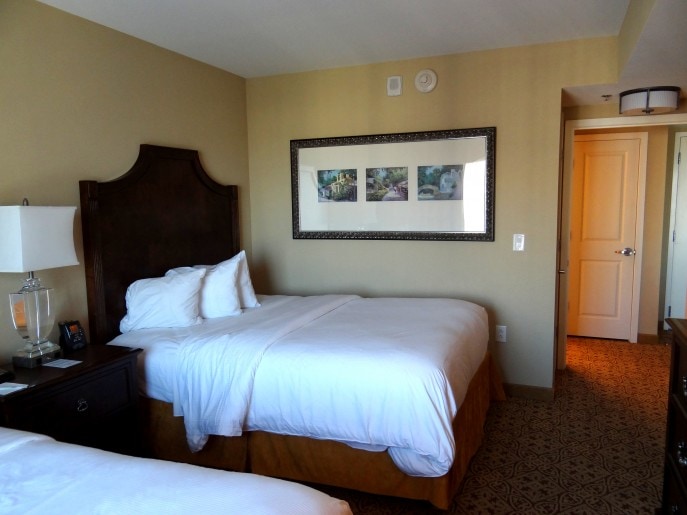 The suite we stayed in easily provided sleeping arrangements for 6 adults and a baby in a travel cot. This particular suite had only one bathroom but you can book larger suites with two bathrooms attached to the same.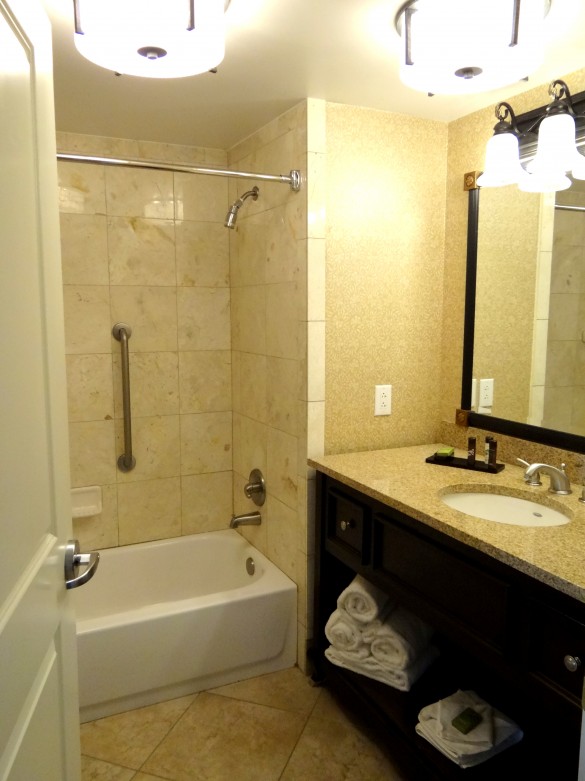 While we were on property, we saw a large group comprising of over 10 families staying on-site for a family reunion. (They had family tees and all) I thought that was smart planning on someone's part!
I was chatting with a lady on the Housekeeping team who was telling me the property was sold out and that was common for this particular Embassy Suites as it's an extremely affordable place especially for larger families and is in the heart of San Antonio. Which brings me to the second reason why I think this is a great property…
2. Accessibility
The Embassy Suites San Antonio Riverwalk – Downtown is located on the Riverwalk. (This would be an awesome place to stay during the lighting of the Riverwalk and during the Christmas period. I would recommend asking for a room with a Riverwalk view on one of the higher floors!)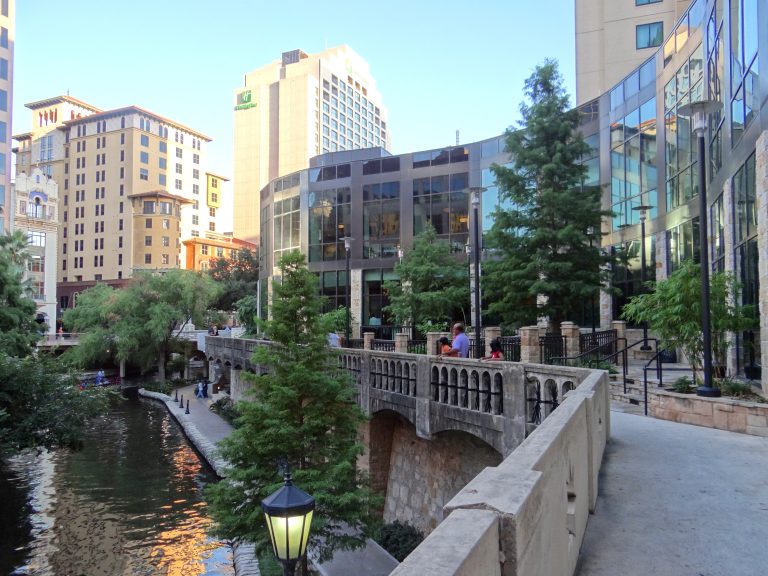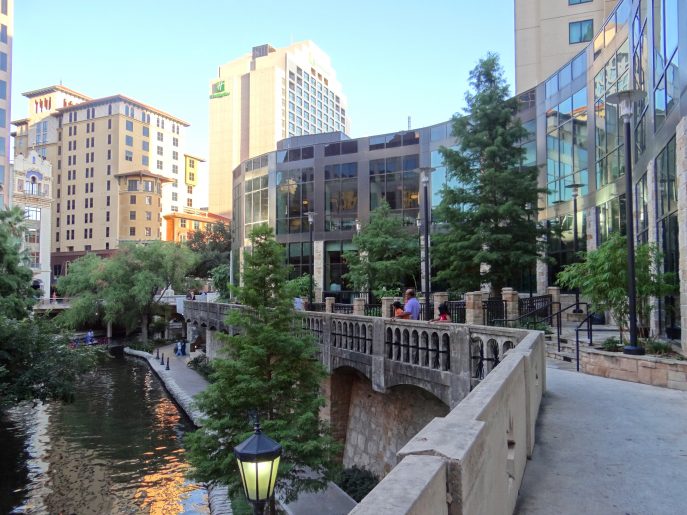 Parking at the hotel is $27 plus tax for a day and the public parking, across the street, is $30 a day, so it really doesn't make sense to park there. Besides once you park your vehicle you may not really need it if you plan to spend most of your time Downtown. (Proxity-wise,minus any traffic,  if you plan to hit SeaWorld or Six Flags, it shouldn't take you more than a 20 minute drive. The San Antonio Zoo is about 10 minutes away)
I always say the best way to explore a city is to walk. And in this case, there's so much to see and do in the Downtown area, especially with kids.
We spent a whole day at the San Antonio Children's Museum, which is less than a 5 minute walk from the property.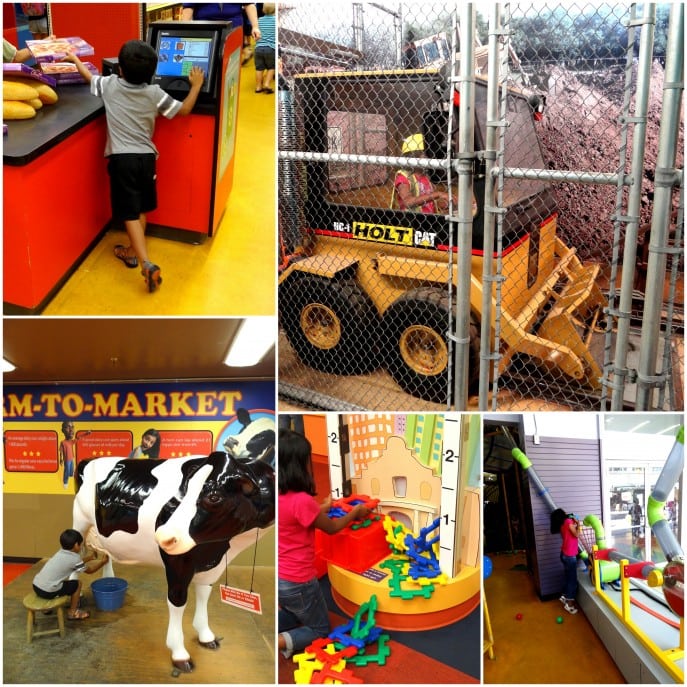 Other great must-dos include visiting the Alamo, Ripley's Believe It Or Not Museum, Louis Tussaud's Wax Museum, jumping aboard a San Antonio double-decker tour bus and riding a River Cruise on the Riverwalk.
And remember you can walk to each of these spots without breaking out into a sweat. They're all close by!
3. Worth-the-stay Amenities
The icing on the cake with an Embassy Suites reservation is the made-to-order, fit-for-a-king, continental breakfast buffet spread.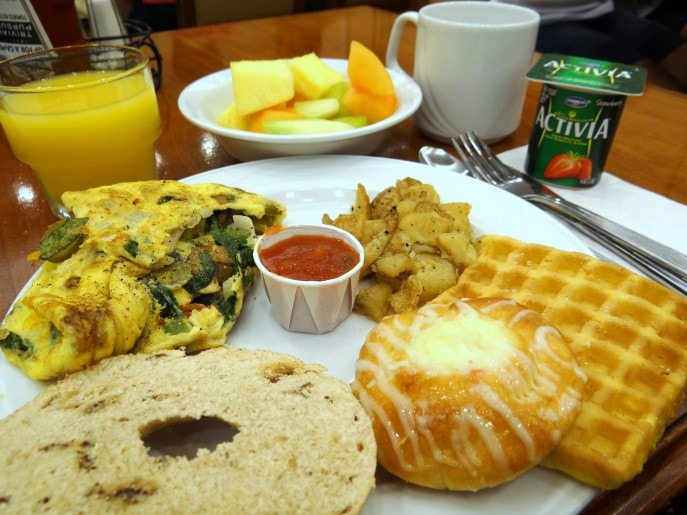 This is a huge savings especially if you have a large family and yes, the choice of breakfast hot foods, fresh waffles, pancakes fruit, pastries, cereals, beverages et al are definitely hearty.
The breakfast area does get swamped but if you follow the traffic flow suggestions, you will be fine.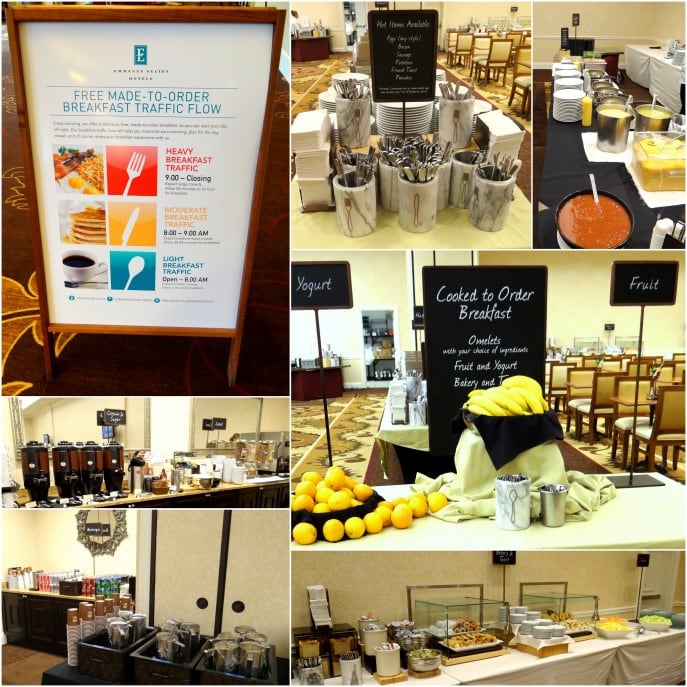 Besides the free breakfast, residents are also invited to a complimentary evening reception complete with appetizers and beverages for adults and a snack station for kids. (Think goldfish, gummy worms, fruit and trail mix.)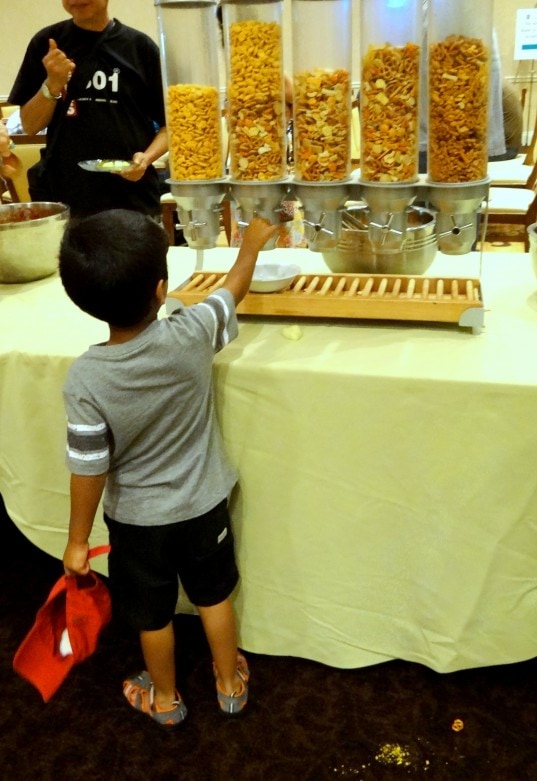 They didn't have any fruit juices out but when I asked a member of the staff regarding the same, he went in and got some for our kids, instead of the carbonated beverages served.
On certain pockets during the year, the property invites J.D., the property's favorite clown to visit with the younger guests and create practically any balloon creation they want. (Would you believe he actually went to Clown College over 30 years ago with Ringling Bros. and Barnum & Bailey?) We came home with a Piggy, Mouse-kin and Balloonasaurus, much to our kids delight.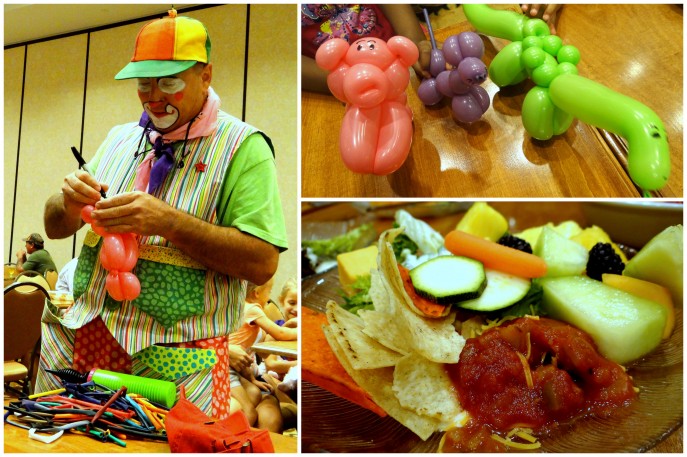 If your kids love to swim, I would recommend hitting the pool early in the morning or later on in the night as it does get pretty crowded and the pool's not very large. The same goes for the Fitness Center. But if you plan to make the most of exploring Downtown San Antonio, you really may not have time to swim or work out!
Also, make sure you sign up for a free Hilton Honors rewards account to receive complimentary internet access during your stay and get a late check-out the day you leave.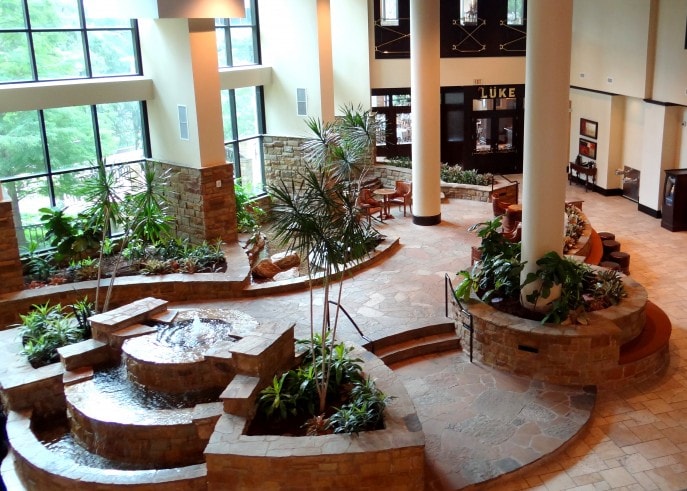 For more information on this family-friendly, budget approved property and how to book a suite in the same, visit the Embassy Suites San Antonio, Riverwalk-Downtown site
Hotel Location:
125 E. Houston Street, 
San Antonio, 
Texas 78205, USA
Phone:  +1 (210) 226-9000
What suggestions do you have to maximize ones budget when traveling with a large family?