Sponsored by Mirum. All opinions are, nevertheless, my own.
Getting ones first set of wheels is always exciting.
It's not always as much fun, though, when the wobbles begin or after the first fall. To keep the excitement levels high, it's important to support them through the journey and make it fun.
How to get your child excited about her first bicycle
It all begins with choosing her first bicycle. While it may be more convenient to order a bicycle online, take her into the store to get "fitted" with her new bike.
True, the racks of bicycles can be overwhelming but go prepared with the choice you have in mind.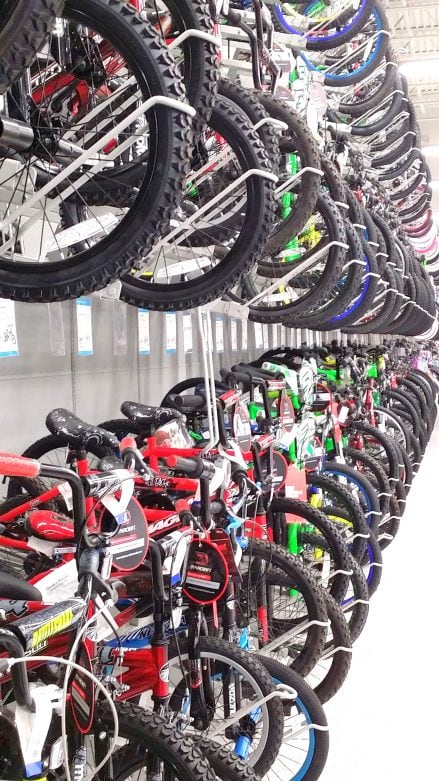 Available on Amazon.com and at your local Toys "R" Us, Target or Academy store, the Schwinn SmartStart bike is a time tested, parent-approved, reliable bike for a new rider.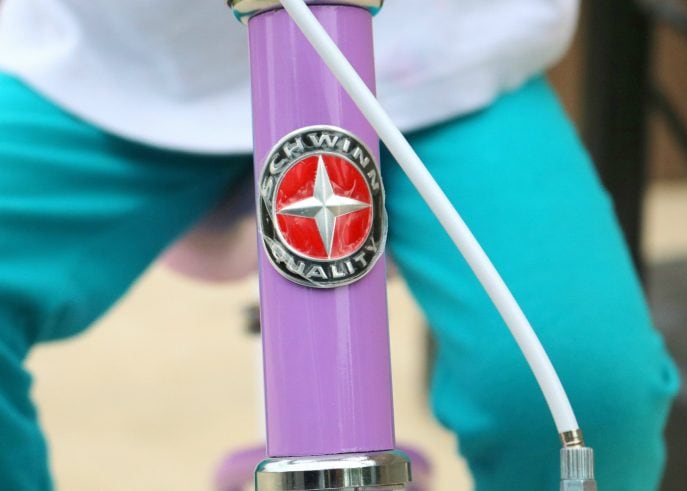 Note: The recommended height for a young biker, for this bicycle, is 38″-48″ and yes,  these bikes grow with their young owners. (When the SmartSeat is raised to suit the child's height, the distance from the seat to handlebars and the reach distance also increases, making it suitable to ride the bicycle irrespective of height.)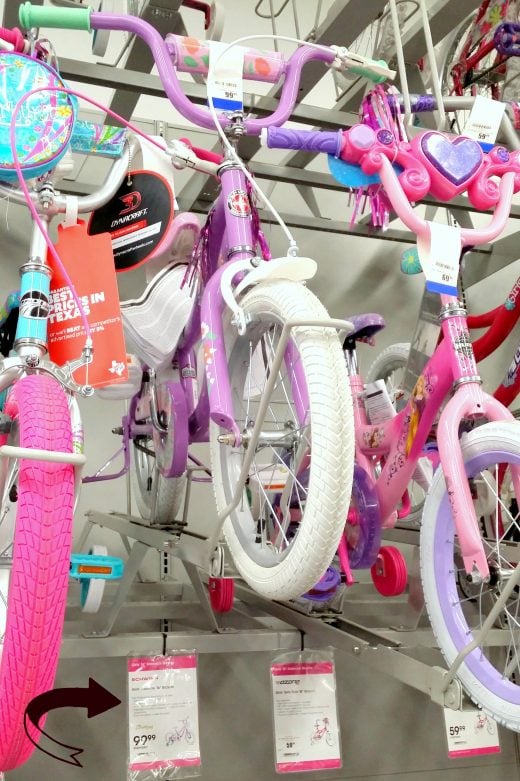 Another plus, when you buy a bicycle from a store like Academy, you don't have to worry about assembling the bike. A bike technician has all the bikes preassembled and seat height and training wheels can be adjusted to suit your child's height, right at the store itself, prior to purchase of the bike.
Before you head out of the store, don't forget to buy her a helmet too. Remind her of the importance of wearing a helmet at all times. Safety always comes first.
Now that she has her first real bicycle, rest assured that her Schwinn SmartStart bike comes with a lifetime warranty that lasts as long as your child owns the bike.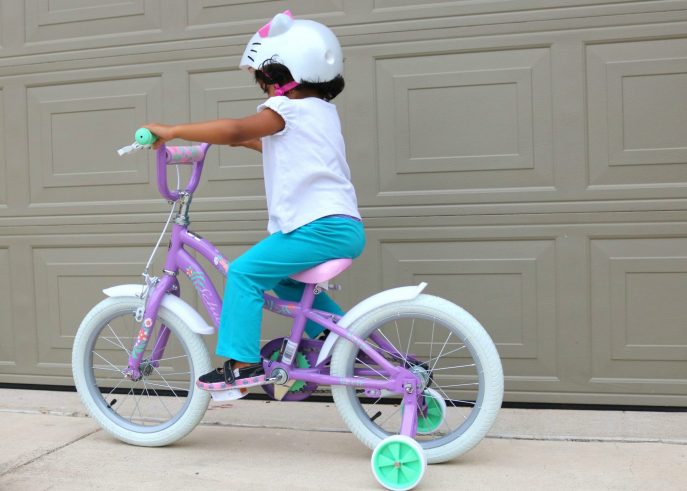 Safety-wise, with a  16″ wheel size, these bikes provide better balance and being light-weight, is also more stable. Grips are also smaller and pedals closer together, making the biking experience more enjoyable for the child and less stressful for the child.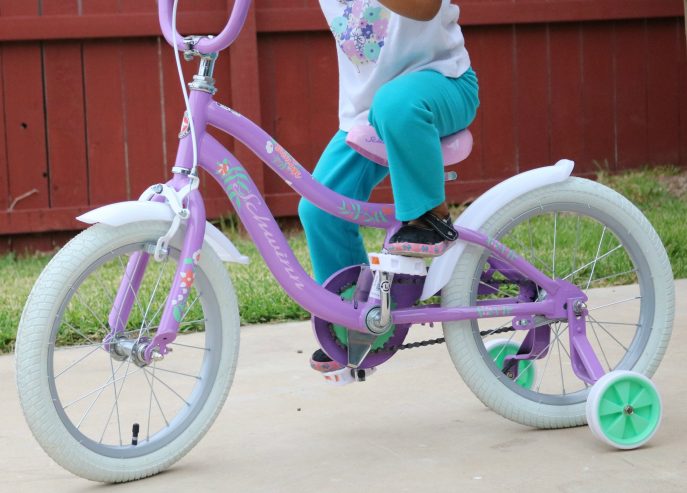 Once she gains confidence trying her new set of wheels around the house, take her outdoors and let her explore the area close to the house.
Slowly increase the biking parameter and as you do so, make the experience a little more exciting with a fun Bingo game each time you head out with her.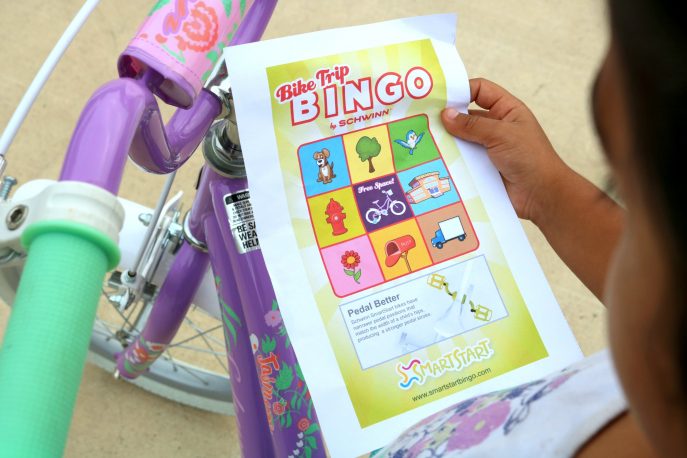 Get the older siblings to join along for the ride (and the game) and award the Bingo winners with a popsicle!
Riding a bike couldn't be more fun!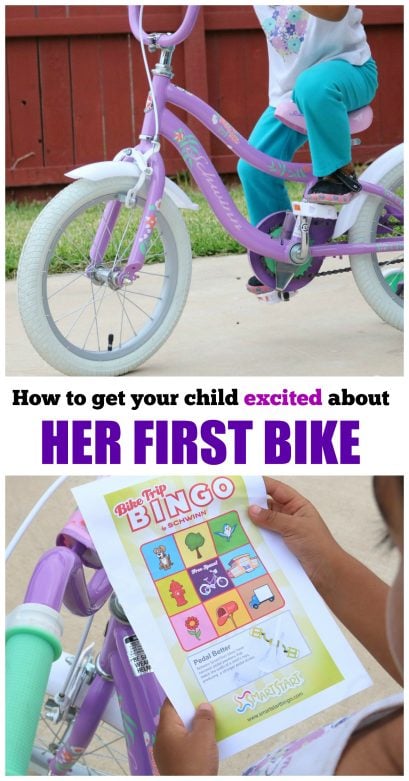 Enter for a chance to win 1 of 11 Schwinn SmartStart prize packs!
If you're excited for some summer fun outdoors, this is one prize pack you will want to win
• One (1) Adult Schwinn Bike (bike paid in the form of a $250 Gift Card to Winner's Choice of Academy Sports + Outdoors, Amazon.com, Target or Toys"R"Us) (ARV $250)
• One (1) Sponsor-selected active lifestyle camera (ARV $199)
• One (1) Sponsor-selected active lifestyle camera bike mount (ARV $20)
• One (1) Schwinn Bike Lights (ARV $14.99)
• One (1) Schwinn Adult Helmet (ARV $22.99)
• One (1) Schwinn Bike Bell (ARV $5)
• One (1) Schwinn Bike Basket (ARV $18)
• One (1) Schwinn Backpack (ARV $25)
• One (1) Schwinn Lighted Cable Lock (ARV $14.99)
• One (1) Schwinn Water Bottle (ARV $4.99)
• One (1) Schwinn Bike Floor Pump (ARV $19.99)

Use the form below to enter for a chance to win.
Schwinn SmartStart Bike Trip Bingo Sweepstakes

I'd love to hear from you. Hop over to chat with me on Facebook and/or Twitter