How do you know it's time to shop for a new dishwasher? + Your BEST option!
This post contains editorial samples and/or affiliate links to products I recommend. While this adds no additional cost to you, I will earn a small commission on any sales made.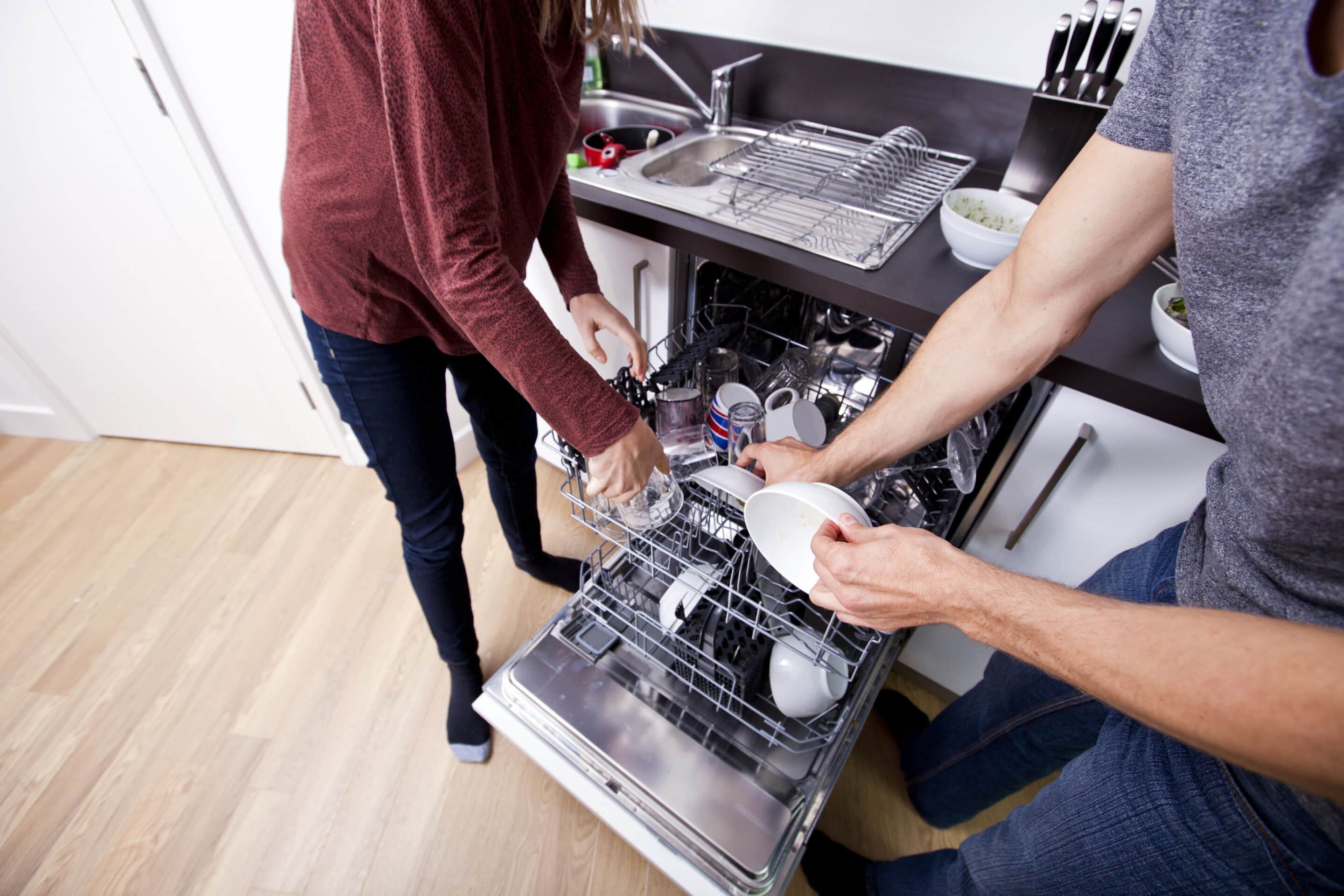 You've loaded the dishwasher with dirty dishes and unlike earlier occasions you know something's up!
The average lifespan of a dishwasher is, on average, 8-10 years. If you've crossed that honeymoon period, keep your eyes open for those signs.
This feature has been sponsored by Best Buy. Nevertheless, all opinions are my own.
So, how do you know it's time to shop for a new dishwasher?
It just may be time to say goodbye to your trusted dishwasher when:
Your dirty dishes remain soiled after the wash cycle.
The dishwasher has begun to rust on the insides.
The water in the dishwasher isn't hot enough.
Water stagnates in a pool and does not drain after the cycle.
Water begins to leaks from cracks in the dishwasher.
Unusual sounds can be heard during the cycle.
The door doesn't latch on as precisely as it would.
Shopping for a better replacement (That's right, choose to go a step up!) isn't hard especially if you look for a dishwasher that comes with:
Intelligent sensors that scan and check the cleaning of the dishes throughout the cycle. (This is also called a Precision Wash)
A large interior.
Adjustable racks.
Energy-saving functionality.
A relatively quiet cycle that's nothing compared to some of those noisy dishwashers out there.
A leak prevention system.
You can find all this and more in the new Bosch 800 series dishwasher with Crystal Dry.
If the intricate details matter, here's the skinny on the 800 series, courtesy of BestBuy.com:
Patented CrystalDry technology transforms moisture into heat up to 176F for the ultimate dry, even for plastics
Extremely quiet operation (42 dBA)- incorporates 18 unique sound-reducing technologies such as multiple insulation layers, grindless food filtration, and a sound-absorbing base
Large interior provides the loading flexibility to easily accommodate 16 place settings, and Bosch's largest 3rd rack- the MyWay rack provides additional loading space for cereal bowls and large utensils
Rackmatic® adjustable upper rack easily adjusts to 9 different positions, to allow taller items like stemware to fit in the middle rack while leaving room for bulky items below.  The flip tines make loading wide bowls easy and ball bearing wheels provide a smooth glide
Every Bosch dishwasher is ENERGY STAR qualified and meets or exceeds federal guidelines, for year-round energy savings
Sanitize Option reduces 99.9% of bacteria with Patented CrystalDry™ technology delivers 60% better drying results.*
Disclaimer: *Based on aggregate average drying performance of Bosch Dishwashers with CrystalDry on combined household load including plastics, glass, steel, and porcelain as compared to Bosch Dishwashers with PureDry.  Drying performance may vary by dish type.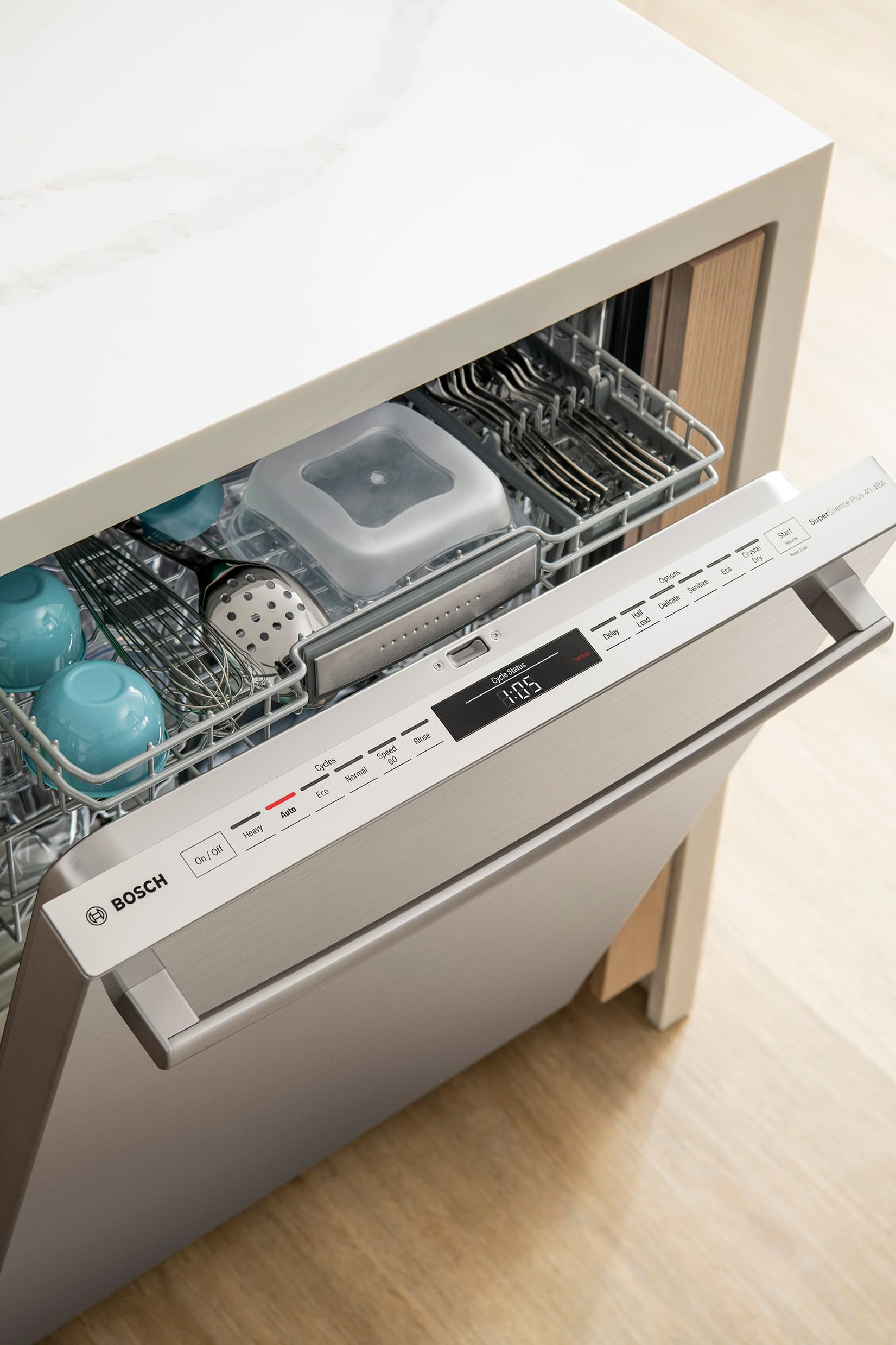 My dishwasher is not all that old, but I guess it won't hurt to permit an early retirement, right?
The features on the Bosch 800 series dishwashers with Crystal Dry technology make it hard to not want to make that swap!