Apple French Toast Casserole – A Holiday Breakfast Recipe
This post contains editorial samples and/or affiliate links to products I recommend. While this adds no additional cost to you, I will earn a small commission on any sales made.
Thanksgiving week is here and I'm sure you've prepped for all the cooking that needs to get done on Thursday. Thankfully I don't have to make the turkey, but the sides, desserts and everything else is my responsibility this year. And this year I'm going to make sure we have a delicious Apple French Toast Casserole for Thanksgiving breakfast, to kickstart the right note for the holiday, but doesn't require time to make.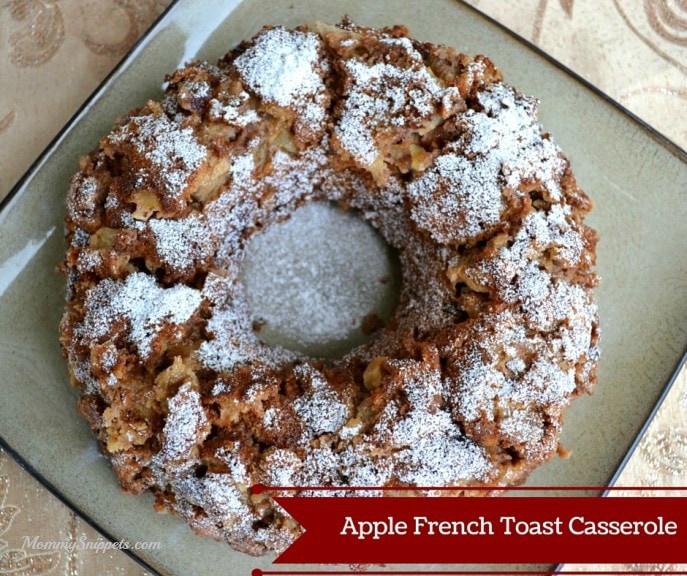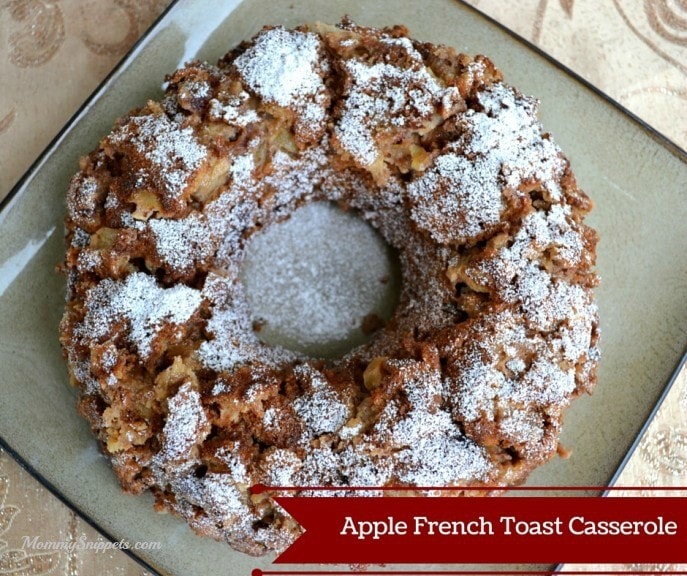 Apple French Toast Casserole – A Holiday Breakfast Recipe
I really like breakfast breads in particular and thought it would be nice to make a special Thanksgiving breakfast dish using an apple strudel bread. Most often than not, Thanksgiving breakfast is generally whatever is readily available only because I'm focused on the Thanksgiving meal later on in the day. This year (and the years to come), though, it's going to be different…
this easy to make, delicious, tastes-just-like-the-holidays, dish is going to be the breakfast that heralds in the rest of the day!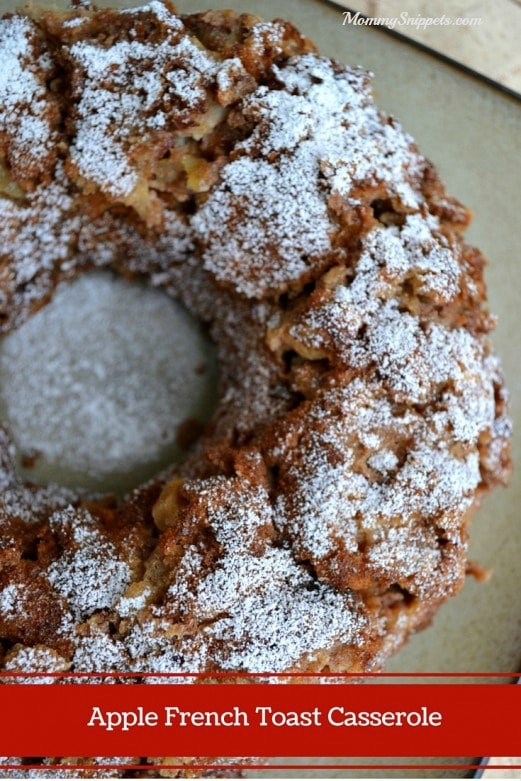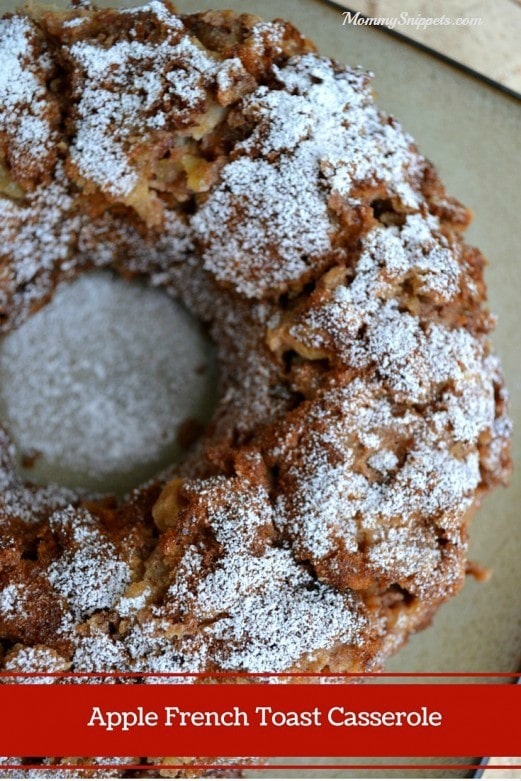 Now this can be made in what you generally use for your casseroles but just to make things look prettier, I chose to bake this in my bundt pan.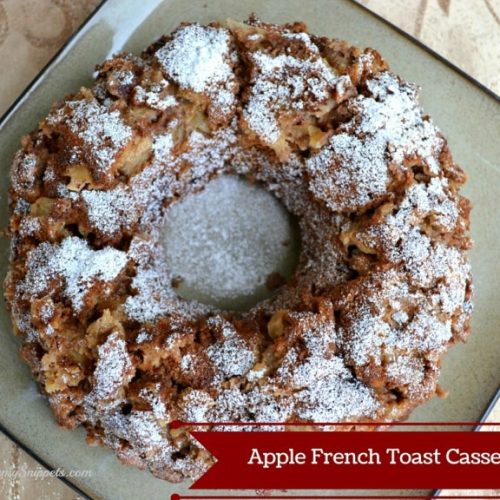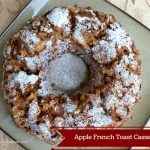 Apple French Toast Casserole
Ingredients
1

loaf H-E-B Apple Strudel Breakfast Bread

4

eggs

1 1/2

cups

milk

2

tbsps

white sugar

3

gala apples

or the apple type of your preference-chopped into small squares

1/2

cup

finely chopped walnuts

1/4

cup

dates finely chopped

1/4

cup

raisins

1/4

tsp

salt

1

tsp

cinnamon powder/ground cinnamon

1

tsp

vanilla extract

2

tsps

butter.

1

tsp

powdered sugar + 1 tsp cinnamon powder : to sprinkle on the top once done.
Instructions
Empty the bread into a bowl and tear each slice up into little pieces.

Add the dates, apples, raisins and walnuts to the bread and gently combine with your hands or a spoon. (Don't use a stand mixer)

Now take your casserole pan or a bundt pan and grease the same with 1 tsp butter.

Empty the bread mixture, from the bowl, into the pan and set aside.

In the bowl beat the eggs, milk, sugar, vanilla extract, salt and cinnamon powder together and pour this mixture over the bread mixture in the pan evenly. Set aside.

Now heat your oven to 350 degrees fahrenheit. (Don't do this in the beginning. Doing this at this stage of the process allows the egg mixture to absorb into the bread mixture before baking)

This should take about 45 minutes to bake.

Just before you serve your delicious Apple French Toast Casserole, sprinkle a mixture of powdered sugar and cinnamon powder.
This tastes delicious straight out of the oven but tastes just as good a day or two later, after being refrigerated.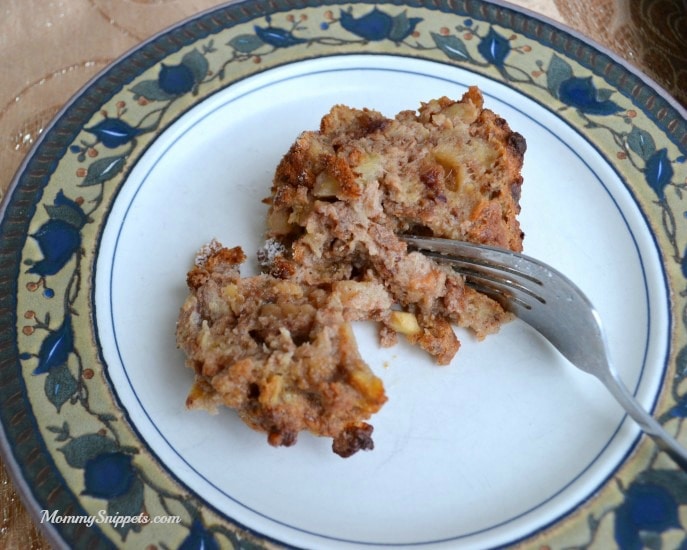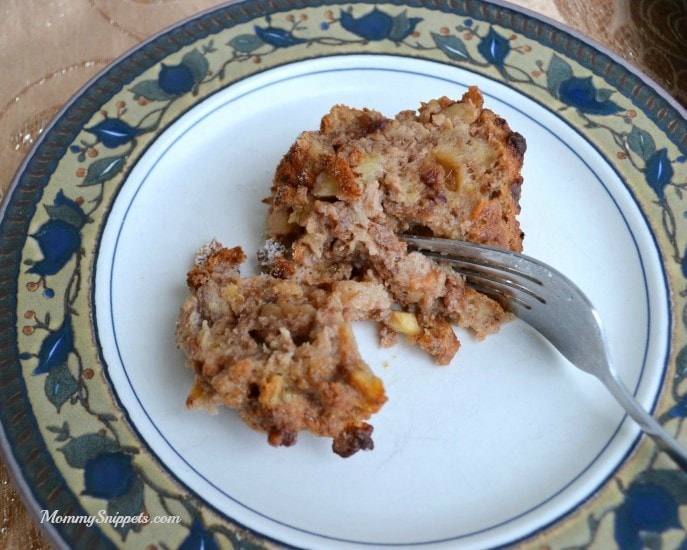 I'd love to hear from you. Hop over to chat with me on Facebook and/or Twitter