Adding space to an already cramped kitchen is a challenge, especially if you find you're using every square inch of existing space. What you need to do is think outside the box and find unique ways to use the space you have. Adding shelving in cabinets makes use of the "air space" inside, and hanging utensils on the backs of doors opens up space in the drawers. Following are three do-it-yourself concepts for you to adapt to your own kitchen so that you can gain some space.
3 DIY ways to add Storage Space to your Kitchen
Creating Extra Storage in Cabinets
Cabinets often have shelving that gets high up and difficult to reach. Chances are that you put things up there that you don't need on a regular basis.
These shelves become wasted space that you can use with a little ingenuity. One option is to add rolling wire racks to the undersides of the shelves. They're easy to install, and you can get the necessary parts and hardware at a hardware store. You can save some money at Home Depot or Lowe's with coupons that shave money off what you buy. After a few minutes to mark where to screw in the rollers, a few minutes to drill in the screws, and a minute to install the rolling shelves or baskets, you're ready to go!
Free Drawer Space
Do you have utensils that you don't use a lot? Why not hang them behind a door or on a pegboard? Getting large, bulky utensils and other items out of the way makes it easier for you to find things in your drawers. It's not so much about refilling the space with items you use a lot more so much as it's about keeping drawer clutter to a minimum. These less-used utensils are always within reach when hung on the back of a cabinet, suspended (the way they are in the photograph),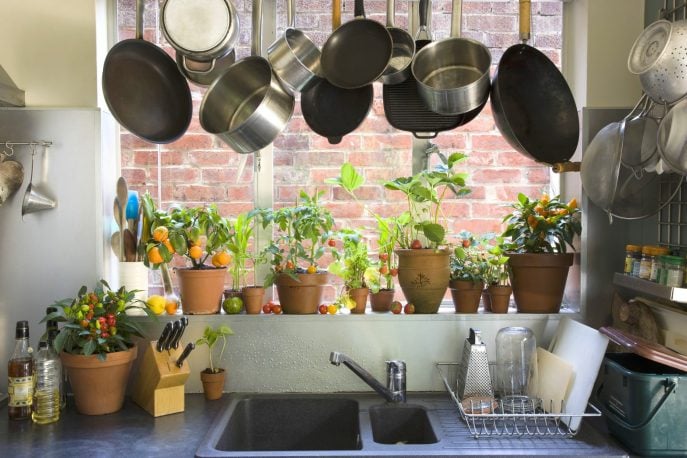 or even behind a closet door and are no longer taking up valuable space in the drawer.
Check out Bed, Bath and Beyond for racks or boards for hanging utensils, and grab a coupon to save money on the purchase.
Get Stuff Contained With Containers
Containers clean up counter space by creating a uniform appearance instead of a cluttered one. Get a set to match your kitchen, or choose clear glass containers to give you a visual reference for what you have in stock. However you do it, containers let you organize what you need on a daily basis and protect food from damage. Containers add storage space but do take a little bit of counter space away, so try to put them in an out-of-the-way section of the kitchen. The idea is to not move them around all the time in a bid for a clear area in which to do prep.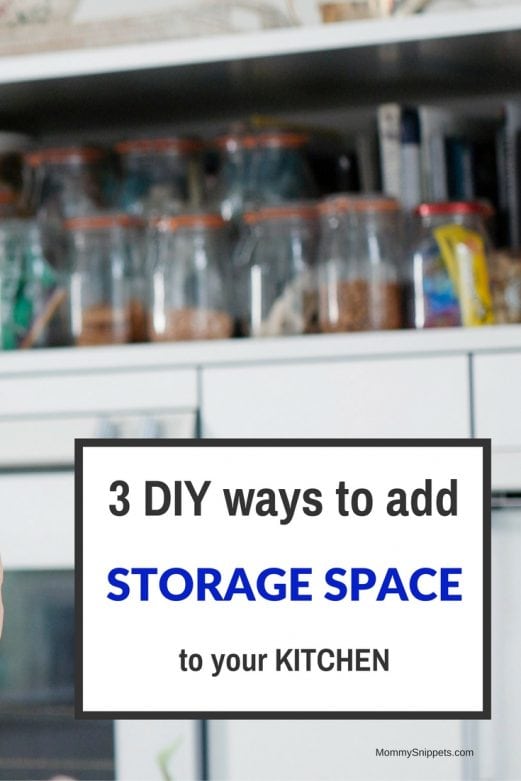 Use these tips as a guide to help you make more space for storage in your kitchen. Take a good look at what you're working with, then use your imagination to visualize what works where. You'll find a number of ways to find more space with a little bit of ingenuity and elbow grease.
I'd love to hear from you. Hop over to chat with me on Facebook and/or Twitter