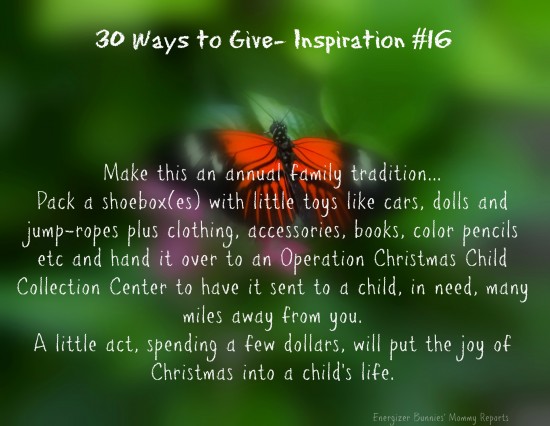 I know many people hold back from packing a shoebox for Operation Christmas Child, but once you see this video you will appreciate what joy the contents of a simple cardboard box can bring a child who otherwise knows much less.
The key is to shop as if you were shopping for presents for your own child and before you hand over your box, to the Collection Center, gather around as a family and pray for the child recipient of the fun surprises you've packed inside.
Collection Week ends on November 19th, so make this weekend Shoebox Weekend!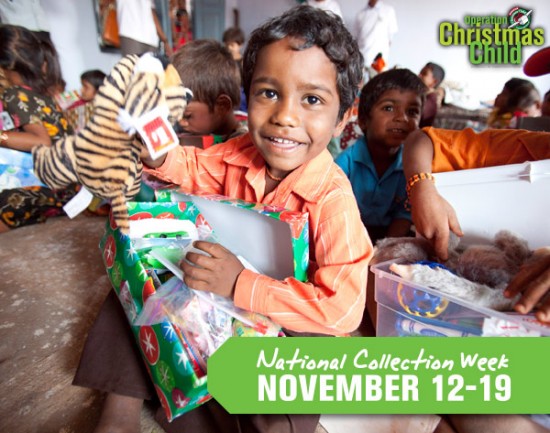 If this is something your family does regularly, God bless your hearts for your love…but let it not stop there.
This year host a Shoebox Packing party.
Invite friends who've never done this before and "gift" them with a shoe-box to pack and choose to pay the shipping on the box for them too. Sharing in the joy of giving has such a plenty-fold return!
Here are some ideas on what you can put into a little girl's box and a little boy's.
We're packing our shoe-boxes this evening. And I promise to share photographs over the weekend. My 6 year old is excited. Her letters and drawings to the girls are ready,  all that's left to do is get my 2 year old to add his little artwork …
and then it we'll be all set for our Packing Party!
11/18/2012 Update: Our Packing Party…
Will you pack a shoe-box this weekend?
If you can't find the time to run out to the store, pick up stuff, pack a box and drop it off, you can build your own box online.
Samaritan's Purse has gone to lengths to ensure, nobody misses out on experiencing the joy of giving.
Love it!
To celebrate Collection Week , the sweet team over at Operation Christmas Child has 4 prizes to give 4 readers…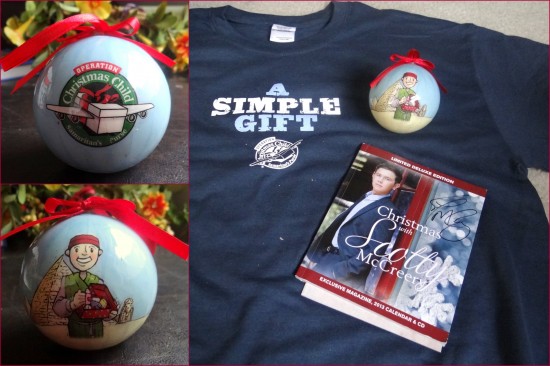 1 Grand Prize Winner will win an Operation Christmas Child Christmas Ornament, a T-shirt and Scotty McCreery's latest Christmas album
3 additional winners will win an  Operation Christmas Child Christmas Ornament each
.
.
For a chance to win…
.
Leave a comment telling me one "gift" you'd put into your shoe-box.
.
and please click re-tweet to share the word with more people…
Will you pack a #shoebox for a child who may otherwise not have #Christmas this year?via @occ_shoeboxes p.ost.im/p/dSad7d #30daygive

— Marina (@ebmommy) November 17, 2012
Thank you!
 Winners will be announced and intimated on November 25, 2012
* Read more about the 30 Day Giving Challenge 2012 *