As a Mom to two very energetic kiddos, I'm always on the look out for recipes packed with punch.
But sometimes you can't always find the perfect snack-on.
You just have to create your own!
In my Healthy Holiday Medley Bread I've sneaked in carrots, apples, walnuts, pecans and raisins.
And to avoid the use of butter and oil completely, I used applesauce.
So yes, I'd consider this a rich slice of chewy goodness perfect for breakfast or even when you're looking for something nutritious to munch on, especially when on the go!
Want to try whipping up a few loaves?…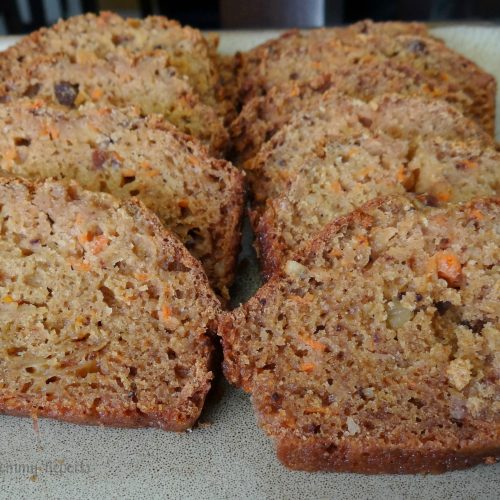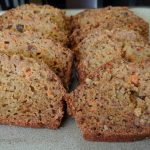 Healthy Holiday Medley Bread
I've tried to use organic products in this recipe as our family has been taking diligent steps to stick to organic and non GMO laced products
Ingredients
2

cups

organic all purpose flour

2

teaspoons

baking soda

2

teaspoons

ground cinnamon

1/4

teaspoon

salt

1

cup

granulated cane sugar

You can add 1/4th cup to this if you'd like the bread sweeter

3

organic eggs

2

teaspoons

organic vanilla extract

1

cup

organic applesauce

1

cup

peeled

cored, shredded organic gala / delicious apple(s)

1- 1 1/2

cups

grated organic carrot

s

1/4

cup

chopped pecans

1/4

cup

chopped walnuts

1/2

cup

raisins
Instructions
Preheat the oven to 350 degrees

Lightly sugar the insides of the loaf pans and set aside.

In a bowl, mix the dry ingredients together and set aside.

Take another bowl and whip the eggs till slightly frothy.

Add to this the applesauce and mix well.

Add the vanilla extract and mix.

Now add the dry mixture 1/3rds the quantity at a time to prevent a flour explosion(!)

Once the dry mixture has been mixed into the wet completely, stir the apples, carrots, pecans, walnuts and raisins to the mix.

Now pour the prepared mix/batter equally into the 3 pans.

Sprinkle a little sugar on top. You can also garnish the top with chopped walnuts and pecan bits.

Whisper a quick prayer and pop those loaves into the oven for about 40-50 minutes. (Depends really on the bake time on your oven. At 40 minutes, I'd advise testing a loaf with a toothpick to see if it comes out dry. If not, leave it in for a while longer,)

Once done, take the loaves out of the oven and wait for it to cool before you begin to slice them, if you want clean, precise, slices.

Enjoy!
I like to describe a bite into a slice of this bread as lots of yummy and a whole lotta healthy with punch!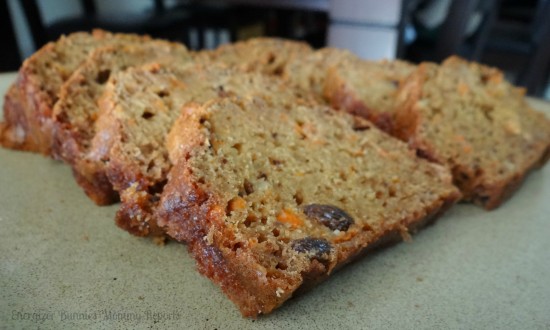 These taste just as great piping hot out of the oven, or even chilled.