Why We Loved the Embassy Suites Houston Energy Corridor
This post contains editorial samples and/or affiliate links to products I recommend. While this adds no additional cost to you, I will earn a small commission on any sales made.
Looking for an affordable family hotel in Houston? The Embassy Suites by Hilton Houston Energy Corridor has several perks that will make this property one your family will visit each time you're in Houston!
As our kids grow older, finding family-friendly hotels that don't cost an arm and a leg and are comfortable has become a little more of a challenge. On our recent trip to Houston, we decided to try out the Embassy Suites by Hilton Houston Energy Corridor for several reasons-
The complimentary breakfast spread
The indoor pool (we considered this a plus since the younger two wanted to swim, and our visit was when temperatures dipped in the low digits)
The suite-styled accommodations versus a regular room (which meant more space!)
If you're planning a trip to Houston, consider this property. Though it's not in the heart of Houston, it's a comfortable driving distance to Downtown Houston and the Katy Mills outlets.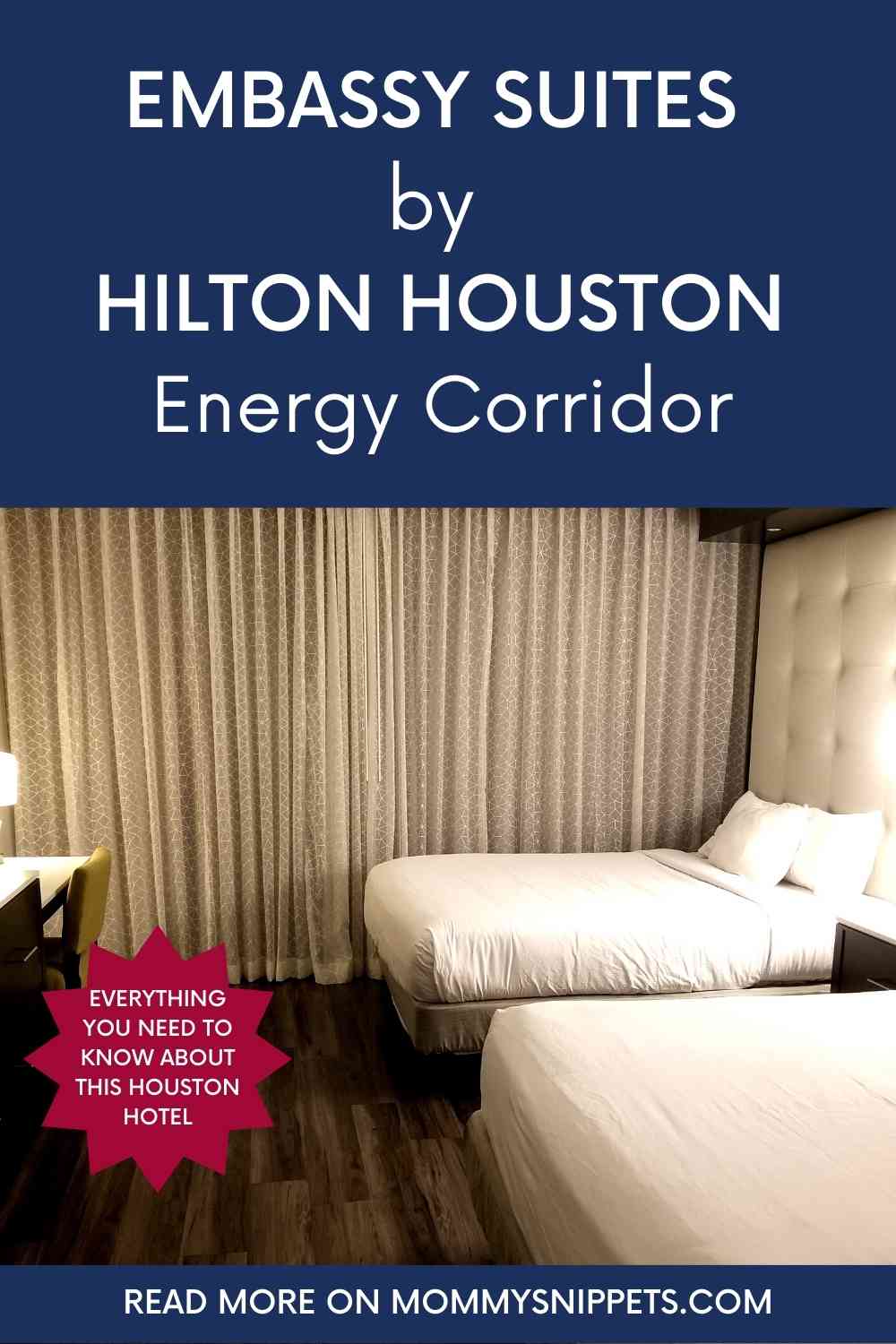 How to Save While Booking a Suite in this Houston Energy Corridor Hotel
1. Sign up for a free Rakuten account.
Once you create your Rakuten account, search for "Hilton" and click on the button to make your room booking through the Rakuten site. After your hotel stay, once the payment for the booking processes, you will receive a percentage of cashback in your Rakuten account.
2. Sign up for a free Hilton Honors rewards account and book in advance for a discounted room rate.
Reasons My Family Loved the Embassy Suites by Hilton Houston Energy Corridor
When you book a suite in the Embassy Suites Energy Corridor, you will enjoy perks that include:
Free Complimentary Made-To-Order Breakfast
Complimentary Evening Reception
Free Parking
Free Wi-Fi
Non-smoking rooms
Free access to the indoor pool
Free access to the fitness center
Pet-friendly property and rooms
Comfortable Spacious Living Areas in the Houston Energy Corridor 2-Room Suite
We booked a 2 Room Suite that comfortably accommodates six people.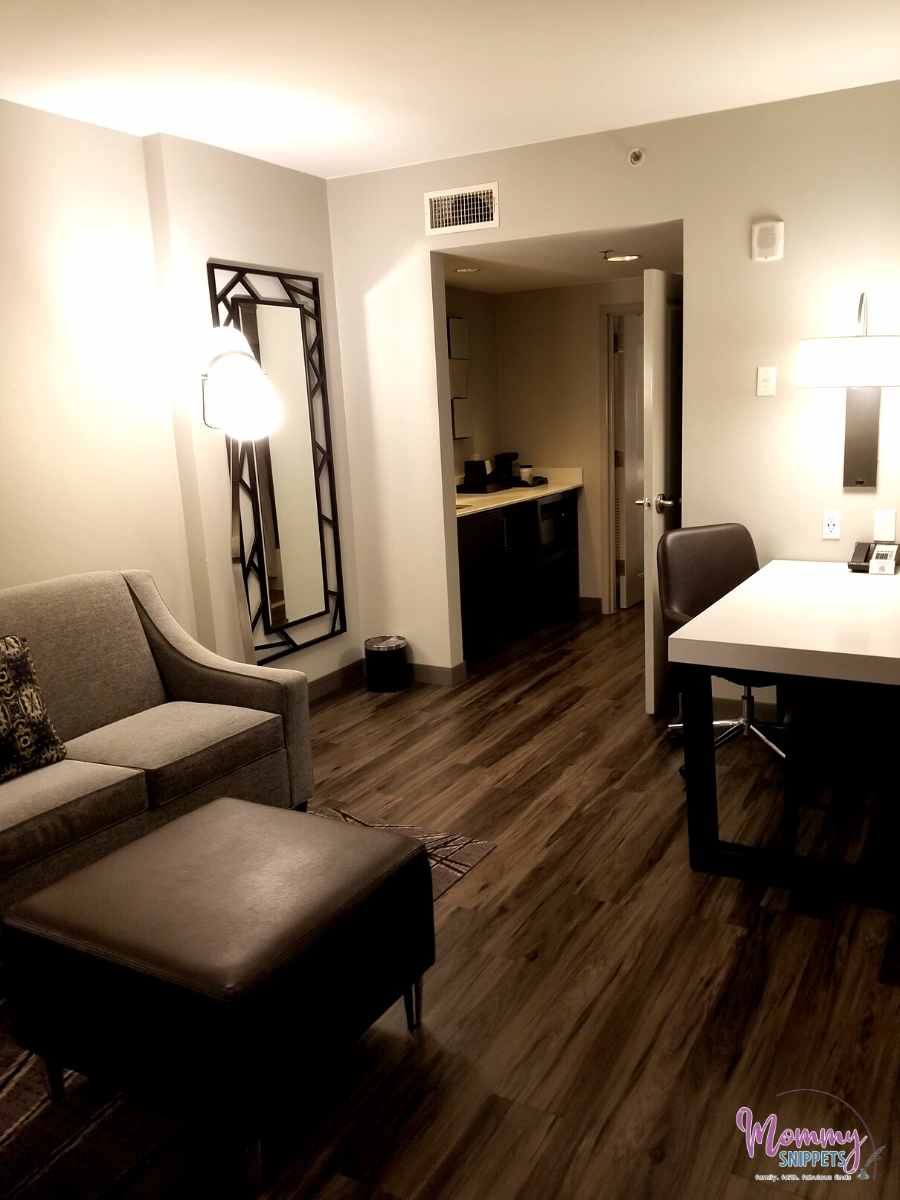 The suite included two queen beds,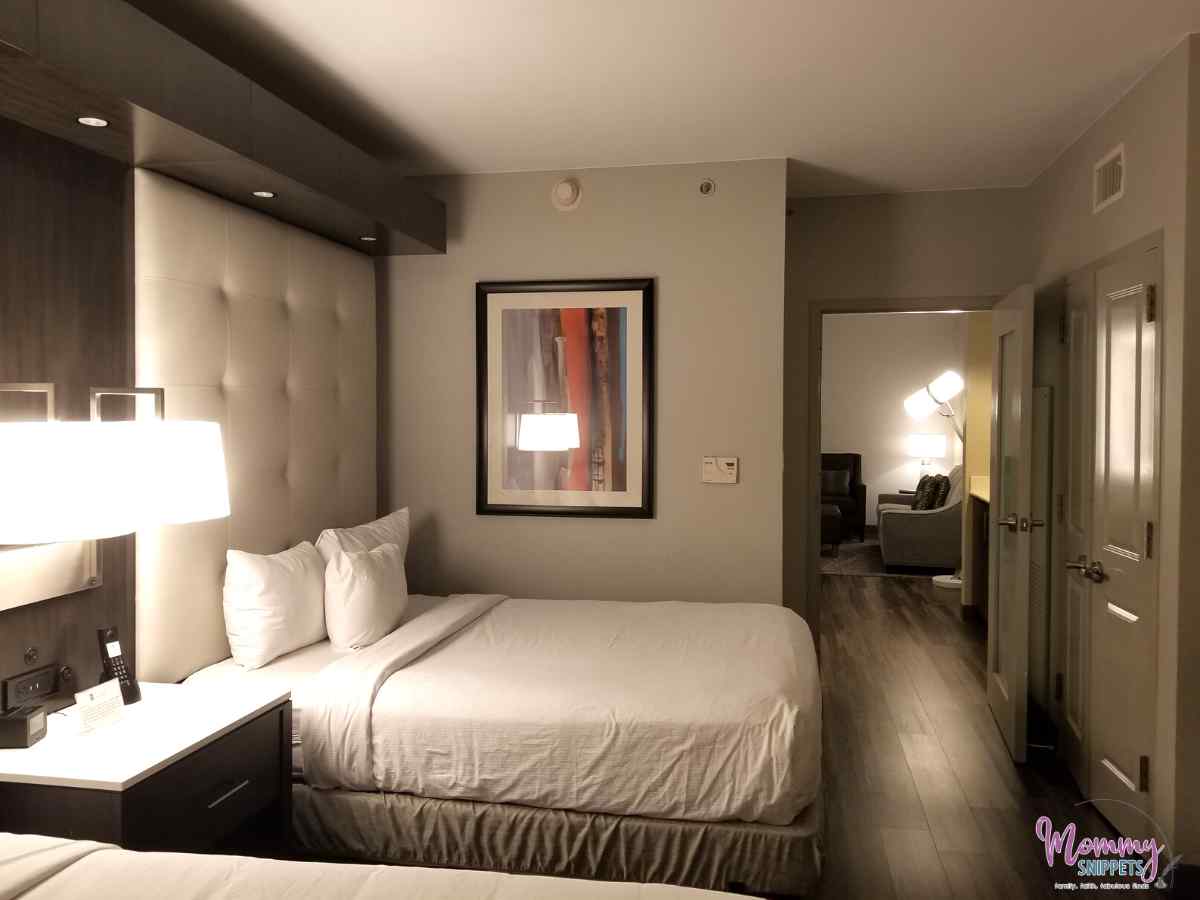 and a queen-sized sofa bed.
With two teens and a soon-to-be tween, we appreciated the space.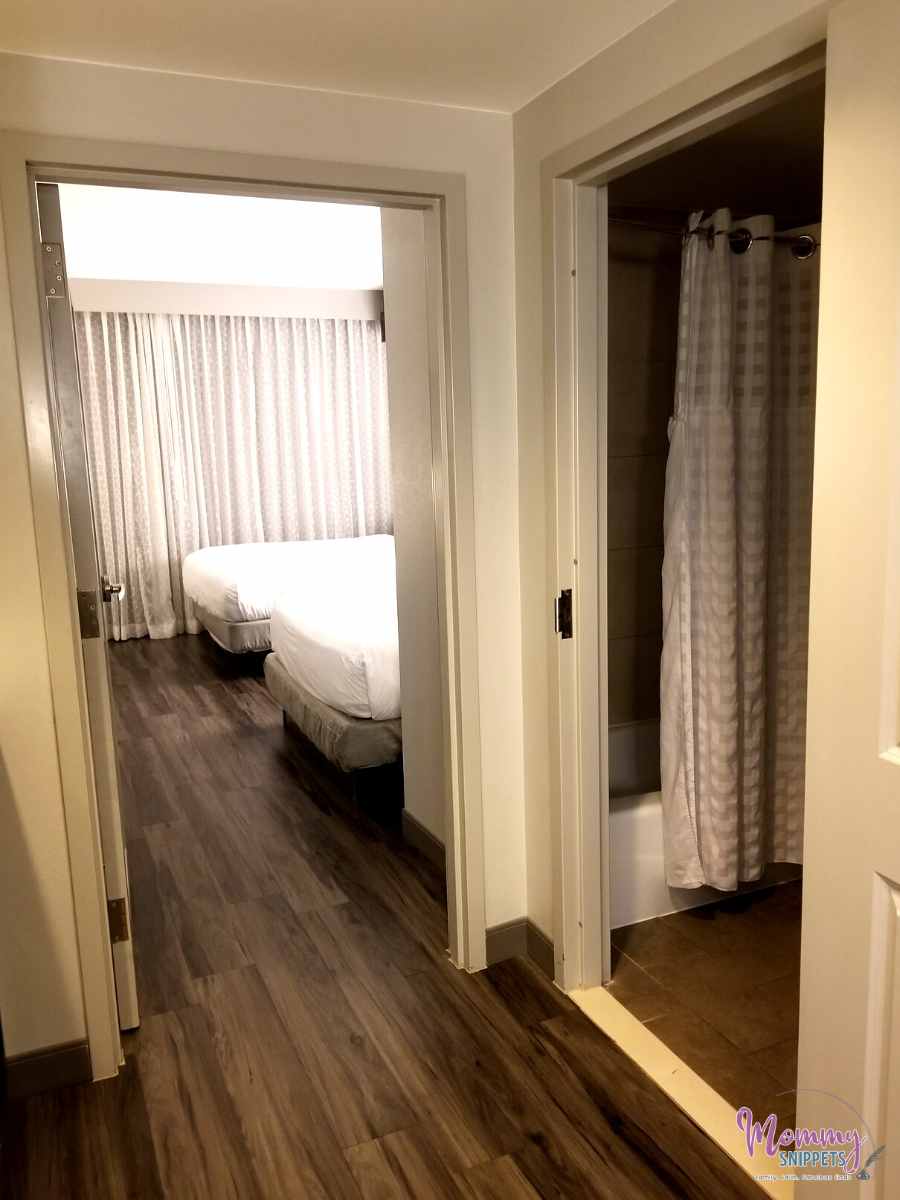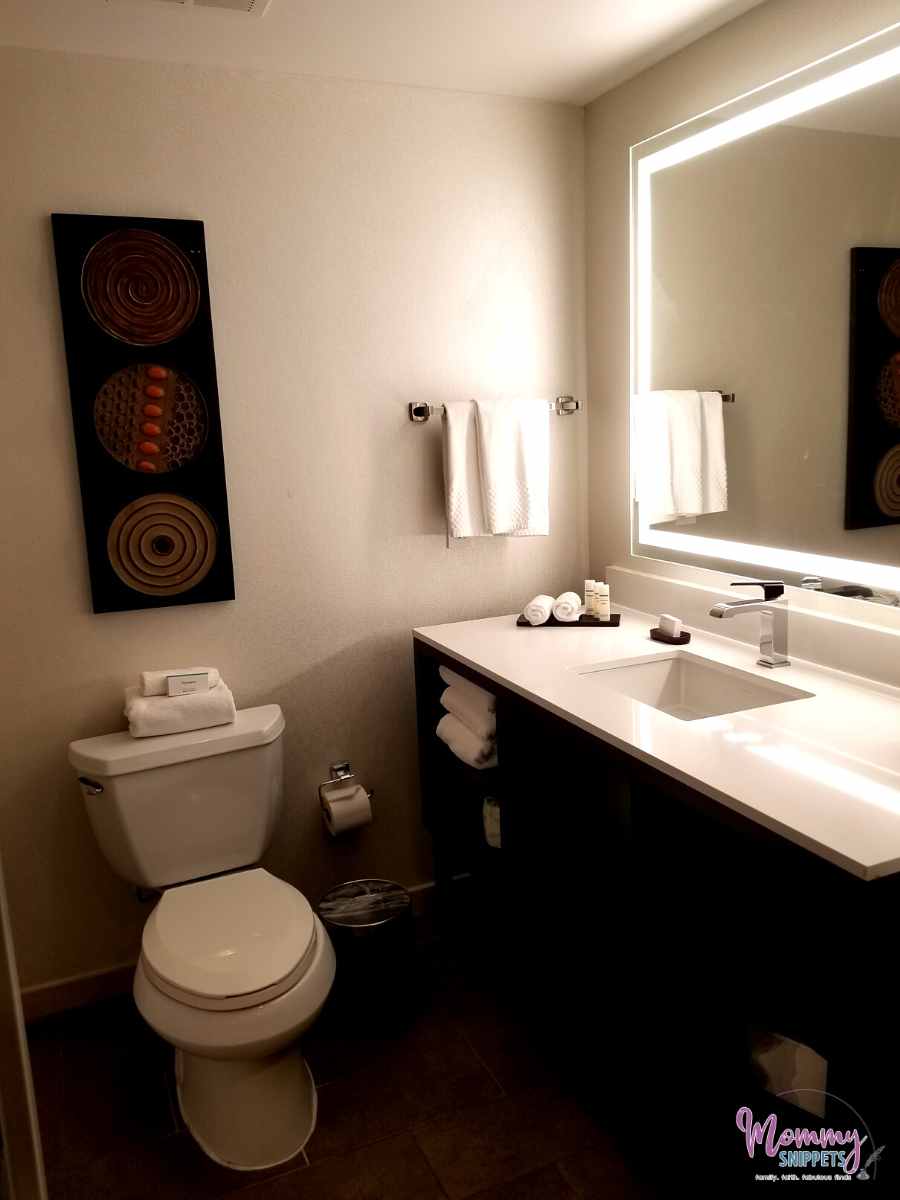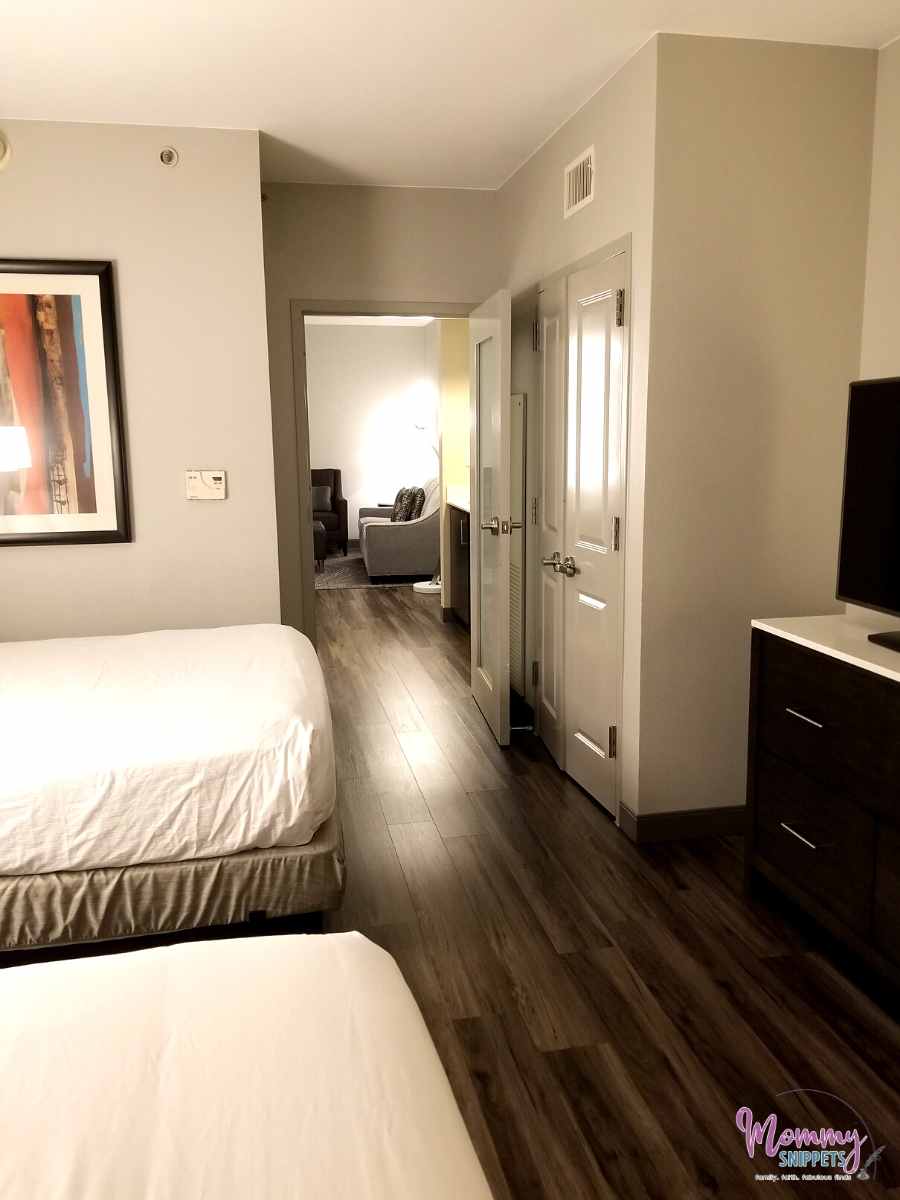 I loved the inclusion of a table that allowed me to get a little work done in a corner of the room,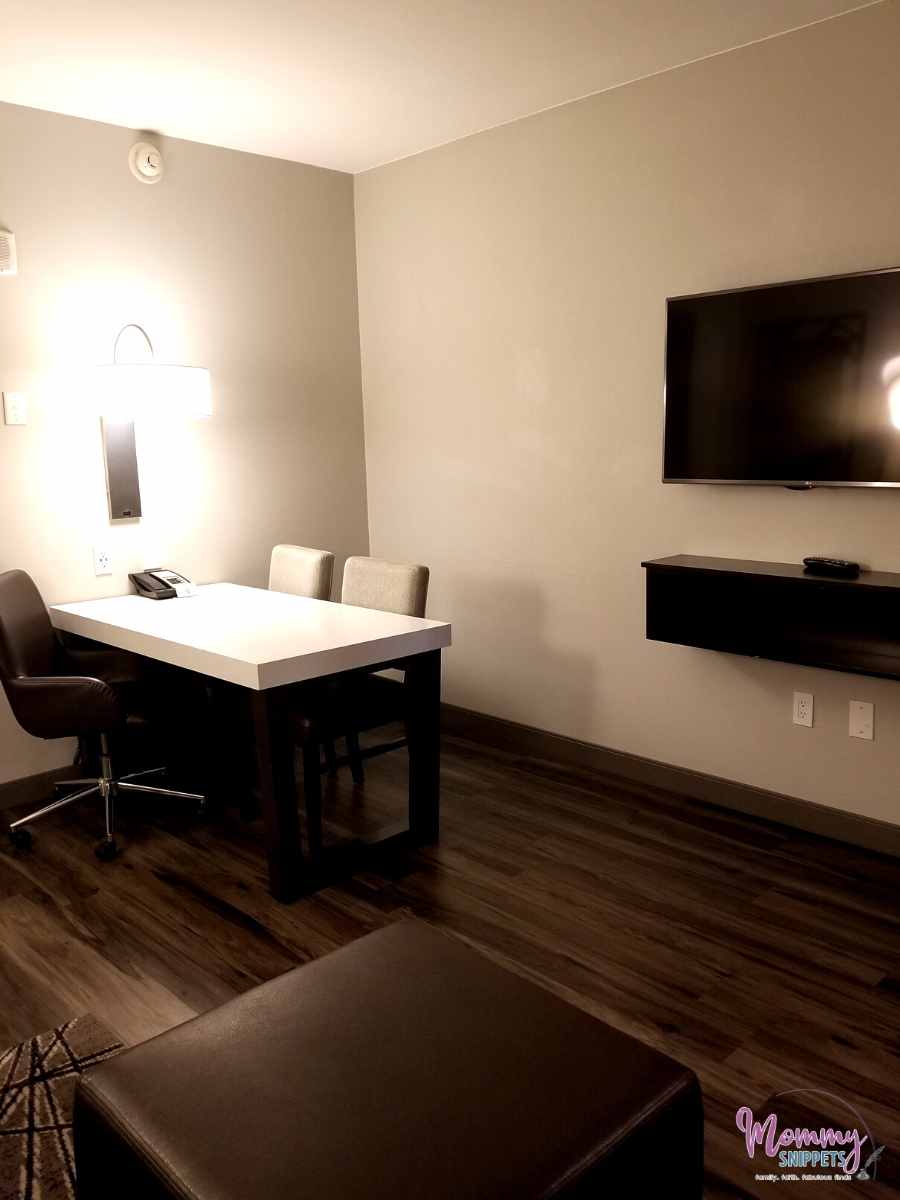 And I also liked the separated mini-fridge platform area that allowed me to set out more snacks and water, and yes, this included a sink too.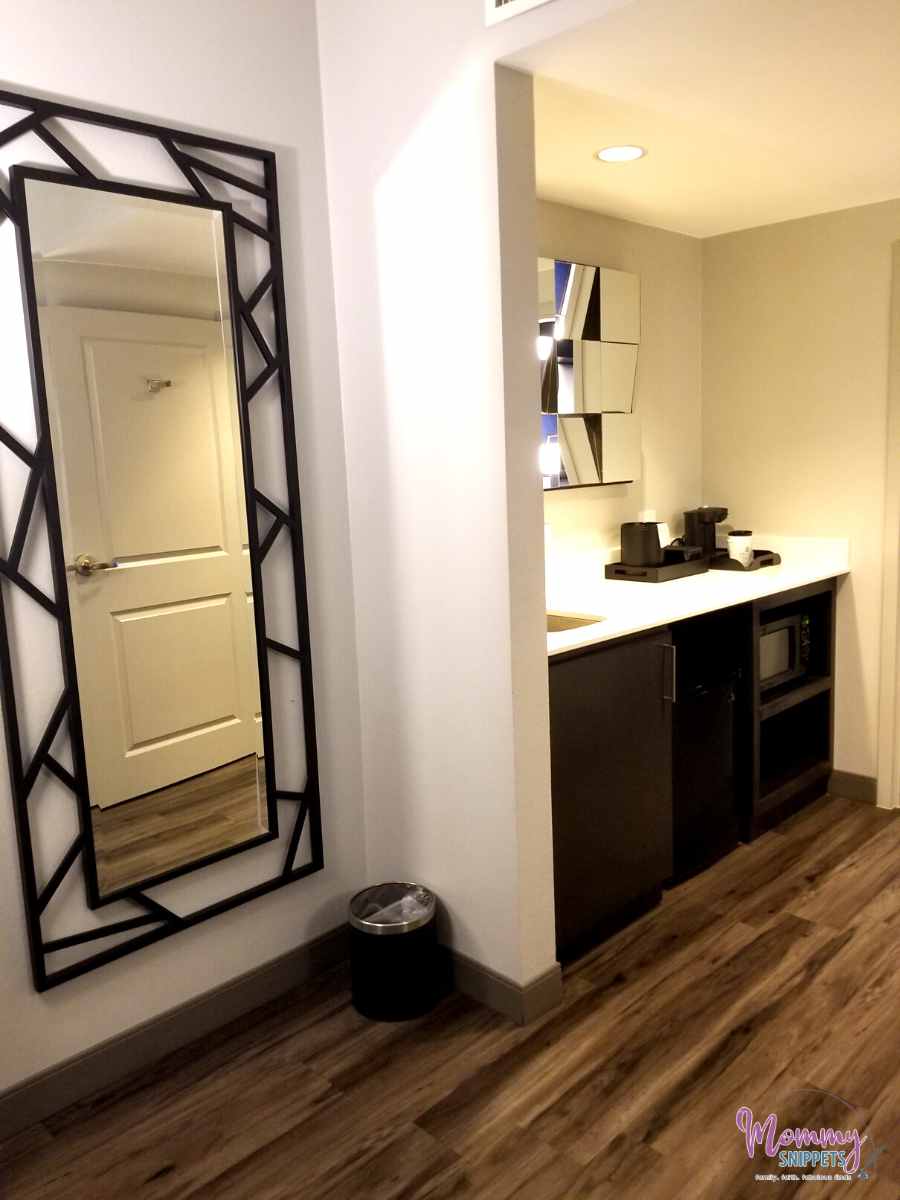 I Can't Rave Enough about the Embassy Suites Made-To-Order Breakfast!
I really can't!
This was a huge saving, especially if you have older kids or even kids who're a little picky about what they want to eat. There's something for everyone.
We would eat a late breakfast, which sustained us throughout the day. We would eat a small snack for lunch and have a decent-sized dinner after spending time at the attraction for the day.
You can order made-to-order omelets (these are the best!), waffles, and pancakes.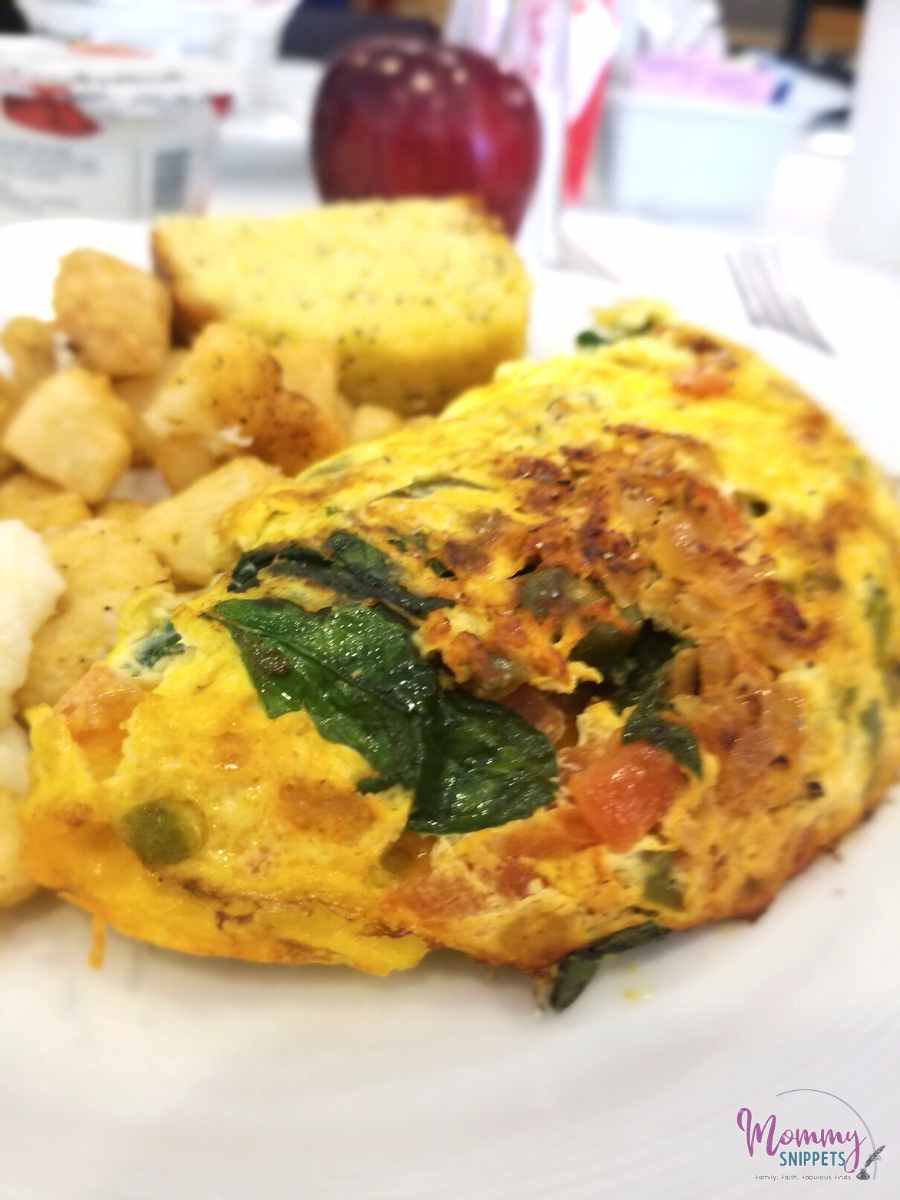 I'm big on a hearty breakfast, and this one is a real winner- scrambled eggs, bacon, potatoes, grits, sausages, fruit, yogurts, cereal, a variety of bread, pastries, juices, coffee, and of course, the omelets, pancakes, and waffles.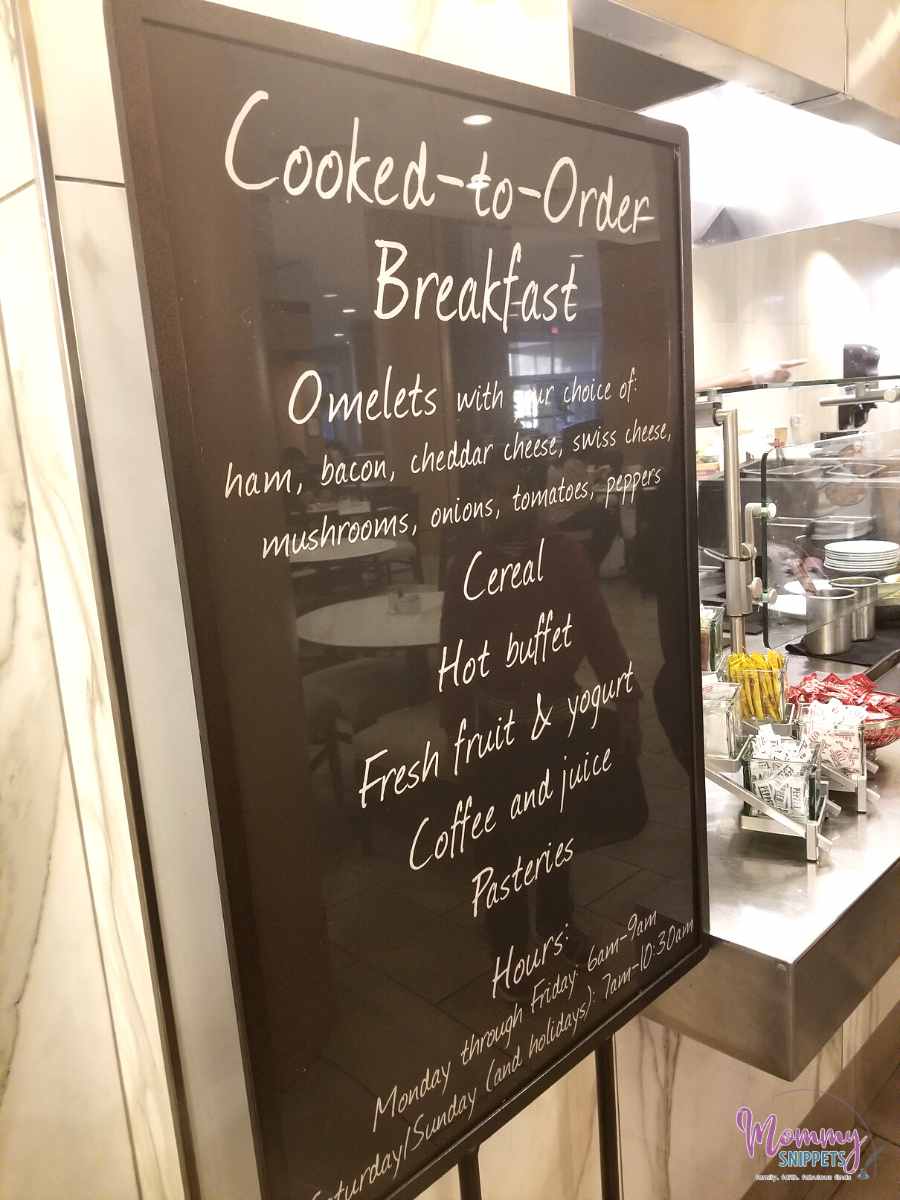 Tip: Check The Embassy Suites Breakfast Hours and Plan the Day!
Breakfast hours vary on weekdays and weekends, so plan for the day accordingly.
On weekdays, the made-to-order breakfast is open from 6 am-9 am, and on weekends, 7 am- 10.30 am.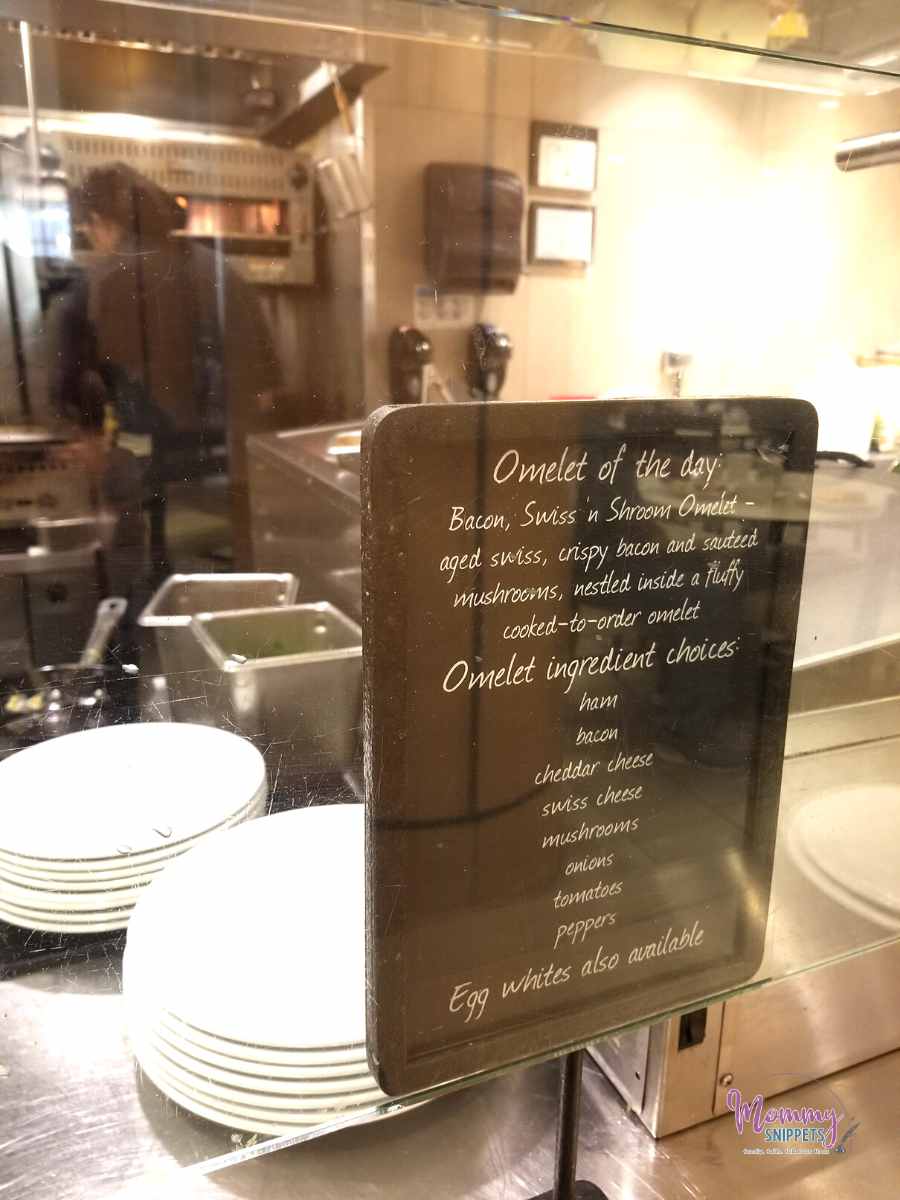 I recommend ensuring you get there an hour before breakfast closes, as the made-to-order omelet line can be long, especially during the hotel's peak season.
(On a side note, cocktail hours run from 5.30 am- 7.30 am on weekdays and weekends.)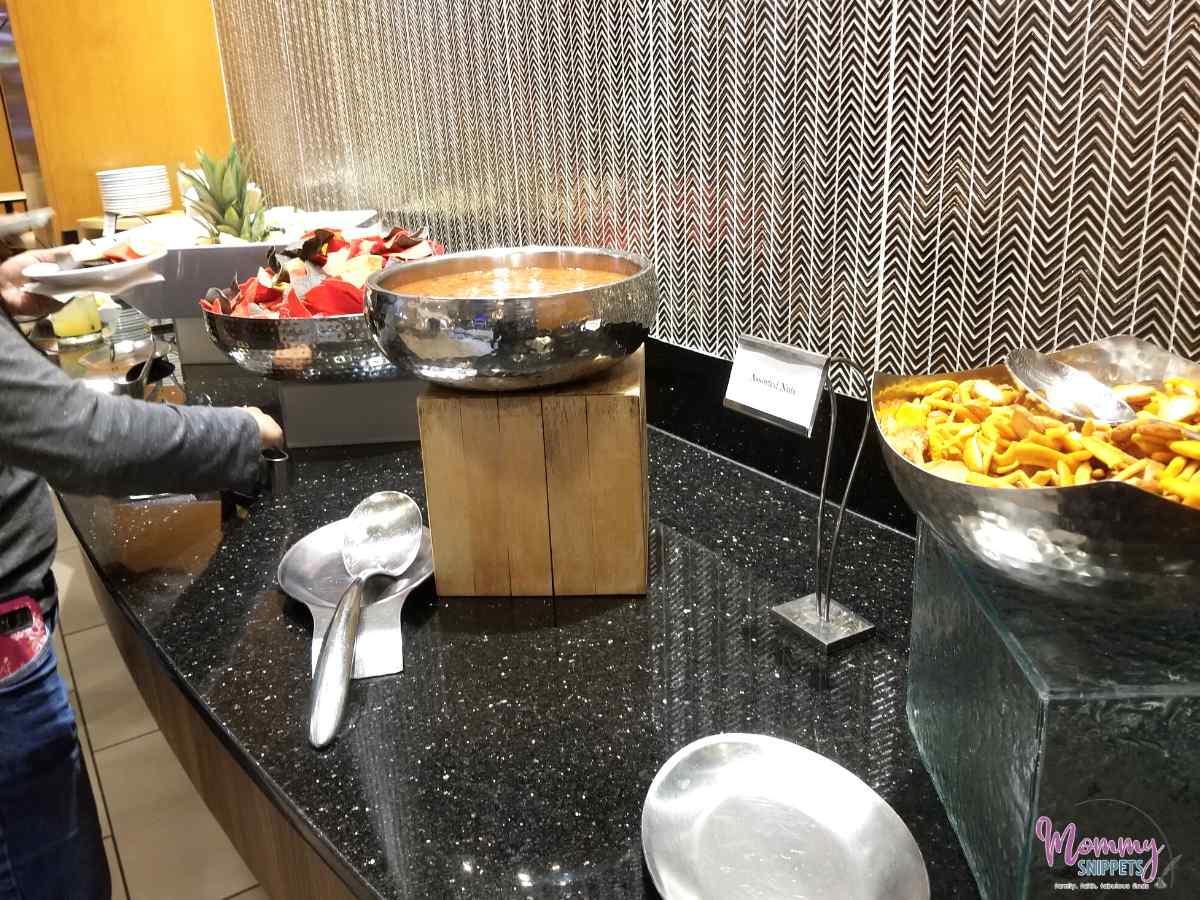 Tip: Check if the Indoor Pool Is Heated if Traveling in Cooler Weather
The pool's heater was not working during our stay, but that didn't stop my younger two from jumping in. The pool area has a small jacuzzi too.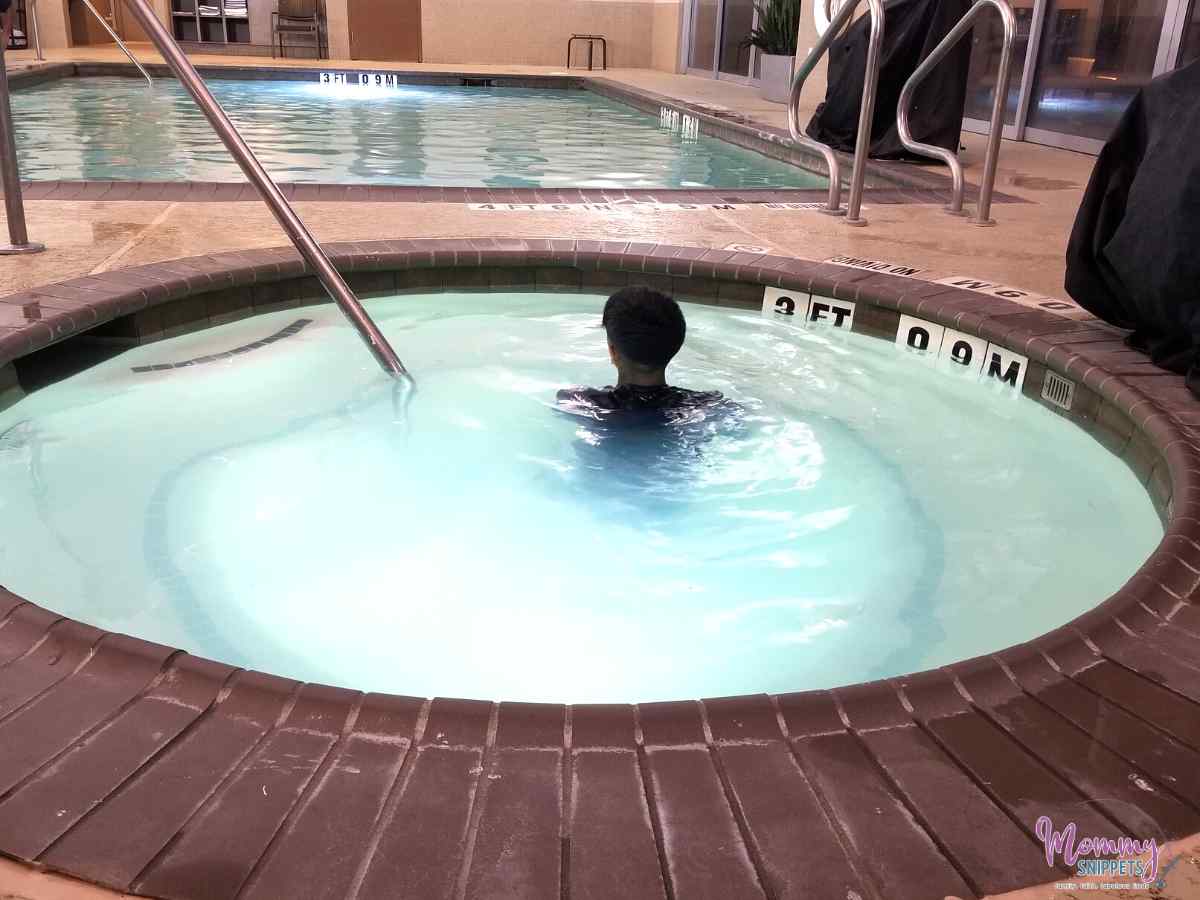 Tip: Ask the Front Desk for Dining Recommendations
While the hotel does have an in-house restaurant, we weren't particularly impressed by what we ordered for dinner one night.
The day we checked in, we took Yolanda's (Front Desk) recommendation and drove a few minutes over to one of Houston's popular eateries- Pappy's Cafe.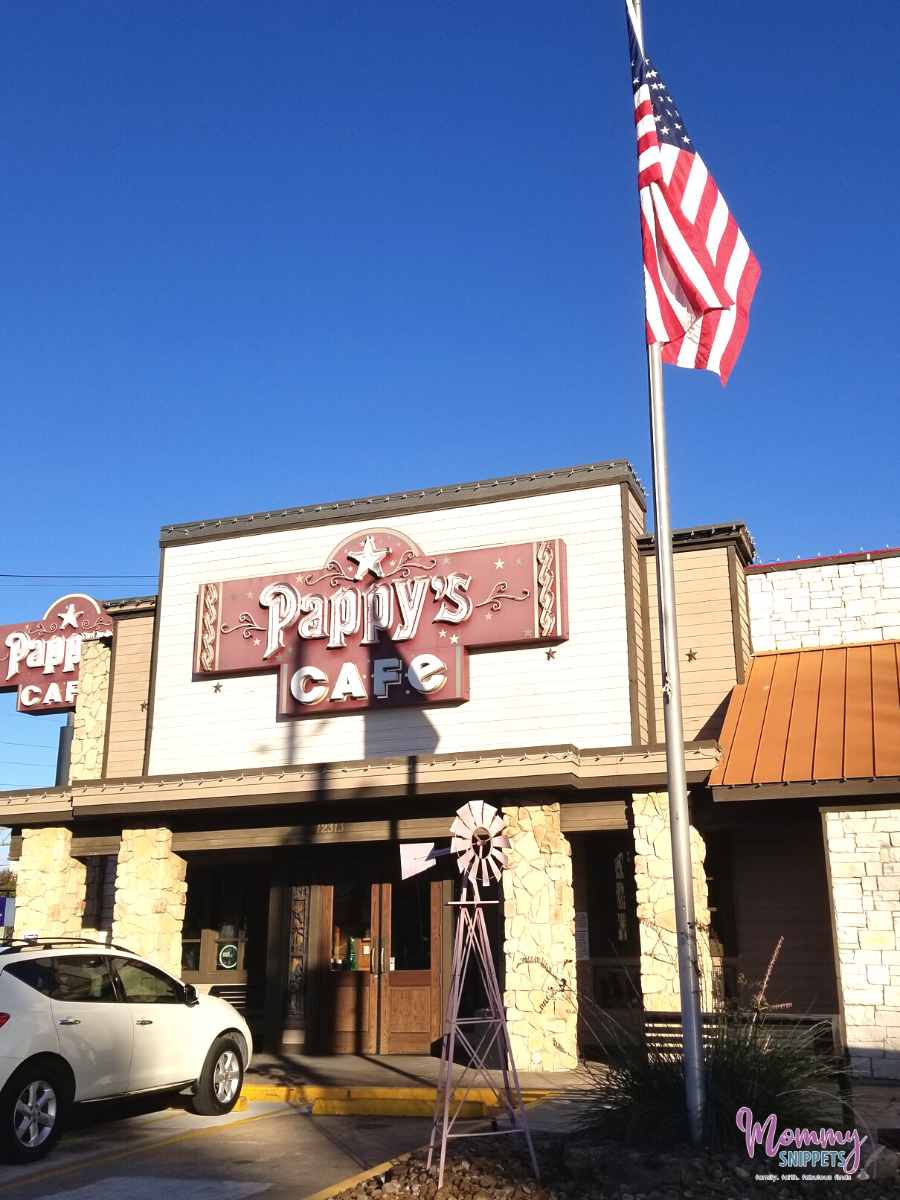 So good! Try Bubba's Chicken.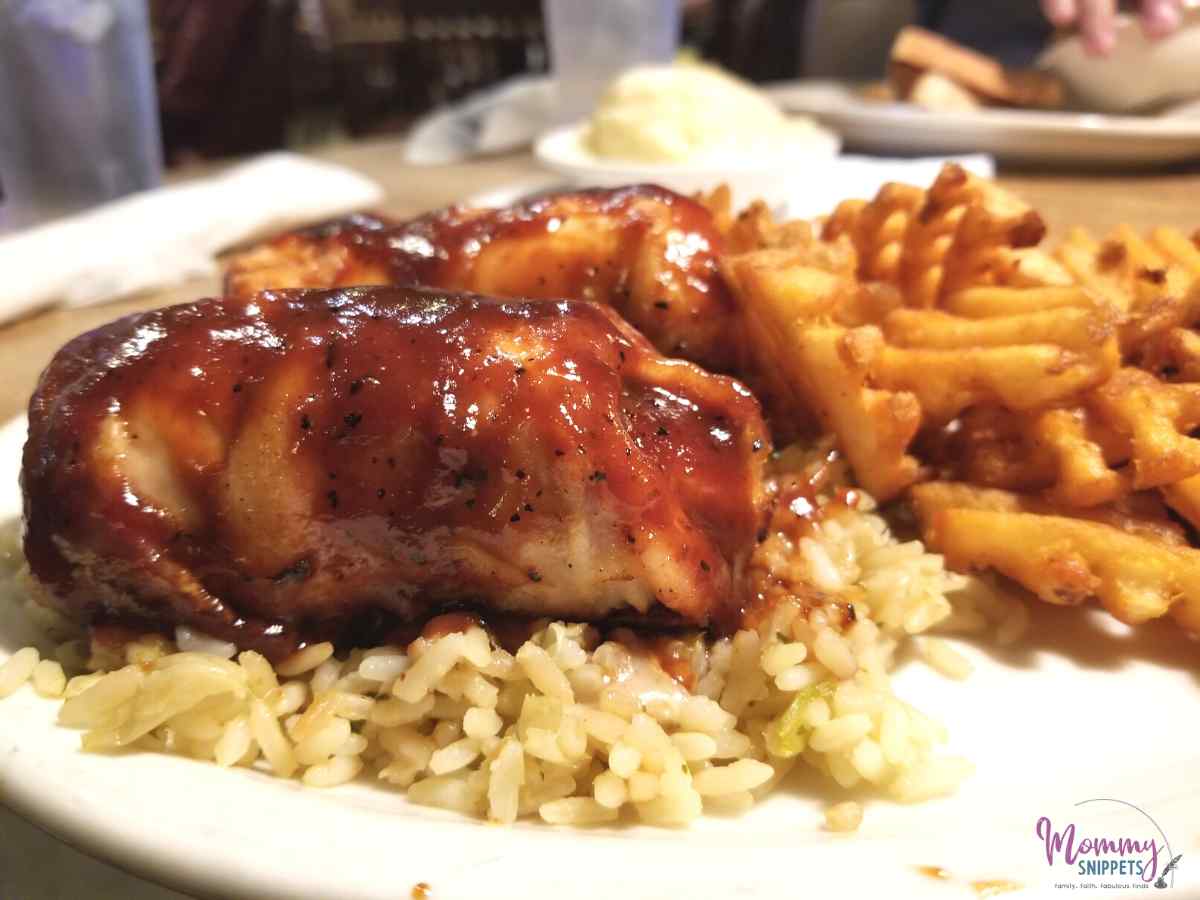 Our 4-day, 3-night stay was refreshing, the breakfast offerings a big bonus, and the Embassy suites team very hospitable.
Location-wise, staying bang on the Katy freeway made navigating travel to different locations in Houston easier.
Thanks to this stay, Embassy Suites by Hilton Houston Energy Corridor is now one of our preferred family hotels in Houston.
A Family Travel Tip I Stand By:
I know most hotels have baggage trolleys, but traveling with our collapsible wagon has been so convenient and quicker in more ways than one.
There hasn't been a road trip we've taken without our wagon!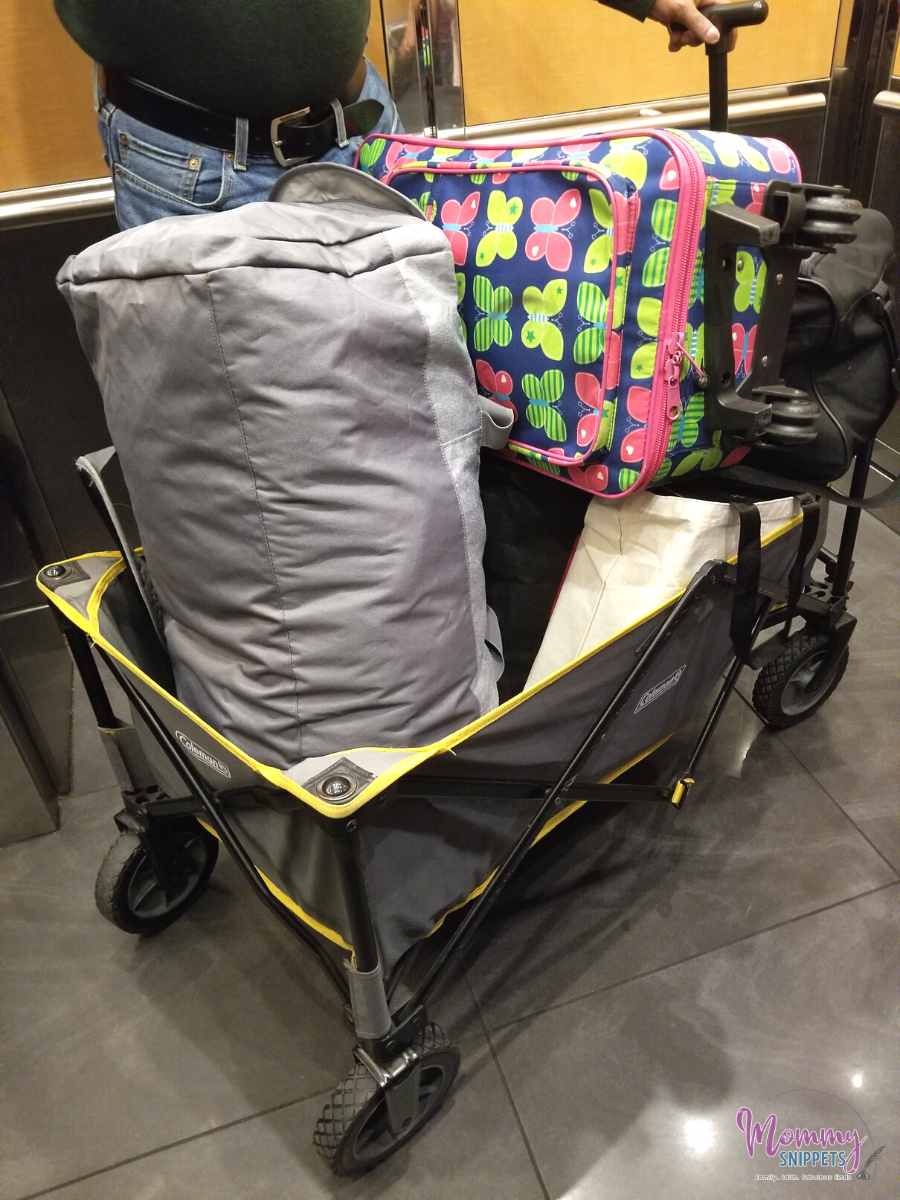 For more details, contact this Hilton property directly:
Embassy Suites by Hilton Houston Energy Corridor