This shop has been compensated by Collective Bias, Inc. and its advertiser. All opinions are mine alone. #MyCareGivingStory #CollectiveBias
My husband treats several elderly residents from one of the local assisted living facilities. Each year when the holidays come around, there are more than just a few residents who experience the Christmas blues.
The loss of a spouse, no family living close by or even poor health are a few common dampeners to their spirits. I'm sure there are a few elderly neighbors, church members or acquaintances, you know, who would welcome a little extra love this Christmas.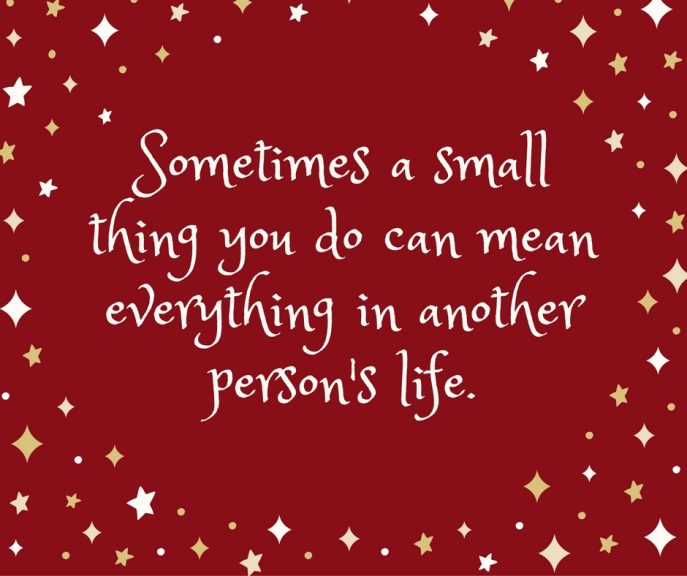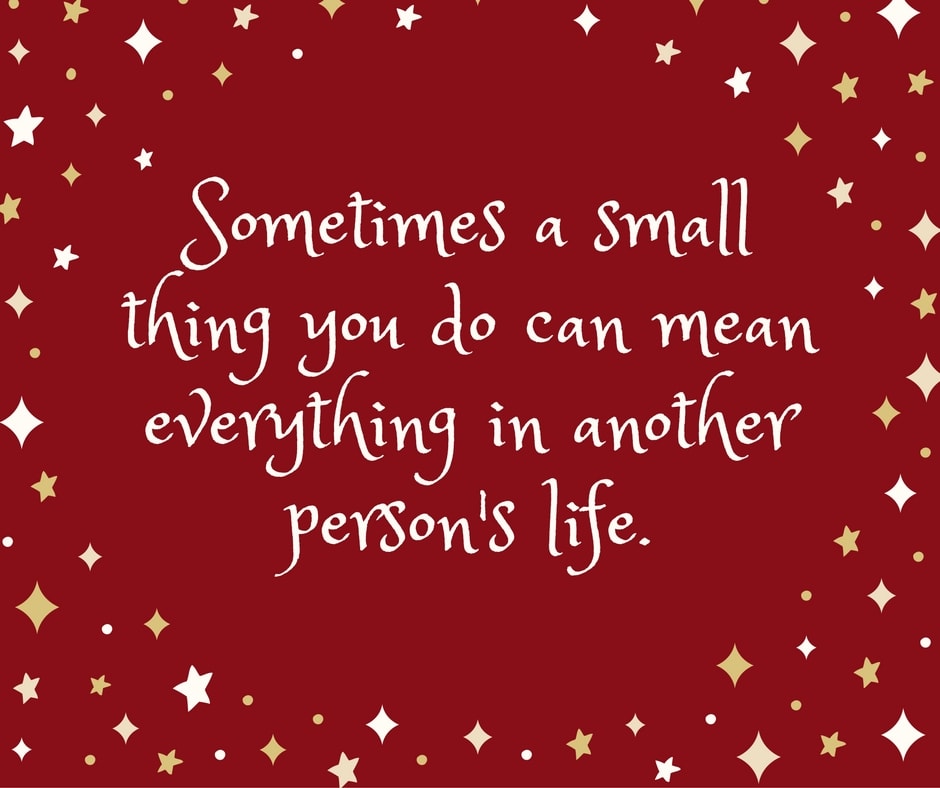 How can you make this Christmas happier for the elderly?
1. Bake treats and encourage your children to draw Christmas cards.  
If you have older children, you could also get them to sing a few Christmas carols. Our sweet friend Ms. M is always so appreciative of our home-baked gifts. I try to halve the amount of sugar used in most treats and substitute applesauce with at least half the amount of butter required, to make the treats a tad bit healthier for her. One festive treat we tend to bake on repeat is my Pumpkin Pecan Chocolate Chip Bread.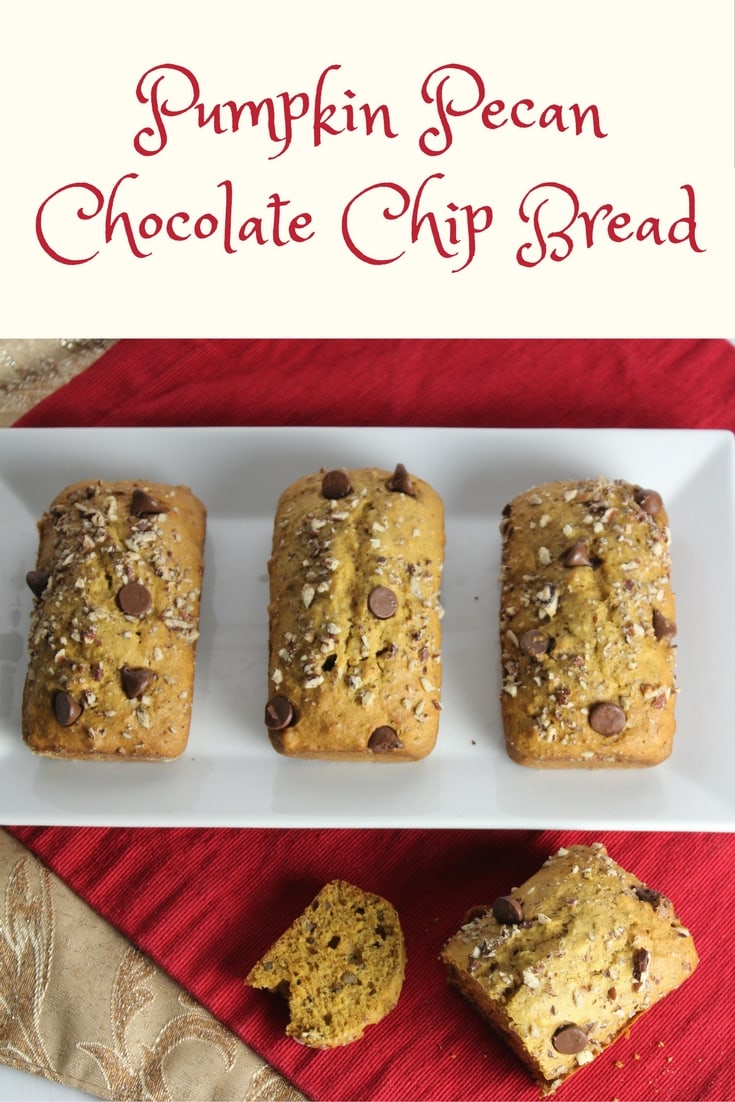 This is an easy recipe that has great results and will be a favorite with your elderly friend(s).

Pumpkin Pecan Chocolate Chip Bread
This makes 6-8 mini loaves (approx 6"x3")
Author:
Marina J (Mommy Snippets)
Ingredients
1 can pumpkin puree (15 oz)
4 eggs
½ cup applesauce
½ cup butter
⅓ cup water
1½ cups sugar
3¼ cups all purpose flour
2 cups pecan granules/bits
1 cup chocolate chips
¾ cup steel cut oats
2 tsp baking soda
1 tsp salt
1 tsp cinnamon powder
1 tsp nutmeg
½ tsp cloves
½ tsp ginger powder
Instructions
Preheat the oven to 350 degrees Fahrenheit
Grease and flour the mini loaf holders and set aside
Mix the following ingredients in a bowl by hand or on the lowest speed on your stand mixer: pumpkin puree, eggs, butter, applesauce, sugar and water
In a separate bowl mix the remaining ingredients (except ½ cup pecans and ¾ cup oats. This will be sprinkled on the top before popping the filled holders into the oven)
Now gradually add the dry ingredients to the wet and mix till blended well.
Pour the batter ¾ths of the way into holder and sprinkle with oats and pecans
Bake for about 35-40 mins or till the toothpick, when inserted, comes out clean.
Set aside to cool for a bit before slicing the loaves.
The loaves freeze really well, so you can always gift extra loaves for your friend(s) to enjoy.
2. Invite your elderly friend for a meal especially if he/she has no family in the area.
Ms. M insists my kids are her adopted grandkids and proudly introduces them to her friends that way. Though our schedule during a regular school week is hectic, we try to make it a point to have her over as often as we can. The wide grins through the evening are always testament of how happy she is to be around the kids.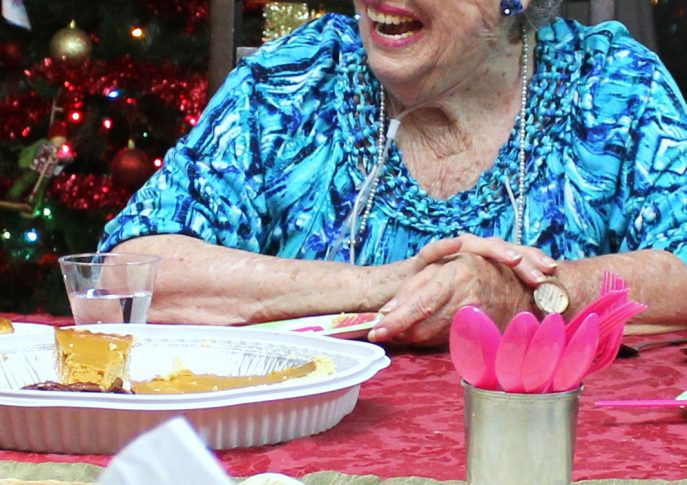 It's always sweet to see the kids help her with her tech difficulties too.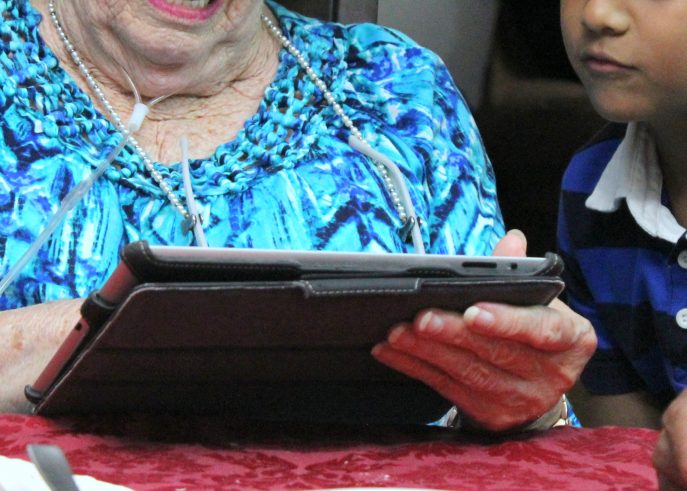 3. Put together a Christmas basket or tote with practical gifts.
My husband has always been passionate about finding practical gifts. Thinking about the needs of an elderly resident in an assisted living home or nursing home, he recommended gifts the recipient would appreciate especially as most are on a tight budget.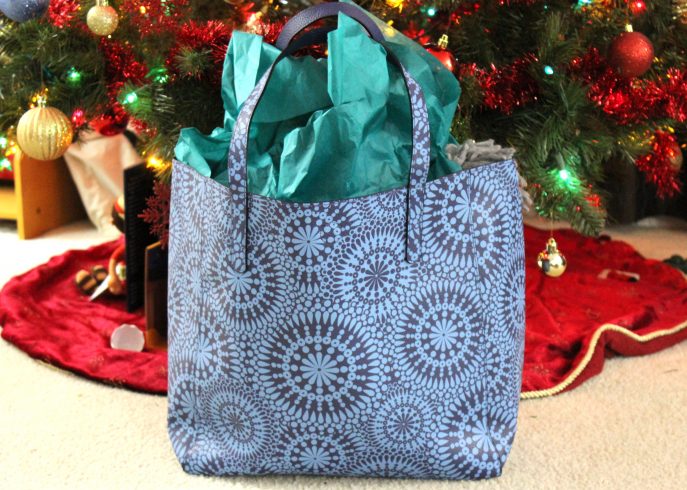 Practical gifts, keeping in mind dropping temperatures, could include warm socks, a shawl, mittens, a fleece blanket, moisturizing cream, lip balm, hot cocoa packs and even Depend® Fit-Flex® Underwear. (Gifting a value-sized box from Sam's Club or sharing the individual packs between 3 or 4 recipients, would be such a blessing.)
True, this is a personal gift to give but when you know the recipient's background and know this is a necessity you won't think twice.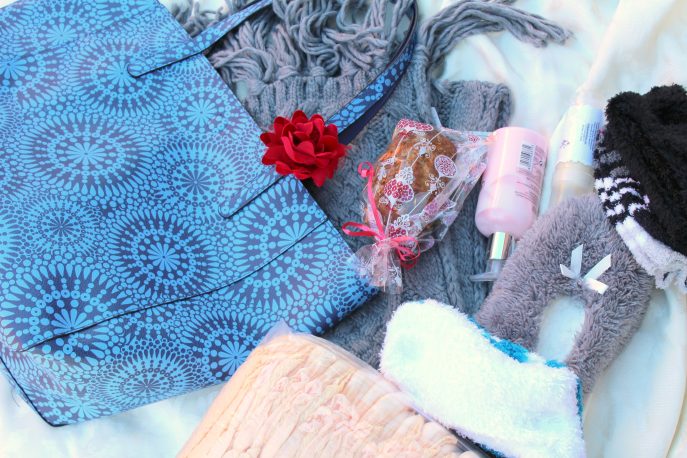 Sam's Club Family Caregiving serves as a convenient, one-stop destination for our older generation's needs, fulfilling prescription refills, conducting free health screenings, providing wellness services, carrying personal care products and value sized boxes with a $10 off and $7 off offer, respectively, on Depend® and Poise® products.
( Sam's Club carries Depend® Fit-Flex® Underwear for Women (Sm/Med), Depend® Fit-Flex® Underwear for Women (Lg), Depend® Fit-Flex® Underwear for Men (Sm/Med), Poise® Liners – Light Absorbency and Poise® Pads – Maximum Absorbency in value packs)
Sam's Club members are also invited to download the Digimarc Discovery app. With the same, when one scans any place on the Depend pack, the app pulls up the Sam's Club Caregiver website that's packed with helpful resources.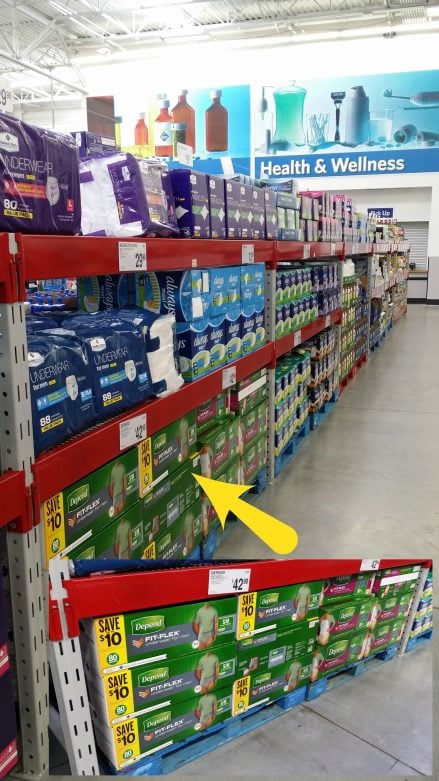 Light bladder leakage is not uncommon and dealing with it without hurting ones wallet makes this season in ones life easier. Adding a pack of Depend® or Poise® products in a gift tote or basket, or even including a Sam's Club membership card, would definitely be joyfully welcomed by the recipient.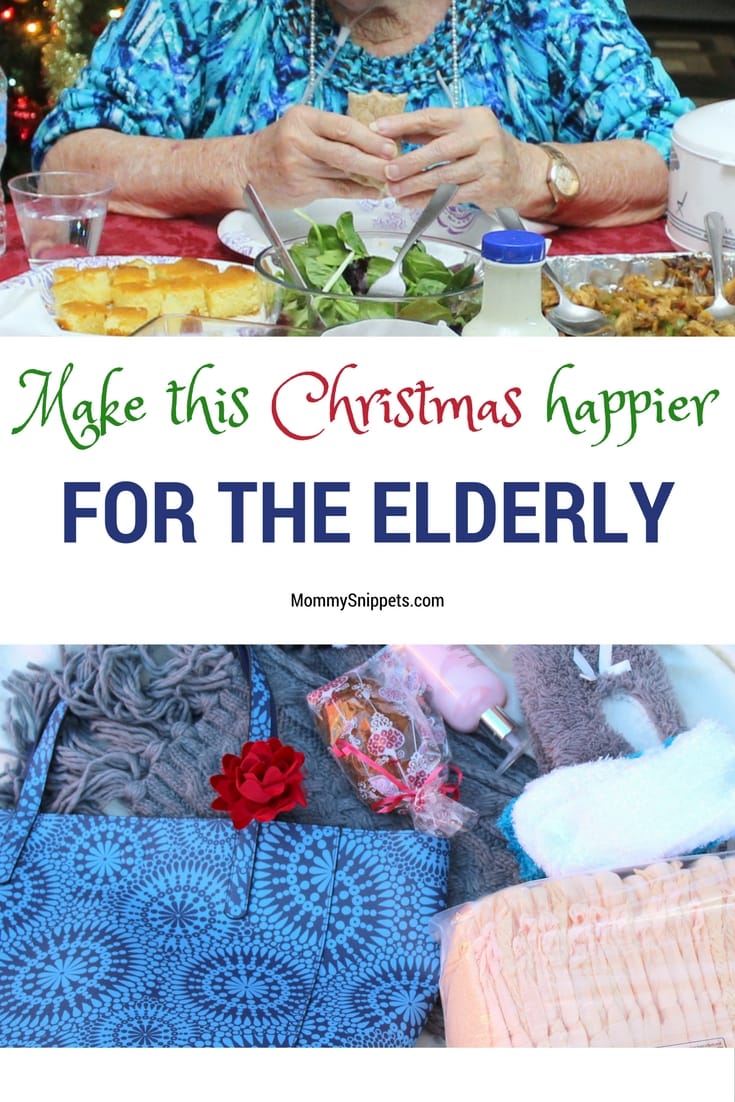 Can you think of other ways you can bring joy to an elderly loved one?
I'd love to hear from you. Hop over to chat with me on Facebook and/or Twitter