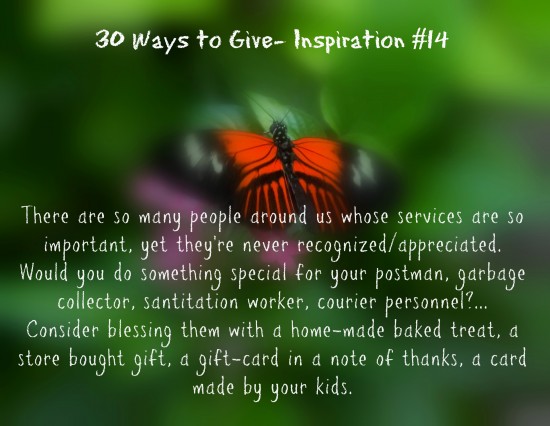 Every year we save a little extra to buy Christmas gifts for our postman, courier personnel and garbage collectors. We always include a Christmas card with a note of thanks.
I will never forget that moment, two years ago…when my then 4 year old…gave our strapping, stern, courier delivery man his Christmas gift and card.
He initially stepped back and questioned if this was really for him….then looked at his gift, speechless.
When he looked up at us, his faceoftened and tears welled up in his eyes, as he softly whispered a thank you.
Apparently nobody had ever given him anything on all his years on the route and this was a first.
He is not alone. There are so many people in our lives who go unappreciated.
Will you make it a point to appreciate the unappreciated?
* Read more about the 30 Day Giving Challenge 2012 *