Kids bring so much joy in the home. They give us a reason to laugh, smile, and play. Because they spend a lot of time in their bedroom, the room should be made appealing to them. Decorating a child's room can be very tricky if you don't look at things in the child's perspective. Before deciding on the theme, it's important to consider their interests, favorite colors, and personalities. Whatever you decide, you have to ensure that you create an environment that's welcoming to them.
You can work with anything from bedside tables modern to simple artwork. As you do this, be very conscious of your child's age.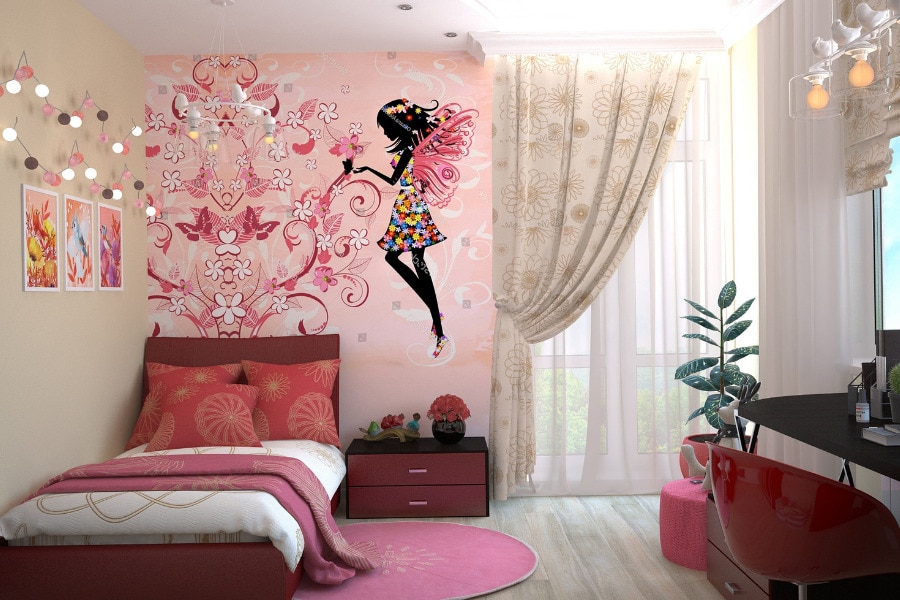 19 Stylish Ways To Decorate Your Child's Bedroom
1. MapQuest
One of the key elements in decorating a child's room is their interest. And a world map is great for that child that just loves to explore. Pick one full wall in the bedroom and have the world map drawn on it with details. The mix of green and blue can then become your theme for the entire room. Add some other colors but keep it subtle, letting the full wall world map be the main focus of attention.
2. Starry Ceiling
Paint the ceiling blue and have several stars on it to make it look like real stars in the sky. Add a pendant light to spruce things up and your toddler will love sleep time. You can add one big star in one of the bedroom walls just to support the theme. Remember to keep other items in the room neutral and neat.
3. Wall Decals
Decals are great for decorating your child's bedroom, especially the peel-and-stick type. This is a great way to decorate a house where you can't paint the walls. You can let your child pick the decals they prefer and you will see the joy on her face.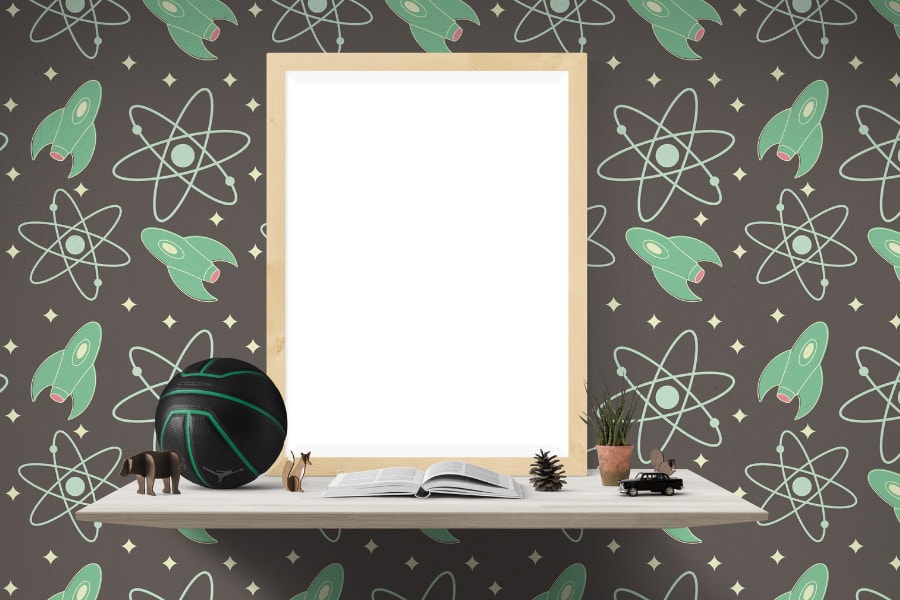 4. Be Practical
When you're decorating a bedroom for a child who has regular homework, you need to consider setting up a study area and a daydreaming space. Just get an adjustable chair and a simple desk for the study area. You can also bring in a big bean bag with a subtle hue or a loveseat.
5. White Paint Effect
There is something about white walls that just makes everything look calm. And if you aim to create a calm atmosphere, you can ensure that other items in the room like furniture and wall décor are all colors that have a more silent hue. Baby blue and grey are great for this kind of theme.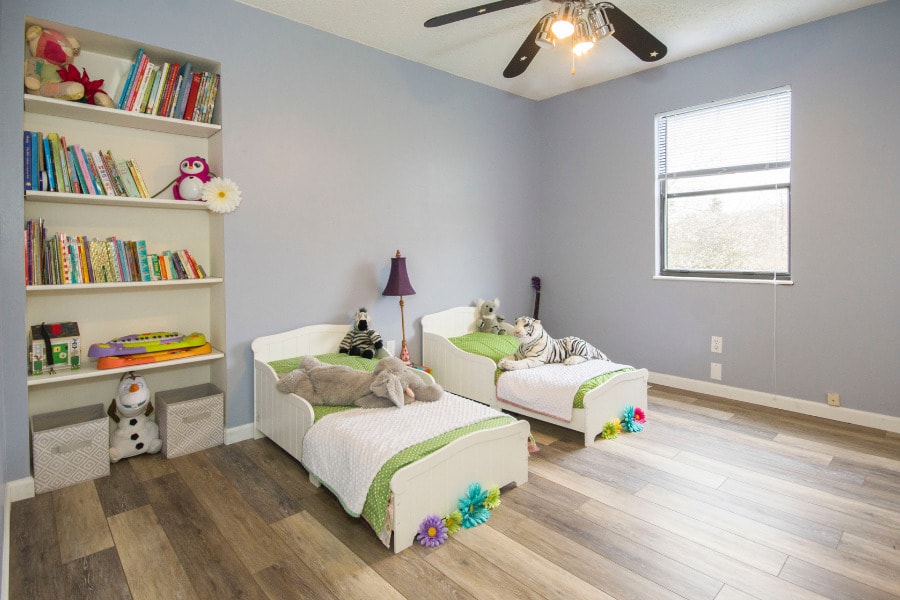 6. Install a Cupboard
A cupboard may seem like an obvious item in the bedroom, but if used to decorate a room then everything changes.
7. Shared But Different
If you have two kids sharing a room and they both like their own styles, you may want to consider having two similar beds, but with different beddings. If they both like the same style, you'd just go for a symmetrical room design.
8. Install a Chalkboard
Other than the fact that chalkboards can save you from having a messy wall, they're also a great décor for a child's room. This is a great idea because kids are full of imagination. The chalkboard allows them to draw literally anything from their little imaginations. You can add a colorful rainbow rug, some books on the shelf and a bright colored chair.
9. Make it more alive
Incorporate some colorful items in the room. color always attracts a kid's attention. Therefore, consider making this the center of your decor. Throw in a woven rack, a colorful cupboard, and some baskets to make it livelier. Ensure the cupboard is open and full of boxes and baskets to keep the kid's stuff.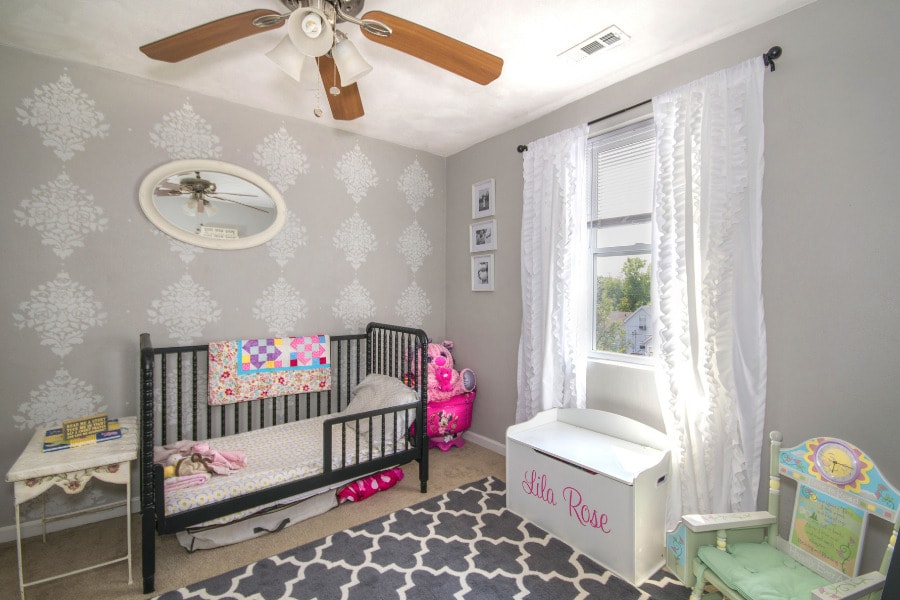 10. Children's Books
Who knew that books can be a great decorating idea for any child's room? Just add some shelves to display the book collection. Ensure the books mostly focus on the child's interest. This is even a greater idea for a toddler's room.
11. Action Hero Figures
Every child has a favorite action figure and a dream to one day meet them. So, install some shelves right on top of the kid's bed and stock it up with different action figures. Some adults also idolize action figures, so such a theme can work for kids from toddlers to teens.
12. Bedside Table
Adding a bedside table to a bedroom as decor can work great if it's a little girl's room. To incorporate this, just ensure you have some floral beddings and pillows, with vivid colors. Aim to add energy to the room. Add a horse rocking chair that matches the color of the bedside table.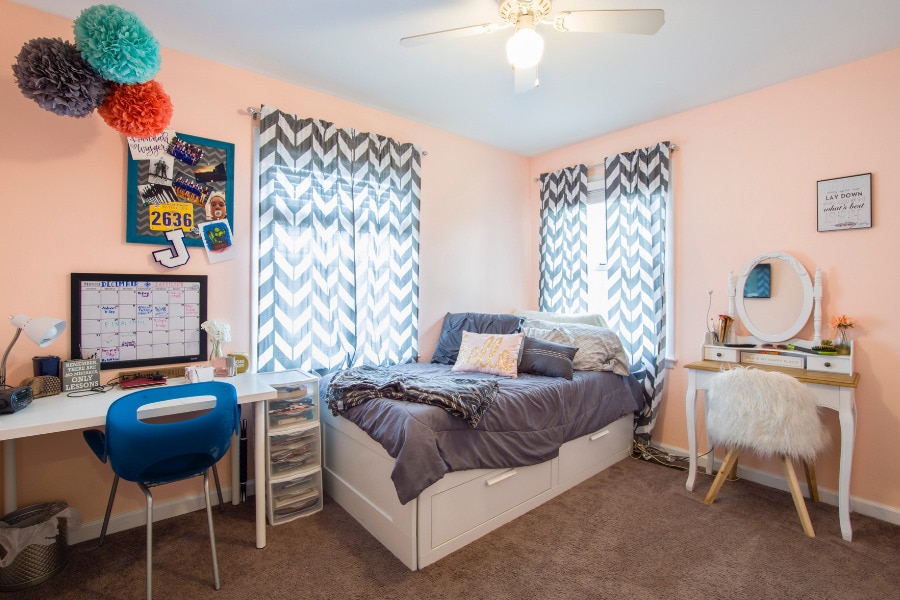 13. 3D Wallpaper
When you have a child that's a bit grown-up or a teen, it's better to go for 3D wallpaper instead of paint. Just keep his interest at heart as you pick what to display.
14. Teepee Tent
You may think that a teepee tent would crowd the room, but remember it's about the child. A teepee tent in the room is what most kids want, and it'll keep them in the room for hours. Some teepee tents have extra space on top for putting some toddler boy clothes online for easy access.
15. A Little Separation
Use a divider to separate your two kids so that they can have some individual space. You can use either ceiling-mounted rod works to hang a colorful curtain between the beds or a colorful shelving unit. Then you can decorate both spaces depending on their different styles.
16. Bunk Beds
Bunk beds are a great way to decorate a small room. Just make sure that the bunk beds are either colorful or made to look like something your child likes such as a car or a playhouse.
17. Children's Closet
If your child's bedroom has a big closet, then bring it down to their level. Install some hanging rods and shelves that are low enough for your child to reach. This can work as their private place where they can play dress-up with friends. Have different drawers and rods for either toddler boy clothes online or for girl's clothes. Remember to make it clean and neat.
18. Balance the colors
If you have an artsy girl, you better go with color combinations for the bedroom decoration. A loft bedroom is the best place to start. Then have a rotating gallery that can display her artwork. Ensure there is color in the room by painting the walls, but remember not every wall has to be a different color. Have one strong focal point like a fabric wall or an artistic bed.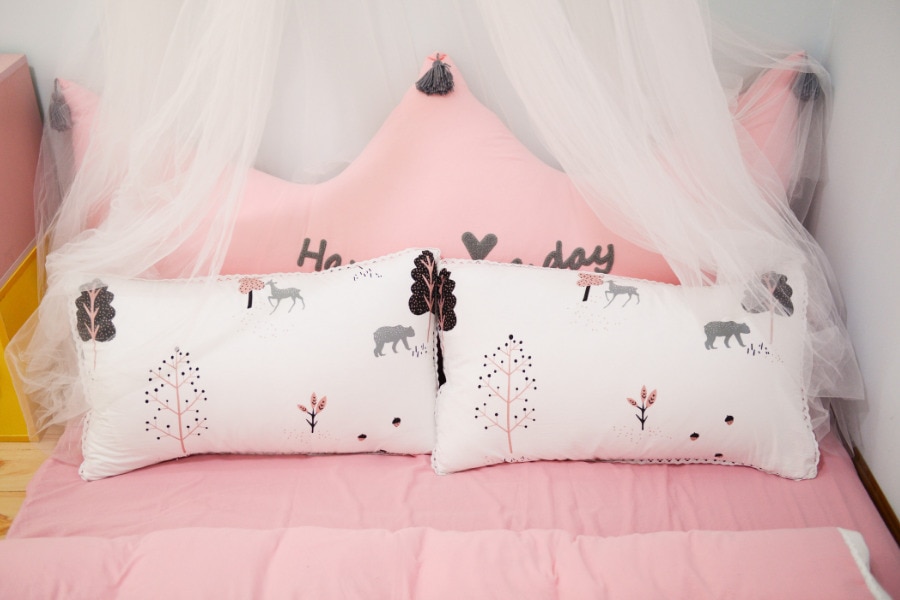 19. Suspend the Bed
A suspended bed is great for a boy's bedroom. It also helps save room for his other stuff. Keep the hue calm and subtle, and then mix it up with some neutral colors. This idea is great for a teenager, so most of the ideas should come from him.
Whichever theme you decide on, ensure that it fits perfectly with your child's preference. What you want to focus on is bringing in the ultimate fun to their room. Remember the whole idea is to make the room as welcoming to the child as possible.