Introducing the Urbini Omni 3-in-1 Travel System
This post contains editorial samples and/or affiliate links to products I recommend. While this adds no additional cost to you, I will earn a small commission on any sales made.
Disclosure: "I participated in a campaign on behalf of Mom Central Consulting (#MC) for Urbini. I received a product sample to facilitate my review and as a thank you for participating."
Urbini is no stranger when it comes to car seats, strollers, activity centers and toys. Their parent company, Aria Child Inc. has manufactured award winning products over the past 25 years.
(You can find more buzz on their products on the Urbini Facebook page and on the Urbini Twitter stream)
And now you can find Urbini's car seats and strollers in your local Walmart and Babies R Us stores.
With both my 8 year old and 4 year old in school, the need to find an affordable travel system has been on top of my list.
The system had to be affordable, comfortable for baby and easy to transport in and out of my car.
The Urbini Omni 3 in 1 Travel System couldn't have arrived at a better time to test out!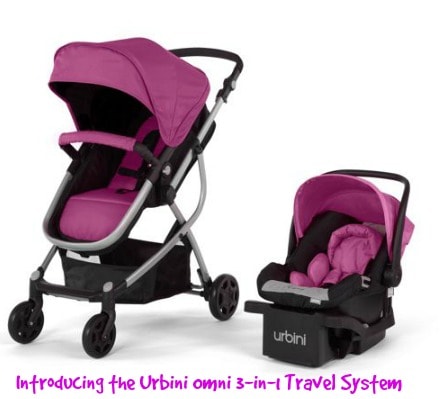 Introducing the Urbini Omni 3-in-1 Travel System
At a price point of $199 on the Walmart site, this travel system can work in several ways. You can have a stand alone car seat, stand alone bassinet, a car seat carrier, a bassinet stroller and eventually have the bassinet adjusted to have a toddler stroller!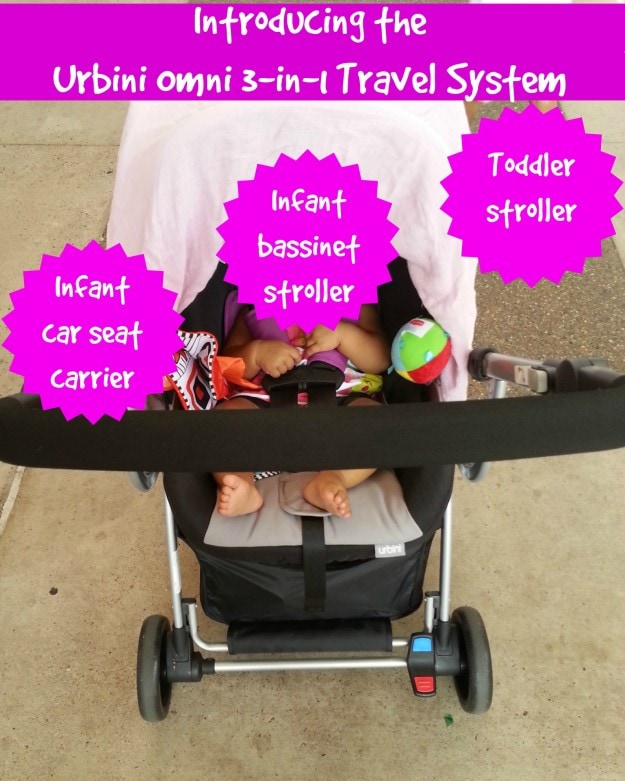 The system is available in six non-run of the mill block colors. I picked viola for ours and love the choice, if I might say so myself!
In terms of set up, I had no problems fixing the car seat /bassinet onto the stroller stand or taking it in and out of the car . It did take a little while to figure out the canopy and adjust the seat straps though. Everything else was quick to set up.
(I have to add here that you do need to ensure you place the car seat in the sockets perfectly else the seat will wobble, making this unsafe for baby.)
The bassinet was great to use during soccer practices when our little one dozed off and the canopy provided her with some shade but we draped a light swaddle cloth over the canopy for more.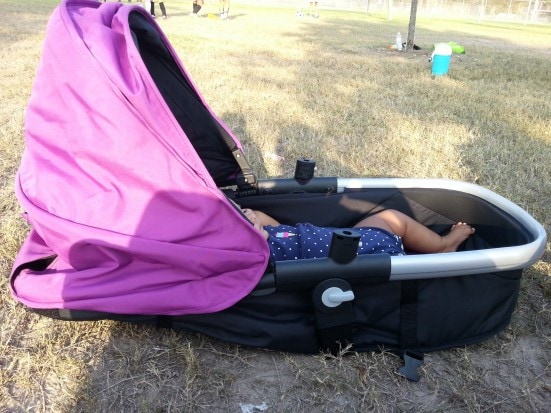 The car seat, with a 5 point harness, is great for a baby between the weight of 4 lbs-35 lbs and a height of 35″. The seat is not very roomy but not a tight squeeze either.
I'm yet to figure out how to clean the seat liner as we did get a few stains on the grey lining. There should be a way to get the cover off to wash but I've not figured it out yet. (Insert sad panda face here!)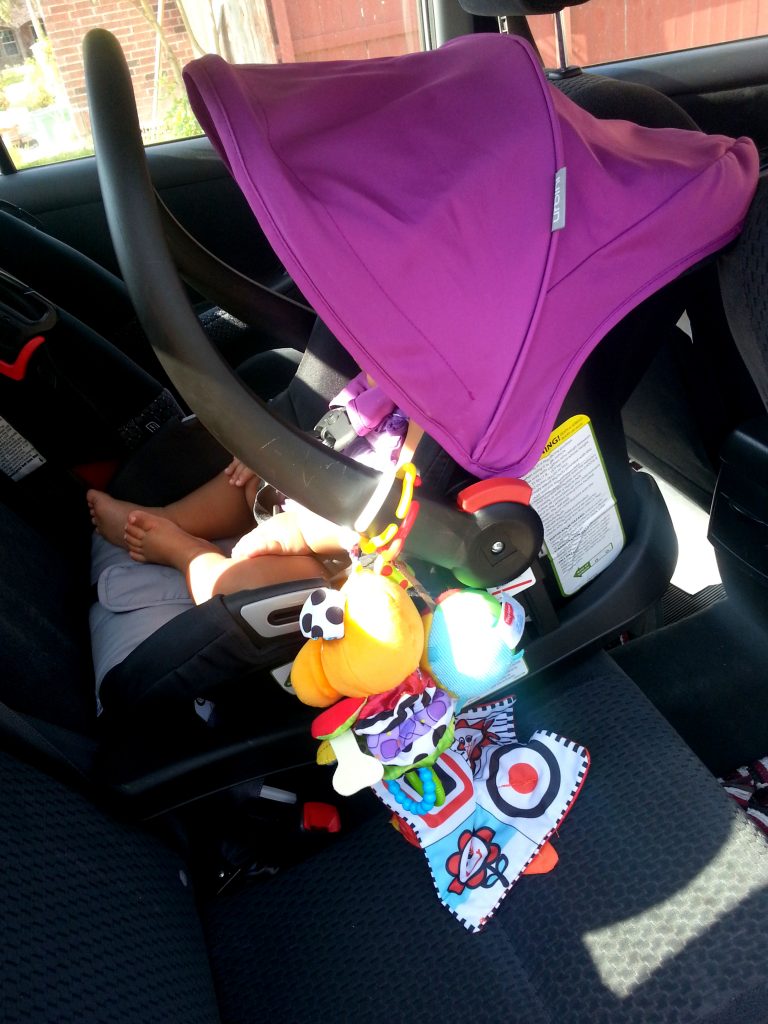 The stroller base is light-weight and quick to set up and fold. The handle adjusts to different heights and the storage basket below can hold quite a bit if place the bassinet on the stand and a little less when you have the car seat on top.
Our recent trip to the outlets showed us how handy it was to have the stroller on hand as my sister had quite a bit of shopping to do. Sure we took baby out of her little throne for a while and made way for all the bags comfortably!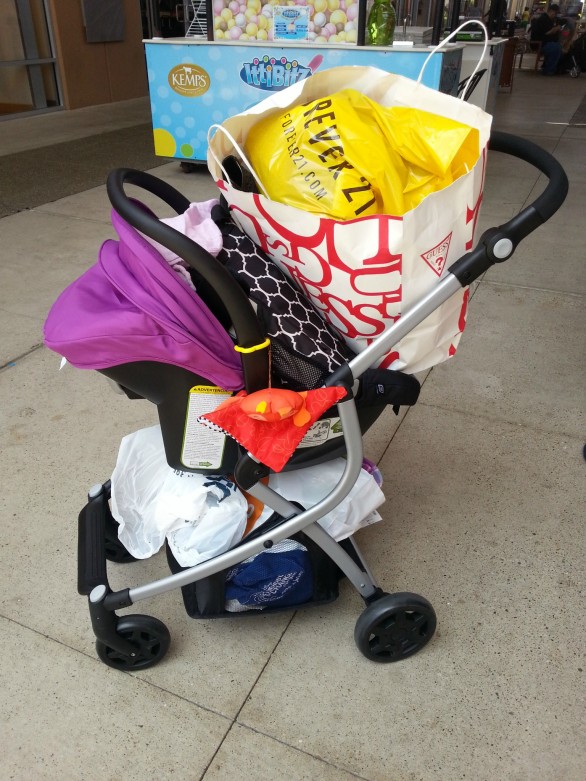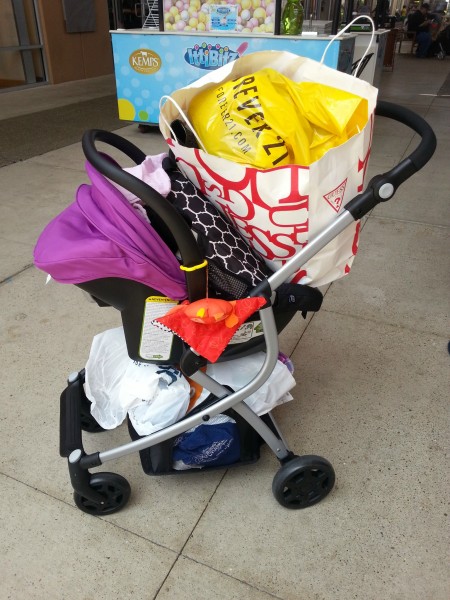 Check out my initial review for the Omni Travel System on Walmart.com.
What do you like about the Urbini Omni 3-in-1 Travel System?