"This shop is part of a social shopper marketing insight campaign with Weave Made Media® and Barilla®, but all my opinions are my own. #weavemade #BarillaFiesta http://my-disclosur.es/RgFrEH"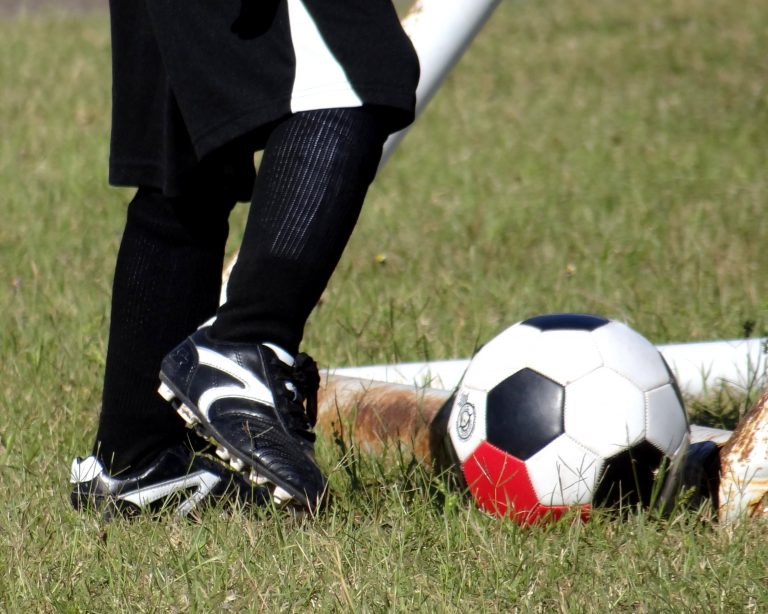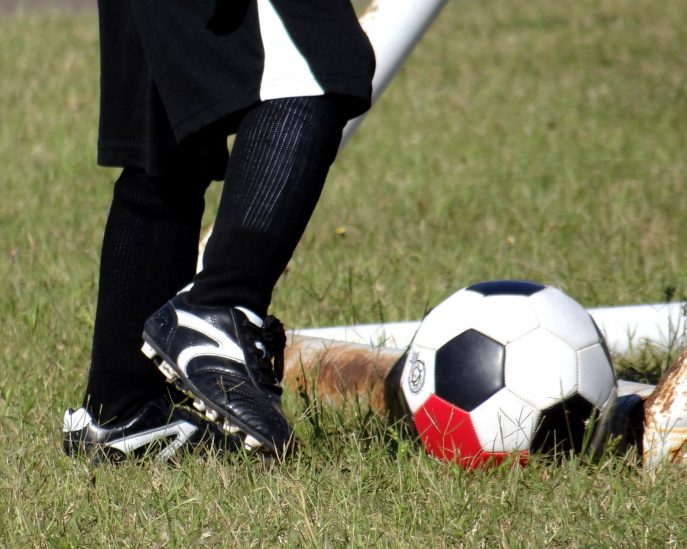 Ever since the new academic year began there's been a rush of activity in our home. If we're not rushing out to school, we rushing out for a soccer practice or game. While I'm thankful it isn't overwhelming, I do recognize that the day is packed for my kids. Once they get back home they're starving and the last thing I want is for them to feed that hunger with a processed snack.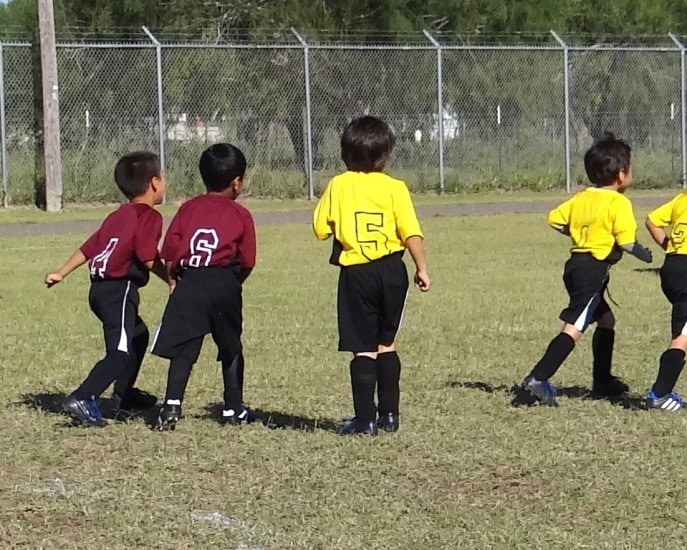 Home-cooked hearty meals are big in our household and with my active 8 month old into everything right now, it isn't always possible for me to whip up an elaborate meal at the stove. I've thus chosen to improvise old favorite recipes and make them quick one-pot or two-pot options to save time, yet ensuring we have a wholesome, healthy meal served.
One favorite on the menu each week is pasta.  The kids, if they had a choice, would ask to eat pasta every night!
For my 4 year old, elbow macaroni is always the beginning and end of any pasta choice. (My sweet child thinks if we buy elbow macaroni, Mama can't make anything but Mac and Cheese with the same! Hubs, doesn't share the same love for Mac and Cheese, so there goes the option of making that a family meal choice. Plus with Mac and Cheese you need to include a side or two to make it a rounded meal.)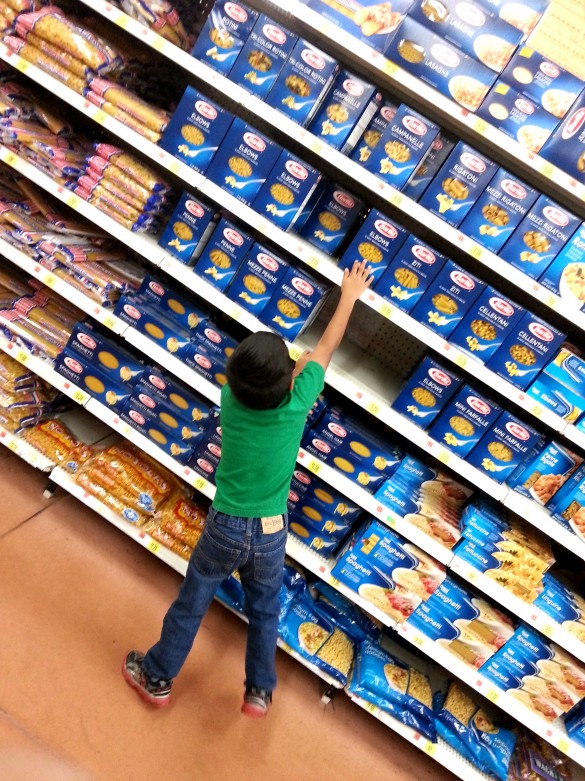 Considering I had to put together a complete meal right after we got back from soccer last night, while the baby napped and before Hubs had to head out again, I chose to improvise on my Slow Cooker Chicken Tortilla Rice recipe.
With less than 40 minutes at my disposal I chose to swap out the rice with Barilla's Cellentani pasta that we picked up on our grocery run at Walmart earlier on in the week,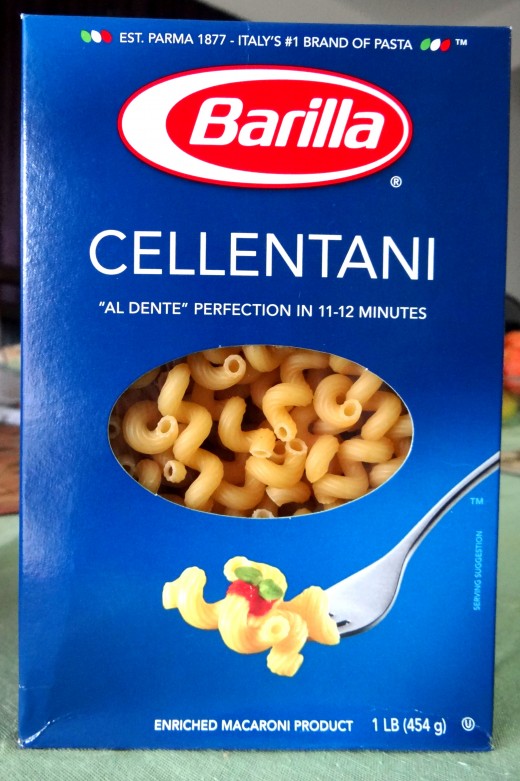 and use two pots on the stove, versus using the slow cooker.
The flavors in this recipe have been inspired by our corner of Texas and thus the name…
Hearty Tex-Mex Chicken Bean and Pasta.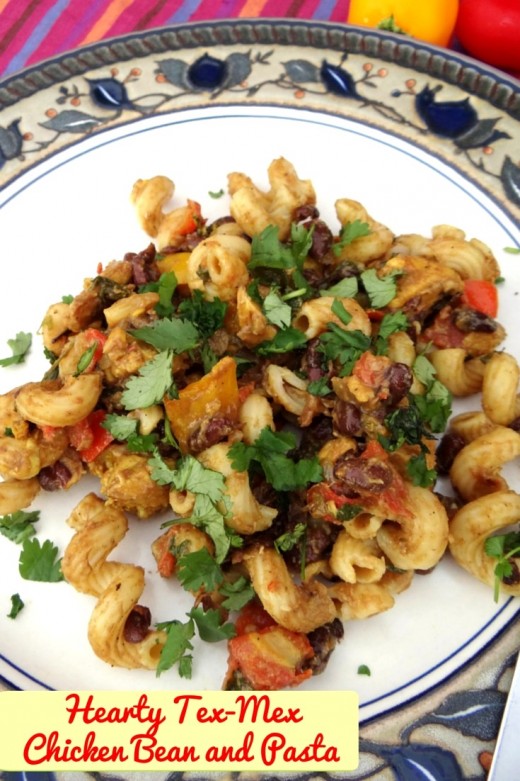 Including prep time, this took 35 minutes to whip up and yes, my youngest angel slept right through it all.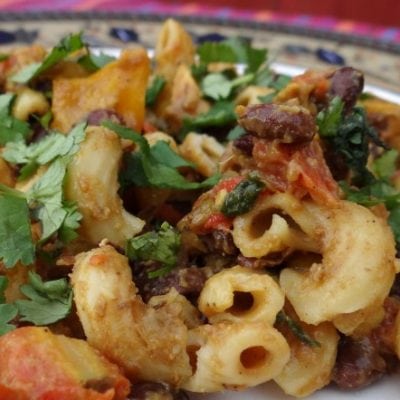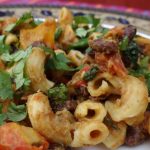 Hearty Tex-Mex Chicken Bean and Pasta Recipe
Ingredients
1/2

box Barilla Cellentani Pasta

1/2

lb

chicken breast

pre marinated in a salt, pepper rub-cut into small nuggets or strips

1

cup

chopped onions

2

Roma tomatoes-chopped

1

cup

sweet bell peppers-chopped

1

serrano pepper-chopped

or 1/2, based on how spicy you would like this

3

cloves

garlic-chopped

1

can organic black beans-unsalted preferably

1

cup

cilantro -chopped

3/4

tsp

cumin powder

Salt to taste

Freshly ground pepper- 1 tsp

or more, based on preference

Freshly squeezed juice from 1 lemon

Olive oil to saute
Instructions
In a pot, boil water and cook the Cellentani pasta in the same, al dente. (11-12 minutes). Once done, drain the liquid immediately and set aside

In a saute pan, pour the olive oil into the same and heat on a medium flame till hot.

Add the onions, serrano pepper and garlic.

Saute till the onions turn golden brown

Now add the tomatoes, sweet bell peppers, cumin powder and saute till the tomatoes become pulpy.

Add the beans (drain out the liquid from the can before you add the same in) and mix well

Add the chicken, season the mix with salt and pepper, and saute till cooked. (Ensure you don't wait to dry the mixture. The liquid that remains in the pan is great for this pasta dish!)

Once done, add the cilantro leaves and lemon juice. Combine well.

Finally, add the cooked pasta and gently combine everything together.

Serve hot and sprinkle dried red chili flakes on top for an extra spice kick!

Enjoy
This is such a forgiving dish that you can swap out the Cellentani pasta for any other pasta shape, include a cup worth of corn, spinach and/or carrots to the same and not need to make any changes to the recipe.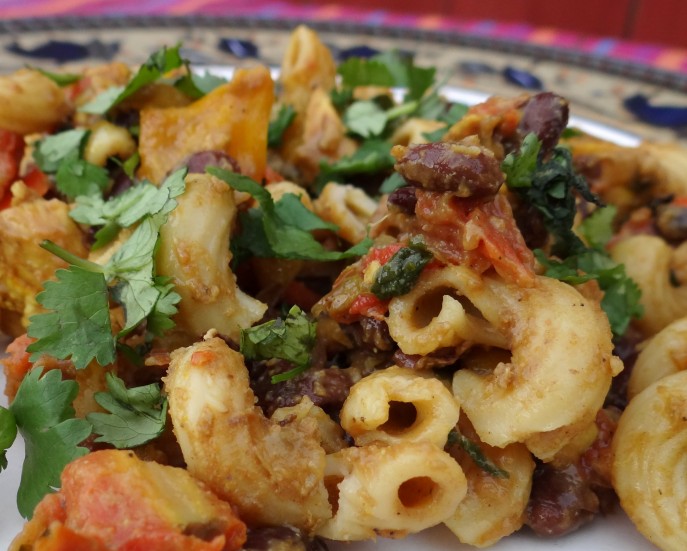 If making pasta dishes intimidates you or if you're always looking for a new recipe, you may be interested to know that Barilla is hosting product demos at select Walmart stores from 11/6/2014- 11/9/2014. They will be cooking some fun recipes using Barilla's elbow macaroni and wavy lasagna products.
Do you enjoy cooking pasta?
Do you have any good Hispanic flavor inspired recipes you enjoy making? I would love to hear about it.