How to make Strawberry Pecan Bread
This post contains editorial samples and/or affiliate links to products I recommend. While this adds no additional cost to you, I will earn a small commission on any sales made.

I'm always fiddling around with recipes I come across, to add a dash (or in some cases more than just a dash) of healthy for the kids. And with Valentine's Day coming up, I've been scouring
With Valentine's Day coming up, I've been scouring pinterest for some fun Valentine's Day treats for the days leading u to the 14th.
How to make Strawberry Pecan Bread
I came across a delicious recipe for strawberry bread and thought this would make a great Valentine's Day breakfast addition or deliciousness in the school lunchbox. I've revamped the recipe quite a bit to try and make this as healthy as possible.
The bread isn't very sweet so sandwiching two slices together with a little extra homemade strawberry jam or  store bought organic strawberry jam won't hurt!
And I made my bread in a Bundt pan to make the slices not as overwhelming for my kids to finish when they take the same to school.
Here, give my Strawberry Pecan Bread recipe a try…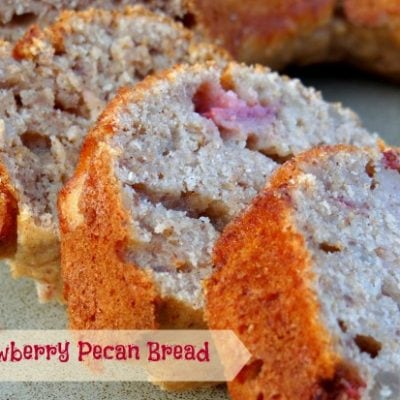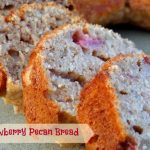 Strawberry Pecan Bread Recipe
*If you're not too fond of a wheat bread taste, go ahead and use 1 1/2 cups all purpose flour instead.
Ingredients
1

egg

room temperature

1/4

cup

butter

room temperature

2/3

cup

plain yogurt

1/2

cup

sugar

1/4

cup

strawberry jam

1/4-1/2

cup

fresh strawberries chopped

1/2

cup

chopped pecans

3/4

cup

all purpose flour

3/4

cup

whole wheat flour

1/2

tsp

salt

2

tsp

baking powder

1

tsp

ground cinnamon
Instructions
Preheat the oven to 375 degrees F

In a bowl, mix the dry ingredients together and set aside. (Flour, salt, baking powder, <g class="gr_ gr_1209 gr-alert gr_gramm undefined Punctuation only-ins replaceWithoutSep" id="1209" data-gr-id="1209">pecans</g> and cinnamon)

In your stand mixer or in a bowl, add the egg and sugar. Mix well.

Add to this the butter and fruit spread. Mix.

Now add 1/2 the dry mix to this and half the yogurt. Gently mix.

Add the remaining dry mix and yogurt. Mix till all the ingredients are combined well.

Now fold in the strawberries.

Take your pre-greased Bundt pan and sprinkle additional cinnamon and sugar at the bottom.

Now pour in your batter, say a prayer and place the pan in the oven to bake.

Bake for 40 mins or till your toothpick, when inserted in the bread, comes out clean.

Enjoy plain or with a slather of fruit spread on top!
For more Pinterest remakes, visit a few of my favorite bloggers:
I'd love to hear from you. Hop over to chat with me on Facebook and/or Twitter